(And a lesson on oiling new, cheap cutting boards)
I'm not complaining. I have a great kitchen, and I love it. But there is always room for improvement.
For example. My desire was to have countertops with wood or butcherblock. However, my germ-o-phobe husband could think of absolutely nothing worse. His skin crawled at the very idea. It was non-negotiable. So we compromised with shiny, black, impossible-to-look-perfect-granite. Hard, cold, everything-breaks-granite. (But beautiful when clean and streak free.)
I'd bought a few cutting boards over the years with the idea of leaving them permanently on the counter, but it never really worked the way I thought it would. However, a few months ago, on my first real outing to Ikea, next to the Mall of America (inward shudder), I found a cutting board that hooked over the edge of the counter. And the best part? It was only $9.99! I had seen this style of cutting board elsewhere for around $100! $9.99?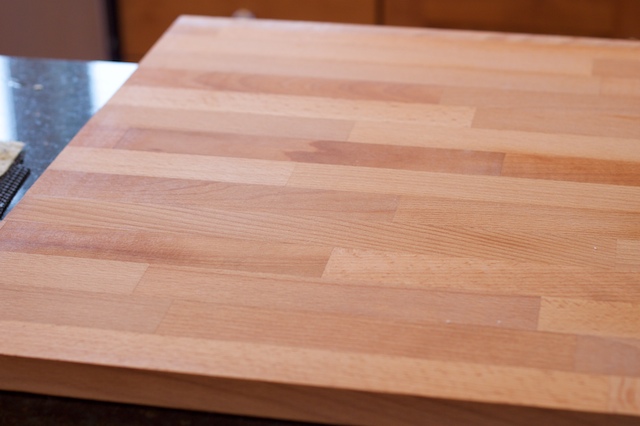 Even if it was a piece of crap, I'd at least see if it worked the way I wanted it to and consider making a larger investment on a better one if it fell apart, right?
So I bought it, and put it in place. I did give it a quick and brief coverage with oil over the next couple weeks, because the enclosed insert said to, but I didn't pay too much attention because nothing really bad ever happened to any other cutting board I owned from lack of oil.
But here's the thing: all cutting boards need oil to keep them from absorbing moisture, odors, etc. Moisture is the biggest problem because it causes them to warp or crack — both of which seemed to be happening to my new, awesomely inexpensive cutting board. Such a bummer!
I probably have never had problems with other cutting boards for a couple reasons. I suspect the more expensive ones come pre-oiled to some extent. Also, the sides of the Ikea boards are thick, open grained, unfinished wood which are veritable sponges for any moisture. I've noticed other cutting boards have a type of boarder of finished wood around them — probably to prevent warping. All I know for sure is that the Ikea one was warping and — very slightly — starting to crack within a week of purchase. I also found that I did, indeed, love the cutting board. I loved it so much that I bought a brand new one to flank the other side of the stove on my very next trip to Ikea months later.
I can't believe how great it is…
Because now, it's almost as if I have a butcher block island!
And Dave is totally OK with it because it isn't permanent!
This time though, I decided to do some research on oils and preservation techniques. It seems that there is a lot of controversy over what type of oil to use. (Small wonder). I happened to use some ancient Lemon Oil I found in my broom closet, circa… I have no idea. I'm going to guess circa 1980, but that's a total guess. It could be older. Anyway, I couldn't find any negative info on lemon oil — which is good, because I already used it — but do your own research, as I refuse to become an expert on the subject. Here is a really informative post on the subject.
So basically, you add oil on a regular basis until the board stops absorbing it.
My question is: What if it never stops absorbing it?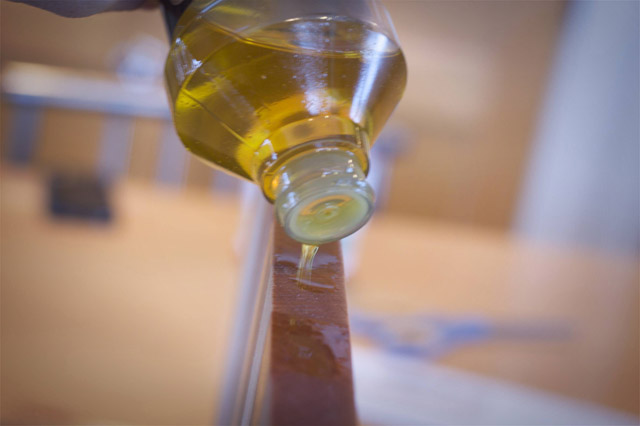 Seriously. This Ikea board has absorbed over 12 ounces of lemon oil and shows no signs of ceasing. I should note that I have also been oiling the older board, and while it hasn't absorbed as much, it is still drinking it up. Interestingly, there are certain individual boards that soak it up much faster than others, as shown here: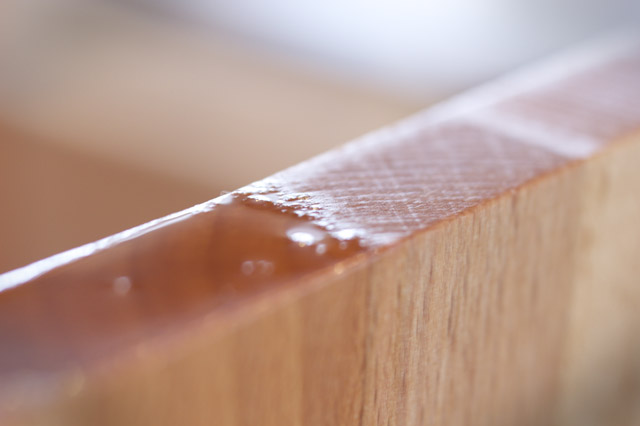 These photos show me oiling the ends of the board, as that seems to be the area that it absorbs the most moisture. My first board began to warp shortly after I began using it. I would flip it over and pour water on the underside to counteract the warp (Brilliant, no? No. Not brilliant). It worked, but I've been doing this dance since the first week, no doubt making the problem ten times worse. Since I began the oil diet however, the warping has slowly begun to go away on its own. I predict that the massive amount of oil is going to both stop the small crack AND stop the warping.
Anyway, I think I have gotten away from the main idea of this writing, and that is: I feel like I have a whole new kitchen! I love how it looks, the functionality, all of it. I know there are people who turn their noses up at Ikea but you gotta admit, they've got some great stuff.
I got a whole new kitchen! For twenty bucks!
Well, and the cost of a bottle of antique lemon oil.