Christmas Cards, Years 1995 – 1999 aka, the baby years…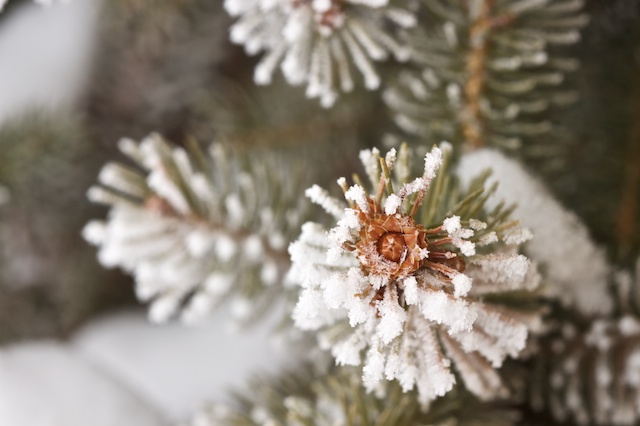 So, unto me, a child was born. It took me about, oh… 4 or 5 years, but I finally learned what God had set out to teach me. And that was/is: Jennie is not the most important person on this Earth.
I continue to fight that lesson. I mean really. I *am* important. But no one seems to understand that except for me. I try and try and try to convey this crucial information to my family.
It falls on deaf ears. I ask for foot rubs and back rubs. I ask for…
Well, that is all I really ask for.
Honestly. Would it be that hard?
OK, OK. I digress. I know it. But my neck is killing me and there is no one to complain to except for you.
I may joke about my kids and family, but it really was a special time.
Cute little baby Morgan.
It was awesome.
Until she started talking, anyway.
I had obviously gotten sick of plain black laser cards by then and used paint for color and glued a photo to the inside. Wasn't she so cute? (Morgan, I mean. We've already established that I am cute.)
1996 was short and sweet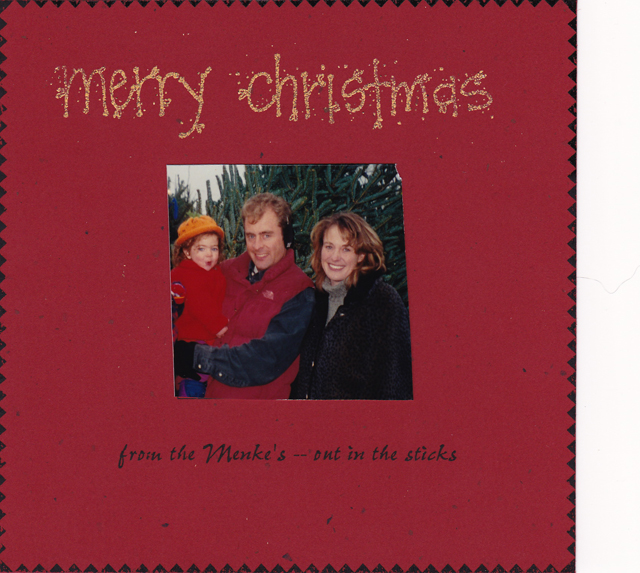 Maybe I was shell shocked by the time it took to hand cut the cards with an Exacto knife and use — I can't even remember — some type of scrapbooking , heat activated, glitter powder for "Merry Christmas." The trapezoid effect on the photo was unintentional and highlights my lack of Exacto skills.
Charlie enters the scene (loudly) in 1997 and life has never been the same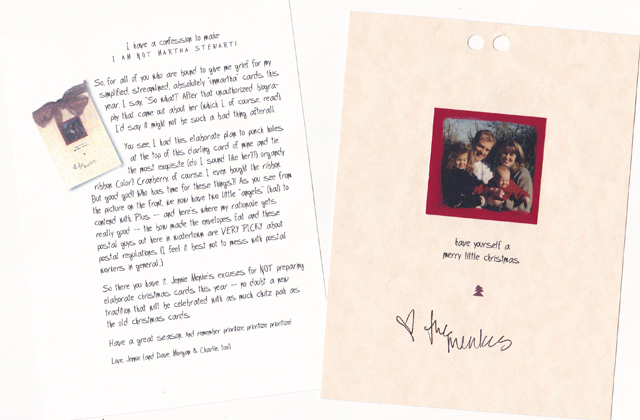 Initially we thought he was colicky. After about three years, we sort of accepted the idea that that was his personality. He doesn't cry anymore (he's 13), so we are thankful for that. He just asks a lot of questions.
But even that takes its toll.
1998 was when I started to figure it all out and realized that passive aggressive sarcasm had a place in my life. It was also the first year I used a swear word in our Christmas card, which was to become an 11-year tradition until being unintentionally broken in 2010. I think it's the Holy Spirit finally, finally getting some work done on me. (It's been a tough road for him.)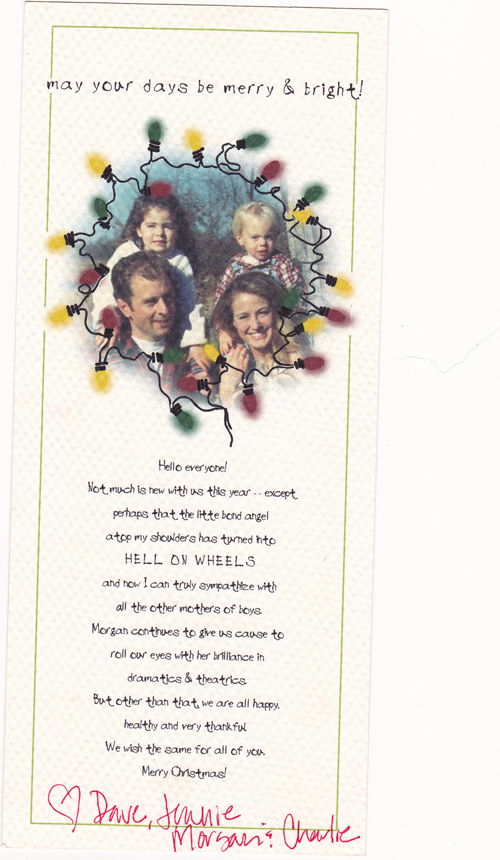 I do have a typo in the version I kept for myself. He isn't a "Bond Angel" as in the 007 variety, but a "blond angel" as in haircolor.
1999 must have been a slow year for me since I appear to have printed the card on one paper, our photo on photo paper, cut out a frame with a wavy wheel cutter, glued them together and used foam tape to give it some dimension.
Seriously. It makes me sort of sick to my stomach to picture myself in the office making 130 or so of those little masterpieces of insanity.
And now I'm picturing "A Christmas Carol" with the ghost of Christmas Past taking me back to that year to show me all the precious time in my life I have wasted…
I CAN CHANGE! I CAN CHANGE!
Anyway, here it is
I have become very upset. What if, in ten years, I look back on this blog and think the very same thing?
The more I think of it, the more I think it isn't a matter "if" but a "when!"
So sad!
But what else can Fatty do in her office with the space heater at her feet and a plate of cookies next to her that is so fun?
See you tomorrow!