Christmas Cards Years 2000 – 2005. AKA, the Psycho Years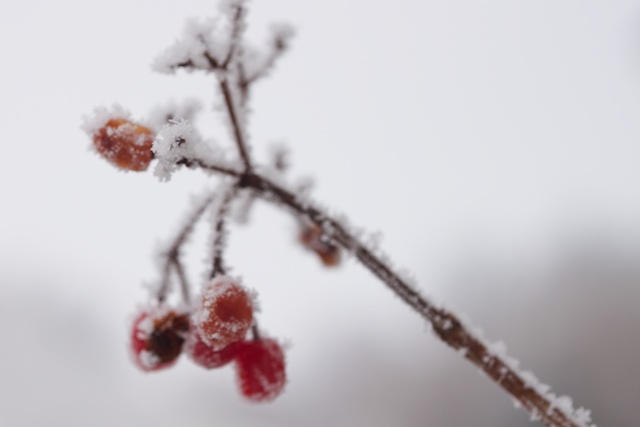 Yeah, I was pretty psychotic during those years…
And that was actually before menopause. At least now I have a culturally acceptable reason for it.
We start off with the photo from 2000. It might look like we are having fun in this photo, but actually I think Dave was in the process of tossing Charlie into the swamp.
He wasn't cooperating. Also not sure about those eyebrows of Dave's. They look kinda scary…
I believe that this might have been the first year Dave and I had an all-out fight about the Christmas letter.
That, too, was to become an 11 year tradition. When I re-read this particular year I don't even find anything objectionable. I wonder what he didn't like… It must have been the sarcasm. He worries incessantly that people will think I'm serious. I don't know how to tell him that I am being serious…
Strangely, this year there was no argument about our letter. Hmmm. I hadn't really thought about that until now. Could it be the Holy Spirit is also working on DAVE? To accept that I am more wonderful than he previously realized?
Yeah, no, I don't really think that's it. I think it's that my card must actually be pretty boring this year.
That is sort of upsetting.
Anyway, 2001 is probably my overall ugliest card. Well, except for 2006 when I looked more like Axl Rose than my beautiful self.
As you can imagine, we had some strong words about this letter, as well. But you know what? Everyone. And I mean everyone, can relate on at least some tiny level.
Can't they?
Please say yes.
2002 brought our private, marital Christmas card battle public.
Things came to an explosive head and after a particularly big fight about the letter. I drafted a new one in anger and haste.
Dave wasn't much happier about the second one than the first.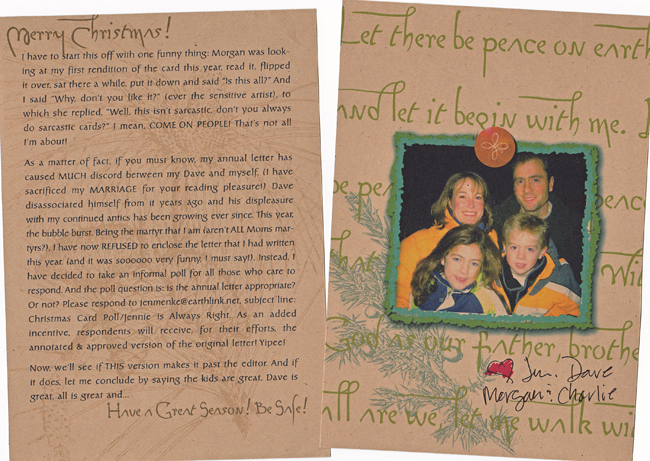 If you can't read it, I basically lay out the fact that we had a big fight about the letter and that instead of sending it I was taking a poll. If the receiver LIKED my sarcastic cards they were to respond, via email, with a "yes" vote. For their efforts, they would receive the originally drafted letter that had been edited to be approved by Dave.
I received over 50 "yeses" and one "no." The no-voter was a Dave brown-nosing woman (she knows who she is) and I didn't mind. It made the survey more believable.
The annotated and approved letter was much funnier before the additions required by Dave for public consumption. It was the identical letter without all the stupid (TRUE) and (FALSE) indicators.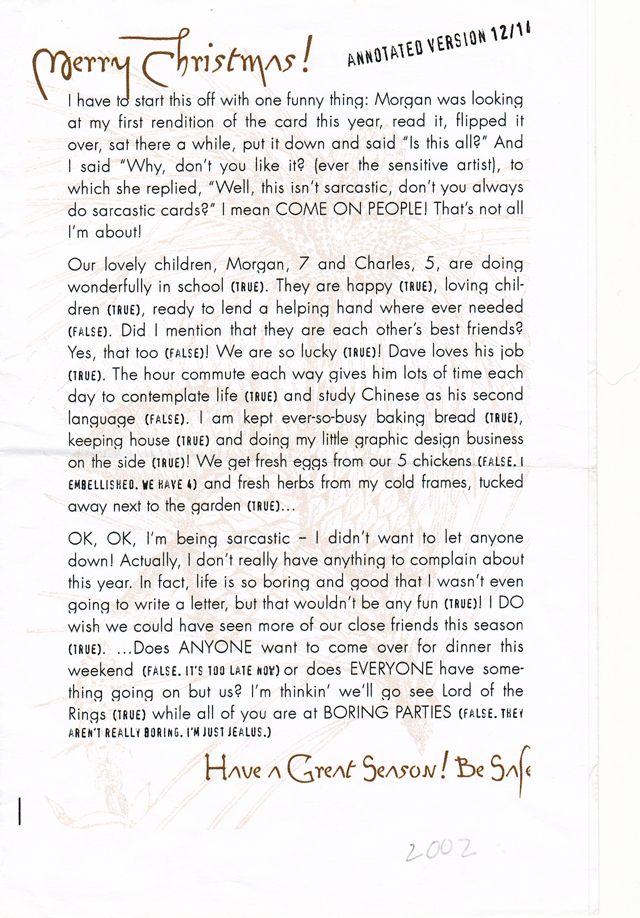 I still laugh about that one. So much fun, these stupid letters have given me!
2003 was the start of a short-lived phase where I re-wrote the words to Christmas songs. I also liked this card because it's a good family picture. Well, except for Dave. And I liked the photo so much of me and the kids and wanted to use it so badly (it's true, I'm that vain) that I found a good picture of him from the same day and photoshopped his head over the bad one. And I think made it too big.
If I hadn't told you that, you'd never notice. But now that I have told you, he will start to look freakish. We call this one "Big Head Dave and the Monsters"
It was a good letter though.
2004 was hilariously hideous. I don't think very many recipients actually realized we took that photo in December in the freezing snow. Note the strategic placement of children to cover Fatty's rolls…
I was amazed at how many people remembered this card the following year saying they couldn't wait for the naked card in 2005. I feel they need to seriously get a life.
2005 was the best song ever. It has become a much-loved Christmas carol sung by moms everywhere.
Go ahead, sing it out loud (to Jingle Bells). I just did. It's catchy!
See you tomorrow! It's Christmas Eve!