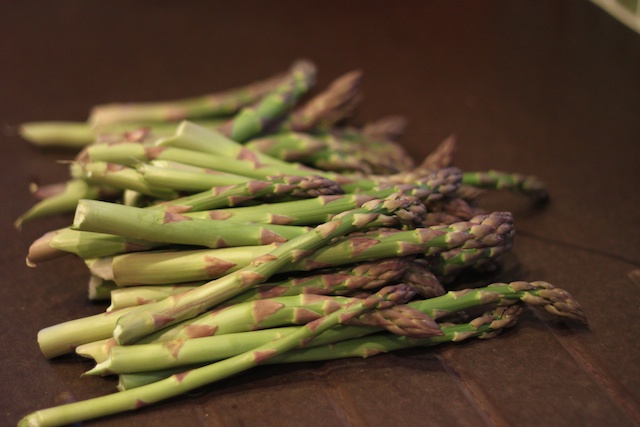 The Honeymoon.
Yes, we are one week into the Honeymoon Stage of our asparagus harvest. That is the time where it is still a joy and a wonder to walk into the garden and find 20-30 spears that grew six inches overnight. I snap them off at the base, bring them in the house, briefly cook them and eat them. Pause over each sweet tender bite. Exclaim their virtues.
Asparagus.
It is the best!
Well, it is the best for about two weeks. After that, the walk into the garden is replaced by shock and dismay: Oh my GOSH. That damn ASPARAGUS! WHO am I going to GIVE it to? WHAT am I going to DO with it? Look at all the asparagus beetles!
But not yet. Now we just eat it and love it.
Soon I will be giving it away by the armload to friends. To each of these people I give a stern warning not to overcook it. The thing with my asparagus (and I assume all fresh-from-the-garden asparagus) is that it cooks in one quarter the time of supermarket asparagus.
Two nights ago, I took the unusual step of timing it so that I could give concrete directions instead of vague advice. So if I die, my husband will be able to feed my children from lessons learned on my website.
See? I'm a good mother after all.
Here you go, Dave (and anyone else who's interested):
Use a big saute or fry pan, wide enough for your longest spear, add about an inch of water, sprinkle in about 2 teaspoons of salt and bring to a boil. After the water is boiling, add the asparagus, making sure all spears are submerged.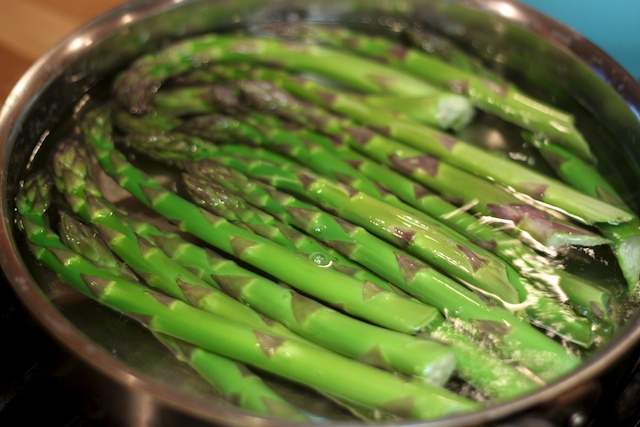 For fresh picked spears, cook no more than 2 minutes and drain. If you aren't going to eat right away, cool them under cold water or in an ice bath to prevent them from getting mushy.
If you are cooking spears you bought somewhere and you aren't sure how long to cook them, use a knife to pierce the stem end. It should go in easily, but not be soft or mushy. The tips should still look the same as they did when the were uncooked. The tips are the first part to show overcooking. The triangles will start to get fuzzy looking and may even start to slough off in the water. With fresh asparagus, that happens in a heartbeat! With store bought, you've got a little more grace time. If still in doubt, just cut a small piece off the end and taste it. It is my firm believe the stem end should retain some bite. Like an al dente noodle. (That's the foolproof method to see if it is done.)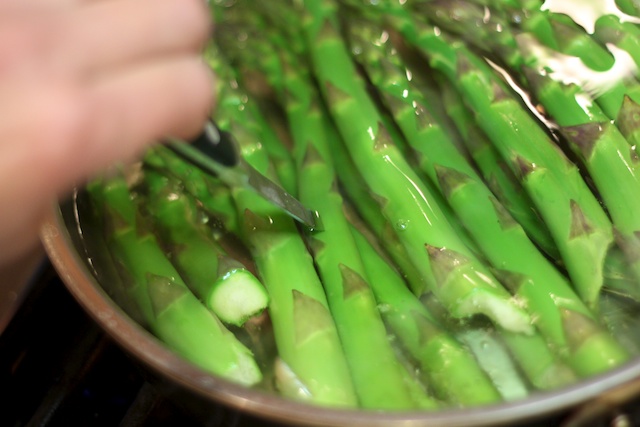 Dry the pan out, put on medium heat, and add about 1 tablespoon of either butter or olive oil (for 16-20 spears). Or, if you are decadent, add both. Add the spears back in and roll around in the butter/oil long just enough for the asparagus to get nice and hot — you don't want to cook them more. Sprinkle with kosher salt, fresh pepper. Squeeze with lemon.  For what it's worth, I like the combo of lemon juice with butter during the Honeymoon stage, then moving to olive oil with balsamic vinegar for Stage 2.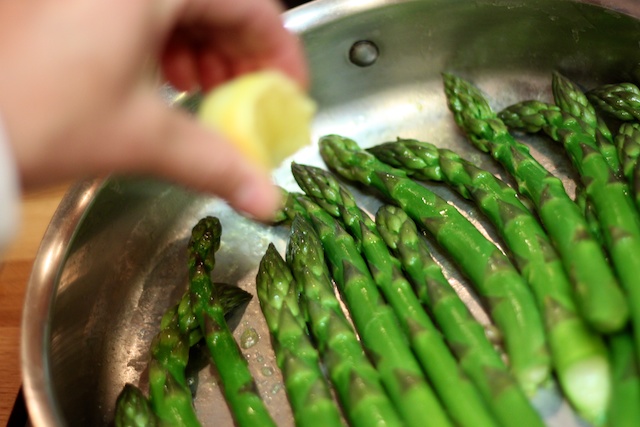 Garnish with parmesan or pecorino or manchego or whatever you happen to have on hand.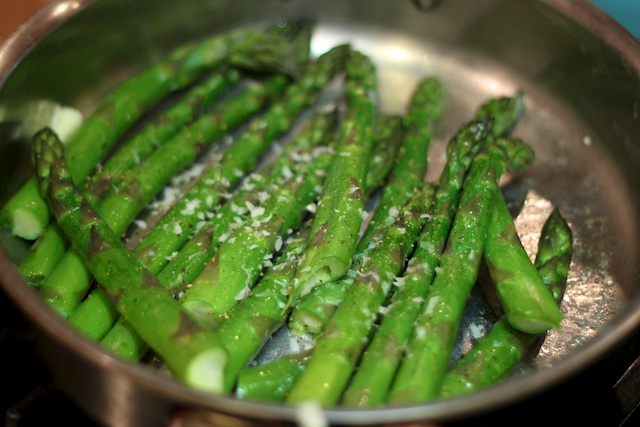 The nice thing about boiling/blanching and then reheating is that you can do it ahead of time. Then, right before serving, heat back up in the oil or butter and garnish. Of course for Caveman Dave, we have to keep some separate. He likes it plain.
We also roast asparagus in the oven and grill it. But that happens after long after the Honeymoon is over.