My Favorite Potluck Meal
Yes. You heard me right: Potluck.
Growing up, I was a picky eater. Thankfully, my kids are not picky, aside from their deep (and recently conquered) fear of Sloppy Joes.
However, if you have a picky eater, you will know what a traumatic event the evil potluck dinner can be. You know who you are. You eat before you go, you bring secret stashes of food, make lame excuses, etc.
This recipe isn't just for potluck dinners though. It just happens to be what my mom would bring to potluck dinners back in the late 70's that we would eat. Back then, it was pretty darn obscure. Stir fry? Beef and Pea Pods?
It became a big hit. It became well known. It became popular. It became one of the first items to go. And that was a bummer because I had to jockey for position in line to be able to get some.
It's a recipe I still make today. And it's only gotten better with today's availability of fresh pea pods. Back then, my mom had to buy frozen ones. They were actually pretty gross. I use sugar snap peas when they look good, or I have them in the garden. I like them better than flat pea pods.
My parents were in town last week when I made it last time. I don't think they had had my mom's old recipe for over 20 years. It's an oldie AND a goodie. It's quick to make, leftovers are awesome. And guess what meat I use?
Round Steak.
So it's really cheap.
Yeah, you can up the ante with a better cut of meat, but if you cut across the grain of the round steak, I actually prefer it. I don't mind a little chew.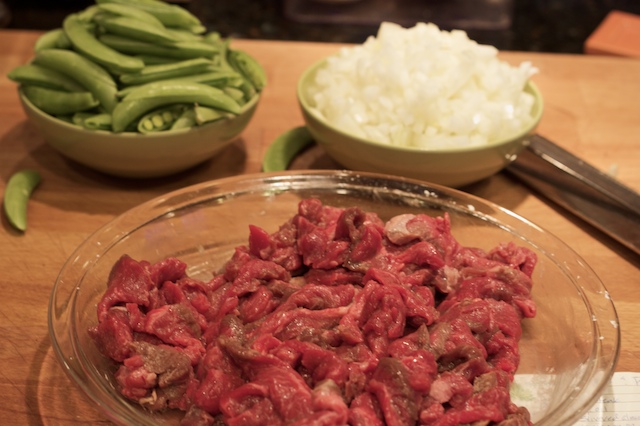 Beef and Peapods
1 lb Round Steak
3T veg oil
1 clove garlic pressed or chopped
1 T grated fresh ginger
1/2 cup slivered almonds toasted in a pan or the oven til just golden
3/4 cup green onions chopped (or substitute white onion if you don't have and add them after the steak in the beginning of the stirfry)
1 cup chopped celery
3 cups (approximately) snow peas or sugar snap peas. If using sugar snaps, cut a few of the on the diagonal to expose the peas inside)
1 pkg white mushrooms sliced in halves(optional. My kids hate shrooms, so I skip)
3T soy sauce
1 t sesame oil
1 can chicken broth
1 1/2 T cornstarch.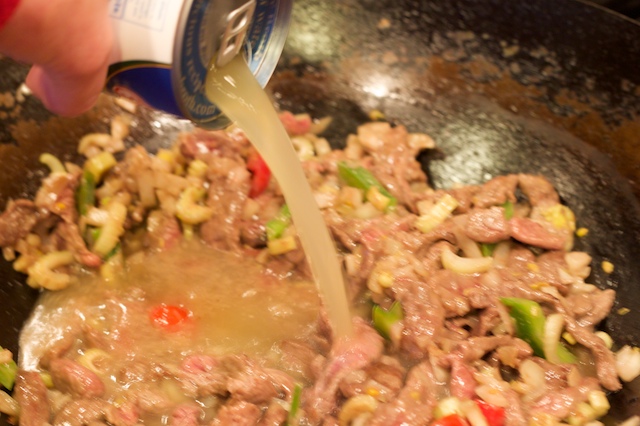 Heat wok on high. When hot, add oil and wait about a minute. Add meat and stir fry until it changes color, about 2-3 minutes. Add celery (and white onion if using), garlic and ginger. Cook a few minutes, stirring occasionally.
Add mushrooms if using along with soy sauce and chicken broth. Cook 5 minutes on medium heat. Mix cornstarch with 1 tablespoon of water and add to wok, stirring constantly. Add peapods and cook another 2-3 minutes.
Sprinkle with almonds and serve over white rice.
If bringing to a potluck, put the rice in a separate covered casserole dish.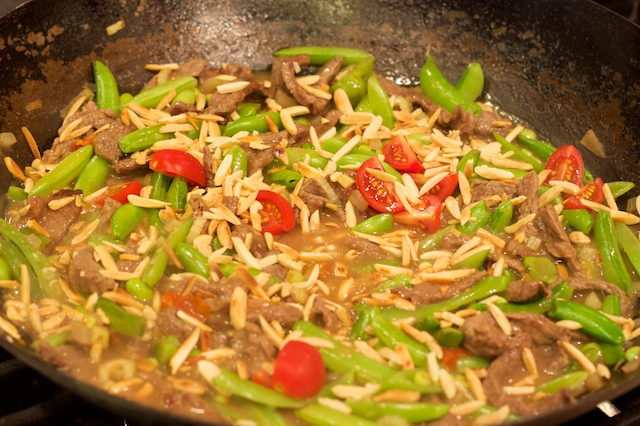 * I just have to ask: does my wok look gross, or is that scum on the sides normal?