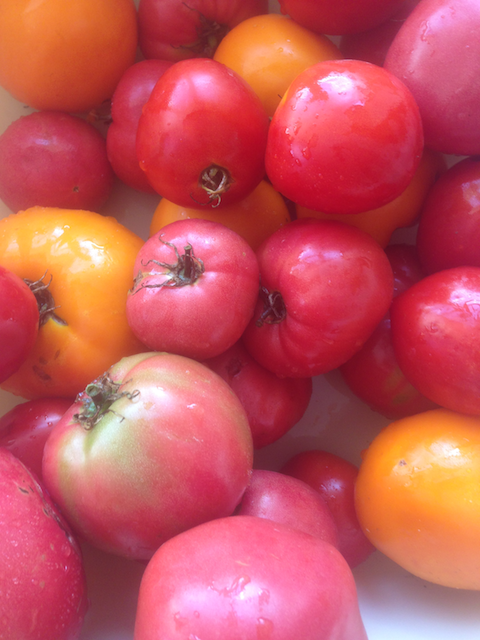 This post takes the cake for all-time fastest tomato preserving.
Well, crap. Now that I think of it, there was the year I simply put entire tomatoes in the freezer whole… I guess that was faster. But this version actually qualifies as tomato puree, so I'm going with it.
As anyone who lives in the Midwest knows, it has been a bizarre gardening year. B I Z A R R E. Flood, Frost, Flame, F___ (don't tempt me. I'm very bad at alliteration.) For example, I finally started harvesting tomatoes in September. While Bon Appetite and every other cooking-with-the-seasons resource is on to their fall recipes, Minnesota BEGINS to harvest the summer staples. I made my first gazpacho on September 5th. Who wants gazpacho in September?
Apparently, WE do! Because at that point on the calendar, I believe we topped out around 97 degrees. Like I said: crazy weather. Approximately 10 days later I experienced my first frost completely out of the blue. I had not one single clue that was even on the horizon, much less imminent. Nothing was killed — or at least nothing I really cared about.
But the early September heat wave certainly stimulated the tomato harvest, and for that I think most of us are grateful. It was also extremely needed for my raspberries and pumpkin patch, both of which seem to have caught up to where they need to be in order to be able to have successful harvests.
Maybe it's my age — or maybe it's because EVERYONE is now gardening, canning, preserving — but something seems to have made me apathetic. -And if I don't want to do it, well then, at this point in my life I'm NOT going to do it, dammit. But the tomatoes. THE TOMATOES! They are rolling off vines knocking us over. Too many. And as apathetic as I might be, I still can't seem to be able to wast them.
So I got to wondering: I wonder… I wonder… if I can just puree the whole tomatoes in the Blendtec and freeze them? [google. google. google…not much to be found…] So I just did it. And let me tell you: it was FAST and it was EASY and I'm THRILLED. Isn't that all that counts?
I started by cutting them and ended by pulling the green stem off and throwing them in whole. Duh. I forget: the Blendtec can blend wood…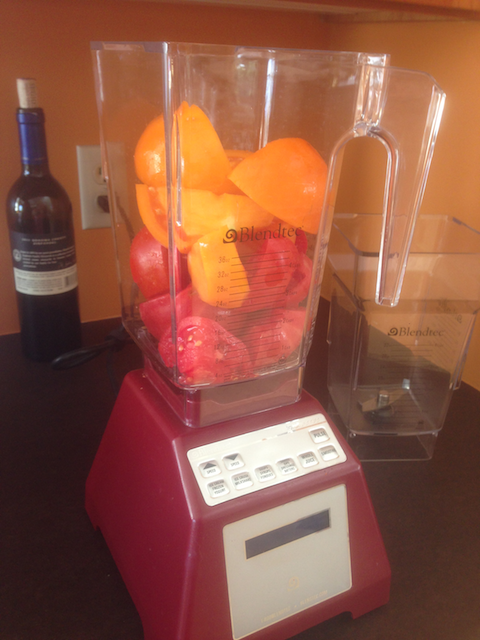 Yum! (looks more like MANGO than tomato!)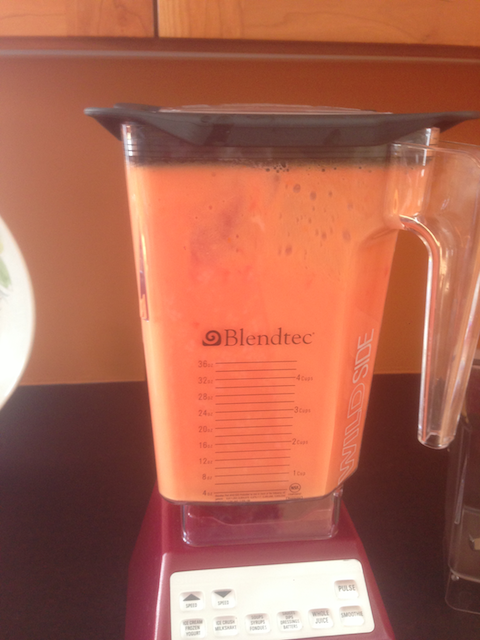 Then I measured 2 cups into small sandwich size and 1 cup into snack size ziploc bags.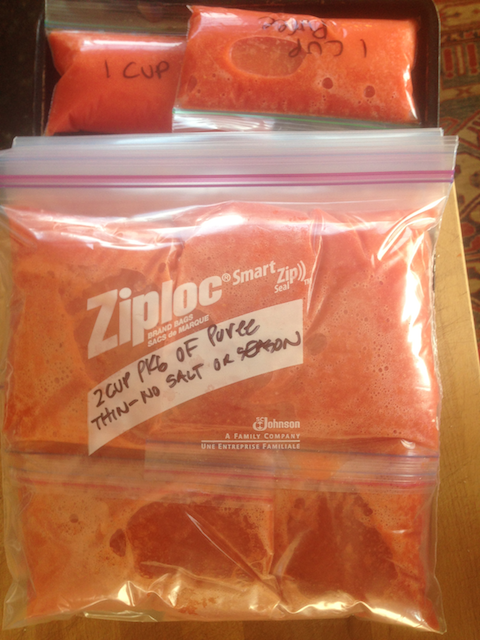 And put the smaller bags inside a gallon sized freezer bag and laid flat to freeze.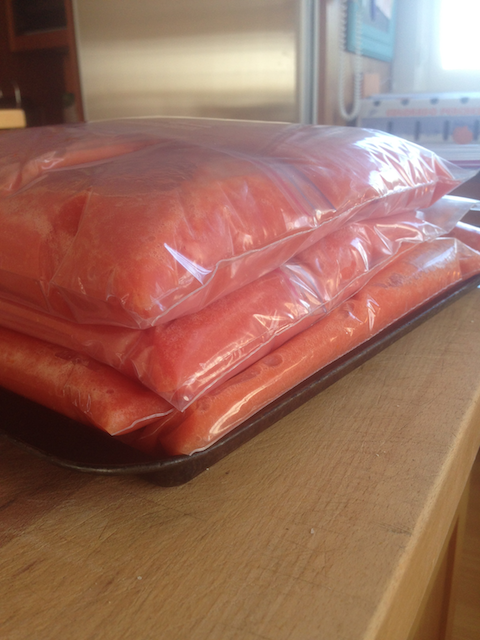 All in, it took about 20 minutes. Stay tuned for how well it cooks up. I will try that soon, before I make buckets more of the stuff and update here.