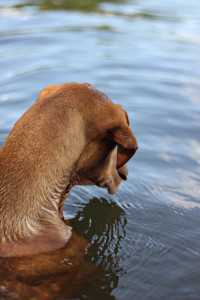 I figured it was time for a post, but I'm up at my parent's in Hayward, away from my garden and kitchen. My parents do most of the cooking. I sit on my big, white, lazy butt. Since I don't have much to complain about, it makes sense that I take this post to acknowledge a somewhat famous part-time resident of Round Lake in Hayward, WI. That would be my dog, Buzz the Fishing Vizsla. From the minute he screams out the back gate of the Suburban to the time we leave, dragging him wet and shivering from the lake minutes before we drive away, he fishes. Patiently, relentlessly, fruitlessly. He starts when the ice goes out in early May and goes thru Labor Day, usually our last trip up until the holidays. We up his food intake to about six cups a day to combat the hypothermic tendency of calorie depletion. (I know that doesn't make sense, but I like the sound of it.)Even today, on August 15th, the lake temperature is only 69 degrees. I went in for the first time all year yesterday and it took my breath away. A sore departure from my 87 degree pool! Buzz doesn't seem to mind.
And this fact is what has got me thinking about the similarity between Buzz, and Dave (my husband). Dave also is willing to fish from sun up to sun down without catching a single fish. Like Buzz, his techniques are often in question. I couldn't find one to show you here, but I have several far-away snapshots of him sleeping with a pole in his hands. Dave loves to fish. Dave loves to sleep. And sometimes he does them at the same time.
It makes me wonder what Dave's ultimate goals are for fishing. Is it to catch fish? Or to escape the inlaws while at the cabin? His wife? Or to sleep? When in doubt, select "All of the Above." Dave is actually in Alaska right now with Charlie fishing with his dad, brother and brother in law. I hope he isn't sleeping.
Anyway,  back to Buzz. He also loves to fish. Because he is up here quite a bit in the summer (my parents generously offer to take our dogs in the summer when we go out of town), he has ample opportunity to spend entire days honing his skills. Boats drive by just to see him. Everyone asks about it. We are so used to it that I guess we don't think anything of it. Yesterday, he started at 9:30am and didn't come out until approximately 11:30am — when a girl on a jetski stopped me 20 minutes into my solitary kayak ride to ask me if that was my dog. Sure enough, Buzz had followed me and was all but drowning, what with his bad leg and all. I hauled him out of the water and into the kayak, where he shivered and tipped us for the rest of the trip. I took solace in the idea that being out of the water for about 45 minutes allowed his core temperature to rise above 70 degrees. Once back, he then fished until 4pm when we took him on a boat ride for an hour, and then again until 8:30pm when we hauled him outta there. A good 9 hours in total. Sometimes he stands in the shallows, like below.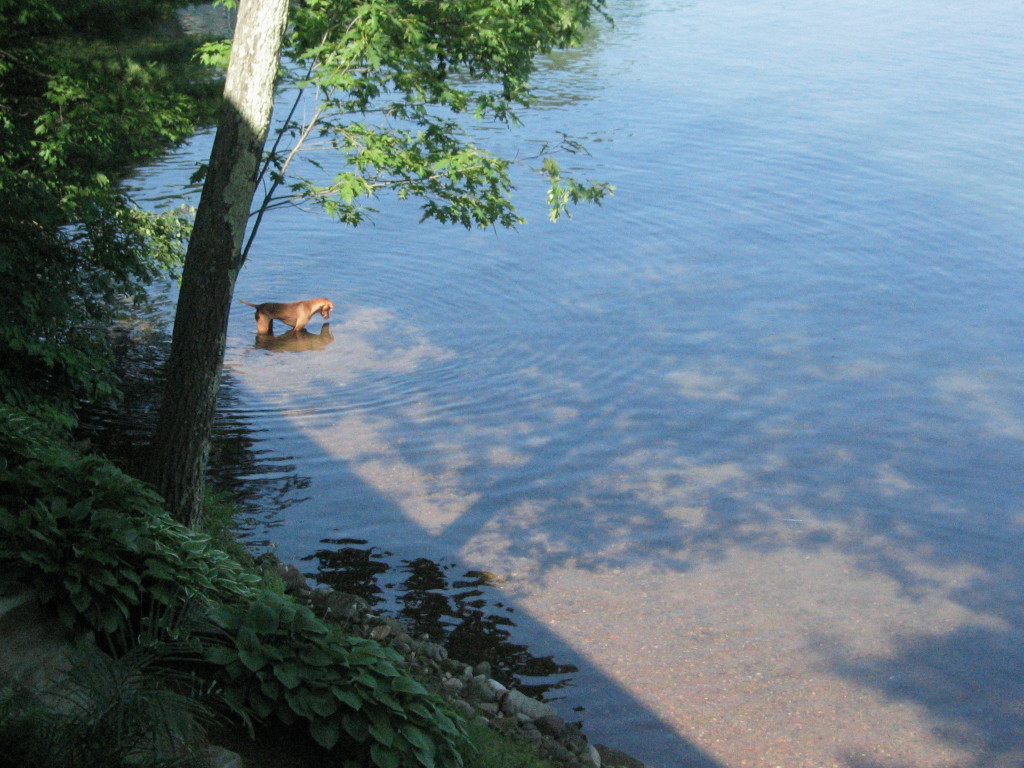 Other times, and more often, he stands on his hind legs in neck-deep water and propels himself around upright with his front legs tucked up like a kangaroo: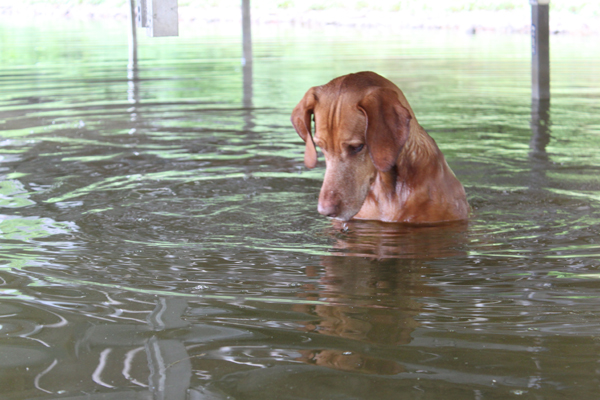 He truly has a screw loose. I searched youtube for other fishing dogs and realized there are some that actually catch fish instead of just staring into the water. And maybe if there were any fish in this stupid lake, Buzz would catch some, too. But somehow I doubt it.
Enjoy the video: