Well, the thought that I might write more this summer kind of fizzled. I've been 'work-working' more and I've got a lot of other commitments that just seem to take over. Nothing changes about my desire to write and stay current, it's just those pesky clients!
I do find myself thinking a couple times a day, "I should write about that." And then I sit down at my computer and think, "I better clean out my emails first." –And you know how that goes. It simply never ends! I marvel at people who seem to be able to do it all. How? Is their house a mess? Are they insomniacs? I don't get it.
Anyway, it's a hot and steamy Sunday and summer 2014 is coming to a close. I pulled out my dusty Canon and took some shots of the garden today as I sweat my way to the compost and picked some beans on the way back. –Thought I might share a few of my garden failures and successes with you all.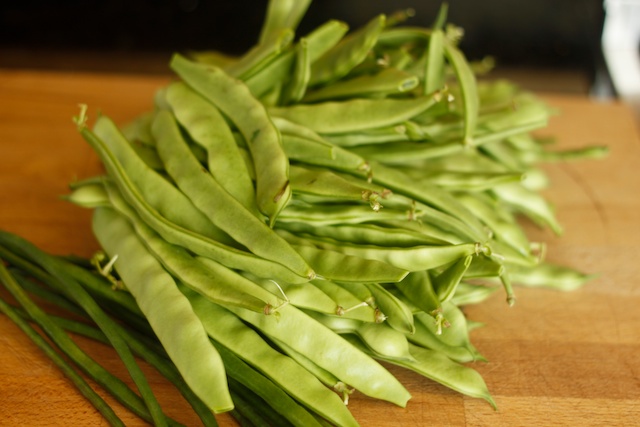 Oh, yes, I know: it LOOKS pretty enough. Frankly, it looks gorgeous. But gardening this summer has been another year of failure-firsts: terrible tomatoes, beans that gave up after just a couple pickings, frankenberries instead of raspberries, no peas, no radishes — except those gorgeous watermelon radishes that don't satisfy my need for raw, crispy heat.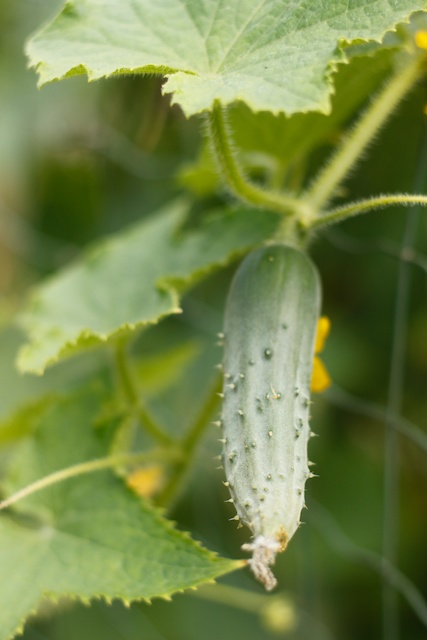 And then I've got a few successes: I have the best cucumbers in years — maybe ever.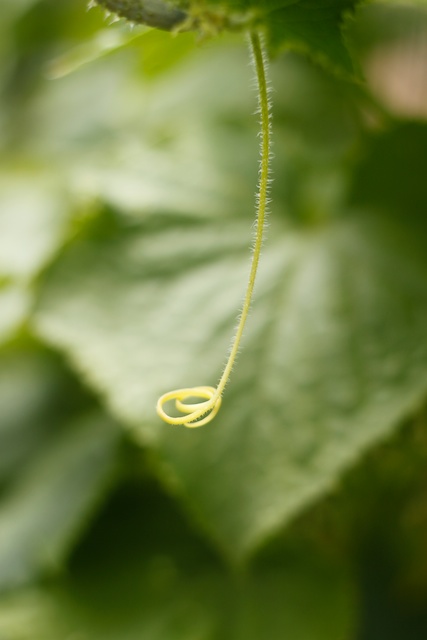 The edamame finally grew without being gobbled by the bunnies (thanks to my portable electric fence). The problem with edamame is that when it's ready, it's ready. And there is just too much of it!
The pole beans are awesome.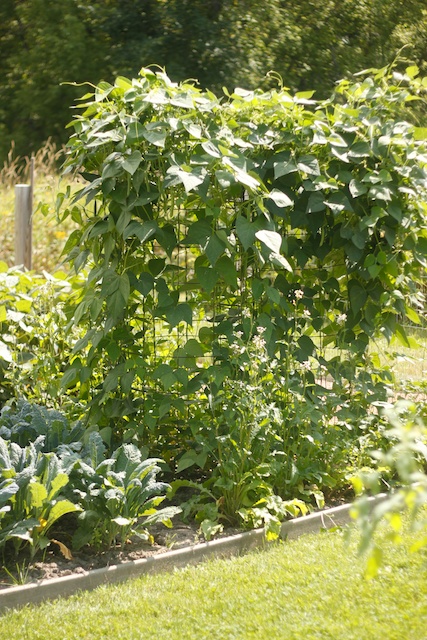 I gave up on pole beans several years ago because I found that the bush beans just never stopped producing and since they are easier to pick I just never really harvested the poles. But a variety this year called 'Garden of Eden' caught my fancy in a catalog and I ordered some.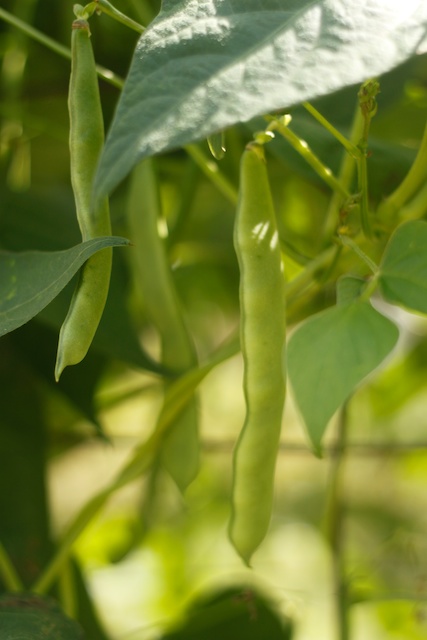 They are so cool! Flat, non-fuzzy romano-type. Something different — and pretty tasty!
And I'm glad I did plant the poles, because the bush beans pooped out on me inexplicably.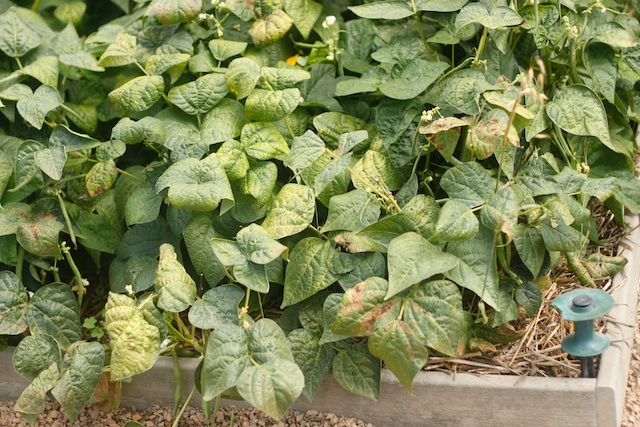 Oddly, when taking the photos today though, I saw a whole bunch of new little beans. So maybe I'll see if they are any good next time I am out there.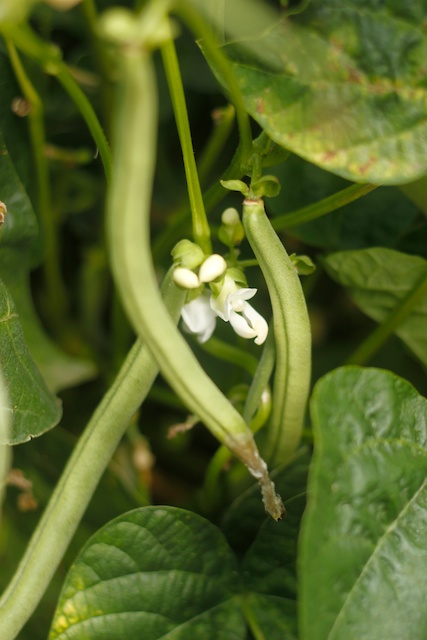 Kale. Kale. Kale. Is this the start of our seven-year itch? After the lustful throes of courtship, which settled into mature love after a few years. Are you restless? Feeling the need to move on from my life? Is there someone else you love more? Maybe the ne'er-do-well cabbage moth? I don't know. I'd like to work on it. Let's not give up just yet…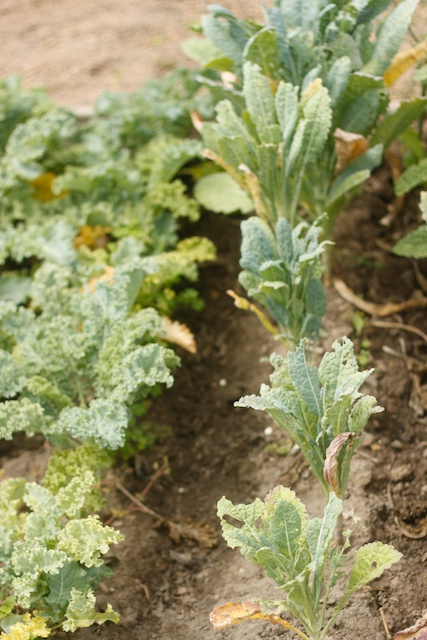 And what about you, dill weed? No, not you. You. The dill. That's acting like a weed. What the hell is up with you? I could never get you to grow in the many years before and gave up. I didn't even plant you. Now you are EVERYwhere. How does that happen?
When I planted "miniature eggplant" I didn't think they really meant it.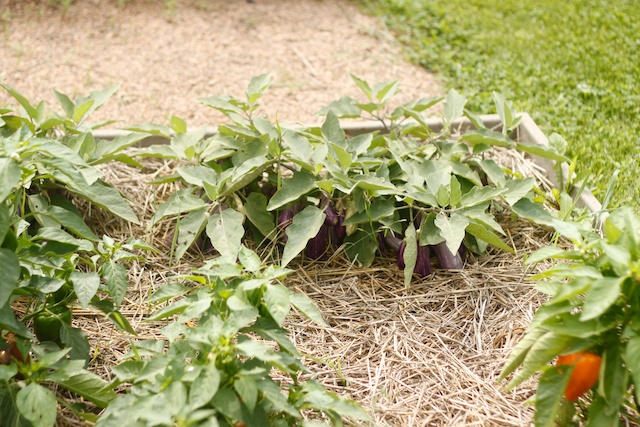 But they did. Dozens of them on tiny plants. I miss the majestic beauty of a standard eggplant plant. But I am totally in love with the perfectly sized midgets that don't seem to get too big and stay tender.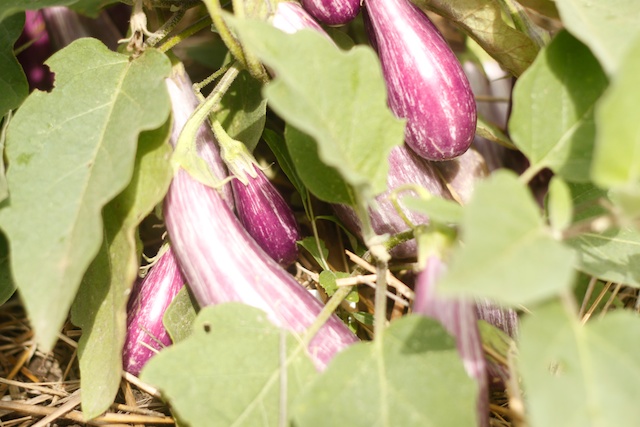 I can't really comment on the pumpkin and squash patch quite yet, except to say I see a few in that mell of a hess.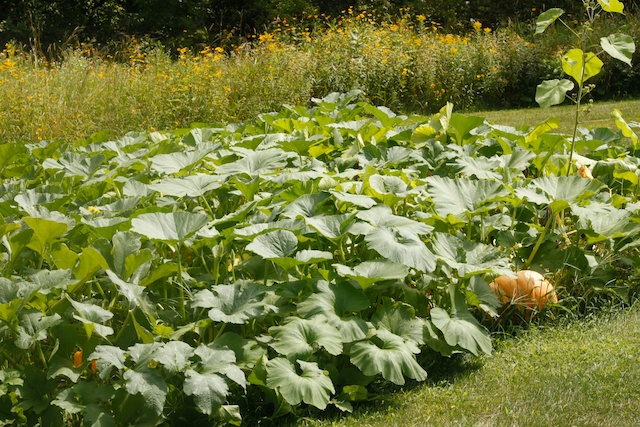 And also to say that this looks NOTHING like the Sugar Baby Watermelon I was expecting.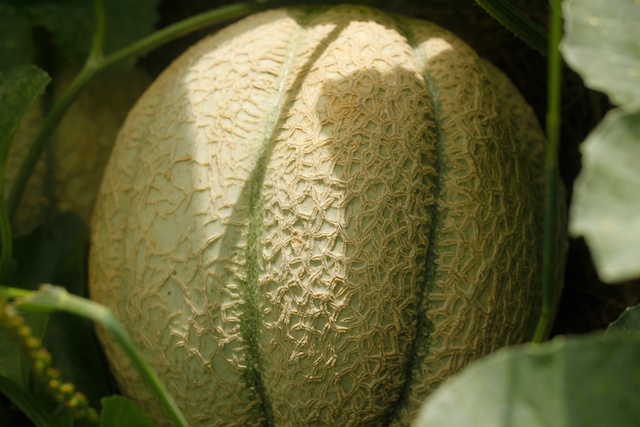 I don't even like cantaloupe!
I planted this hybridized bittersweet vine about 3 years ago. This year it really took off. And, as usual, I'm staring to wonder: what in heaven's name was I thinking.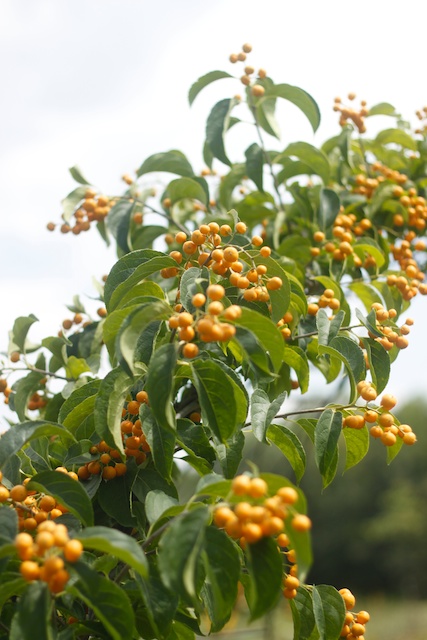 It is quite pretty though…
I never got to the garden store to fill out my beds this year (SEE? So I don't even have time for THAT anymore!) so I plunked some of my all-time favorite flower seeds right into the soil and hoped for the best. I figured they'd bloom right about now, when the god-forsaken borage starts to look just awful. I was right on both accounts. However, whenever I see them, the Sesame Street jingle "One of These Things Doesn't Belong" runs through my head over and over.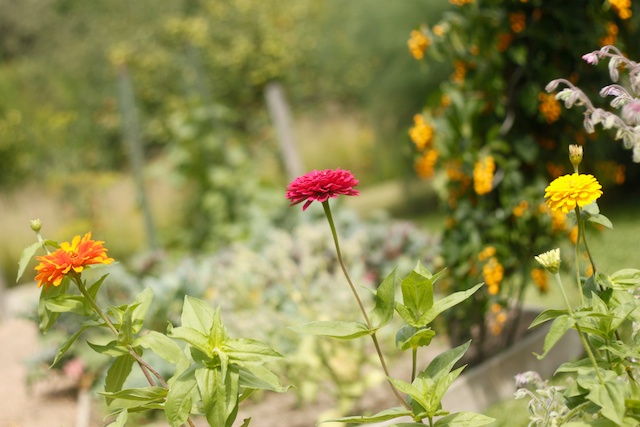 (The photo doesn't really show how badly they stick out. Like a sore thumb. BRIGHT MAGENTA. BRIGHT ORANGE. BRIGHT YELLOW. Like primary colors in a house full of sage green and browns… Very unsophisticated, I must say.)
The raspberries are on their own program this year. A big crop in June. Now floundering plants that are way-behind…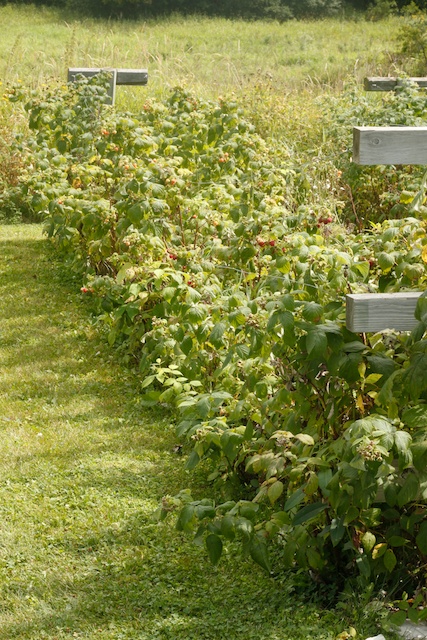 Dave and I don't know what to think. It's kind of the same way we feel about Charlie right now…
I've tried to avoid it, but…Last and Least. The tomatoes… I don't even know what to say. I'm a loser. My tomatoes are losers. It's difficult to even talk about.
I'm going to blame that damn straw. I don't know WHAT I was thinking. I said (several years ago) that I would never succumb to straw again. And then I thought "everyone else does it, why can't I?"
Just say no. To straw.
But actually, I don't really even think that. I just want it to be that simple. What I really think is that the May/June Monsoons leeched all the nitrogen out of the soil and by the time that gardening 101 fact crossed my mind, I was too lazy to do anything about it. I mean, the peppers bounced back, why couldn't the tomatoes?
Ever the positive thinker: I will just have way less to deal with this fall.
Now I'm going to go jump in the pool with Lola. She's chomping at the bit. Can't you tell…?