I sincerely wish I had been chronicling all of my family's New Years Eve celebrations in Hayward. The fact that I have not, however, isn't surprising. It's a madhouse.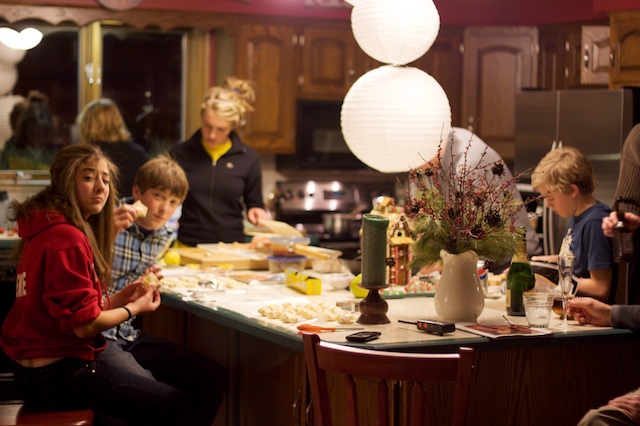 We've been going up to my parent's place on Round Lake in Hayward between Christmas and New Year's as long as they have been up there — probably 15 years now. It has become a tradition for everyone to make a main course for a big meal on New Year's Eve, eventually narrowing further to always, always be an Asian meal.
So no, it isn't really the Chinese New Year (which happens in early spring), but a New Year celebrated with Chinese food. We've tried other ethnicities, but always come back to Asian.
Now that the kids are getting older, they are also insinuating their preferences. My daughter, for example, insists on making cream cheese puffs. She makes an insane amount — this year it was 60 — assuring me that they are for "leftovers," and proceeds to eat about 20 herself.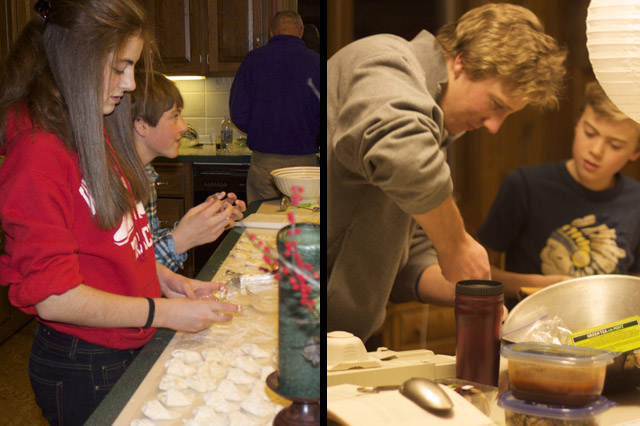 We have never had leftover cream cheese puffs except for the year my dad insisted on adding the fishy crab leftover from Christmas. He was not Morgan's favorite person that year.
And Jay, in the photo next to her? Well he helped, too. But in this blurry photo, if my champagne-addled mind remembers correctly, he was faking it mostly as an attempt to protest the fact that I was taking pictures of everyone.
Everyone helped. I made my niece actually — eww — touch the chicken that would eventually become her dish of Sesame Chicken. It was epic.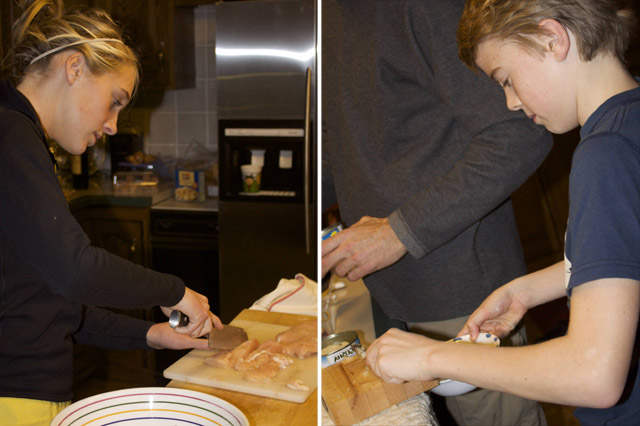 Charlie chopped water chestnuts for P.F. Chang's Lettuce wraps.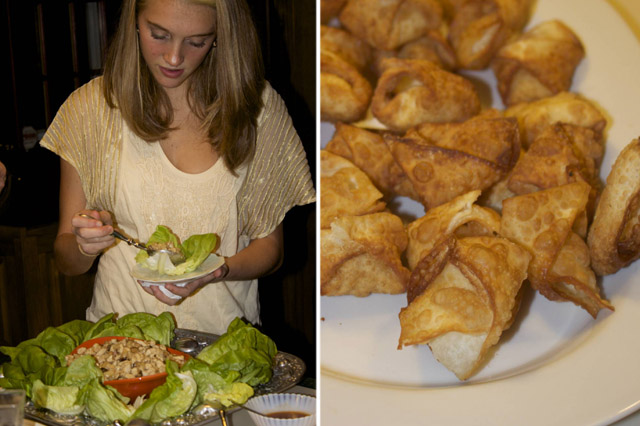 And whilst (sorry, have always wanted to use 'whilst') I wish the dishes would be more adventurous, I have to admit: Sesame Chicken is damn good.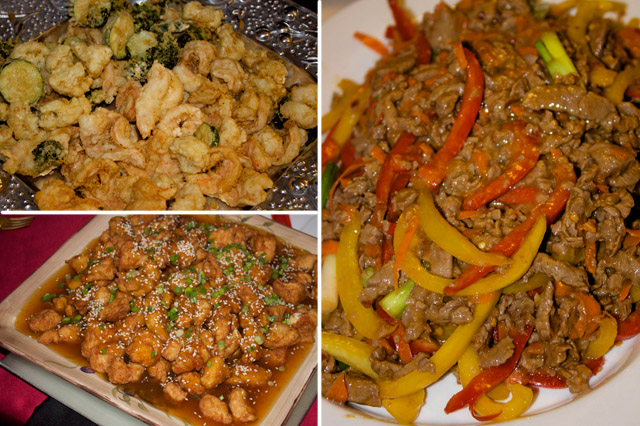 …And so is Tempura Shrimp and Vegetables… And so is Mandarin Beef.
(I also have to admit that I'm glad it is not my kitchen that we are deep frying non-stop for two hours straight in.)
Anyway, the recipe that I think was the biggest surprise winner was the Coconut Lime Halibut with Basil (of course it was my dish! This is, after all my blog). It isn't a very photogenic dish, but I can assure you that even my mom, who is not a professed fish lover, declared it her favorite out of all the other delicious dishes.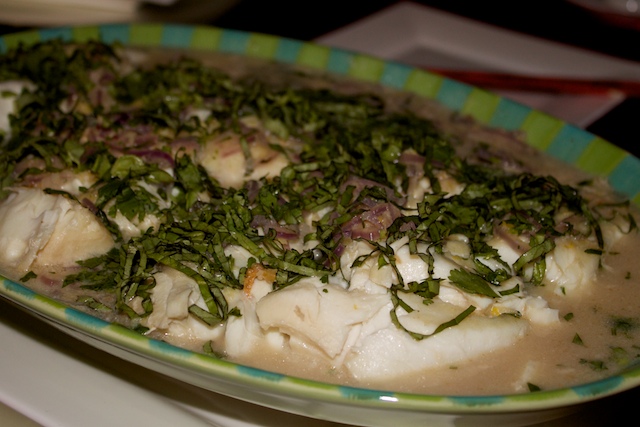 The recipe is at the bottom of the post.
After dinner,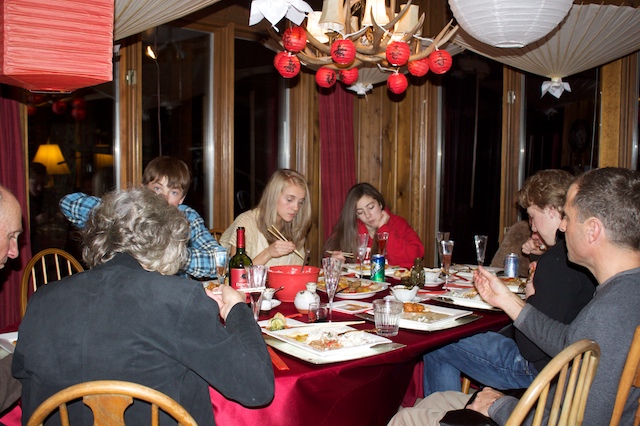 which we push off until around 9:30 or 10 pm because, 1) we are sick to our stomaches from various overdoses of appetizers (Morgan); and 2) we think it gives us a better chance of making it to midnight (Dave, Sharon, Mom), we do various things to keep us occupied.
We play dominos, have Wii tournaments, play Shuffleboard, etc. We used to play Taboo, but that game was banned about 10 years ago after a particularly ugly fight between two parties that shall remain nameless.
–Have you played that game? It seems to me that it should say on the box "encourages healthy family discussion" and "Warning: some family members may not appreciate 'healthy family discussion'." Anyway. That was YEARS ago. I'm beyond it.
It should be noted that we are long past the years of covertly turning all the clocks ahead by one hour to fool the kids into thinking it was midnight so that we, as exhausted parents, could go to bed earlier –though I suspect the kids might start doing it to us at some point not too far in the future.
..And as much as I want to end this post with the picture that I took of my mom at 11:30pm in the chair, holding her crossword with Pippi/Poopy on her lap sound asleep with her mouth open… well, I'm just not that dumb.
So here's the recipe.
Coconut Lime Halibut with Basil
(adapted from the Big Bowl Cookbook)
1 can coconut milk (light is fine)
3 T grated fresh ginger
1 T chopped lemongrass (or, if you live in the sticks, grated lemon zest
1 lb fresh halibut fillet, no skin (add more or less as you need. Sauce is flexible and adequate
1 T sesame oil
1 t kosher salt
1 c chicken broth
2 T fish sauce
1 1/2 t sugar
2 T peanut or vegetable oil
1/2 c diced red onion (or thinly sliced if you don't have kids that are onion detectives)
2 -4 T diced hot pepper (or to taste)
Juice of 1 lime
1/3 cup thinly sliced fresh basil leaves
2 -4 T chopped cilantro (personal preference depending on level of cilantro addiction)
crushed and toasted peanuts (optional)
In a small saucepan, cook the coconut milk over medium low heat until it is reduced in half. You should have 1/2 – 3/4 cup. In the last few minutes, add the ginger and lemongrass or zest. Set aside.
Sprinkle fish with sesame oil and salt. Set aside.
Mix chicken broth with fish sauce and sugar. Set aside. And claim ignorance to the sudden exclamations around you of: "Ahhh. Ohhh…What STINKS?!"
When ready to eat, heat a wok or skillet to hot, add oil and then the fish, searing briefly over high heat. Add the onion and hot peppers, stir fry a minute or two. Add broth mixture, bring to a boil and cover. Cook about 4 minutes until fish is just barely no longer translucent in the middle. Remove fish to serving platter, leaving sauce in pan. Add the coconut milk to the sauce in the pan and cook until hot. Add the fresh lime juice. Then promptly remove from heat and pour over the fish. Top with basil, cilantro, ground black pepper and toasted peanuts. Serve over hot rice.