I am a strong advocate of not buying all the kitchen gadgets I believe I want and need for a few reasons:
I am a miser
I am a martyr
I like to look at catalogs and feel repressed
Oh for Heaven's sake. I don't have the room. And if I don't have the room, I can not believe how other people find the room. I have lots of storage! I just don't get it.
There are a lot of things I think look über cool that I don't have. Have you seen the Krups deep fryer? INSANE. Not to mention INsane. And, inSANE. No, there's no hidden meaning in that. I just wanted to stress my point. One: I do not WANT to eat more fried foods than I already do. Two: a huge $400 device for deep frying? (Honestly, it looks SO cool…) Three: I do not have CLUE where I would store it.
Bread machines, pasta makers, toaster ovens, smoothie makers… the list goes on and on and on.
One of the items that I have long-admired from afar is the panini press. I stare at them in Chef's Catalog. I think about what I would make with them. I procrastinate work for 15 minutes more as I read reviews. Look at them on Amazon. But I have never given in. I know that I won't use it enough to justify the cost and the space it will take.
And honestly? My current Panini press works just fine.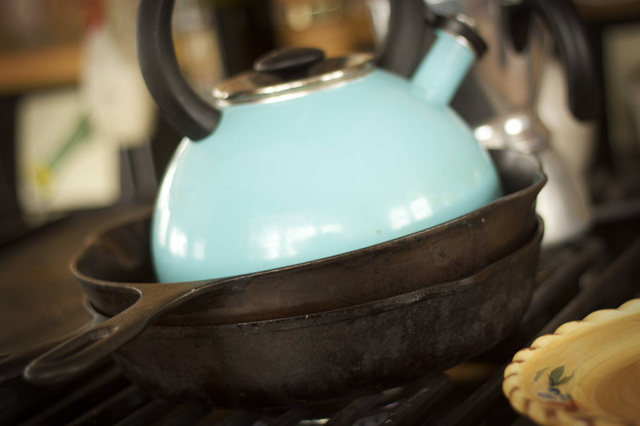 It consists of two cast iron fry pans and a tea pot full of water. Course, you could use any ol' thang as the weight. (Sorry. I keep breaking into a Southern accent in honor of the best book I have listened to all year: The Help, by Kathryn Stockett. Amazing narrators on the audible book, but I'm sure the printed book is just as delicious.).
Usually I eat leftovers for lunch, but on this day I didn't have any. Even the disasterous Meatless Monday One was gone, metered out to Buzz as a pill-delivering vehicle. The pills fit quite handily into the penne tubes and he just loved it!
So I was wracking my brain for some good eats. I've been way into Cuban (also known as Cubanos) sandwiches lately and have been getting the WORST insipid, greasy versions of them at even well-regarded local restaurants — the exception being the one I had at Mill City Cafe. Lawdy! that sandwich was a dream! (Sorry.)
Amazingly, I had *most* of the ingredients to sort of duplicate that one version I loved so much. But the best part was pressing. This works amazingly well. There's no tricks to it, except to be patient and keep your flame low to medium low. I do have a grill pan I could use to get the grill lines like you get on a real panini press, but I hate — and I mean HATE — cleaning that behemoth. So I don't use it whenever possible. Ironically, it's the same one The Pioneer Woman uses so frequently in her photos (see the first photo in this post with the shrimp). Makes me wonder 'bout her…
(Last sentence must be read with southern accent.)
Here's me peeking at my lunch: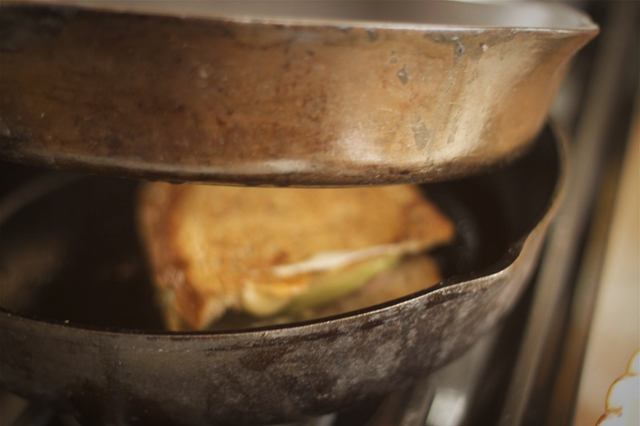 …I can't seem to take a non-blurry picture. Guess I'm too addicted to wide open apertures. I've gotta work on that.
It seems silly to post a recipe for this sandwich, but I will, just in case someone doesn't know what I'm talking about. I think it's funny to call it a Cuban sandwich, since I've been eating something like it for almost ever. But it seems like giving it a name makes it taste even better.
Pressed Cuban — or Cubano — Sandwich*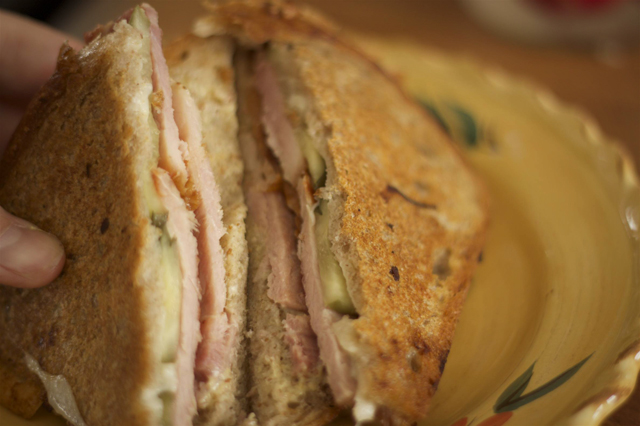 *For a real Cuban, you'd have ham, roasted pork, pickle, swiss cheese & yellow mustard. Obviously, if you read me very often, you won't be surprised to learn that I didn't have exactly those ingredients… though… come to think of it, I bet I do have some roasted pork left in the freezer from the last time I made it..
Anyway, I used:
Sliced turkey breast
Ham
Sliced garlic dill pickles
Yellow mustard
Manchego cheese, because I was out of Swiss
Heat the cast iron pan on medium low for about 3-5 minutes while you assemble the sandwich. Butter the bread, and layer ingredients to taste.
Put enough olive oil (you can use butter or veg. oil) in the pan, let oil heat a minute and gently place sandwich in pan. Weight down with whatever works for you. I use another cast iron pan and my handy tea kettle filled with water. Cook low and slow, checking after about 3 minutes. Flip and repeat.
Eat and enjoy. Feel smug that you made a great sandwich and saved $100 on a panini grill.