Like the kind you remember from when you were a kid
When I go out now, I like to order fresh spring rolls or vietnamese style egg rolls. Because, is it me, or does it seem like when you order regular old egg rolls these days, they aren't as good as they used to be?
This recipe goes back — I don't even know how long. I'm guessing about 30 years. My parent's had a good friend who loved to cook Chinese food and took classes at a place in Edina, MN called Creative Learning Center. They'd go over to her house for these big meals, and if I remember right, they would help all help make them. I could be wrong…
It doesn't matter.
What matters is that I have that recipe. It's ancient, grease spattered and faded badly. My copy was faxed to me when fax machines were new fangled modern miracles. Remember that? Standing at a fax machine and just marveling that you didn't have to call a courier? I remember that. I thought fax machines were the coolest things I had ever seen.
I digress.
The point is, that my copy is barely legible. I pulled it out recently to make a batch when I had a hankering and was dismayed to see the sheet almost blank! I reproduce it here that it may live on forever!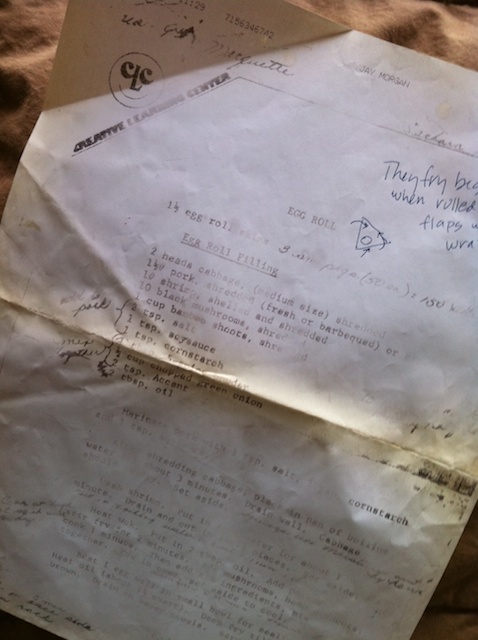 Notes:
I cut the cabbage by 75% in mine, because, well… there's just too much damn cabbage in the original. period.
I use the large egg roll wrappers rather than the wonton size she originally used because I don't have 7 hours to assemble 250 egg rolls. Plus, I feel better eating one big one (or two or three) than 17 small ones.
Creative Learning Center Egg Roll recipe, circa 1977
1/2 head cabbage shredded (recipe called for 2 heads)
1 1/2 lb ground pork
1t salt
2t soy sauce
1t cornstarch
1/2 lb shelled shrimp, chopped fine (original recipe called for 1 lb). I consider this ingredient optional
10 dried black mushrooms (shitake) rehydrated and finely chopped
1 can bamboo shoots cut into match sticks
1 can water chestnuts finely chopped (this is my addition and also optional)
1 t 5-spice (optional. original recipe calls for 2T. that is insane, unless you love 5 spice. i don't.)
4 green onions finely chopped
2T vegetable oil
2 packages of refrigerated egg roll wrappers
1 egg
Oil for deep frying
Sweet chili sauce (available in bottles in asian section) for use as condiment
Dry mustard mixed with water to make paste for use as condiment with sweet chili sauce
Mix the pork together with salt, soy sauce and cornstarch. Set aside
Steam cabbage for about 3-5 minutes. Cabbage must be very dry, so either squeeze extremely well, or roll in a dish towel and squeeze.
Heat wok till just smoking. Add 2T oil. Add pork mixture and stir fry for 2 minutes. Add mushrooms, bamboo shoots, water chestnuts and cook for about a minute. Then add the shrimp, green onions, cabbage, 5 spice. Stir fry, tossing well, for an additional 2 minutes over high heat. Hopefully the mixture will be mostly dry. Remove to a bowl to cool.
To assemble:
Beat one egg well in a small bowl. Using a pastry brush, brush two sides of egg roll wrapper as shown below. Add a big spoonful of meat mixture and seal as shown.
To fry:
Heat vegetable oil in a heavy pan or wok to 375 degrees. Add 4-5 egg rolls at a time and fry until deep golden brown. Remove cooked egg rolls to a cooling rack to drain fat.
To eat:
Serve with hot mustard and sweet chili sauce. And do try to control yourself.
To freeze:
If you plan to freeze some of the egg rolls for later, fry them slightly less than the ones you plan to eat right away. After they are cool, freeze in gallon bags.
To reheat:
Preheat oven to 425 and place frozen egg rolls on a baking sheet. Cook about 20 minutes, turning once or twice. Don't burn!
Assembly Pics: