My First Rhubarb Love
That, of course was before I fell for Al Sicherman. But I recently made this cake, after about a year hiatus. Morgan declared it her personal favorite. I suspect that's mostly because she always sides with my mom. They have this little thing going. Have I ever mentioned that Morgan and my mom are very much alike? Yes, well, they are — and it makes my life very difficult.
Anyway, now, every time I will want to make Al's Rhubarb Pudding Cake, I'm going to have to listen to her bellyaching that she wants me to make this one. I hate when kids have opinions. Children should be seen and not heard. Remember being told that as a kid? I think we should bring that adage back into use.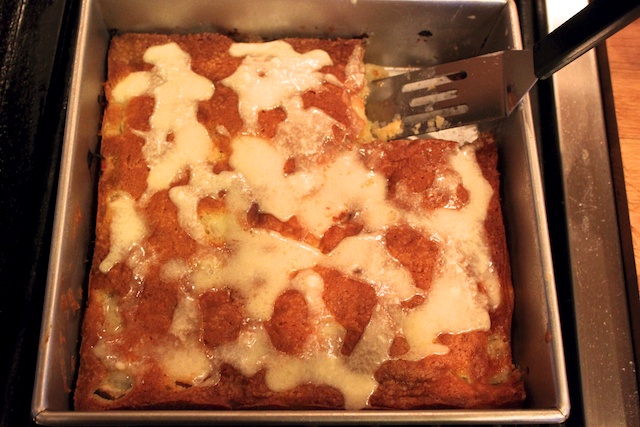 If you read the other rhubarb cake recipe, you will know that I also love this cake. It is very, very good. Especially still warm from the oven. Seriously. I might even like it more than the other one at that perfect point in time. But if you are wanting to pick at it over the next few days, it just isn't as good for keeping.
I think I might have solved that problem, though. I halved the recipe and made it in a 9 x 9 pan and it worked great! I'm going to give you the recipe for a regular 9 x 12 cake, but just know that halving it worked really, really well and was just perfect for the four of us and breakfast the next morning! (I am conjuring up a post about why we should consider cake and pie breakfast foods.)
One other note: It calls for buttermilk. I never have buttermilk. Well, I do right now, but that's a rarity. In the event that you do not have buttermilk, add 1 tablespoon white vinegar to 1 cup of milk and let stand about 15 minutes. The flavor of the substitute is great. The consistency is more thin. Whether that affects the final cake is a matter for debate. I think it does, while others claim not to be able to tell the difference.
OK, I do have one more gripe. At the end of this recipe you are required to mix powered sugar, milk and butter into a glaze. I hate making the glaze. Why?  Because I am feeling lazy at that point and I just want to eat the damn cake, not make the glaze. Second, no matter what I do, my glaze is lumpy. My mom's is always perfectly smooth. My glaze makes me feel like a failure. What's your secret, Mom? What are you holding back on me? Is this one of those potato soup recipe secrets? Anyway, I have come to blame the cake for my glaze-making failures. Of course, in true Morgan fashion, she claims it's the glaze that makes this cake her favorite. And lumpy or not, it still tastes great.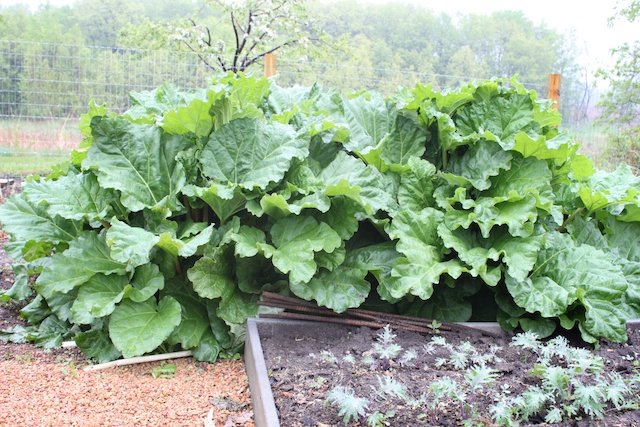 Actually, even though it's thundering, raining, windy and a cold 58 degrees (while my Weatherbug iphone app tells me it's sunny and fast approaching 83 degrees), as soon as the storm passes I'm going to out and pick more rhubarb and use the rest of my buttermilk to make this cake.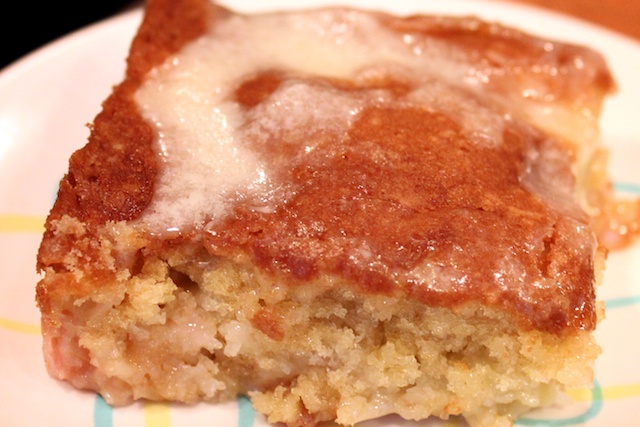 Mom's Rhubarb Cake
Preheat oven to 350. Grease 9 x 12 pan. (Recipe may be halved: use a 9 x 9 pan)
1/2 c shortening
1 1/2 c sugar
1 egg
1 t vanilla
1 cup buttermilk*
1 t baking soda
2 c flour
1/2 t salt
Topping
2 T softened butter
1 cup powdered sugar
2 T milk
1/2 t vanilla (optional: my addition)
Combine the buttermilk with the baking soda in a 2 cup container (sometimes it will bubble over a 1 cup measure, sometimes not), set aside for 5 minutes.
In a mixer, cream the shortening and sugar together. Add egg, beat on high for about a minute. Stir in vanilla. In a small bowl stir the flour and salt together. Take turns adding some of the flour mixture, then some of the buttermilk mixture to the mixing bowl, mixing on medium-low until all is added. When well combined, gently fold in 4 cups of cut rhubarb with a rubber spatula. Pour/spoor into a greased 9 x 12 pan  and smooth with a knife. Bake at 350 for 45 minutes.
For the topping, combine butter, powdered sugar, milk and vanilla. Mix well and drizzle in lines across the warmish (not hot) cake.
* Buttermilk substitution: you may substitute scant cup of milk combined with 1 T vinegar for buttermilk.