So the delay here isn't the fact that I hadn't started my holiday baking. The delay is that I can't seem to find time to write about about it. Indeed.
Indeed?
Indeed.
No excuses. Just the facts.
We are currently snowed in. Blizzard in Minnesota. I finished the panda hat for Morgan.
The panda hat?
Yes, the panda hat.
More on that another time.
I've researched vintage Polly Pocket castles for my friend Chris.
Polly Pocket castles?
Yes, Polly Pocket castles.
So here I am, ready to write.
What about, though? That is the question. ALL my holiday baking? Or focus on just one thing? Chocolate Balls, Popcorn balls AND gingerbread house? That seems rather sweepingly ambitious. Especially considering I haven't eaten lunch yet… Maybe I should have a popcorn ball to tide me over…
Purple, yellow, red, green or yellow?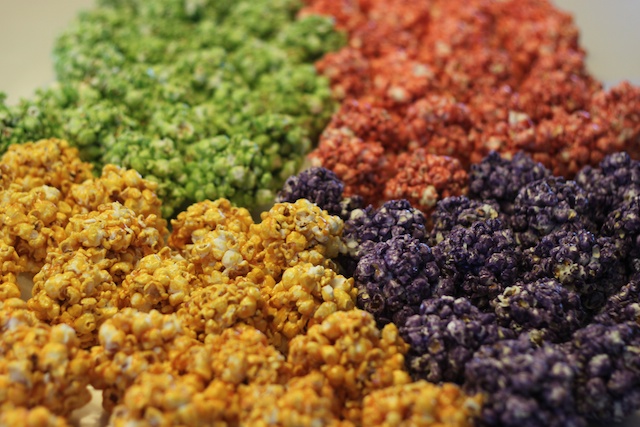 Yellow.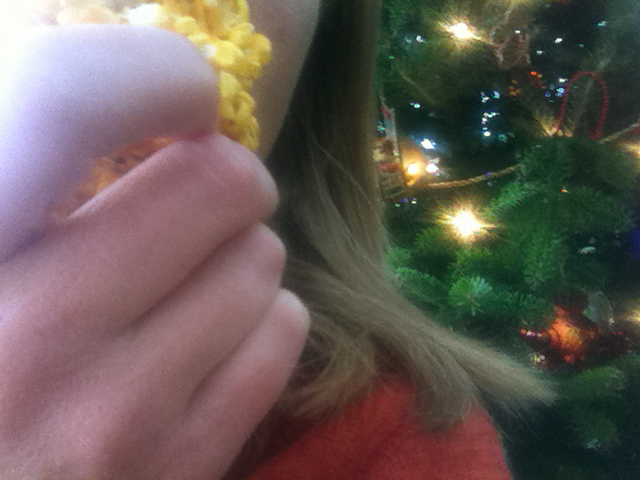 Then, my fingers were sticky, so I went into the kitchen to wash them. Then I saw the ciabatta dough that I forgot about that had way over-risen. So I dealt with that. Then Charlie and his friend came into the kitchen looking for lunch. So I dealt with that. Then I figured I should eat too, and I had my delicious leftovers.
And now I'm back.
And I wonder why I never get anything posted.
So. Where to start?
I'll start with my all time favorite Christmas Cookie: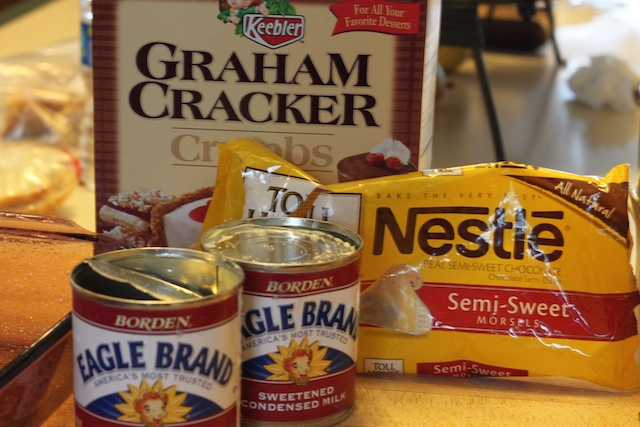 CHOCOLATE BALLS!
Seriously easy. I submitted the recipe to the Minneapolis Star Tribune for their 2010 cookie contest.
I didn't win.
Very, very disappointed. Because, you know, I'm used to success.
Except for that damn Fiesta Movement contest.
Nevermind.
Here is the recipe:
Preheat oven to 325. Mix together:
1 box of graham cracker crumbs (or 48 squares crushed to make 3 cups)
1-11.5 oz package of chocolate chips
2-14 oz cans of sweetened condensed milk*
(This mixture all but turns to cement. So, being the lazy lucy that I am, I use the KitchenAid on the lowest speed.)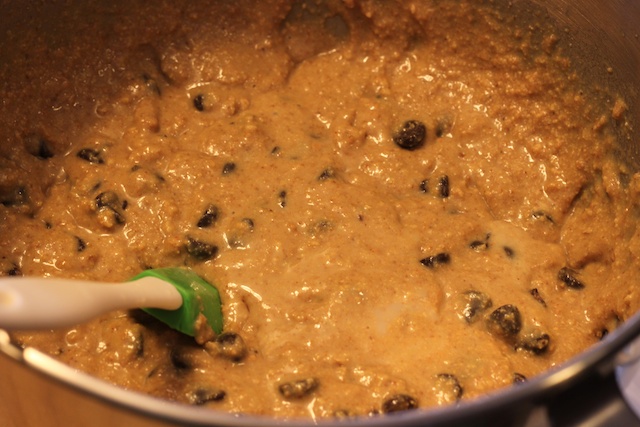 Pour into a greased 9×13 pan and bake for 25 minutes at 325 degrees. Watch from 20 minutes on so it doesn't get too crusty on top. Remove from oven and allow to cool slightly, about 10 minutes. Stir mixture up in pan completely. Either butter your hands (that works best for me) or coat hands in powdered sugar (original recipe's directions). Roll into small balls with your hands and then roll in the powdered sugar to coat. Allow to cool completely and store sealed tightly. Makes 3-5 dozen, depending entirely on the size you make the balls.
These are best eaten in the first week, though I hide my stash and enjoy them through Christmas. They just get a little hard, but I still savor every one.
*You can use light sweetened condensed milk if you prefer. But they get harder even faster.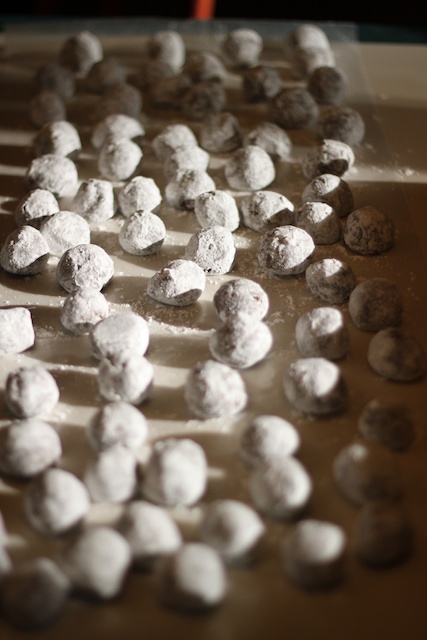 POPCORN BALLS!
I already wrote about these here. Thank goodness I did a search on my blog just to make sure I hadn't written about them before. And I had! It was only last year, but I had already forgotten.  See? I've already lightened my load today!
GINGERBREAD HOUSE!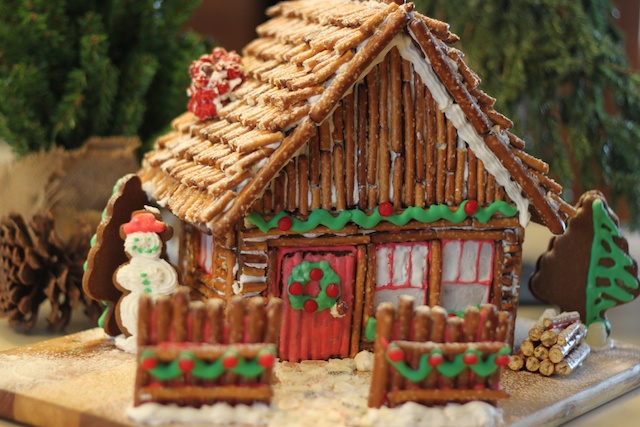 Here are detailed directions to making my pretzel gingerbread house:
Don't do it.
I'm Serious. Only serious masochists make things like gingerbread houses. Oh, we'll tell you it's "so fun!" And, a "wonderful thing to do with your kids." But that is just a bunch of hooey. If you do embark on this as a family project, don't expect it to look anything like the beauty shown here. I did this all by myself, baby. (The kids were hiding in the basement I think.) I've been making these for, let's see… 14 years? 13? –Somewhere around the time I was enchanted enough by my daughter to think making a gingerbread house together would be fun.
And you can do that. And of course I did. But I did a lot of yelling, "NO!" and "BE CAREFUL!" and, "Don't you think THIS might look better?" I think the first couple years I eventually resorted to doing most of it while she napped and let her put the finishing touches on it when she woke up. I've blocked out entirely the years Charlie was a toddler…
In later years, I learned to stop being the control freak that I am. (Mostly.) And I let the kids do it all. But let me tell you the problem with that approach:
Kid's get bored. And then they don't want to finish. And then you, and all your control-freakishness, are left to work with what can only be called a little gingerbread house of horrors.
I'm exaggerating, of course. It isn't all that bad. But I'd still tell you to skip it if you have a brain in your head.
And, for all of you who don't heed that warning and want to while away about five or six hours creating this keepsake memory, I've got some tips for you:
This is far and away the BEST dough. It's soft and easy to roll, gets hard in the oven before it burns, and tastes pretty good, too.
Google free gingerbread house plans. I used "the elf house" for this one, sans the chimney, which I made out of candy.
Invest in Silpat mats. I use them for absolutely everything. The cheapies from Target work just fine.
After years and years of cutting out the windows, I have come to this conclusion: I prefer them created with frosting. Black holes in the sides of the house are just plain ugly. One year we made "stained glass" out of melted hard candy. That was pretty, but also a pain. Frosting windows look better and are easier.
Use squeeze bottles for icing. It's hard to fill them (use a small funnel), but SO much easier to use for people not good with pastry bags.
And, drumroll please… Decorate the house BEFORE assembly. Unbelievably I never, EVER did this until this year. I simply cannot believe how much easier it was. Truly mind-boggling.
Royal icing is a royal pain in the butt. It takes practice to get it right, but know this: make it too dry and it won't stick and you'll strain a tendon trying to squeeze it out. There is nothing you can do except take it out of the container, stir in more water and try again. Make it too runny and you've got a mess. All you can do is squeeze it all out, add more powdered sugar and try again. When it's the right consistency, it is amazingly easy. Here is a good recipe for royal icing. The powdered egg whites (meringue powder) is pretty easy to find these days.
If you are doing it yourself, have a plan and a picture. Google "gingerbread houses" and look at the pictures.
If you are doing it with your kids, forget the plan. Have a glass of wine instead.
This year I used pretzels exclusively. It was tediously and strangely fun. Here is the roof. It took about two hours.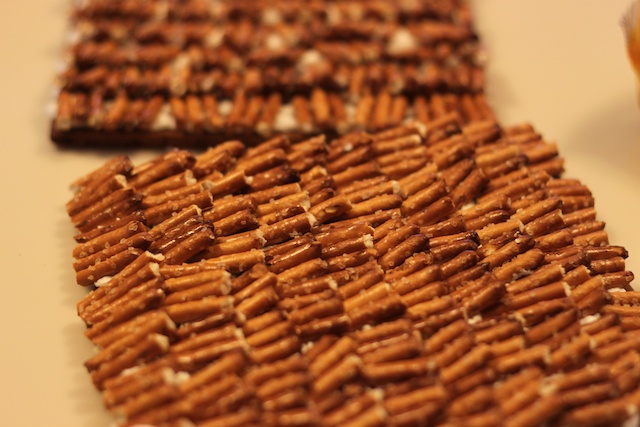 And yes, I was drinking wine.
I used jelly bellies cut in half for the cobblestones.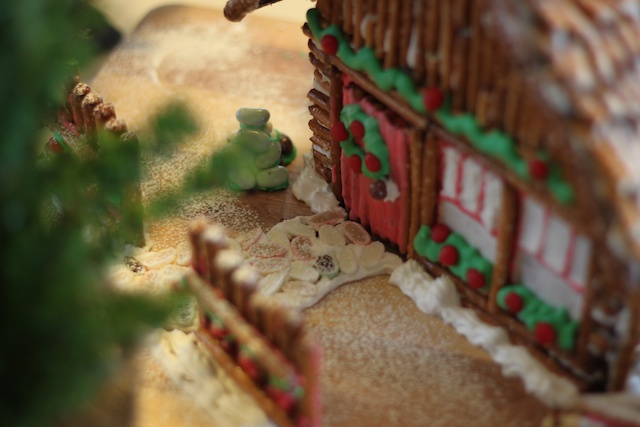 I used — oh what are they called — burnt peanuts? For some reason I want to call them boston baked beans. Was there a candy like that? They are brick-red pokey round candy-coated peanuts. I cut them in half and made a chimney going up the back of the house.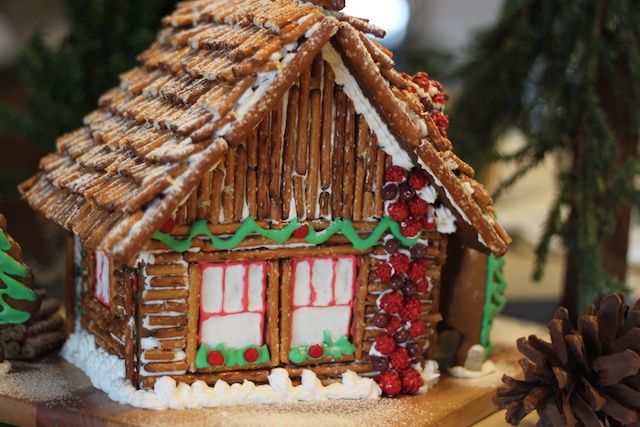 I'm a terrible frosting decorator. I don't take my own advice (above) and try to use frosting that is either too runny or too dry. I do it every year. Can't seem to learn. I used powdered sugar for dusted snow. And then I was done.
And now I'm done. Approximately four hours have passed since I sat down to write this.
Fatty needs another popcorn ball.