Horseradish. I have to wonder if it is an old fashioned taste that has lost favor like cold aspic meat jello dishes and fruit salad. No one ever talks about regular old horseradish anymore!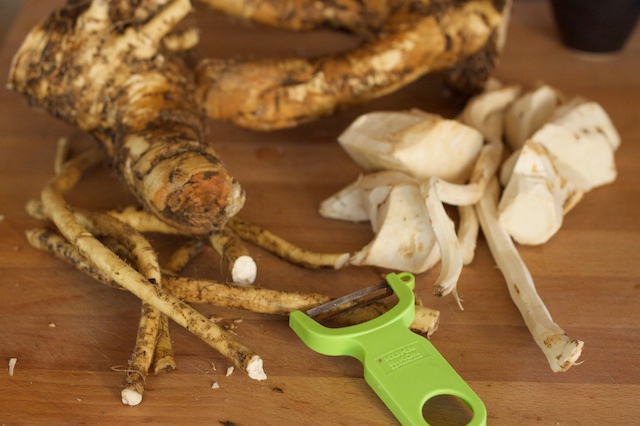 I just LOVE horseradish. Love, love it. In all it's forms. Oddly enough, as I was getting ready to write this, I was reading my twitter stream where I follow Jaden (@steamykitchen). She just came out with a cookbook, has a beautiful website/blog and is seriously a very nice person. One of very few people on twitter, in fact, who seem genuinely interested in what others have to say vs. screaming their own links and promotions, etc. etc. Frankly, I'm a bit sick of twitter these days. I digress. Sorry.
Horseradish.
Horseradish is a root. Much like Wasabi, the green japanese horseradish powder that is mixed with water and eaten with sushi. Mmmm. That's where Jaden came in. She posted this picture, that — I swear — looked exactly like a gnarly tomato hornworm past its prime. Along with the picture she wrote: "so overjoyed right now." Or something like that. I was HORRIFIED. Have you ever SEEN a tomato hornworm?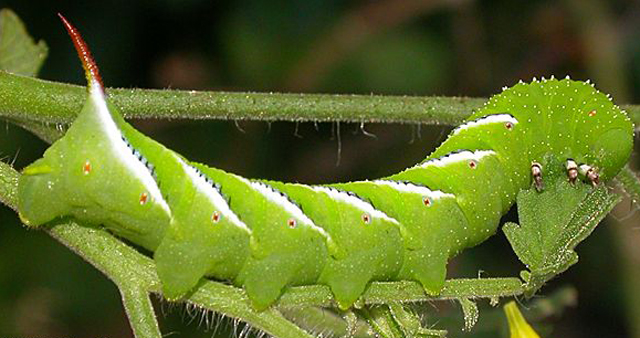 I have, and it isn't pretty. I didn't know insects got that big in Minnesota. They (well at least the ones I've seen) are about 4″ long and about 1/2″ in diameter with freakish horns on their heads. Worse, they are almost impossible to see. My first encounter with a hornworm was when I discovered two of my tomato plants had become all but decimated and defoliated overnight. I knew there must be a worm infestation of some kind, but try as I might, I couldn't find any. My three chickens were in the garden, following at my feet, pecking around and looking for bugs, when suddenly one of them saw something (the giant worm) and plucked it off the stem. I had about five seconds for it to register on my "ick" scale before they had pulled it apart, pecked into pieces, and gulped down the whole thing.  (That scene, by the way, was much higher on the ick scale than the worm alone).
Then, as if that memory were not bad enough. Eric, he of @ericgardenfork on twitter, sends me this link to his own experience with tomato hornworms — parasite infested, no less! Ick, Ick, ICK! (It is easy to see how something like twitter can take you down the rabbit hole, eh?)
Sorry, but that was the background I was coming from when I looked at Jaden's first photo. A deflated and decaying hornworm laying across some packaged produce? Was she just being a sicko?
Mystery solved a few minutes later when she put another picture up with two of these monstrosities side-by-side with the text: Wasabi root! Suffice to say, wasabi root is much uglier than our own locally grown horseradish root. It got me thinking: I wonder if I could make a powder out of my roots that could be mixed with water like wasabi. I will have to research that.
About the plant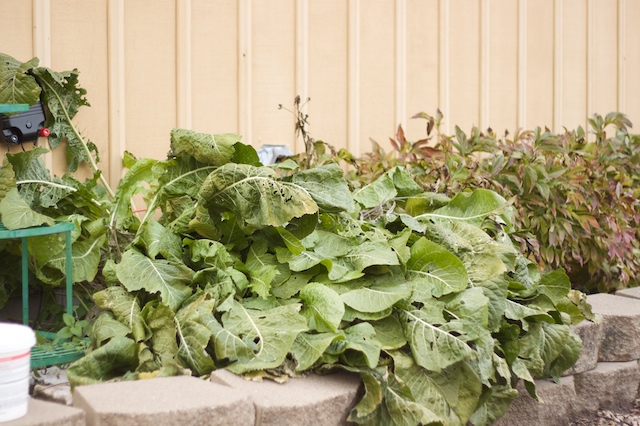 It has taken me three years to appreciate what I read over and over about horseradish plants. Specifically, that they are extremely invasive and to plant with caution, much like mint. It was really hard for me to picture horseradish as an invasive plant, having never brushed up against it with any of my gardening friends. No one that I knew ever bemoaned their troublesome horseradish patch. The idea was laughable.
Ha.
Ha.
Ha.
Now, I've got this ridiculous giantess of a plant sitting right next to my greenhouse door, the spigot and my peonies. In the course of one growing season, it suddenly got taller than me and shaded out even the MINT! Yes, that's right. The horseradish killed the mint.
Plus, I hear that if even a small chunk of root is left in the ground, you will have yourself a horseradish plant. So far, I'm not in peril, but stay tuned, as I have a hunch I might be the first person I know to bemoan my horseradish patch.
Still. It is a tasty vegetable. At least I think that's what I read. That it's a vegetable.
Digging it up was a beast of a job.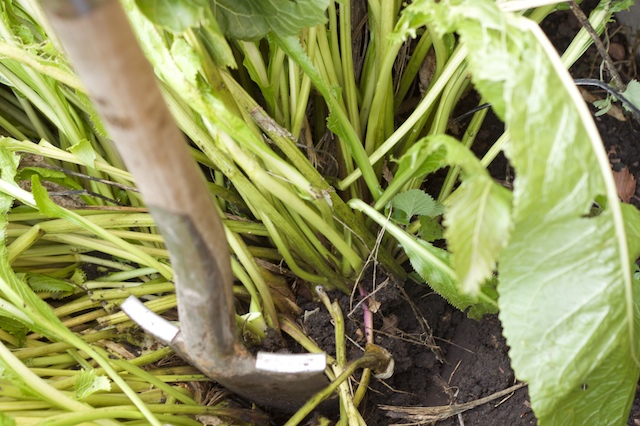 I am ashamed to admit I needed Dave's help. (Rarely do I ask for help, preferring instead to be the perfect gardening, wifely and motherly martyr). I could hardly get my sharp spade throught the plant, much less pry the tenacious roots out of the earth. Even Dave had trouble. Given the health of the monster plant, I wasn't concerned about hurting it. I just went to town, chopping and prying it out.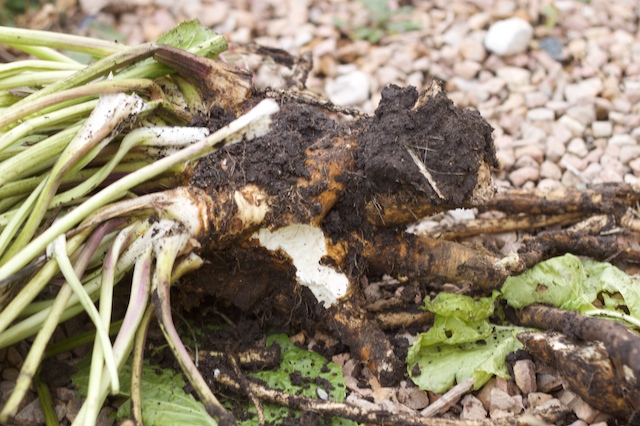 For the record, the best time to dig is Fall or late Fall or early, early Spring in Minnesota. Spring always comes and goes too fast here in Minnesota and there's always so much to do. I'd rather dig in the Fall when I'm processing everything else. Not to mention that, assuming I want it for a-top my corn beef on St. Patrick's Day, there is little hope for the ground to be thawed in mid March.
Once the root is dug, you can  store it in a dark, cool place until you are ready to make the horseradish.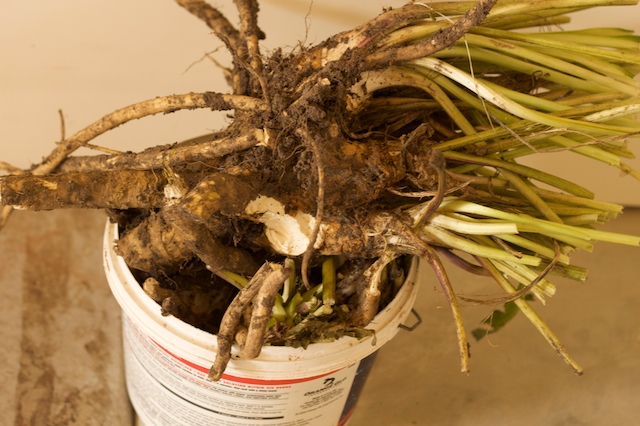 I wonder how long I would be able to leave a plain dug root in my lower garage… Because as much as I like to open a jar and use the stuff I make, even better would be to grate it and eat it fresh, fresh, FRESH! So pungent and hot! I'll have to look into that when I'm researching the wasabi powder angle…
To make grated horseradish for storage, clean and peel the root. Then, finely grate it. (You will note, due to laziness on my part that I neglected the "finely" part of those directions.)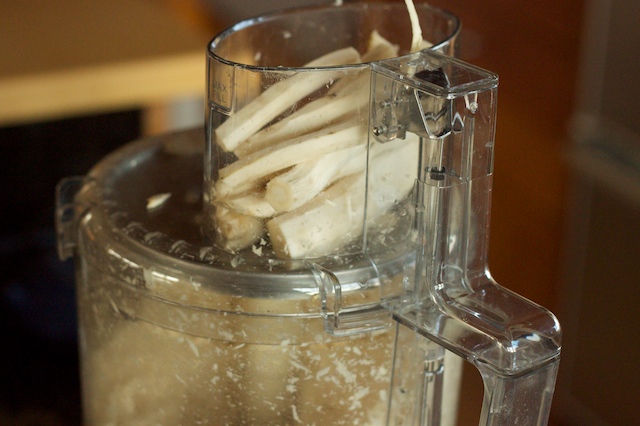 In these pictures, I first shredded it with the food processor,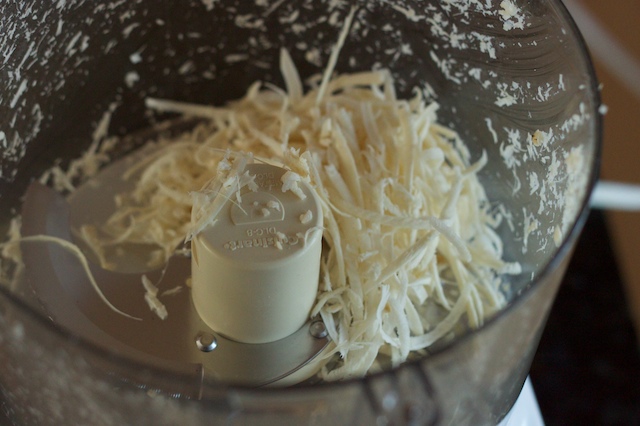 Then chopped it up with the food processor blade.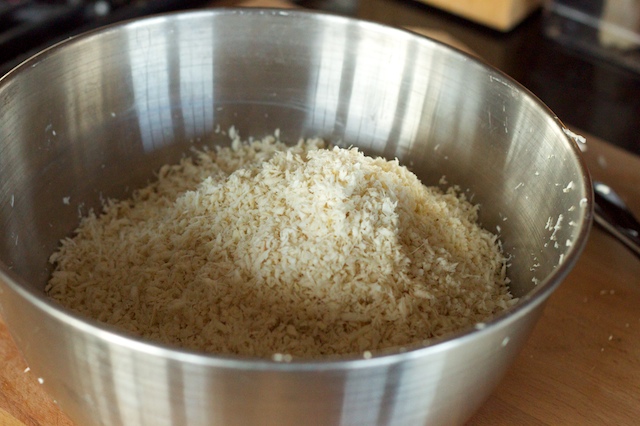 If you love the freshly shredded root, you will like it coarse like I have shown here. However, I have shared some of my finished and jarred horseradish with my dad and a few other people and I am learning that most like it processed a bit finer. Last year, I used a microplane grater because I had so much less to make. That works great for the finer shred. (I, personally, love the coarse shred.)
The fun thing about horseradish is that it isn't hot until it is exposed to air. I don't know why I think that is so cool, but I do. So, you begin to grate it. Taste it. Nothing. But wait a few minutes, take a big whif and ZOWIE! That'll take care of any lingering sinus issues you might have. Grate it in a food processor? Take the lid off? And the kids in the LIVING ROOM will start complaining that the fumes are stinging their eyes. So fun.
Once you get it to the consistency you like, add a healthy dose of salt and enough white vinegar to coat the shreds.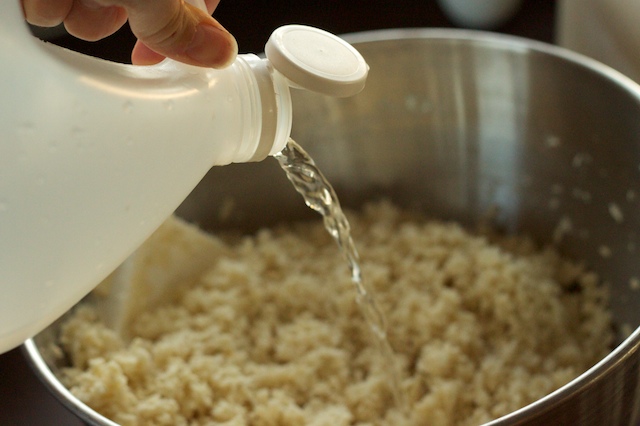 Taste and adjust. Put into glass containers, seal and freeze. Because you are freezing, the amount of vinegar you used is up to you. You can't heat process this one, sorry. Actually, I'm not sorry at all. I am SICK of canning. I was overJOYED to freeze them.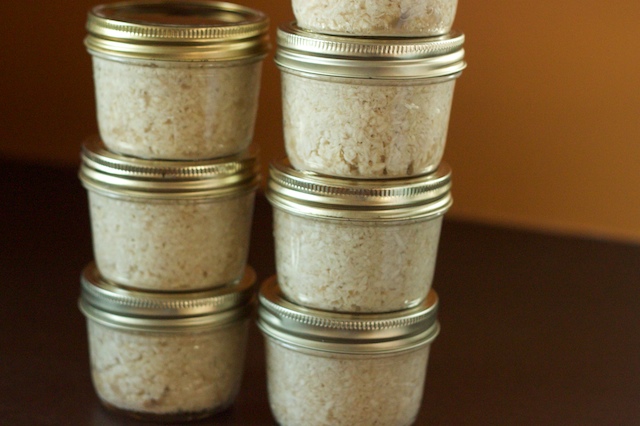 Conservative worry worts tell you that it will keep for two weeks in the refrigerator. As usual, mine keeps indefinitely.