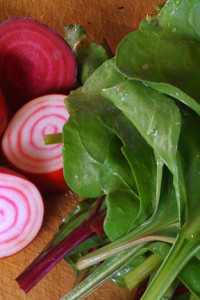 I hate them boiled, roasted, pickled and pureed. I hate them with orange vinegarette and in salads. I've tried every recipe that starts with "Even people who say they hate beets love this recipe…" (You would be amazed at the number of beet recipes that lead off with something along those lines, which tends to make me to believe that I must not be the only beet-hater out there.)
So why do I grow them? Well. My family loves beets, so I grow (and cook) the insipid things for them. I think it grossly unfair that in the intermixed gene pool that are my children, my food preferences seem not to be represented. I love mushrooms; no one else does. I love eggplant; no one else does. I love tofu; no one else does. On the other hand, Dave loves pizza; so do the kids. Dave loves olives; so do the kids. And, of course, Dave loves beets; and so do the kids.
What's a beet-hater to do? Eat the tops. They are delicious.
Beet Greens Saute
1) Rough-chop the tops of the dreaded beets you will feed someone else
2) Heat about 2T olive oil in pan
3) Add 1-2 minced or chopped cloves of garlic. (Do not brown)
4) Add beet greens and stir until mostly wilted
5) Add a splash of balsamic vinegar*
*Of course, I could simply drink balsamic and be happy.)