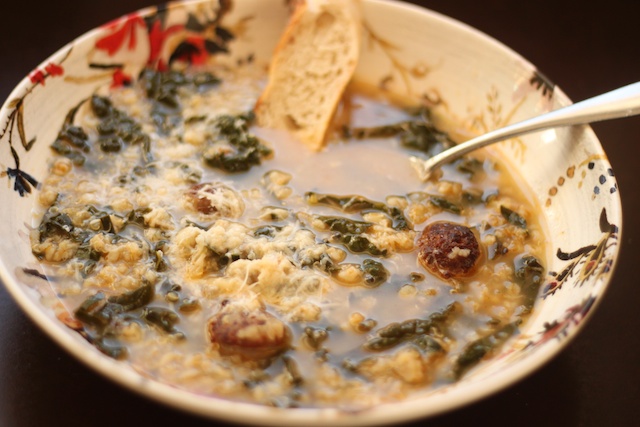 Mmmmm. I know I tend to go on and on about Kale. But seriously? It's that good.
Everyone just assumes it tastes like spinach. But it really doesn't. Lacking a good comparison, however, that's what most people say. Including me, I'll admit. Because there isn't a good comparison.
It tastes like Kale. Nutty, earthy, sweet… so good!
While spinach can be too earthy, a bit mushy, sometimes harsh tasting. –At least in comparison to kale.
So, if you haven't tried Kale, then go buy some. Or stop by my house and I'll give you a gallon freezer bag full.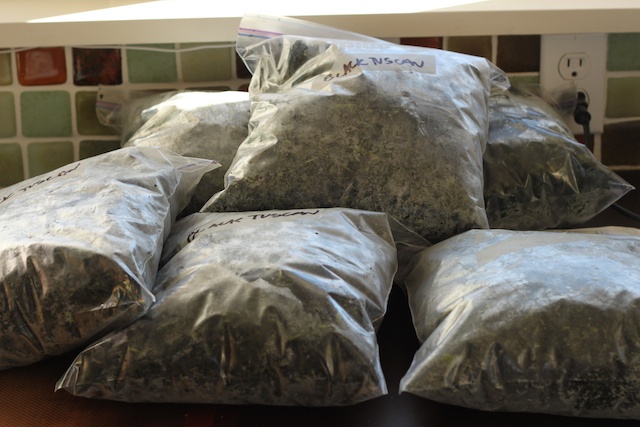 I'll also admit: it is very difficult for me to buy Kale at the grocery store. You get about six stems for about $3. Seriously insane. It reminds me of a lunch meeting I had. I was a bit late (always) and came in after they had ordered a couple appetizers. Being polite (hardly ever), I didn't ask what they had ordered. When the waitress set down two steaming bowls of edamame, I blurted out, "You paid money for these?!"
Of course they paid money for those. Everyone pays money for edamame. Except me, who can't keep up with the ice cream pails full of pods that start coming out of the garden in August. And they are so much better than the ones at the restaurants. So I encourage you to try planting edamame as well. A simpler crop cannot be found.
Anyway.
Kale.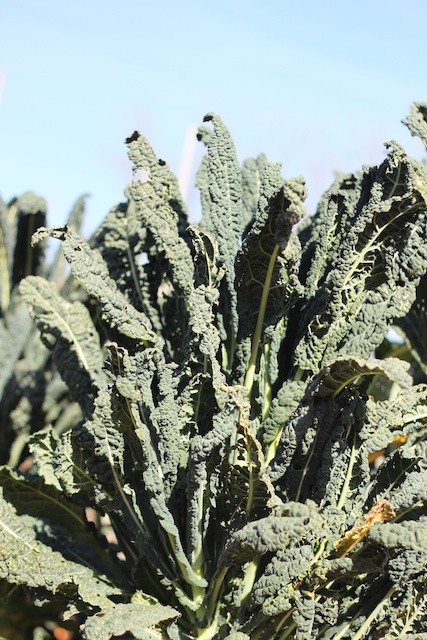 I will admit one more thing. Processing the kale for the freezer takes about three "jennie days" consisting of anywhere from 1-3 hours each:
Cutting and hauling
Stripping stems from leaves
Boiling, freezing and bagging
Four days this year, due to the volume of stems harvested. (It was a good year for kale.)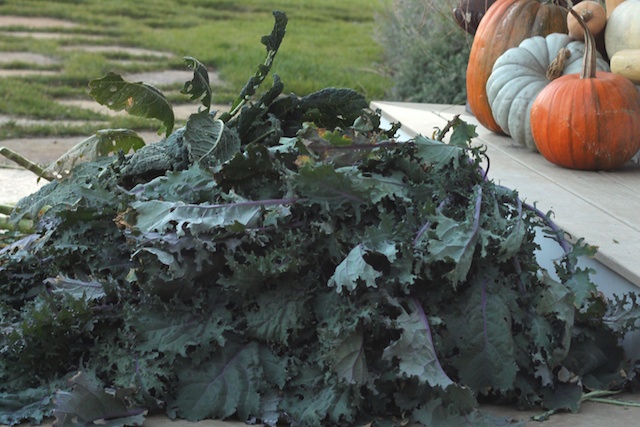 I detail my process here, if you are interested. Which, of course, you are not, because who but me does stuff like this? This year, I was able to do all the boiling outside which saved me from the usual three-day kale smell in the house. (Not a good thing. Imagine broccoli times ten.)
I also cut one step out of the process. Instead of chopping the frozen pieces before bagging, I simply crunched up the frozen leaves as I put them in the bags, thereby saving the cutting board clean-up. Always the innovator am I.
I saved about 6 fresh leaves and made this amazing, amazing soup. Sort of a take-off on Italian Kale soup. I substituted barley for white beans, since I had frozen barley left over from my Fall Barley Risotto and didn't have any white beans in my pantry.
This soup was insanely delicious. And so ridiculously simple. I did start with homemade chicken broth. I've got a dearth surfeit** of it in the freezer that I've got to use up because I've also got a dearth surfeit** of chicken bones waiting to be made into more broth. It's a vicious circle. I am certain it would also be great with store-bought broth.
Kale Soup with Barley, Sausage and Quinoa
1 pkg hot Italian sausage (I used Johnsonville, but Chorizo with be amazing)
1 medium onion diced or equivalent shallots. (I've got to use my dearth surfeit** of shallots up, so I used shallots)
3 large cloves garlic, minced
8 cups chicken stock
4 cups thinly sliced kale, stems removed
1 cup pearled barley
1 cup quinoa
1 T balsamic vinegar (yes, every recipe I use includes balsamic)
Salt and Pepper to taste
shredded Pecorino Romano for garnish
Slice the sausage into disks if using Johnsonville-type with casings. Otherwise roughly break up if using bulk sausage. In a large soup pan, brown sausage and remove from pan, leaving fat. My sausage did not render much fat, so I added some bacon fat to the pan. Sauté the onions until starting to brown, add the garlic and sauté another minute. Add the the chicken stock and barley to the pot and cook an hour until the barley is just about done (My barley was already cooked, so I added everything at once and simmered for about 45 minutes total). Add the kale, quinoa and sausage and cook another 20-30 minutes on a low simmer. Taste for seasonings. Add the balsmic and serve hot with pecorino (or parmesan) shreds and crusty bread.
Serves: 500 with leftovers*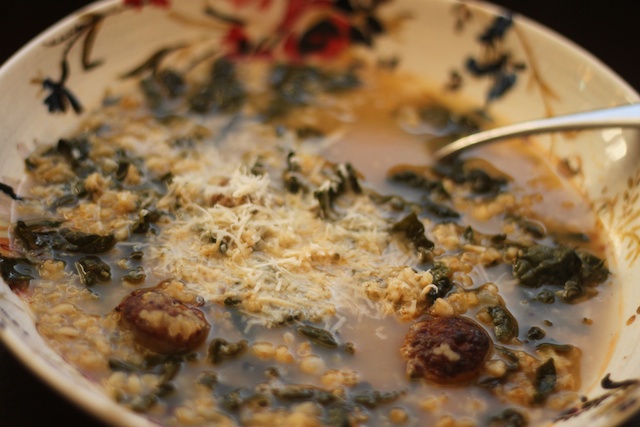 *kidding. It serves: I don't know, but I'm guessing 16. We ate a ton. I ate 4 days of left overs and I've got a container in the freezer with an additional 4 cups. Hope that helps!
**Update, 11/16/2010:
dearth (noun) LACK, scarcity, shortfall, deficiency, ANTONYMS surfeit.