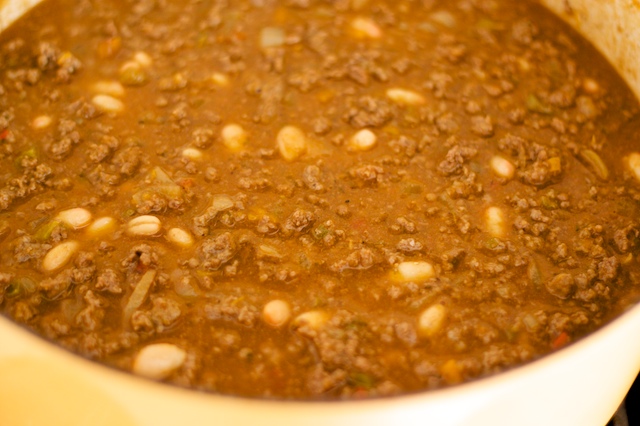 In the direct opposition to Meatless Mondays, we had a Meatfull Sunday. Albeit was the Superbowl. And we do have a loose tradition of eating chili for the Superbowl. So it's not like I was snubbing my nose at going meatless. It just seemed funny to me that while I was thinking ahead to the next day and Meatless Monday, I was dumping three pounds of ground beef into a pot.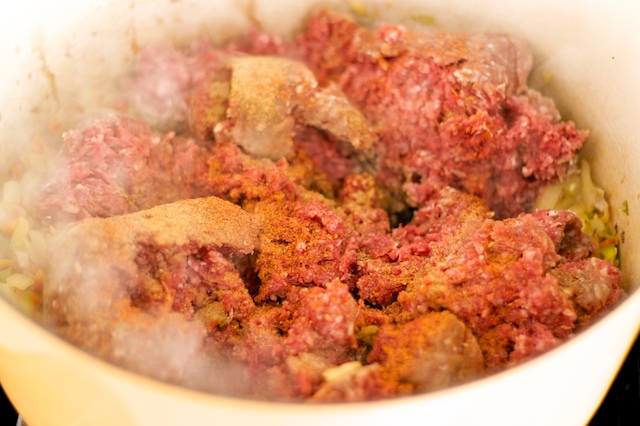 Anyway.
Chili is not a food I would have eaten until roughly 1991 or so. I believe I have mentioned previously that I used to be a somewhat picky eater. Oh, how it pains me to admit that now! I despise picky eaters.
I guess that makes me something of a hypocrite.
Well. Add it to the list.
Dave does like chili, however, so after getting married, I needed to find a happy medium. For my first foray into chili eating, I made a chicken chili recipe out of The New Basics Cookbook, adapting their vegetable chili recipe. This post is not that recipe, however. It was merely a segue to my own ability to eat chili, that took me to this chili recipe contained in this post.
This recipe is not my invention.
I do, however, own it.
…after winning it at a small and sad silent auction.
I have no idea the legalities of recipe ownership and whether I do, indeed, own the rights to it after paying a ridiculous amount for the framed version of it at that auction.
And frankly, I don't care.
I will give credit to its creator, Steve Neddermeyer — better known as 'Uncle Neddy' — who beat my Chicken Chili recipe in a chili contest with this recipe. Uncle Neddy is a local celebrity, known for driving around and serving his pork chops on a stick, along with various other accouterments out of his souped-up trailer. He works most events as donations for charities and non-profits that he supports. Pretty amazing guy, really.
He probably should have excused himself from the Chili Contest, though, being that he's practically a professional, don'cha think?
That was about five years ago, and I'm still mad.
At the auction, assuming I would be starting a bidding war — and making much needed money for the school — I put $50 in for the starting bid.
I won the recipe.
And while Dave wasn't thrilled with my bid, I have to admit that he loves it.
So do the kids.
…more, even, than my chicken chili. Charlie just looked over my shoulder as I write, and — thinking he was complimenting me — said "That was the best chili I've ever had. Really. It's the best. I like it even more than the chicken chili."
He was trying to be sweet. He didn't know he ripped my heart out of my chest, raw and bleeding…
Anyway.
I made it yesterday and share it with you now. It really is good.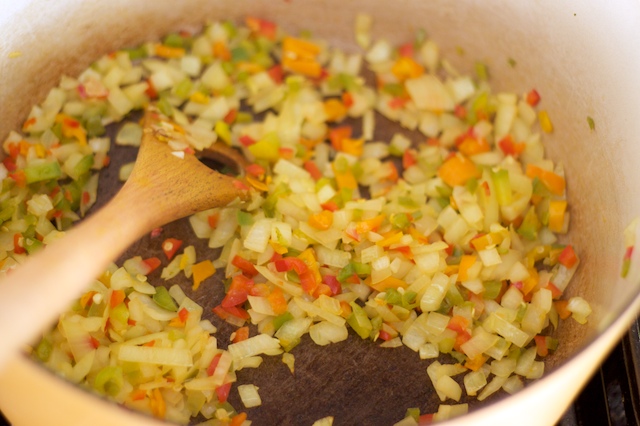 Uncle Neddy's Award Winning* Chili Recipe
2 lbs ground beef
1/2 cup green pepper, chopped
1/2 cup red pepper, chopped
1/2 cup yellow pepper, chopped (I substitute 1/4 c hot pepper)
1 medium onion, chopped
Famous Dave's Steak seasoning (I substitue Chef Paul's Cajun Redfish Magic)
1 tsp celery salt
2 T chili powder
1 t paprika
2 t balsamic vinegar
2 T brown sugar (I use only 1 or less, as we don't like it sweet)
1 can kidney beans (I use pinto. kidneys are too big)
1 can chili beans (I use great northern or chili beans)
2 cans tomato soup
2-16 oz cans tomato sauce (I used 4 cups garden tomato sauce from freezer)
1 t black pepper
1 t garlic powder
1/4 t cayenne pepper
1 t dry mustard
1 1/2 c water
I also added 2 t ground cumin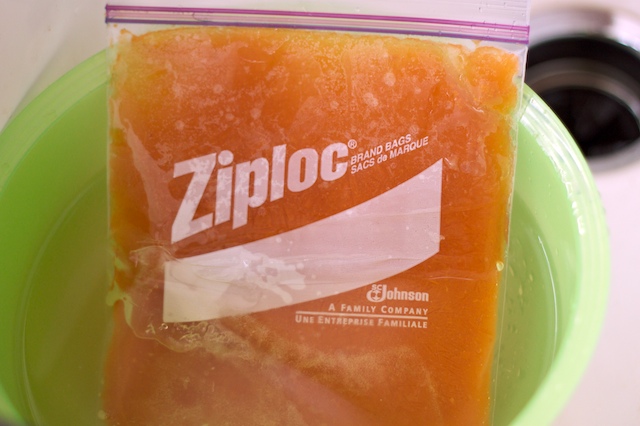 Brown ground beef, drain and remove to bowl.
Saute onion and peppers in 2T oil. Add remaining ingredients and ground beef to pot. Simmer for at least one hour and up to 3 hours, partially covered. Add more water if needed.
Serve with crispy fried corn tortillas or chips, sour cream, green onions, shredded cheese, hot sauce, crumbled Cotija cheese and of course, cornbread with honey butter.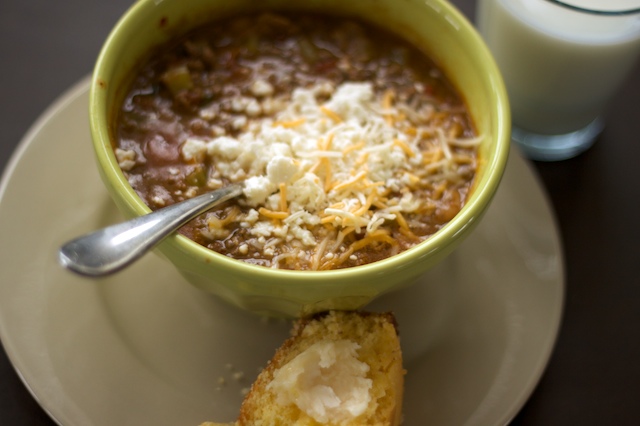 * judges were locals, known to have eaten many pork chops-on-a-stick free of charge. Award is pending appeal.