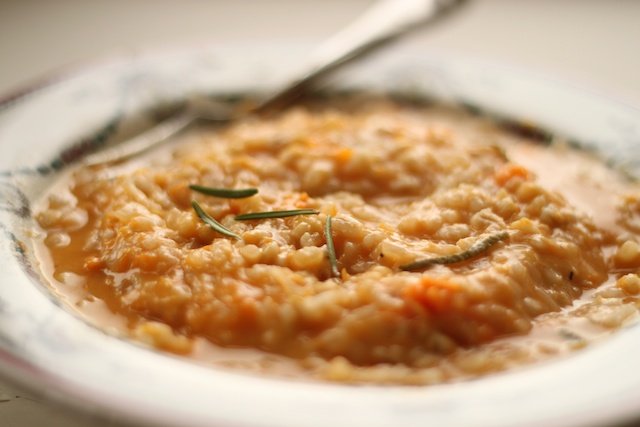 Fall Barley Risotto
Mmmm. I did it! I finally made a winner. Here's the thing. In busy times, I tend to do some version of the following for dinner:
around 3:30pm when the kids get home, and having lost all track of time, I get up from my computer and look in the freezer
I take something out and plop in in a bowl of water to defrost
then I forget about it until…
somewhere between 5:30 and 6:30 pm when one of the kids needs to be somewhere: band, soccer, robotics, yearbook…
at which point I usually tell Charlie to have a bowl of cereal, or
tell Morgan to stop eating ice cream (or macaroni and cheese or some other large dinner-type substitute)
then, I start driving
when I return around 8pm, I
quickly and randomly throw something together from the defrosted item in the sink and anything I can find in my fridge
It doesn't leave a lot of room for recipe research. I does leave a lot of room for improvement.
Maybe I have been made delusional from watching Top Chef to think that I, too, can throw some interesting ingredients and flavors together to create a harmonious and delicious meal in 40 minutes or less.
Yes, delusional.
Because it hardly ever works when I wing it. But there is always the exception. And Meatless Monday 42 is just that. The bummer, of course, is that I don't document anything. I might take one picture and then as the cooking spirals downward, I stop. I mostly laugh.
And drink red wine.
So, I can't really relate this recipe to you verbatim. But I can tell you the basic outline and structure of the dish. It certainly wouldn't suffer from variations in ingredients or quantities. The fact that it is a barley risotto, rather than a traditional rice risotto, is simply because after having set my sights on squash risotto, I found I did not have enough rice to make it. Nothing new there.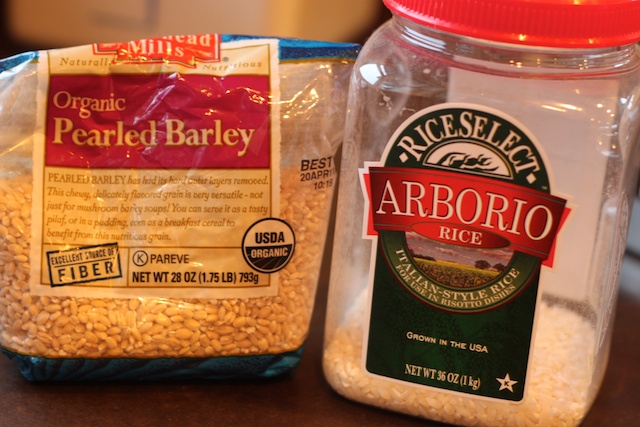 But I did have enough pearled barley. I had tried making a barley risotto sometime last year that was rather disastrous, but I did not let that distract me! Ed on Top Chef made a risotto out of corn! So there!
Here is a comparison of the grains. As you can see, they are somewhat similar.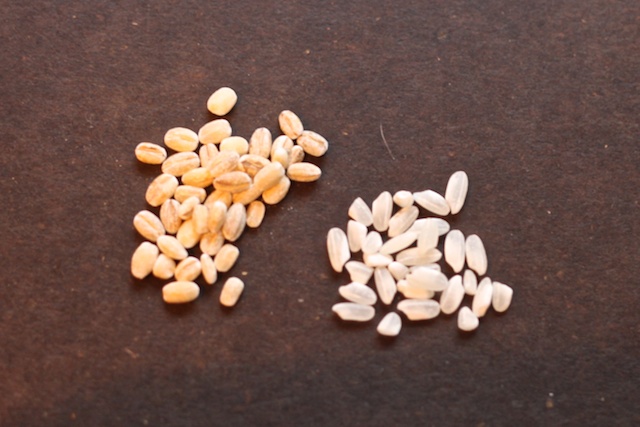 But guess what? Pearled barley (and squash, for that matter) takes over an hour to cook! I didn't have an hour! (It was already 8 pm at this point, mind you.) So I got out the pressure cooker and dumped the barley in with water (about 2 cups more than the basic recipe on the package called for), a bit of wine and plenty of salt and got it cooking while I put two sweet potatoes in the oven at 425 and sauteed some shallots.
In my brain stem, I felt a familiar stirring: I think I have actually heard of a risotto made entirely in the pressure cooker. Anyone else know of something like that? I know I've never tried it, but based on how the barley turned out, I can certainly see promise in concept. The barley was perfect, and the water had turned somewhat risotto-ish — as if I had been stirring it all along.
Anyway, I used water for the broth, rather than stock, because sweet potatoes (or squash) are rich enough. To the sauteed shallots I added a couple of cloves of garlic, then the 1/2 cup of risotto rice I had left in the container. Next, I added about 1/3 cup of white wine, stirring all the while as I normally would with risotto. When the barley was done (after about 15 minutes), I dumped half of it (I froze the other half. Do you have any idea how much two cups of dried barley actually makes? It's INSANE!) along with it's cooking liquid into the pot and simmered it with some slivered sage leaves.
When the sweet potatoes were done, I added those to pot, gently stirring to break them up. When everything was cooked to al dente — and barley is very forgiving in this respect, I added about 1/2 cup of finely shredded pecorino and garnished each bowl with a little more.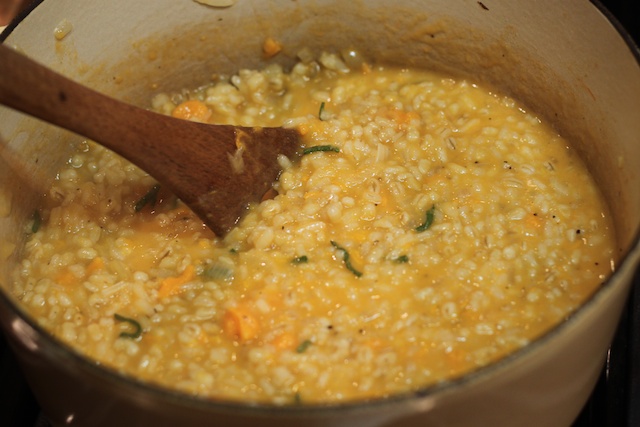 The main spice I used was sage, but in retrospect I would choose rosemary. For whatever reason — and I normally LOVE sage — on this particular night the smell reminded me of cat pee. It seriously bummed me out.
I would also probably choose butternut squash over sweet potato if given enough time to roast it. The sweet potato was good — and very similar to squash — but had a vibrant, Tang-like color that wasn't all that appealing. I continued to add more pecorino romano, which I have come to love more than aged parmesan, probably because I am cheap. But I really do love the flavor. It's not quite as strong or sharp. Or something.
Of course the next day NOT being Meatless Monday, I added one small, but spectacular, topping for my lunch: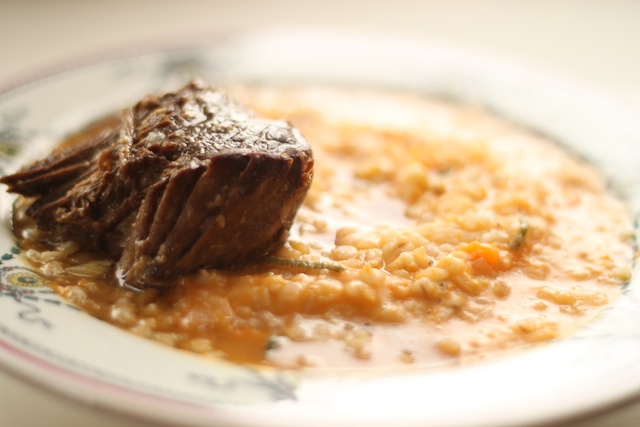 Leftover pot roast!!
Sacrilege!