Lowly Potato Soup.
I could almost call this Stone Soup. It's practically the same thing.
Wait, no. That sounds bad. This really is good soup. It's seems to make a lot of something out of practically nothing. So, in that way it is like stone soup.
It is a very old family recipe.
Actually, like most things I say, I don't even know if that is true. It seems like a very old family recipe to me, probably because we don't have one of those families with a rich tradition of cooking — passing recipes from generation to generation — like some. I remember eating this as a kid. And it wasn't my mom's recipe. It was my aunt's. And my aunt couldn't cook. So how this recipe came to be a success is a complete mystery, unless it was never hers to begin with. Hence the lore that is is an "old family recipe."
How's that sound?
Anyway, this was yet another Meatless Monday where we were not together for dinner. I had my monthly bookclub meeting. It was being held at the best cook in the club and I wasn't going to miss it for anything. Not even if swedish meatballs were on her menu. Oh my gosh. Those swedish meatballs…
…are fodder for another post….as soon as I wrangle the recipe away from her.
I will be eating meatless today (Tuesday) to make up for my Meatball Monday transgressions and will be looking forward to the potato soup. I should mention that Dave was leaving town again Tuesday, so I couldn't just push Meatless off until today, because — by God, he was not missing another Meatless Monday, I was going to see to that. So I made them the soup before I left for bookclub. Simple as that.
So the soup. What can I say about it? It is very plain. It is very smooth. It is very plain and smooth.
And also, it is very cheap.
And for some reason, every body seems to love it.
Oh, and it is very, very easy. It must be, because, like I said, my aunt was able to make it without burning it.
But there is nothing spectacular about it. It is just creamy potato goodness.
Oh I forgot another thing: it is very healthy, too. Barely a fat-gram to its name. (Assuming you are not one of the non-carbohydrate freaks of nature.)
So here it is:
Aunt Rita's Potato Soup (for lack of a better name)
Russet potatoes, any size
cold water to cover
3T flour
3T butter
salt & pepper to taste
cheese for garnish
bacon bits if you are not partaking in Meatless Monday!
fried homemade durkee onions if you ARE partaking in Meatless Monday*
* which I will post if anyone is interested. They were so good!
Put unpeeled, whole cleaned potatoes in a large dutch oven or saucepan with a lid. (for 4 people with left overs, I used 4 baker-sized potatoes) Cover potatoes with cold water by about 1/2″ – 1″. Bring to a simmer and partially cover. Cook until potatoes are tender. DO NOT THROW OUT THE BOILING WATER. Drain the potatoes, reserving the water.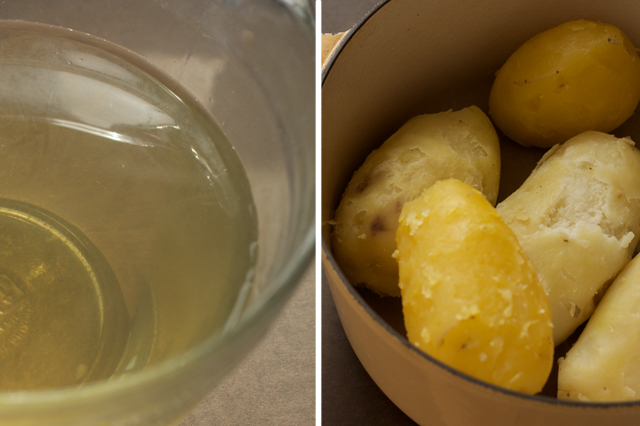 Let potatoes slightly cool and peel. Put the potatoes back into the pot and mash. You can put them thru a ricer or food mill first, for perfectly smooth potatoes, or you can use a hand masher. The idea for this soup is to get it mostly smooth.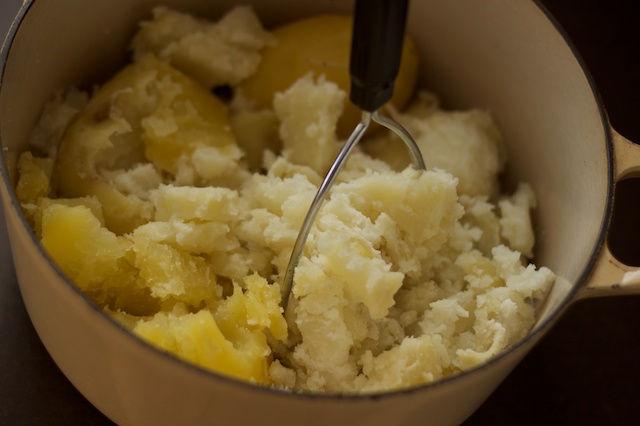 For the roux, put 3 tablespoons of flour and 3 tablespoons of butter in a small skillet, stirring together as the butter melts. Cook, bubbling, over low to medium low heat about 5 minutes — just until the mixture barely turns a shade darker. (If you are making soup for less than 4 or 5, cut the flour and butter to 2T each.)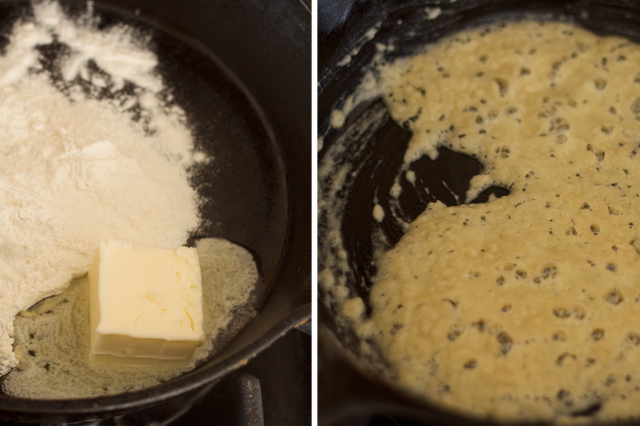 Over low to medium heat, add the cooking water back to the mashed potatoes, stirring until smooth, then add the roux stirring well. Simmer 10 minutes or so, adding more water if soup is too thick. Salt and pepper to taste. (it will need salt!)
My cousins insisted that you had to put the shredded cheese into the bottom of the bowl, so of course we do, using cojack or cheddar or whatever else green-sided hunk of cheese we find in the fridge. Then, add the soup and top with garnish of your choice. The garnish being a Menke addition.
Here is the picture Morgan took of her bowl, with the fried onion crisps, which were my attempt to combat the yearning for bacon. They scarfed them up so fast there were hardly enough for the garnish. Lord knows there weren't any left for me today, so I can't say one way or the other if the idea worked.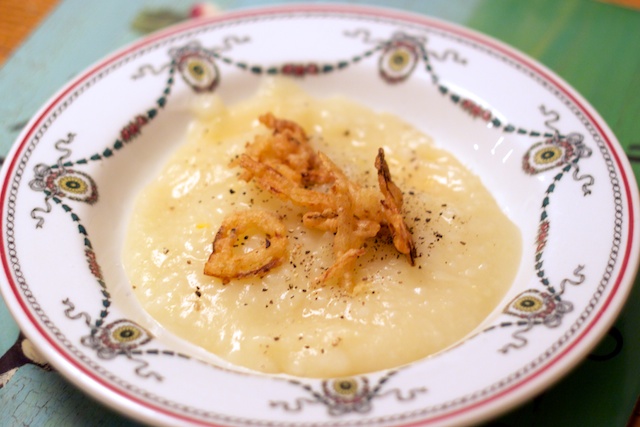 And here was my bowl that I had for lunch today. I added some chopped frozen chives for a little kick: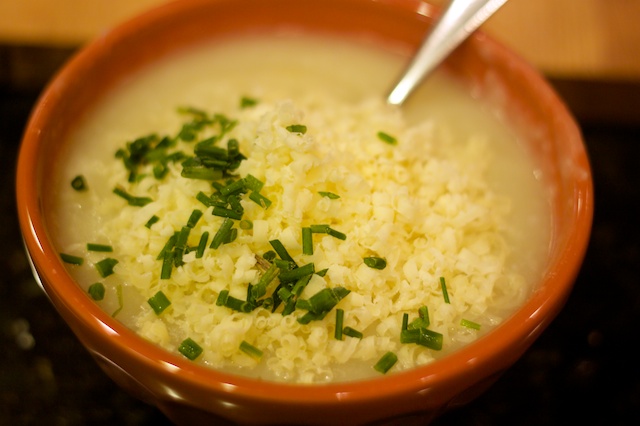 OK, I lied. I couldn't take it: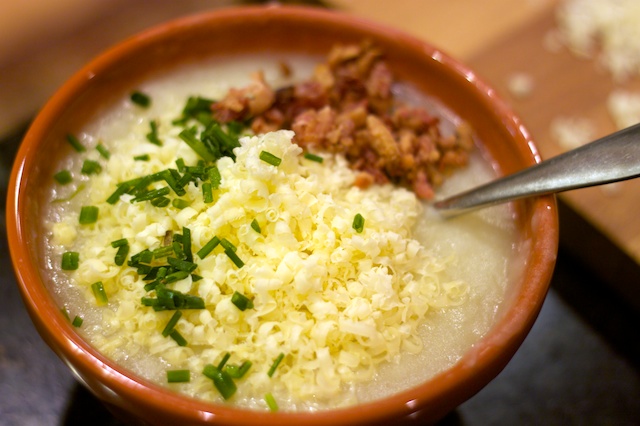 So shoot me. It wasn't Monday.