Morel Mushroom and Asparagus Risotto
If you haven't read the Morel post from yesterday, please do. It gives background information necessary for truly understanding the nature of this very special Meatless Monday meal.
No, I'm not talking about the asparagus, that I'm ready to plow under. I'm talking, of course, about the two-year wait for morels fresh from our own woods. I liken it to the meals you eat while camping. Nothing tastes better than anything you make to eat when you are camping. And morels that you found yourself, in your own barren forest, taste better than any other.
I also — finally — made my own vegetable stock. I didn't open any books to guide me on this journey, mind you. I just threw some veggies in a pan.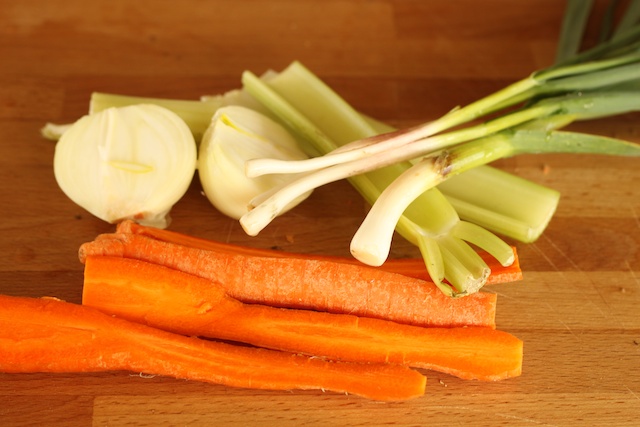 Roasted them at 450 for about 30 minutes.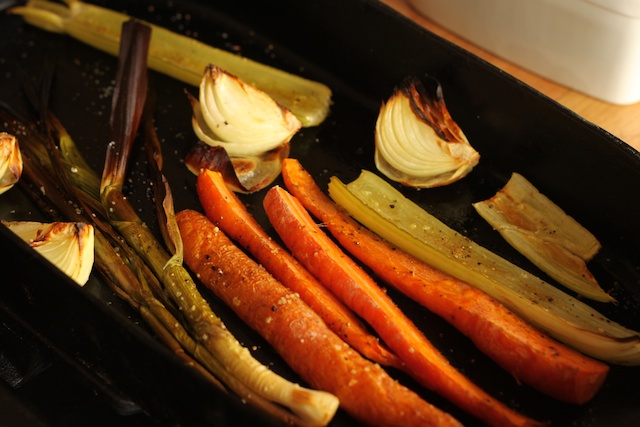 Added water and simmered for an hour or two…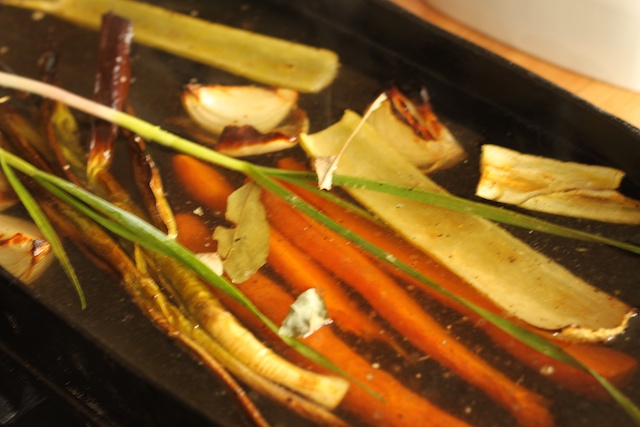 And just like that I had vegetable stock that tasted exactly like… water.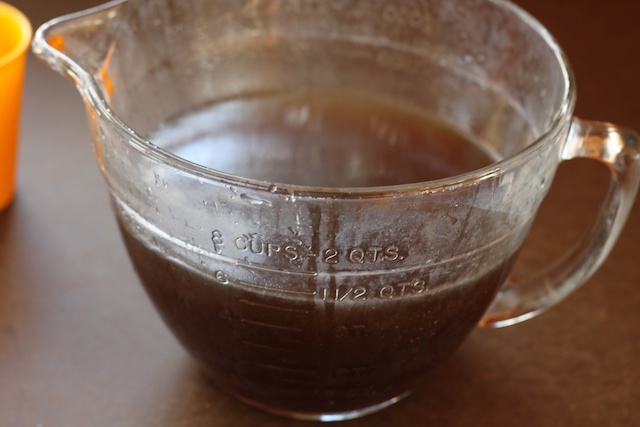 It was a beautiful golden brown color. It had a good aroma. But it tasted like water. And so it began, the random dumping of ingredients into the pot. I added tons of garlic, bay leaves, a sprig of rosemary, another onion, another carrot, two more stalks of celery, some wine, a splash of balsamic.
No, I'm not kidding. I really did add all that stuff. And in the end, it tasted like very weak vegetable stock. Which was actually perfect.
Because, have I written about making risotto before? How I love it so much, but when I make it it always seems so cloyingly rich? How I used to use my homemade chicken stock, but have eventually gravitated toward watered down store-bought Swanson's broth? I think I might have, but if you didn't read it, now you know.
So, I really was after a weak-tasting stock. Still, I was shocked at how many vegetables you actually have to use in order to get any flavor! I thought the roasting of them would combat that, but it didn't. It just gave it a deeper color.
Anyway. Enough of that. I made it, it was delicious and I didn't miss chicken broth one bit in this recipe. In fact, it was so good, I just might make the risotto this way always. Well, when I have the time to be farting around all day, that is.
For the four of us (and this left two servings of leftovers), I used 1 1/2 cups of arborio rice and about … I'm thinking back here…. about 8-9 cups of liquid. I could not believe how much liquid I needed. 3/4 cup of it was white wine, about 6 cups of it was the stock and the rest was water I kept adding at the end to get it the consistency we like — more soupy, less dry.
Due to unforeseen circumstances, I made the risotto to just-short of being done and finished it two hours later. If you don't know me personally, you will think the unforeseen circumstance was something like : the dog got hurt and had to go to the vet. Or, a friend called and asked for my help with driving her kids around…
But you'd be wrong. The unforeseen circumstance was soccer practice, which has been on the calendar for weeks. It was unforeseen in my own mind only. Dave was looking at me like I had three heads when I told him we were eating before practice. Of course, he was right and I was wrong.
But things happen for a reason, I like to think. And in this case it was the marvelous discovery of risotto being 'par cooked', or whatever the hell those Top Chefs call it on TV. I think this is what restaurants must do, as they can't possibly be making risotto to order from scratch at a restaurant because it would take too long. It suddenly makes risotto a viable dish to make for company if you don't want to be standing at the stove for an hour while guests stand around saying things like "Isn't there something I can help you with?" …As you run around like a chicken with your head cut off, plunging your dirty hands into the food they will be eating later. Always a little disconcerting…
Oh my gosh. I talk/write too much. I'm not even at the damn recipe yet… I'll just get to it. Sorry.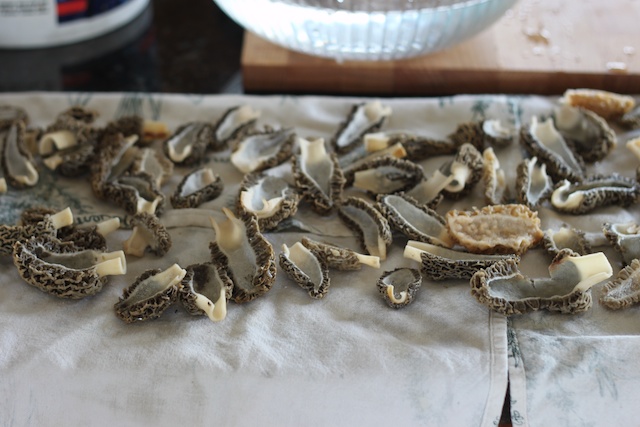 Morel and Asparagus Risotto (vegetarian)
6-8 cups weak or watered down vegetable stock
3/4 cup white wine
1 1/2 cup arborio rice
2T butter or olive oil
1 small onion diced (I used frozen chopped leeks)
1 large clove garlic, pressed
large bundle of asparagus cut on the diagonal into 2″ pieces, blanched
2 cups (or whatever you can manage) washed and dried morel mushrooms, cut in half and sauteed in butter till browned
1 cup finely grated pecorino or parmesan cheese
I put much of the prep instructions up there in the ingredient list. I wanted the asparagus to look perfect in the rice and not be overcooked, so I opted to blanch it rather than to cook it in the risotto. I think this is worth the extra dirty pan because with fresh garden asparagus, the tips would look mutilated from the stirring.
I also wanted the morels to have as much flavor as possible. I'm often disappointed when putting morels in with other foods, because you miss them in the other flavors and then they seem wasted. It is why I far more often just saute them in butter and eat them out of the pan. So for this recipe, I sauteed them in butter until the edges started to brown and crisp, salted and peppered, ate a few and saved the rest for stirring into the almost finished risotto. When I realized I needed more liquid than the vegetable stock I had ready, I deglazed the mushroom pan with water and used that for the liquid. It worked great and I would recommend it if you find yourself in a similar situation. OR, if you use dried mushrooms, save the soaking water and add to the risotto. It has a lot of flavor. (see? I'm still talking too much)
Bring the stock to a simmer in a sauce pan. In a separate large dutch oven or pan large enough for the finished risotto, heat the butter or oil over medium heat, and saute the onion until soft and translucent, about 5 minutes. Add the rice, stirring constantly, and saute for another couple minutes. Add the wine, stirring, until mostly absorbed. Add the stock, 1 cup at a time, stirring more often than not, as the stock is absorbed and is mostly absorbed by the rice (when you stir there isn't liquid sitting on the bottom of the pan anymore), add another cup of stock. Occasionally take a bite of rice to see what stage it is at. Mine took about 25 minutes to get to the point that I ran out of time. At that point, I had added all of my 6 cups of stock and  the mushrooms. I covered it so the cats wouldn't eat it and left. When I came back two hours later, I heated up 2 more cups of water (I do think that par cooking the rice and finishing later uses more liquid, so if you are making it to eat right away, you will use less), and finished cooking the risotto. Stir the blanched asparagus into the rice. Stir 3/4 cup of the grated cheese into the rice. Put into a big pretty bowl and top with remaining cheese.
In retrospect, I think a squeeze of lemon juice would have been really good, but by this time, it was about 9:20pm at our house and my kids would have stabbed me in the eye with a fork if I had told them to wait. This also explains the rather horrible photo, too, which for me has now become a tradition for Meatless Monday posts.