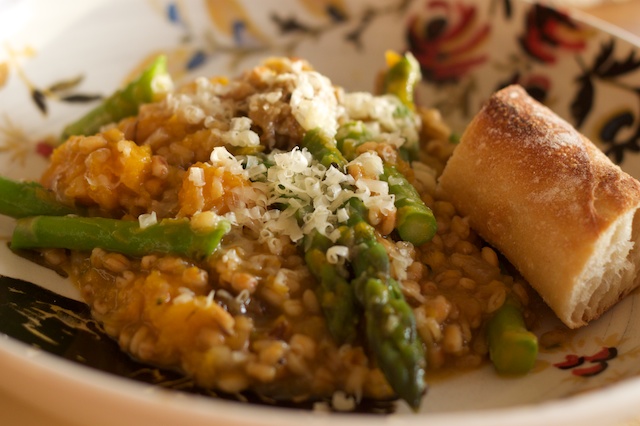 Make that Meatless THURSDAY, instead.
Yes, it's been a harrowing week. I'm sick (again) and life is spinning out of control. It doesn't help that I'm not taking it seriously.
Seriously.
Because all I really want to do is get up from my computer and go read a book.
Or go work outside.
Or go for a walk.
Or eat.
And eat.
It doesn't bode well for clients, the blog or for soccer. I know. That soccer thing came out of left field, but the truth is — though I try to hide from it — I run the the soccer program in our small town. It is a mind numbing amount of work. I try not to complain, but complain constantly to anyone who will listen. And I seriously try not to talk about it, but the reality is, it's my one valid excuse for everything. So, I tend to talk about it incessantly, too. Who can resist making excuses?
Not me.
Anyway, soccer is in full-out spastic mode and I do little else but fire out emails, talk to coaches, update the website and answer questions. All the live long day.
Enough of that. I'm just making excuses.
Here are the rest of them:
Monday was bookclub. Tuesday Dave was out of town, and you know how I feel about him missing our delightful Meatless Monday! Wednesday was St. Patrick's Day and we had our traditional Corned Beef and Cabbage meal. So Meatless Thursday it had to be!
And I made it up!
I did get one idea from a cookbook I bought at Miraval Spa from a vacation long, long ago…
Before the austerity program…
Anyway, it was delicious. I'll get right to it.
Butternut Squash Barley Risotto with Morels and Asparagus
The idea I got from the cookbook was to toast some of the barley before cooking it. To be honest, I don't know if it made any difference. Perhaps it enhanced the flavor, but I really couldn't tell you.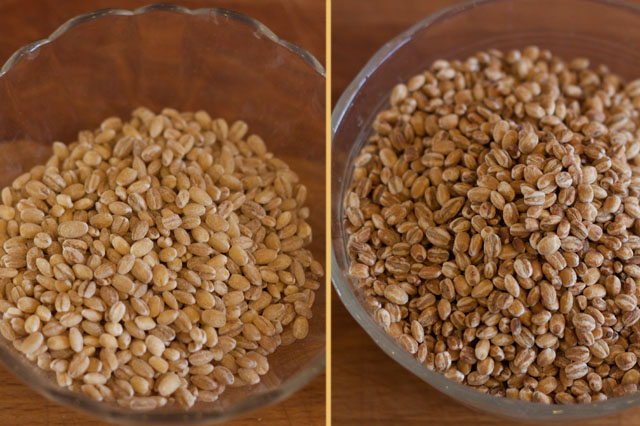 The other thing I should mention is that I do love risotto, but I often find it to be too rich. In fact, when I make it at home, I never use homemade chicken stock because I find it to be too strong. I like to use canned or boxed broth, mixed half and half with water. But since I couldn't use chicken stock on meatless monday(!), and since I recently decided I am not a big fan of my veggie bouillon cubes, I came up with a different flavoring idea.
I sautéed the onions to just the carmelization stage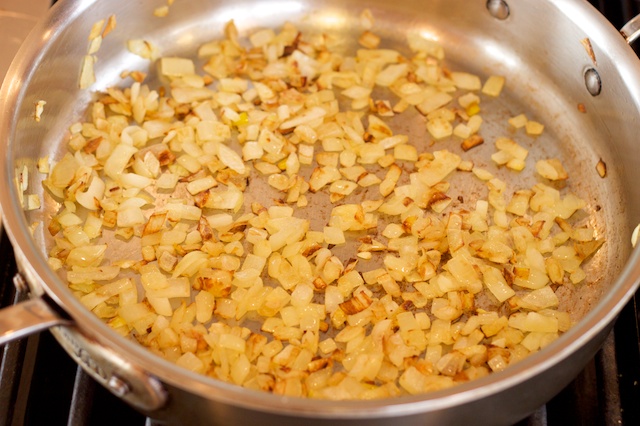 Added three cloves of garlic. (This, by the way, is still my garden garlic harvest last August. Still looks and tastes pretty good even though it is just starting to sprout)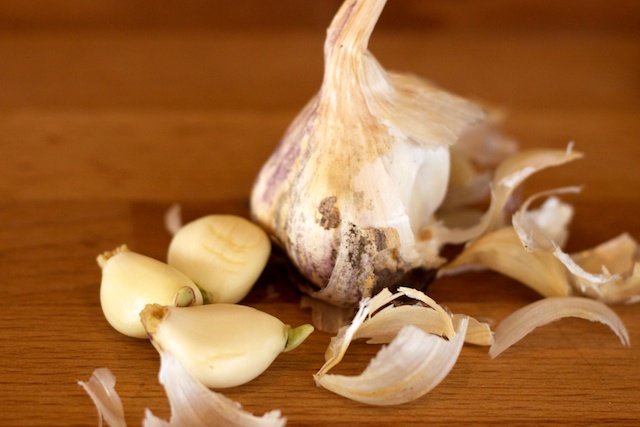 Then added water, deglazing the pan.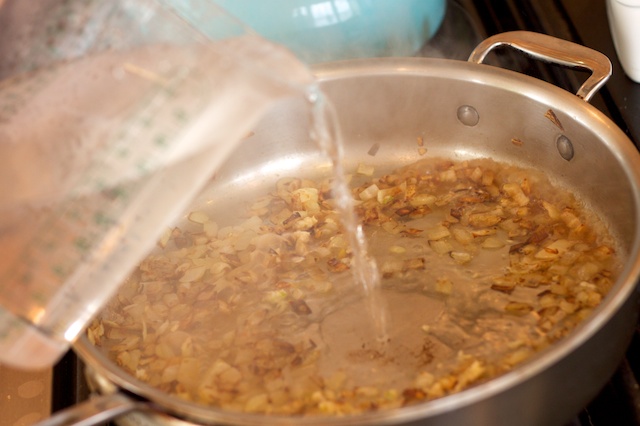 I added a bit of salt, dried thyme, and then some dried morels to the liquid and used that to cook the risotto.
It worked great! Lightly flavored, but not overpowering. Well, truth be told, once you add all that butternut squash, who's to know what the stupid broth tasted like?!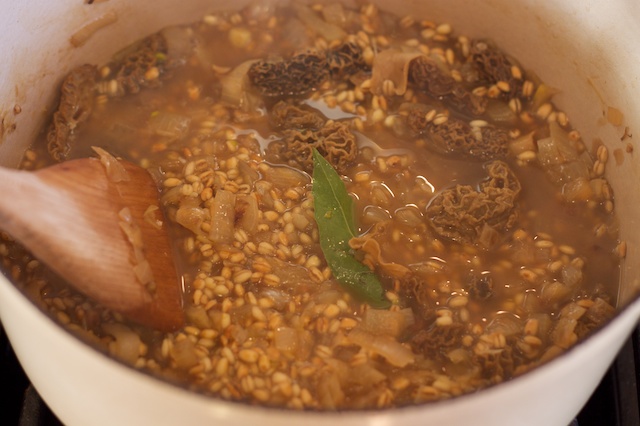 Toward the end I added pre-cooked butternut squash which I had in the freezer from another meal.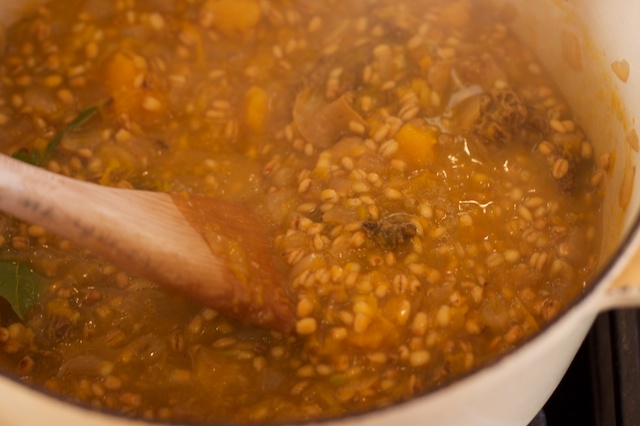 And finally, I added steamed asparagus that had been shocked in ice water at the last minute.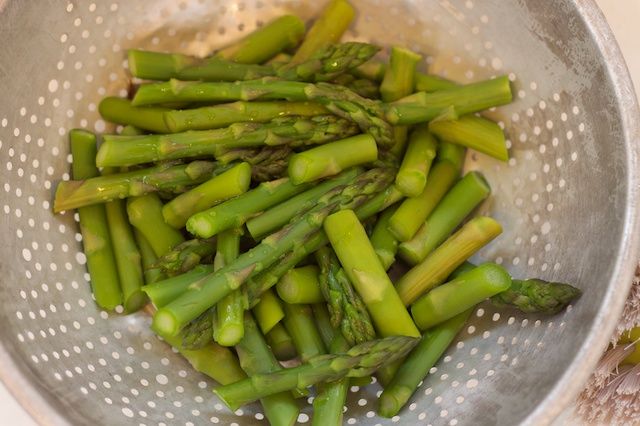 I was stunned to find no shredded parmesan cheese in my fridge, so I used Dubliner White Cheddar instead, which tasted delicious…
I forgot to add the pine nuts I was thinking about. They would have been good. I'll add them to my leftovers, which I plan to have for lunch today.
The verdict? Sweet, but really good. There is no avoiding the sweet when using butternut squash. I would definitely make it again.
Butternut Squash Barley Risotto with Morels and Asparagus
1 cup pearled barley
4+ cups water (just use a bit more hot water if you run out of broth and need more liquid to finish cooking the barley
olive oil
1 medium onion diced
3 cloves garlic crushed
10 dried morel (or other variety) mushrooms
1 tsp salt
1 tsp dried thyme
1/2 cup dry white wine
2 cups cooked butternut squash
1 small bundle asparagus spears, cut into 2″ long pieces
1 bay leaf
shredded parmesan (or other) cheese for garnish
salt and pepper to taste
Heat a large saute pan on low, film with olive oil, add onions and slowly saute, stirring often, until lightly and uniformly browned, about 15 minutes. Add three cloves of crushed garlic and stir 30 seconds or so, until fragrant. Don't let garlic burn. Add 4 cups of water, and stir, scraping bottom of pan to get all the caramelization into the liquid. Add dried mushrooms, 1 tsp salt and thyme. Keep over very low heat.
Add 3/4 cup of barley to heavy bottomed dutch-oven type pan. Heat on medium to medium high and stir often until barley is slightly toasted, about 5 minutes. Add remaining 1/4 cup of barley and about 1 tablespoon of olive oil, stirring to coat. Add 1/2 cup of white wine (if using) and stir until liquid is mostly absorbed.
Begin adding heated broth mixture 1/2 cup at a time, stirring often. Adding more as liquid is absorbed and gets thicker. Don't worry about the mushrooms and onions, just add them along with the broth. Stir and add liquid, stir and add liquid. When you have only about 1 cup of broth left, add the butternut squash to the mixture in heaping spoonfuls, continuing to stir. Add the rest of the broth, taste and adjust seasoning. The whole process will take about 30 minutes.
During the cooking time, steam or boil the asparagus and shock in cold water. You want the asparagus to retain a slight crunch and be bright green. Stir the asparagus into the finished risotto until warmed thru. Serve with a drizzle of olive oil, topped with grated cheese and crusty bread on the side.