Indian Daal, Naan, Fried Rice… HOMERUN!
Well, I finally did it. I spent some TIME and I PLANNED a Meatless Monday meal. And now I know why I didn't do that before:
It takes a lot of time.
I blew the whole morning looking at recipes. The whole morning. Part of that might be because I got lost in about a hundred YouTube videos by this Indian lady (really, really good videos) who — in order to be very, very clear — talked very, very slow. The videos were very clear and very slow.
I think my hemming and hawing and inability to just pick a recipe and be done with it were due, in part, to my general feeling that vegetarian Indian dishes were not going to truly satisfy our dinner hunger.
That, and — let's be honest — photos of chickpeas swimming in brownish sauce with chopped spinach really aren't all that inspiring.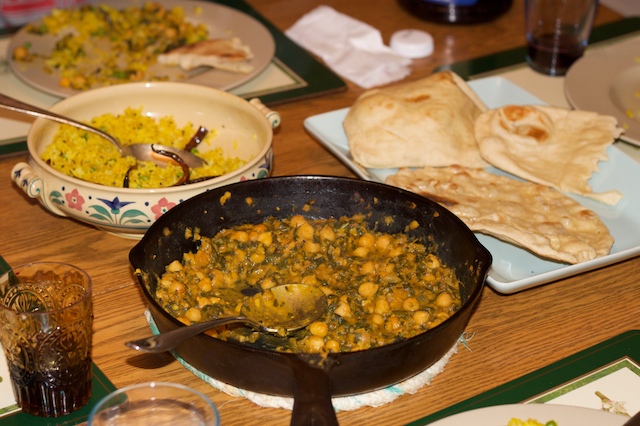 (More on this later)
Anyway, I was WRONG!
Everything was fantastic.
We ate till we were sick.
Indian is the new Beef.
Some things to note:
1) I don't have photos of the process. It was a mess. Indian cooking is messy. Pouring liquids into oil, cumin seeds popping out of pans like popcorn, hitting me in the face, Garam masala? I don't have garam masala. What can I use instead? What is asafetida? Someone google asafetida… Is oven on? Oh shit, I forgot to add the lentils… you get the idea. The Canon had no place in the chaos. No place.
2) The photos I have are not particularly appetizing. In fact, the photos I saw and the videos I watched of Indian food were not particularly appetizing in general. At least not to me. It leads me to the conclusion that perhaps vegetarian dishes are not very visually appealing to me at all. Could that be part of my resistance to vegetarianism? Maybe the allure of these ugly photos starts to happen as you fall in love with new tastes and get to know that this awful looking food is actually delicious and the ugly photos start to look beautiful? Like when you look at a pool of chopped spinach and beans you go: "ooooh, yummmm?"
Instead of: "I can't serve that for dinner."
That makes sense, I suppose. But consider it a warning. Unless you are already a brainwashed vegetarian, you will probably think my photos look gross. But trust me when I say they are NOT gross. In fact, as I write this, my daughter is eating the leftovers before soccer practice. I asked for a bite and she said no. (And now it's the next day, as I finish writing this, and I'm actually considering making it again tonight for dinner.)
3) I got my recipes from manjulaskitchen.com. Of course I did a bit of tweaking, because of course I didn't have everything oh hand. What is asafetida, anyway? Plus, I had gone to the trouble of buying red lentils — why I thought I needed them, I have no idea — and dammit, I was gonna use the stupid things. But in general, my recipes are her recipes. And each of them was so delicious that I can promise I will be going back for more. I encourage you to do the same.
Spinach and Chickpeas with Red Lentils (Daal*)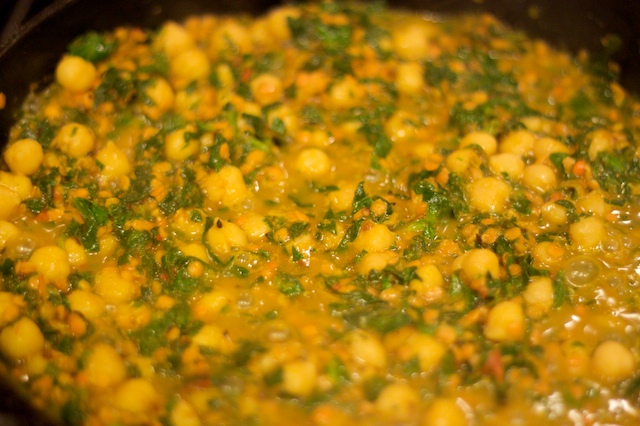 *Completely unclear on this Daal thing. From what I can gather, anything comprised of beans is Daal. Which makes no sense to me whatsoever, because I think daal is the Indian word for lentil. Anyone?
1 15oz can of chickpea

3/4 cup red lentils (these were my add. Not in her original recipe)

3 cups finely chopped spinach (palak)
2 cups (or more) water (

her recipe, without the red lentils, calls for 1/2 cup

)
2 medium tomatoes (I

used 1 cup chopped frozen tomatoes from garden

)
1/2″piece ginger grated
1 green chili
3 tablespoon oil

1/4 teaspoon asafetida

WHAT? (I omitted this.)

1 teaspoon cumin seed
1 tablespoon ground coriander seed
1/2 teaspoon turmeric
1/2 teaspoon cayenne (adjust to taste)
1/2 teaspoon salt adjust to taste
1/2 teaspoon garam masala

(I didn't have this. I used a tiny bit of cumin, chili powder, cayenne, nutmeg & cinnamon. Though garam masal has a lot more spices in it than that, I think)
Drain the liquid out of the chickpeas and rince the chick peas well.
Blend the tomatoes, green chilies, and ginger to make a puree.
Heat the oil in a saucepan. Test the heat by adding one cumin seed to the oil; if seed cracks right away oil is ready.
Add the

asafetida

and cumin seeds.
After the cumin seeds crack, add the tomato puree, coriander, turmeric, red chili powder and cook for about 4 minutes on medium heat.
Tomato mixture will start separating from the oil and will reduce to about half in quantity.
Add spinach, and salt, lentils and and water and let it cook covered for 10 minutes on medium low heat covered.
Add the chickpeas and mash a few of them lightly with a spatula so they soften Note: add more water as needed to keep the sauce consistency to your liking, and let it cook on low heat for 7 to 8 minutes until the red lentils are soft.
Yellow Fried Rice with Peas
1 cup basmati rice
1/2 cup green peas
2 cups water
3 tablespoons oil

Pinch of asafetida

(I omitted)
1 teaspoon cumin seed
1 teaspoon mustard seed
4 whole red chilies
2 bay leaves
About 1inch piece of cinnamon stick
1 teaspoon salt adjust to taste
1/2 teaspoon turmeric
1/4 teaspoon cayenne pepper
Wash rice gently and soak it for at least 15 minutes prior to cooking.
After cooking rice expands to about three times in volume, so be sure to use the proper size pan.
Drain the rice and put into the saucepan. Add the water, green peas, 1 teaspoon of oil, and salt, bring to a boil and turn the heat to low, and cover the pan.
Cook about 15 minutes, or until the rice is tender and the water has evaporated. Turn off the heat and fluff the rice with a fork.

(I used 3 cups of cooked jasmine rice from the night before and frozen peas and started the recipe at the next step)

Heat the oil in a frying pan on medium high. Test the heat by adding one cumin seed to the oil; if seed cracks right away oil is ready. Add

asafetida

, cumin seeds, and mustard seeds.
After the seeds crack, add red chilies, bay leaves, and cinnamon stick and stir-fry for few seconds.
Add rice, turmeric, and cayenne pepper to the spices in frying pan. Mix it gently.
Stir-fry for about 5 to 6 minutes.
Indian Naan Bread*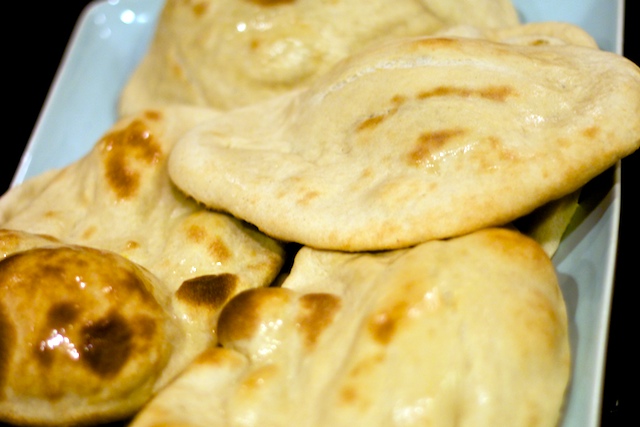 *Amazingly, this is cooked much like my rosemary cracker bread, on a baking stone in a very hot (500 degree) oven. I felt right at home! I'd love to do a video, but am conflicted about it being of someone else's recipe. Seem's not cool. Comments?
2 cups of All Purpose flour
1 teaspoon active dry yeast (I used instant)
1 teaspoon salt
1 teaspoon sugar
Pinch of baking soda
2 tablespoons of oil
2 1/2 tablespoons yogurt (My yogurt expired in June of 2009 — not kidding — I used sour cream w/a little milk as a substitute)
3/4 cup lukewarm water
Dissolve active dry yeast in lukewarm water and let it sit for 10 minutes or until the mixture becomes frothy. If using Instant Yeast, as I did, mix instant yeast with the dry ingredients, not the water.)
Add sugar, salt and baking soda to the flour and mix well. (Add instant yeast here)
Add the oil and yogurt

(or sour cream or buttermilk)

mix, this will become crumbly dough.
Add the water/yeast mixture

(or just plain water if using instant yeast)

and make into soft dough.Note: after rise dough will become little softer.
Knead until the dough is smooth. Cover the dough and keep in a warm place for 3-4 hours. The dough should almost be double in volume.
Heat the oven to 500 degrees with pizza stone for at least thirty minutes so stone is hot. Using a pizza stone will help to give naan close to same kind of heat as clay tandoor.
Knead the dough for about two to three minutes and divide the dough into six equal parts.
Take each piece of dough, one at a time, and roll into 8-inch oval shape. Dust lightly with dry flour to help with the rolling.
Before putting the Naan in oven, lightly wet your hands and take the rolled Naan, and flipp them between your palms and place onto your baking/pizza stone into the oven.

(

yeah. good luck with that. Mine were a wreck going onto the stone, but turned out just fine. She makes it look so SIMPLE in the video!)

You can place about 3 Naan on the stone at a time. The Naan will take about 2 to 3 minutes to cook, depending upon your oven. After the Naan is baked (Naan should be golden brown color on top).
Take naan out of the oven and brush lightly with clear butter or ghee.

(yes, you guessed it, I just spread it with regular butter.)

wait 2 to 3 minutes before baking the next batch of naan. It gives oven the chance to get heated again to max.
I am very happy with Meatless Monday Four. The only downside, is that it will be a tough act to follow.