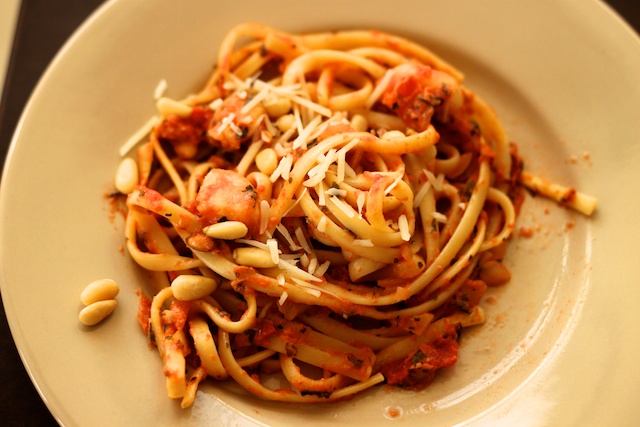 Linguine with Tomatoes & Shrimp (for lack of a better name)
Disclaimer: Recipe adapted from Pioneer Woman's Penne Pasta a la Betsy.
Why didn't I just make it easy on myself and duplicate Pioneer Woman's no-doubt delicious recipe? Well, for one — and you should know this by now — I didn't have at least one main ingredient (penne). But there are a host of other reasons, as well:
I have yet to find a PW recipe that doesn't call for a cup of cream, and I'm still recovering from the last PW recipe which involved a cup of cream and a stick of butter combined with a gaggle of blue cheese, served over a grilled steak. Honestly? Fatty thought she was going to die.
I wanted to use a fresh tomato
I hadn't committed to any particular recipe when I started cooking the pasta. (No, I have not learned my lesson yet from Meatless Mondays One and Thirteen.)
Another reason was that I didn't have any shrimp. Or at least I didn't think I had any shrimp. I had thoughts of making a pasta with just tomatoes, at first. Then, in the middle of cooking, it just seemed so blah. "I wish I had some shrimp," thought I. So I threw some boots on and ran up to the loft (the studio apartment above our barn where my parents live when they are in town).
Lo and behold, a brand new bag of frozen ready-to-cook shrimp. Thanks Dad! (I'm pretty sure he did not know about this until now.)
So it became Pasta with Tomatoes and Shrimp.
It was good.
We dined on it almost a week ago. So why so late with the post? I lost my USB SD card reader, I've been in meetings all week, wrote this days ago, didn't have a photo, heated some leftovers up on the way to a 50th birthday lunch (no, not for me!) today and am racing to get it up before the end of the day.
Recipe?
Basically, it went like this…
Saute 3 cloves Garlic in olive oil and butter (less than half of what PW uses)
add about 20 medium shrimp to garlic and flash fry over high heat about a minute. Remove and chop shrimp
cook a box of linguine in salty water
Add a bit more olive oil to same pan you cooked the shrimp in, add another clove of garlic, saute.
Sauté about 1 cup chopped onion until translucent
Add 1/2 c white wine and bubble a few minutes over medium heat.
Add 1 chopped tomato, saute a few minutes
Add 1 8 oz can Tomato Sauce
Add 1 T dried oregano
Add 1 T dried basil
Add 1 t red pepper flakes
Salt and Pepper to taste, simmer
Then finish with 1/2 c half and half
Heat to simmer and stir in shrimp
Then stir in drained noodles
Top with toasted pine nuts and good grated pecorino cheese.
What? Why Pecorino cheese?
Because I'm so cheap that that's what I bought last time at Costco instead of the Parmesan, which was more than double the price. It is simply delicious. It is multi-tasking cheese. And I appreciate that.
Pioneer Woman's looks way better than mine. It probably tastes way better than mine, too–how can it not with all that cream and butter? Take a look and judge for yourself:
I call a do-over.