Steamy Kitchen's Shrimp Fried Rice
It's another recipe from The Steamy Kitchen's cookbook. But in the text, she credits Elise from SimplyRecipes.com for the recipe. It's all so confusing! Either way, it was easy and delicious.
I got a new rice cooker for Mother's Day. An expensive Neuro Fuzzy to replace my very old $25 one. The old one worked fine, but the teflon interior was all peeling, which — if you ever read my post about switching to cast iron pans, you'll know — freaks me out.
So I got the cadillac of rice cookers.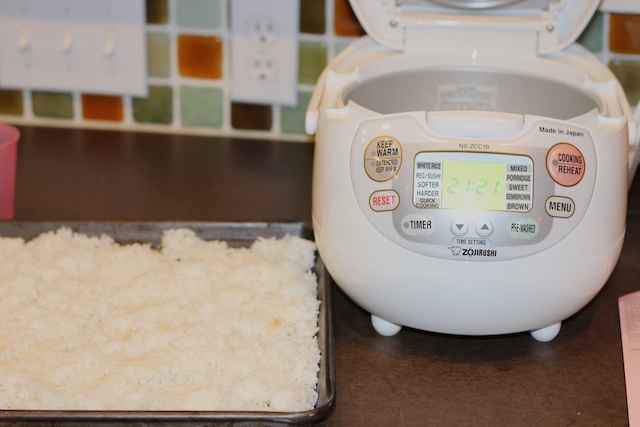 Well, that's not entirely true. I didn't get the induction model. Still not real sure what that does for you. This one is complicated enough to keep me busy for a while. (Seriously. It's insane.). I'm hoping I can eventually do all sorts of stuff in it, like barley and Israeli cous cous, etc. We'll see.
Anyway, I was keen to try it out, so on Sunday night, I made a big batch of rice to cool in the refrigerator overnight to use for fried rice on Meatless Monday night. I've been making fried rice forever. My mom made it way back in the 70's. And her's is the recipe I still use for the most part. But I'm always up for something new. And shrimp fried it was, since I actually had shrimp. [but if you must know, it was the shrimp I stole from my Dad a couple Meatless Mondays ago]
I also served the Salmon with Kabayaki sauce that I made a few weeks ago at Dave's request, but I already shared that recipe. You can click on it if you are interested. (It is quite good!)
Shrimp Fried Rice
4 cups white rice, cooked and cooled at least overnight
1/2 – 1 lb raw, shelled & deveined shrimp
1/2 t salt
freshly ground black pepper
1 t cornstarch
1 t sesame oil
2 T vegetable oil, divided
3 eggs, beaten
2 green onions, cut into 1/2″ pieces on diagonal
1 t fish sauce
2 t soy sauce
1/2 – 3/4 cup peas
drizzling of sesame oil
Separate the rice grains before starting recipe. Toss the shrimp, cornstarch, salt and pepper and 1 teaspoon sesame oil together and let marinate at least 10 minutes at room temp.
Heat a wok on high. When it is smoking, add 1 tablespoon oil, swirl to coat and add the shrimp, spreading out into a single layer and not moving for 30 seconds. Flip over and let other side cook for 30 seconds, then remove to a plate.
Turn the heat to medium and add the eggs to wok, spread out and scramble. Remove eggs to same plate as shrimp when eggs are just barely, barely cooked.
Wipe wok out and return to high heat. Add remaining tablespoon of oil, swirl to coat and add green onions. Stir fry about 15 seconds, then add the rice, spreading out in an even layer. Cook about a minute. Use a spatula or wooden spoon to toss the rice, spreading out again and cooking for another minute.
Drizzle the fish sauce and soy sauce all around and toss the rice again. Add the peas, the eggs, the shrimp and drizzle with about 1/2 teaspoon of sesame oil. Salt and pepper to taste and serve immediately. Serve with additional soy sauce if desired.
[I used a bit more sesame oil than the recipe calls for. I didn't use carrots, because I didn't have any. If you want the recipe exactly as Jaden writes it, you'll have to buy it for yourself —
which I highly recommend!
)