All from The Steamy Kitchen Cookbook!
!
!!
(exclamations are overused, don't you think?)
Disclaimer: This Meatless Monday features fish, because, by golly, to me, fish is meatless. (Sorry vegans!) Plus, we've got a lot of fish to eat in the freezer. Plus, plus, Morgan was gone and she moans and groans about fish, so I took advantage of her absence.
So anyway, here is what I made:
Kabayaki Fish with Halibut and Salmon
Asian Brussels Sprouts
Summer Rolls with Shrimp (instead of lemon grass pork)
Steamed Artichoke (because it was getting gross in the fridge) (not from Steamy Kitchen)
It was all delicious.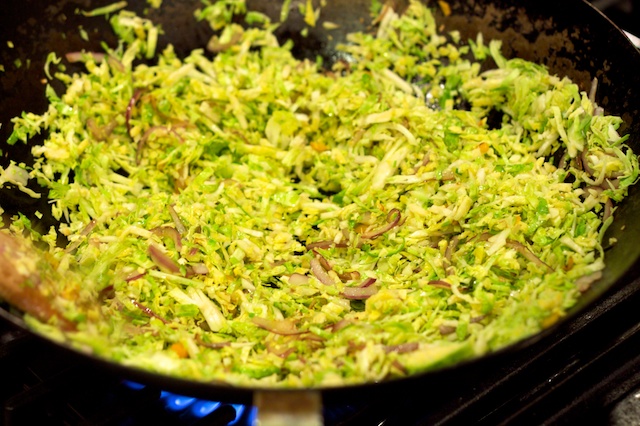 …No one was sure if we would like the fish and everyone was wishing for the Halibut from New Year's in the coconut basil sauce, but I said, "No! We must forge new paths, expand our palates! Be adventurous!"
And what I say goes.
My Mom and Dad were here again, depositing their little Pippi before heading off on their next adventure tomorrow (skiing in Big Sky), and as usual, my Dad began to unload all the perishable contents that he had cleaned out of their refrigerator into mine. Among the bounty was a half a bag of brocco-slaw or whatever it's called — coleslaw made from broccoli stems. He kept trying to get me to use it. In the brussels sprouts. In the summer rolls. He can be very persistent.
And while they would have been just fine in either, I refused.
I like to help him feel young by acting like I did when I was 15: Belligerent. Angry. Selfish. Impatient. It keeps him on his toes.
I like to think of it as a kindness…
In hindsight, I'm kicking myself for not using them to make the broccoli stem pickles from the cookbook. I made those a couple months ago and they were the best. And it would have made my Dad so happy.
Regrets. Regrets.
They'll get you no where.
I'm going to make them tonight instead, to serve with — what else? — halibut with coconut and basil sauce. [Because I took too darn much fish out to thaw yesterday and we didn't cook it all.]
Anyway, I'm not sure of the protocol for sharing recipes from cookbooks online. Is that cool? Or is it a copyright infringement? I didn't really mod these at all, except for omitting the pork in the summer rolls and using shrimp instead. So I'm going to check with Jaden, the author, to make sure that it is OK.
In the meantime, I must say, The Steamy Kitchen Cookbook is amazing. I have made about 7 things out of it so far and each one has been really, really good. I recommend it whole-heartedly. It has quickly become one of my favorites. Very time-realistic, uses short cuts where short cuts make sense and delicious outcomes every time. Can't wait to make more from it.
Tonight's biggest epiphany was the summer rolls. I have made these for years. However it has been years since I made them.
Does that make sense?
In other words, I probably made my first summer roll ten years ago. And I probably made my last one about three years ago. Why? Not because we don't love them. (We do)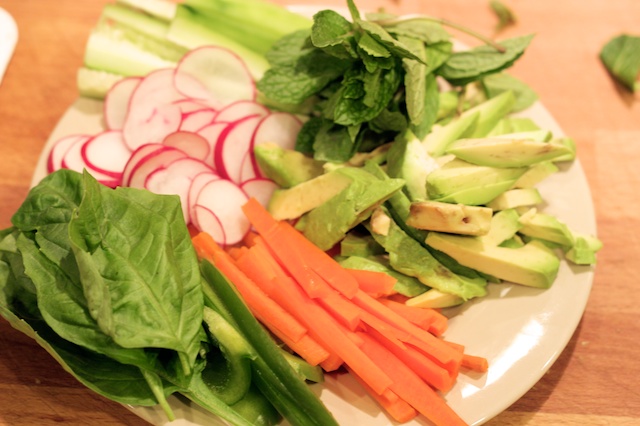 But because they are a pain in the ass! Those futzy rice paper wrappers, tearing all the time. It's enough to make you cry! But I noticed in the cookbook, Jaden has a method of folding them in half before rolling. It worked like magic! Why didn't I ever think of that? Plus, she really emphasized the need to use warm — not hot — water. And to only briefly dip: 2 seconds on each side. You begin with the wrapper still slightly stiff. It all sounded crazy. I was pretty skeptical.
But it worked.
Like magic!
I already said that!
!
!!!
They were so stretchy and strong, I couldn't believe they were rice paper wrappers.
My Mom and Dad ate them all. I didn't even get one.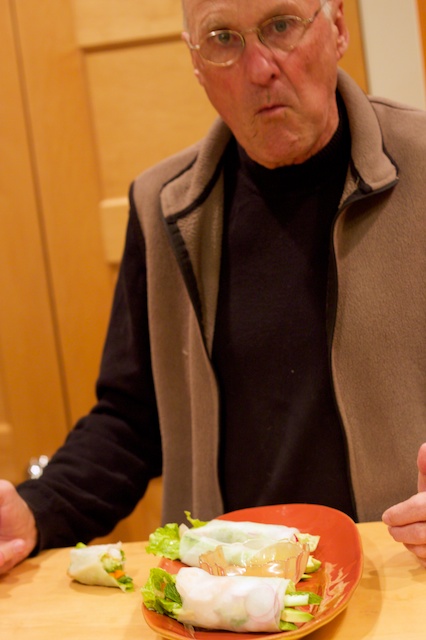 I'm kidding. I got one.
One measly roll.
My revenge is to post this picture of my dad with his mouth full. Isn't he a cutie?
[PS. I heard back from Jaden on Twitter and she said "Yes! Please share!" So
I will update tonight or tomorrow with recipes
. Here they are:]
Fresh Vietnamese Summer Rolls (for 4)
Her recipe calls for a delicious-sounding Lemongrass Pork, but it being Meatless Monday, I used steamed shrimp instead. These are my quantities with a few additions from the original recipe]
8 rice paper wrappers
4 pieces of lettuce
1/2 cucumber, peeled and cut into long match-sticks
1 carrot, peeled and cut into long match-sticks
1 avocado, cut into long strips
handful of fresh mint
handful of basil and or cilantro
12 peeled and steamed shrimp, cut in half lengthwise
Cut all ingredients and have them ready to use on a plate. Fill a large pie plate with warm, not hot, water. Dip one rice paper wrapper into water, for 2 seconds, flip and dip the other side for 2 seconds. Basically, you are just slowly running the wrapper thru the water on each side. The rice paper will still be slightly stiff. Lay it on a dry cutting board and fold it in half. It will be like creasing paper. Lay your ingredients on top and roll snugly. By this time the wrapper with be soft and stretchy. Serve with peanut dipping sauce. She includes a recipe, but given the chaos in my kitchen at the time, I used LeeAnn Chin brand Peanut Sauce in the bottle from my refrigerator.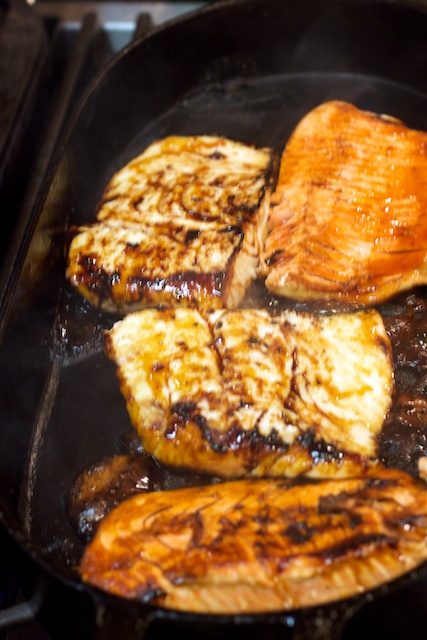 Kabayaki Fish (Grilled or Pan Seared)
Her recipe calls for any firm white fleshed fish. I used both Halibut and Salmon. Equally good. And actually, even though our family favorite is halibut, everyone agreed it was a perfect glaze for salmon. It edged out halibut as the favorite.
4 firm fish fillets, about 4-6 oz, rinsed and dried
1 T cooking oil
6 cups steamed short grained rice
One handful of toasted seaweed shreds (Nori) SHOOT! I knew I forgot something!!
2 T thinly sliced green onion for garnish
For the Kabayaki Sauce:
1/2 c soy sauce
1/2 c mirin (Japanese sweet rice wine)
3 T sugar
In a small saucepan over medium heat, stir together the Kabayaki Sauce ingredients. When sauce begins to bubble, immediately turn heat to low and let simmer for 4-5 minutes, until thick enough to coat the back of a spoon. Be careful, as the sauce can easily thicken too much and you'll end up with caramel! [Because I have a lot of experience with overly thick sauces like reduced balsamic, caramels and the like, I was overly careful and did not let mine thicken quite enough. It was still delicious, but did not look as beautiful as her picture in the cookbook.]
Set large frying pan over high heat. When the pan is very hot, add the oil and swirl to coat. Lay fillets in the pan, not touching. Fry about 2 minutes, until the bottoms are browned. Brush Kabayaki Sauce on tops and flip over. Brush the bottoms and fry for another minute or two, until the fillets are cooked through and flake easily with a fork.
Serve over rice. Pour remaining Kabayaki Sauce over fillets and rice and top with Nori and green onion slices.
Asian Brussels Sprouts (for 4)
Shred or thinly slice about 1 pound of brussels, give or take a few
1 T cooking oil
1/2 red onion thinly sliced
1 fresh minced chilli of your choice [mine were the frozen variety from last year's garden]
2 cloves of garlic, minced
1 1/2 t fresh lime juice
1 1/2 t fish sauce [don't let fish sauce averse people see this. They will never notice but it adds a LOT of flavor]
1/2 – 1 t sugar (to taste)
Generous pinch of salt
Heat wok over high heat. When hot, add oil and swirl to coat. Then add onion and chilli, and fry for 30 seconds. Add the garlic and fry another 30 seconds, being careful not to burn. Add brussels and stir well to mix.  Then spread the mixture out around the wok in an even layer and let cook for 1 minute. You want them slightly soft at the leafy ends, but retaining a crunch at the stem ends. [I got busy multi-tasking and overcooked a bit and they were still awesome].
Add the lime juice, fish sauce, sugar and salt and stir vigorously to combine. Taste and adjust seasonings if necessary and serve hot.