Ridiculously Simple Miso Soup
This is not the Meatless Monday recipe I had planned to share. It is, I admit, a really LAME recipe to share, given it's simplicity. And the fact that it hardly constitutes a meal.
I think many would say, "Why even bother posting Miso Soup?"
Well. I'll tell you why.
Warning: Tangental information approaching.
I love miso soup, but I only ever get it when I go to have sushi. Which isn't very often. I knew I could make it, but didn't figure it was that practical, having miso paste and tofu in my fridge when I am the only one who would probably ever eat it. But with the advent of Meatless Mondays, it would make the perfect easy Monday lunch! So I set about to gather up the ingredients to have on hand.
And I looked.
And I looked.
It was not nearly as easy as I was led to believe it would be.
I am spoiled with the availability of ethnic ingredients at even the po-dunk grocery stores I frequent. Twenty pound bags of jasmine rice, real — from Thailand — green curry in a can all ready to go for a quick evening meal, etc. And by the way, I know it's from Thailand because a good friend of mine lived there for several years and turned me on to it! It's Aroy-D brand.
Anyway, the miso paste was elusive. Byerlys and Lunds were out of it the two times I was there during December. Cub didn't carry it. I finally found it at Byerlys after the holidays. I figured the seaweed in the miso soup was just nori, but it could be Kombu (?). Who knows. Nori would have to do because everyone has nori. Dashi, a type of fish stock used in miso soup, however, I STILL can't find!
Lord knows I am not going to make a special trip to an asian grocery deep in the heart of Minneapolis just for dashi. So, last Monday, I wondered if I could just go ahead and make it without the dashi. I gave it a try, instead giving my miso a dash of fish sauce, which I always have on hand. And threw some other stuff in that isn't normally found in miso soup. Or at least the miso soup I have had up until now.
It was really, really good!
So, I snapped a picture and attached it to a post on twitter.
I have something to say about twitter. I should probably write a whole post on twitter. (In fact, maybe I will do just that). But here it is in a nutshell:
GIVE ME A TWITTER BREAK.
It is NOT the "oh-so-touchy-and-feeley-connection experience" you keep hearing about. At least it isn't for me. And I don't believe for one minute that it is for half the people who are saying it is. In fact, it INFURIATES me because I feel like there is something WRONG with me that I don't seem to have the success and good feelings about it that everyone else seems to. And I've been on it for almost two years! I was way ahead of the curve! WHAT IS WRONG WITH ME? *pant, pant*  Rant over.
I do have people I follow and who follow me that I genuinely like and have fun little interactions with. A few. Like about 20. That's 20 people out of somewhere around 350.
People are always saying how "valuable" it is and how amazing it is that you can ask a question and get instant answers.
Really?
Not me.
Two weekends ago I tweeted
"Desperately need new jeans. Used to wear 501's. Switched to Lucky Riders and Lil Maggie. Need v long inseam but not too tight. Recommend?
Not one reply. Not one. No one even made fun of me, which I surely deserved.
Most of the time I feel like I am tweeting to no one.
So what's the point?
Oh who the Hell knows. And yet I keep on doing it. Probably some egomaniacal need to blast out personal information. Yet another chance for psychoanalysis, for sure.
(I told you it was an unrelated tangent).
But bringing it back around, like I always do: last monday I tweeted a picture of my miso soup and said
"My first attempt at miso soup ever. So good! Even with no dashi!"
And I got a TON of (well. a ton compared to normal) replies asking for the recipe, which I gave out — in less than 140 characters, because it is that easy:
"2T red miso paste, 2c H2O, 1T nori-flamed, 1/4c diced soft tofu, dash of fish sauce, salt, chili flakes, sesame oil, green onions!"
So I figured if there was interest on Twitter, there would be interest here.
Plus — and this almost never happens — we are not able to sit down to dinner as a family this entire week. And I'll be DAMNED if Dave is going to miss Meatless Monday again, being that book club was on monday, soccer was on tuesday and he is out of town the next two nights. So I am holding off on a true-blue, full-blown, meatless monday recipe until I can torture us all. Together. As a family. As it should be.
So, without further ado,
Ridiculously Simple Miso Soup (without the Dashi!)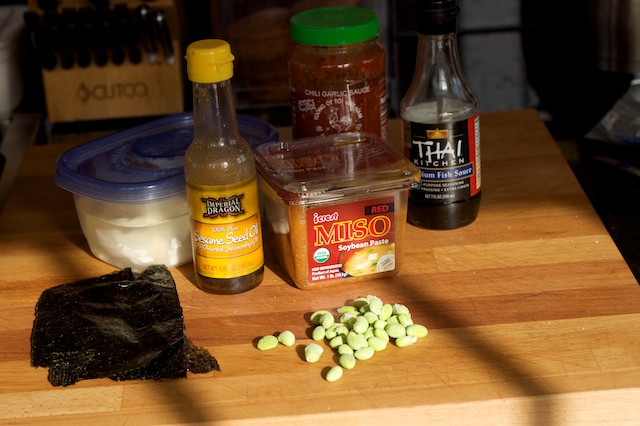 (this makes quite a bit for just one person's lunch. If you want less, halve the recipe like I did the next time)
2 T Miso Paste (Mine is red, because that's all they had. I have no idea what the difference is)
2 cups water
1 T thinly sliced nori (first "toast" it by running it over a flame (stove burner) a few times until it is bright green)
1/4 cup (or more) SOFT tofu diced into 1/4″ cubes (you can use firm, but I had soft for the first time and it is WAY better than firm in miso.)
dash of fish sauce
1/4 t chili with garlic sauce (or a dash of red chile flakes)
1-2 T sliced green onions
dash of sesame oil
Anything else you might want to add: edamame, rice or cellophane noodles, side of rice…
Add the miso paste to the water and heat, whisking to dissolve the paste completely. I think some recipes call for you to strain the broth after this step, but I didn't. Because I'm lazy. And it was just fine.
Once dissolved, add nori, tofu, fish sauce and chili (add frozen edamame and noodles here if using). Simmer gently for about 4 minutes. Add the green onion and simmer for another minute. Then drizzle with sesame oil and serve.
Resist the urge to tell your son, when he asks what it tastes like, the thought that immediately pops into your head:
Dirty feet.
Yum. I love miso. But that is, indeed, what popped into my head.