Indian? Again?
Yes. Indian again. Stop your complaining. (And try not to be too put off by that disgusting picture. Honestly, I tried to make it look good, but I lack the skill necessary to do so.)
I've waited several weeks to make Indian again so as not too dilute the yearning. We love it so much! Always fun to discover something 'new.' And isn't it funny how once you are made aware of something, like a new word for example, that you start to see it or hear it everywhere? So it goes with Indian food. It seems every magazine I pick up is featuring Indian recipes. It's fun to compare them all, since I am new to it.
Ironically (or not so ironically?), my parents were here for Meatless Monday Twelve, just as they were for Meatless Monday Ten and Meatless Monday Five. They were excited to try Indian and they loved it too.
I was most excited to make Naan Bread again. This time I tried a recipe from the cookbook Dave gave me that I like so much. Fail. It was not good at all. Really. Horrible. I am going to blame myself for the flop, rather than the cookbook. I probably did something stupid. I still don't know what it might have been, but since every other recipe out of it has been great, that's my story and I'm sticking to it.
I also made the Red Lentil Dal with Spinach that I had made before (except without the chickpeas), because I had a lot of spinach I wanted to use up.
The new recipes this week were 1) Cardamom & Cumin Infused Rice and 2) Curried Chickpeas. Both were delicious. The chick pea dish was really interesting. I have no prior experience to compare it to, but I've eaten it two more times since (as leftovers for lunch!) and each time I mull over the flavors. I like it. But it is very different.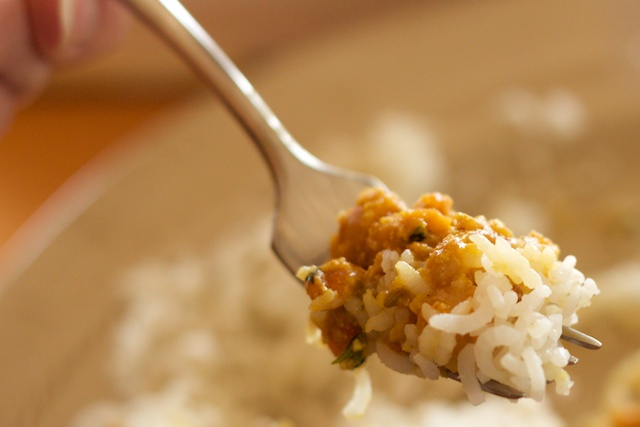 Here is one observation about any recipe I've come across for Indian style curries: they don't contain curry powder like I expected.
I suppose that's a no-brainer for most. Curry powder is made from a mix of other spices like cumin, turmeric, coriander, etc. When you are adding all those spices separately, you are — in effect — making your own curry powder. But it does not taste the same at all. I wonder what it is in the manufactured curry powder that gives it that flavor… Anyone?
Anyway, I post all these pictures with trepidation. I mean… they are seriously gross looking. But I stand by my earlier observation that these dishes are beginning to appeal to me as I get to know them better. For example, when I look at the curry photo at the top it no longer looks like a side dish to me anymore. I can visualize it as something more substantial.
So, there really is a shift happening. And isn't that what the whole Meatless Monday Movement is about?
(In case you have missed my veiled attempts to make you feel guilty that you are still consuming meat at every meal every day, this is the sentence where I confirm your suspicions: I am better than you.)
Just so we're clear.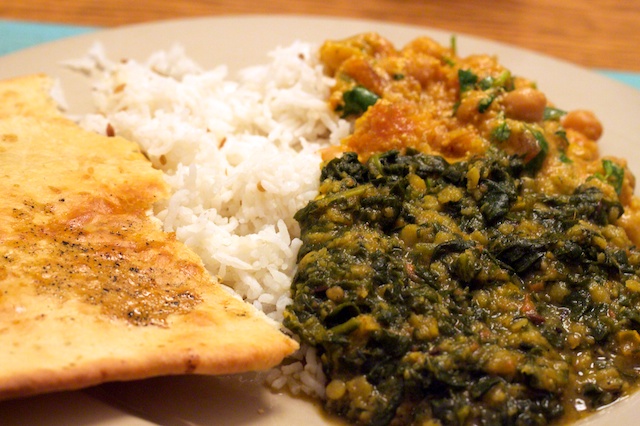 The Recipes:
I got these recipes from Rouxbe Online Cooking School. Anyone been there yet and watched the videos? Many of them are free. I loved them so much I became a member. I haven't had a lot of time to dig deeper than my first, initial trial account, but they sent out an email called "Throw an Indian Dinner Party!" So I clicked the link and found all these great recipes. I encourage you to go there and snoop around. Many of the best cooking schools use their videos for instruction. Very well done.
Curried Chickpeas
2 large onions chopped
5 T Ghee (clarified butter) it's a lot, and next time I'd cut back
1/2 t Kosher salt
3 cloves garlic, minced
1 1/2 inch piece ginger, grated
2 small hot chilies
3 tomatoes, chopped (about 3 cups)
2 – 19oz cans chickpeas
2 t coriander seeds
1 t cumin seeds
1/4 t cayenne
1/2 t turmeric
1/4 t chili powder
1 t Kosher salt
1/3 cup water
juice from 1/2 lemon
1/4 cup fresh cilantro, chopped
3/4 cup plain yogurt
Heat large dutch oven type pan over medium low heat and melt ghee. Add the onions and the salt. Cook, stirring occasionally for about 30 minutes, until onions are golden.
Using a mortar and pestle, grind the coriander to a powder, followed by the cumin. Once the onions are deep golden, add the garlic, ginger and chilies. Stir and cook about a minute.
Turn heat to medium and add tomatoes and salt and cook until tomatoes are softened, about 10 minutes. Then add chickpeas and water. Bring to a boil, then partially cover and turn to low. Simmer about 20 minutes, stirring occasionally. You want the liquid to thicken, but it should still be somewhat saucy.
When chickpeas are consistency you like, squeeze the lemon juice over the top and let cook a minute or two. Turn off the heat and stir in the yogurt. Right before serving, top with the cilantro.
Cardamom & Cumin Infused Rice
1 cup basmati rice
1 t Kosher salt
1 tsp cumin seeds
2 t whole cardamom pods
1 1/2 to 2 cups water (use 1 1/2 if you soaked rice 20 minutes or more. 2 cups if you didn't)
Rinse the rice vigorously in a fine mesh strainer until water is clear. Soak the rice in about twice the amount of water for about 20 minutes. Then drain.
Place rice, salt, spices and water into a medium pot. Bring to a boil over medium high heat, stirring occasionally. Once boiling, turn heat to lowest setting and cover with a tight fitting lid. Cook 15-20 minutes.
Remove from heat and let sit covered 10-15 minutes more. Fluff with a fork before serving.