Chipotle Style Bean Burritos
I'm not deluding myself to think this is anything special or original. I've just promised to chronicle the journey and here we are, two weeks behind the calendar year (I should be on Meatless Monday Twenty Five. Twenty Six if you are counting tonight.)
We've eaten those meals, mind you. I just haven't written about them. And WHY haven't I written about them? Because I forgot to take any pictures. Maybe I'll throw up a post about the walleye fish fry. (that sounds sick: to "throw-up" a post. But I actually quite like it, so I'm leaving it.) The fish was amazing. I just gobbled it all down and realized too late, the error of my ways.
This is the meal we ate a week ago today. On a busy soccer night. After a string of days eating out. Fried junk food type places. Well, not really junk food, but regular eat-out food: reuben, fries, burgers, yuck-o. No, not yuck-o. Yummy. But yuck-o when you look back on it.
So it was with wearisome predictability that Dave demanded (no, not demanded. but that's what it seemed like to me when he asked "what are you making for dinner?" that's a demand in a passive-aggressive way, isn't it?) a meal at home.
Good Lord, like I should know what we are having for dinner! And a Meatless Monday dinner, no less.
So it was to be:
Bean Burritos with Fresh Salsa, Cotija and Cilantro-Lime Rice.
For the Cilantro Lime Rice:
Make according to directions, but also add the juice of one lime and 2 teaspoons each of cumin and salt (for 2 ricer-cooker size cups of uncooked rice). After the rice has cooked, immediately fluff and stir in 1/2 cup chopped cilantro.
For the Fresh Salsa: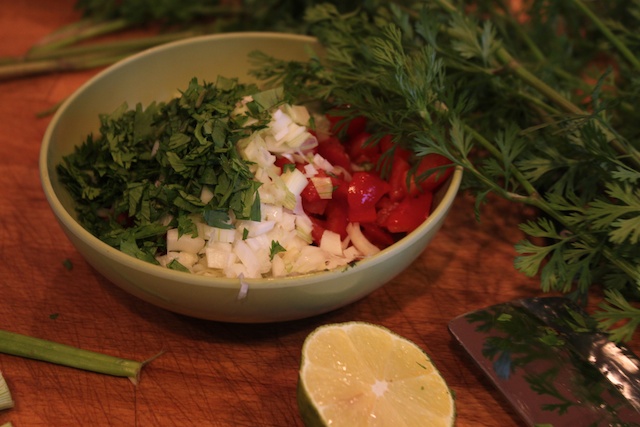 Chop a large (or a couple small) good tomatoes. (I still had the one from that dead vine a week before). Finely chop about 1 small onion, more or less to taste. Chop 1/2 cup cilantro. Stir together with the juice of 1/2 lime, salt, pepper, a few dashes of hot sauce. A chopped avocado takes it to perfection. I just didn't happen to have one. A dash of chili powder can be good, too. I didn't add that this time though.
For the Beans:
Open a can of Kuners Southwestern Black Beans with Cumin and Chili spices. Add some cheese and microwave till hot.
For the Cotija:
Crumble.
Chop some lettuce and assemble burritos.
Try to talk your two kids into trying some fresh salsa.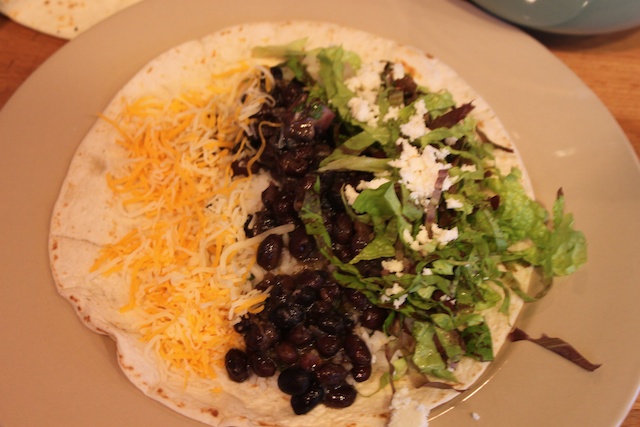 No? Then I'll eat it all. Thank you very much.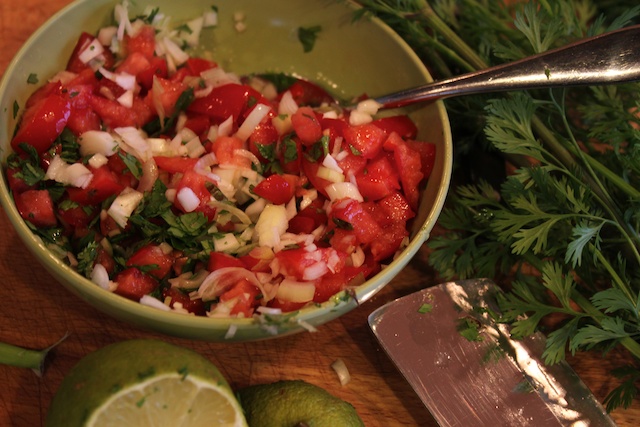 And while I'm at it, I will have one of these: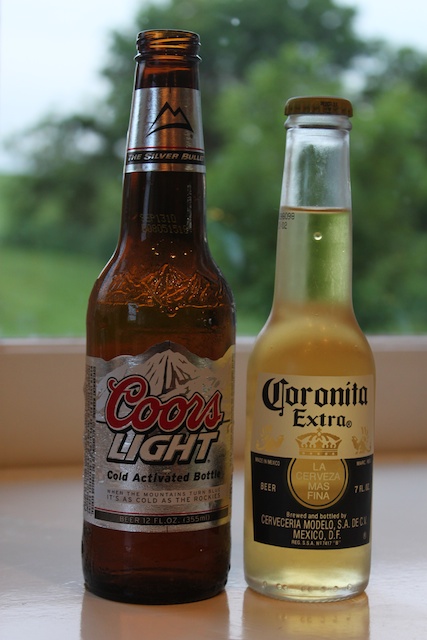 Honest to Pete, don't the makers of Corona (aka Coronita) know their beer looks like insipid pee? Yuck! I chose the Coors Light, the color camouflaged by the brown bottle. But isn't that Coronita cute?