I'm too lazy to go look what number it is.
I just replied to about a months worth of comments. I've been so buried here in soccer land I can't even tell you. But here's the great thing: it's almost over! Yes, I do feel a little bad about saying that, but never-the-less, I am happy about it. I am also happy that my kids' teams have each had 2 wins this year. Never-to-before in all the years of soccer have we won games. No, I'm not kidding about that. We are farm kids playing the big league, affluent suburbs. So any win is a huge win. So that part has been fun. Reffing, rain, rescheduling games, rice-paddy fields, coaching dramas… that stuff? Not so much… ENOUGH!
I think it's Meatless Monday Twenty Four? Anyway, who cares. Just know that this one contains shrimp. Because even though there are some die-hards out there who don't consider shrimp meatless, I, in fact, do.
Let me just ask this before going any further: Is it only me, or are enchiladas a real pain in the pooper? So many tedious little steps…
BUT FOR THE GLORY OF THE TASTE I WILL TAKE ON THE TEDIOUS!
These are fabulouso!
Shrimp & Cotija Enchiladas with Salsa Verde
(serves 5, with two enchiladas each) (why 5? Because that's what fit in the pan) (please, please, please don't think any of these measurements are holy. Use what you have. Substitute what you don't.)
about 40 uncooked medium shrimp, peeled & deveined
1 t cornstarch
1 t cumin (for marinade)
1 t chili powder
1 pinch ground coriander
1 T sesame oil (yes, this is odd for a mexican dish, but trust me on this)
1 cup — more or less — of salsa verde (I had canned from garden, but also use store bought)
1/2 cup plain yogurt
1 cup chopped cilantro, divided
1 cup chopped green onions divided
1/2 red onion sliced thinly, then cut into quarter rounds
1/2 cup chopped green pepper or poblano.
1 small hot pepper, chopped, use amount to taste
2 T chopped fresh oregano or 1 T dried
1 t cumin (for cooking)
10 corn tortillas (freshly bought, non refrigerated is best)
6 oz crumbled Cotija cheese (about 1/2 a block of it)
sour cream, chopped tomatoes, lettuce & avocado for garnish
Preheat oven to 35o.
In a shallow dish combine shrimp with corn starch, cumin, chili powder, coriander & sesame oil. Set aside for 30 minutes to an hour. (mix it up. I hadn't yet in this photo)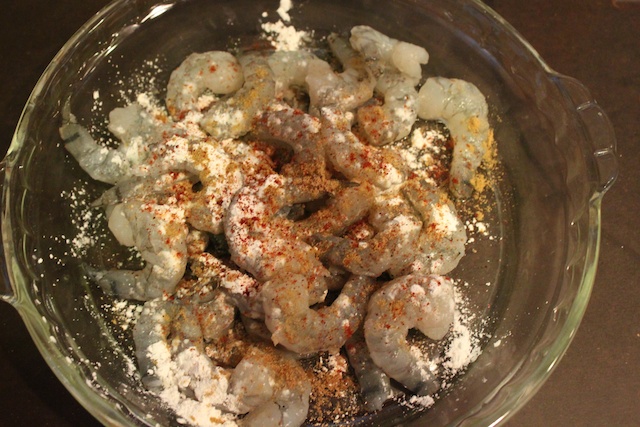 In a shallow dish (pie plate, which I transferred to after this photo was taken), combine the salsa verde with the yogurt, most of the green onions and 1/2 cup of the cilantro.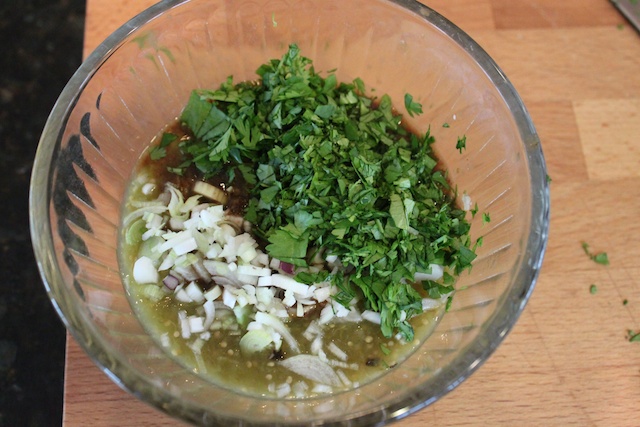 In a large saute pan, heat about 2 T of oil. When hot, add the onions and saute for about 2 minutes until softened. Then add the peppers (both hot and mild), oregano and cumin. Cook over medium heat until fragrant and softened, about 4 minutes. Add the shrimp and any accumulated juices to pan and cook, stirring constantly, until shrimp just turn pink. Don't cook any further than that.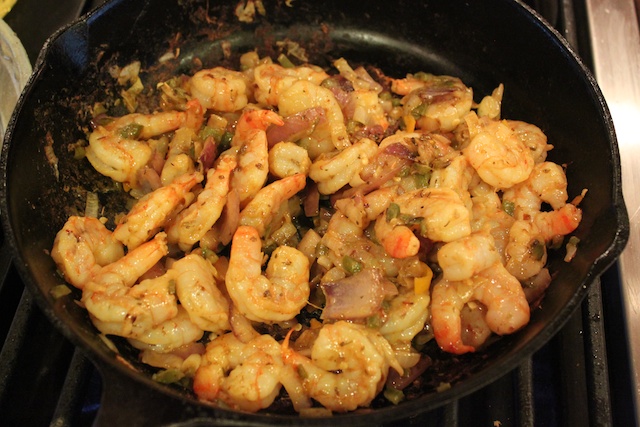 *optional: I hate to leave any flavors lying around, only to be washed down the sink. If you are using a cast iron pan like I did, you might have some crusted on deliciousness after cooking the shrimp. Add about 1/4 c water to pan and scrape up browned bits until pan is clean. Add this to the salsa verde.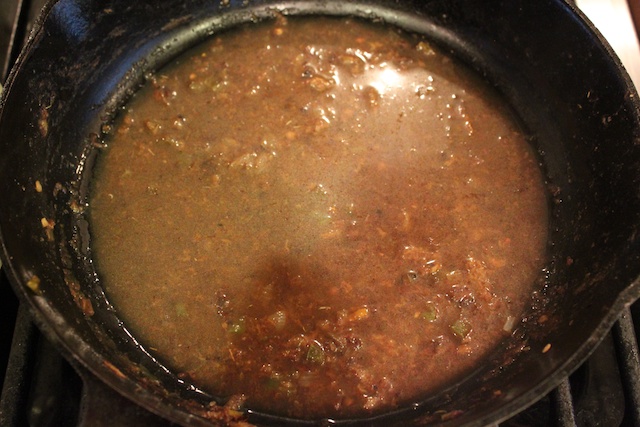 For the tortillas: this is a constant torment for me. Enchilada recipes ask you to do various things with corn tortillas as a first step to assembling enchiladas. Some say to fry briefly in oil, then to coat with your sauce. Some say to heat briefly in a damp towel in either the microwave or the oven. I don't know if it is the tortillas we have around here or what, but those processes are both a pain in the butt, and disastrous for me. The tortillas get too soft and fall apart. I have found that if I use the corn tortillas available in on the shelf and not the refrigerator section of the grocery store, and I haven't refrigerated them for weeks, I don't have to do anything to them. If, however, I only have refrigerated tortillas in the house, I will grudgingly perform the fry-in-oil step first because otherwise they are too hard and will crack as you roll them.
With that said, do what you need to do in order to be able to roll your tortillas without them cracking.
In a 9×13 pan, spread a thin layer of your salsa verde sauce over the bottom. Take a tortilla and dip both sides into the salsa verde mixture. Then, place 4 shrimp and some of the onion/pepper mix onto the center of a tortilla, top with about 1T of cotija and roll up. Place in pan seam side down. Repeat with the rest of the tortillas.
Top with remaining sauce and any extra shrimp, onions and cheese you have. Bake at 350 for about 20 minutes.
Remove from oven and sprinkle with remaining 1/2 cup of cilantro and green onions, then serve with bowls of sour cream, chopped lettuce, chopped tomatoes, avocados and any other delicious condiment you can think of.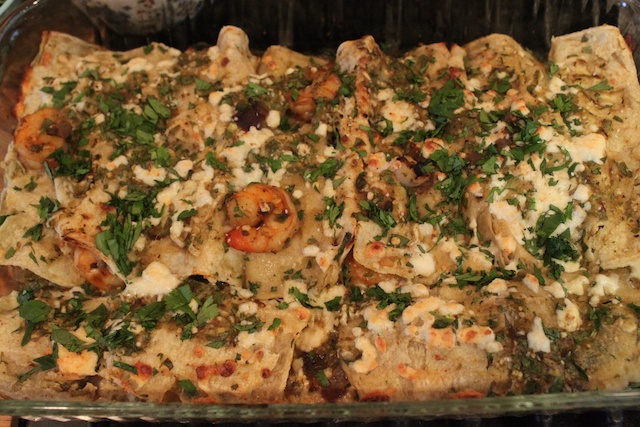 Swoon over your own brilliance.
Check off one more Meatless Monday.