Ma Po Tofu!
My second Meatless Monday venture very nearly echoed my first: it was almost 3pm before I was finished with my "chores."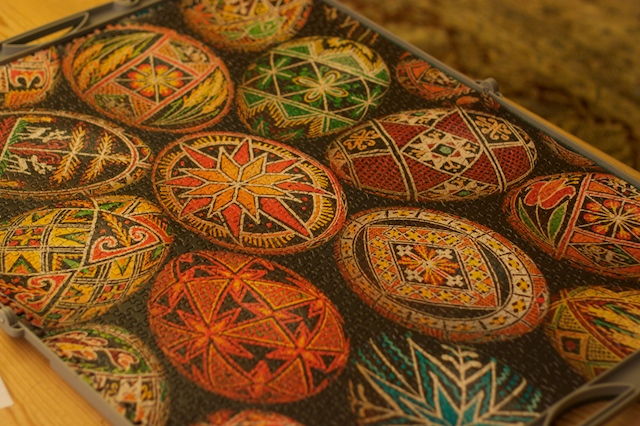 Yes. I admit it. I was working on this effing puzzle. My mom brought it back from Hayward where we had been working on it over the holidays. Never in all my puzzle-working years have I not finished a puzzle over the course of a couple days. I know this one doesn't look much different than your average puzzle. But trust me, it was. I've even worked puzzles that are practically monochromatic and had better luck. I hung my head in shame as we left Hayward to come home, leaving the puzzle incomplete. I figured my mom would finish it off…
Not so. She and my Dad showed up on my doorstep with it as they left town for Mexico cursing my fate for the next two days.
They also left me with their new (rescue) dog Pippi. Better known as POOPY to me, since all she does is crap in my house.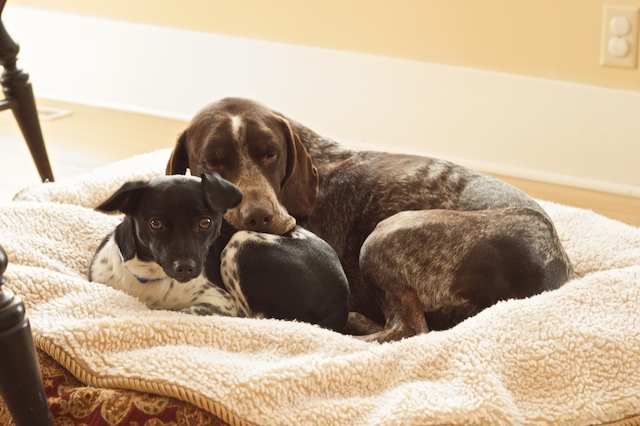 Well, she keeps Lola happy, too. Which is nice.
Anyway. I digress. I was doing the stupid puzzle, and I was also making boatloads of bread for the people who won it at an auction several months ago. I was also oiling the Paperstone counters and the now-apparently-poisoned cutting boards (see the comments section) with the good Paperstone oil, only wandering into my office and the computer around lunch time to return emails and make sure I hadn't forgotten anything important. (I'm serious. I really do that. I just don't always catch things in time.
It was then I saw this tweet from @CaptainMal: "What's for dinner tonight?" #meatlessmonday
Shit, shit and double shit. Meatless Monday! (Are you picking up on a theme here? Don't remind me to tell you about the two back-to-back board meetings that took place last week that I forgot about and was late for.)
Foreseeing this exact situation, I had armed myself with a few staples at the grocery store last week. Namely, I had picked up some tofu and fresh broccoli.
I suddenly remembered this recipe I had cut out of Cooking Light years ago for something called Ma Po Tofu. I sifted thru the stack in my recipe folder and found it. (Amazing, in and of itself.) The only problem was that it called for ground pork and chicken broth. Really? You call something Ma Po TOFU and include MEAT in it?
I had to do a fair bit of ad libbing since the recipe didn't call for much more than the tofu and pork… And? It turned out really good. Charlie wasn't happy, but Morgan liked it. And… OH, I almost forgot! Dave was out of town! I completely forgot he was gone (!) until he called in the middle of my prep. I reminded him that he couldn't have any meat because it was 'his' New Year's Resolution. He just laughed and asked me if I thought it was a coincidence that he was gone on Monday.
(I don't have full control over everyone in the family  yet. But I am working on it.)
Anyway, I fully endorse this recipe, so go ahead and try it!
Slice 1 block of firm tofu horizontally into 6 slices and put several layers of paper towel on top and weight with a plate (I used a pie plate with a bowl of water to weight it down) for at least 30 minutes.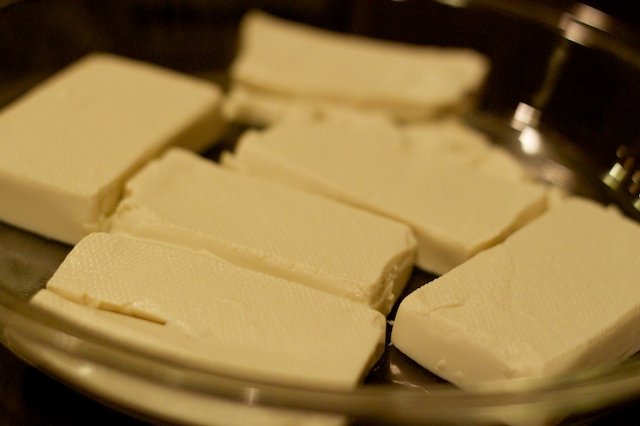 Then drain off any water and dice into 1/2″ pieces.
I happened to have some ancient vegetable bouillon.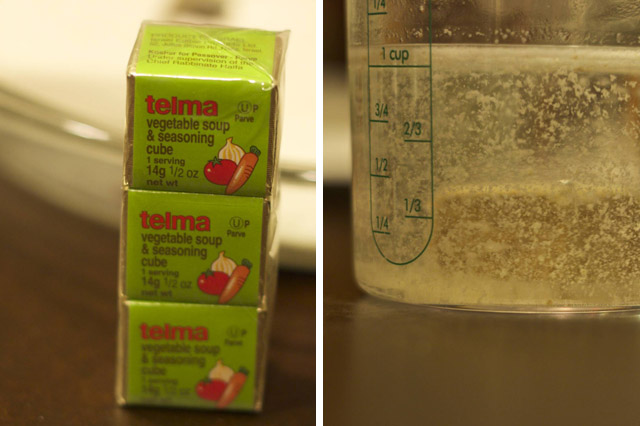 …which looked disgusting as it dissolved, but tasted *fine*, I guess. I'm going to have to make some real vegetable stock because I really don't like bouillon cubes — in any flavor — all that much. I think they are just colored salt.
Mix 1 cup vegetable broth with 2 tablespoons soy sauce, 1 tablespoon corn starch, 1 tablespoon oyster sauce and 1-2 teaspoons of chili garlic sauce. Whisk together and set aside.
Blanch a half head of broccoli and 1/2 cup peanuts (I just used dry roasted because that's all I ever have) in boiling water for about 1-2 minutes. Broccoli should still be firm.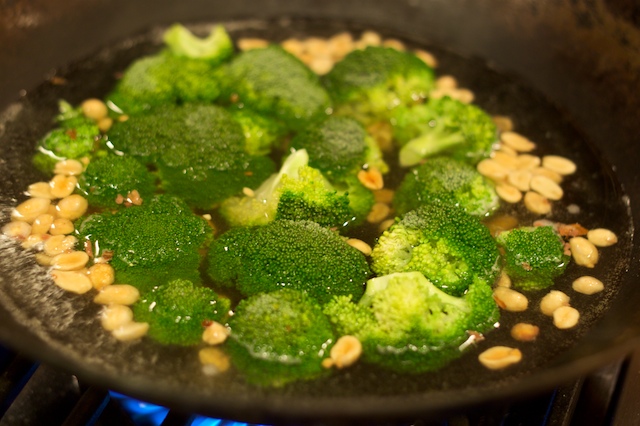 Drain and shock in ice water. Then drain again (picking out any remaining ice cubes).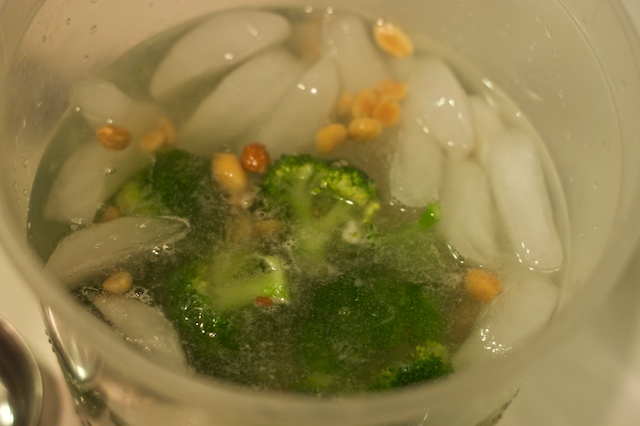 Dice and saute half an onion, three minced garlic cloves and about two tablespoons of grated ginger. Then add 1/2 cup of edamame and the diced tofu. Stir fry over medium high heat for 3-4 minutes. Then add sauce mix, scraping the bottom of the pan well. Throw in the drained broccoli and peanuts and stir until hot.
At the last minute I threw in about 1/8 cup of chopped red peppers for some color. I liked it.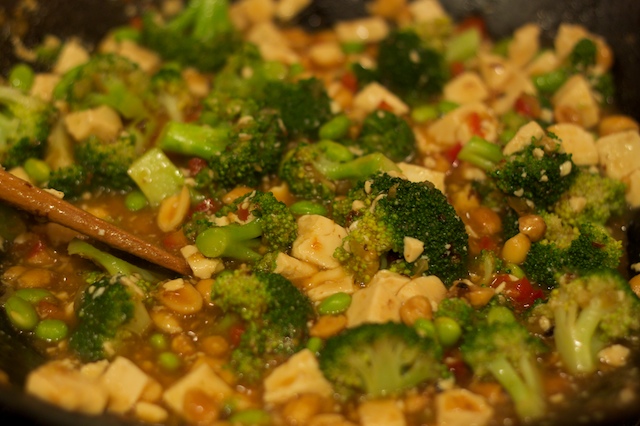 Serve over hot brown rice and promise your 12.5 year old son that you won't post the picture you snapped of him with a big pouty face as you serve the delicious tofu meal.