Actually it is my only ragout.
I don't even really know what a ragout is. In fact, up until opening the cookbook just now for the general recipe, I was thinking it was called Ragu! Wait. Is that the same thing? Just a different spelling?
Wikipedia to the rescue:
The term ragout (French ragoût) refers to a main-dish stew. (The etymologically related Italian ragù is a sauce such as Bolognese used typically to dress pasta.)
Your (and my) lesson for the day.
So they are basically the same. Good. I was right. I love being right.
Anyway, this recipe is from a cookbook I've had for years: Jacques Pépin's Kitchen: Cooking with Claudine. It's taken from their PBS cooking series, which I used to see every now and then. I got it as a thank you gift for donating to public television. I love his recipes. But like most cookbooks I own, I don't use it much. This one recipe being the exception. I don't follow it to the letter, because it calls for lardons. No wait: salt pork. It calls for salt pork, which of course I absolutely never have, even if I did know what it was. Salt pork, I suspect, is one of those ingredients that, if bought locally in a standard grocery store in Minnesota, would pretty much stink when compared to the salt pork that Jacques uses. So, with my rationalization, substitutions are a must. Plus, it skims about 30 minutes off the recipe.
What, you don't believe me? This is the intro to the recipe in the book:
Salt pork is sometimes called cured pork or sweet 'pickle' in this country. In France, this type of meat is called lard — hence the name lardons for the small pieces of it we add to stews and other dishes. (What we call lard in the US is called saindoux in France.) French lard is similar to what the Italians call pancetta, and both of these versions of unsmoked bacon are usually leaner than the salt pork we find in markets here.

Look for a salt pork slab with as much meat on it as possible, then cut it into 1/2″ pieces, blanch the lardons to remove most of the salt, and sauté them to enhance their flavor.
Told you.
My method is much faster: I simply use bacon fat to brown the chicken for the bacon flavor and sprinkle crumbled bacon pieces (that I keep in the freezer for quick use) over the dish in the last few minutes of cooking.
I'm not saying it's better, mind you. But at least it doesn't require a trip to the grocery store…
Sometimes I'll throw spinach or kale into the mix, sometime sweet potatoes. If I don't have white wine, I'll use red. Scallions get replaced with regular onions or frozen chives if I find mine in the crisper to be slimy and gross…
The point is, just make it work. Don't get all freaked out because you don't have what the recipe calls for.
Chicken Ragout 'Jennie' (originally titled 'Jeannette')
1 T bacon fat
4-6 chicken thighs, skin removed. Either boneless or bone-in
1 bunch scallions (about 6) cut into 1/2″ dice
1 medium onion chopped
2 t flour
1-1/4 c water
1/2 c dry white (or red) wine
2 cloves garlic, pressed
1 t dried thyme leaves
2 bay leaves
1/2 t salt
1 lb small potatoes, left unpeeled but cleaned
1/4 t Cholula or other hot sauce
2 T bacon crumbles
optional chopped parsley for garnish (which I also never have)
Heat the bacon fat in a large sauce pan or sauté pan. When it's hot, add the thighs and sauté them over medium heat for 6-8 minutes, turning once. When chicken is well browned transfer to a plate, reserving the contents of the pan.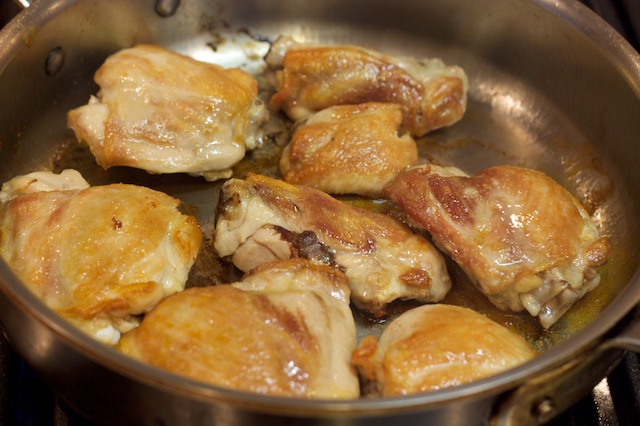 To the pan, add the scallions and onion, mix well and cook for 5 minutes over medium heat, stirring occasionally.* Add the flour, mix well and continue browning the mixture for about a minute.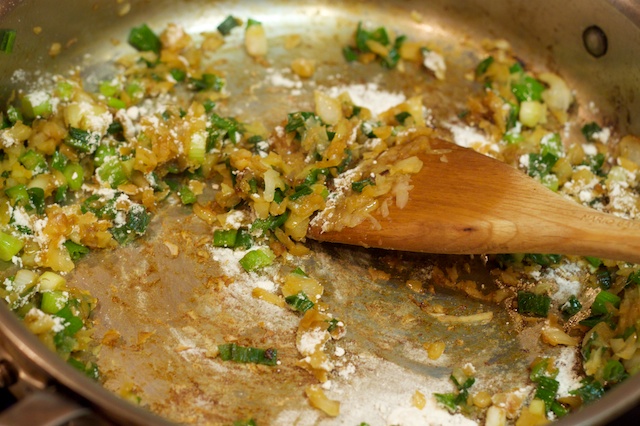 Add 1 1/4 cups water and the wine, stirring well and scraping all the cooked-on brown bits off the bottom of the pan. Stir in the garlic, thyme, bay leaves and salt. Bring to a boil, stirring occasionally. Add the potatoes and browned chicken thighs, nestling everything into the liquid. Return to a boil, then simmer covered over low heat for 30 minutes.
Remove the bay leaves, add the hot sauce and bacon crumbles. Sprinkle with parsley and serve with good bread.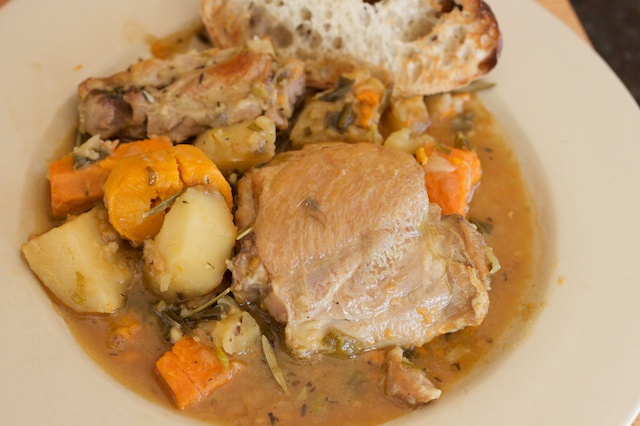 *This addition to the pan will spatter considerably. I say, who cares? The kitchen is a mess after cooking dinner anyway. Dave says, "Use the splatter screen!"
"…But I don't have a splatter screen."
"What happened to mine from College?"
"Who cares!"
Guess what I got in my stocking for Christmas this year?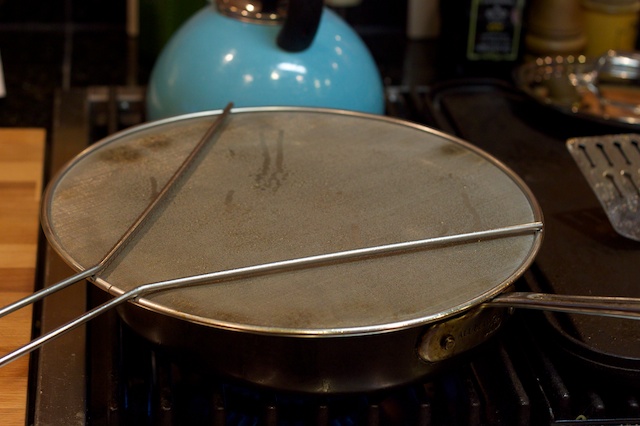 I hate it.