STOP! Before you scroll through the photos: First, a little background. Please.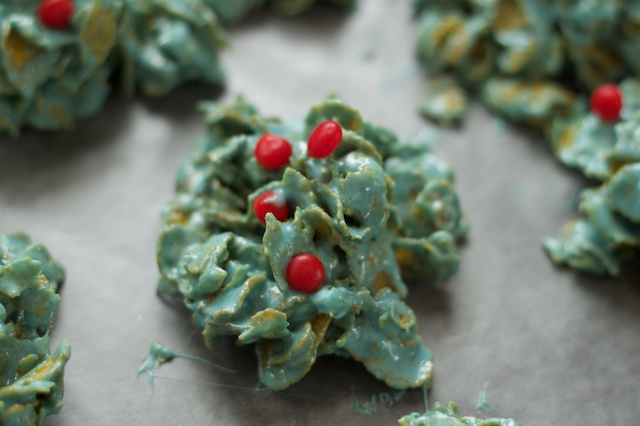 These are Charlie's cookies. We've already made several batches of these cookies and Charlie is bored with the standard green wreath. I am also out of cornflakes, and – as it turns out – green food coloring. As usual, I refuse to go to the grocery store. Therefore, the photos taken of the process are going to, no doubt, be a little disturbing. Or at least off-putting.
Additional things that may be helpful to know as you read this post, and all previous and future posts I might make:
I never remember to take photos of the things I want to write about. Or, I start taking pictures, then forget to finish as I start running short of time, we eat whatever I'm making, and I say "Oh shoot. I forgot to take the rest of the pictures." I never seem to have the correct ingredients. I think of all kinds of clever things to write while I'm cooking and snapping away, only to go completely blank when I sit down to type. And, I still don't know why I am even doing this in the first place.
Well. I'm never really completely blank.
So, back to the old Cornflake Wreath Cookie recipe. This is a favorite of mine and Charlie's. Dave likes them and so does Morgan. But they are Charlie's favorite, and I make them for him. These are also my go-to recipe for any event I have to bring a few dozen to share. Since I usually forget that I am supposed to even bring cookies to share, I need to move quickly. I can whip up a batch in about 8 minutes, which might seem impossible to you, if you have ever tried to make the damn things.
Frankly, I have never once, not ever, succeeded in making the recipe according to directions. Have you? Seriously. Have you?
I am positive there is some insider's secret to creating a ring of sticky, gooey, marshmallow-coated cornflakes. And, even if you DID succeed in getting the mess into the shape of a wreath, it ends up being only a fraction of the amount that you actually want to consume. So you end up eating three. Probably to the horror of the person who made them, since the formation of each fricken' wreath likely took a minimum of 15 minutes.
Therefore I present to you the New and Improved Cornflake Wreath Cookie recipe.
Here are the changes I made to the original recipe: I add 1 teaspoon each of vanilla and almond extract (instead of 1/2 tsp). I use one 10 ounce bag of regular sized marshmallows (not 4 cups of mini), because I never have the minis. I use twice as much cereal (to make them more nutritional). Do you believe that? I use Red Hots with abandon (not just 3). And, I don't waste my time forming them into rings. Honestly. You'd have to be insane to even try.
Maybe I'm just jealous that I can't do it.
But I'm darn good at the rationalizations, aren't I?
Without further a do:
The Recipe (if you can call it that)
Microwave 1 stick of butter in a large bowl for about 1 minute. It doesn't have to be all melted.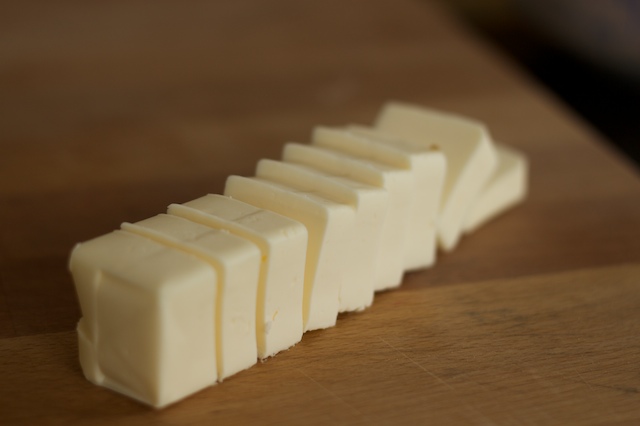 Add the bag of marshmallows (be sure it's the 10z bag and not the bigger one),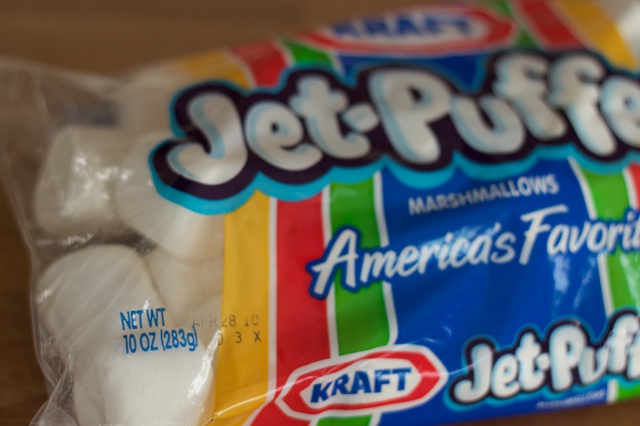 and toss with the partially melted butter.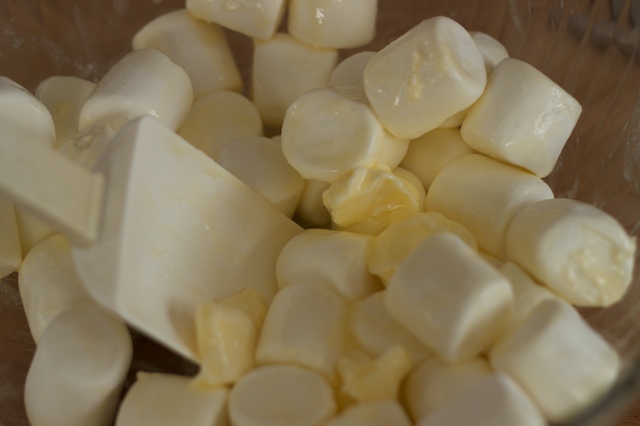 Stir well and microwave for an additional 1 minute to get it smooth.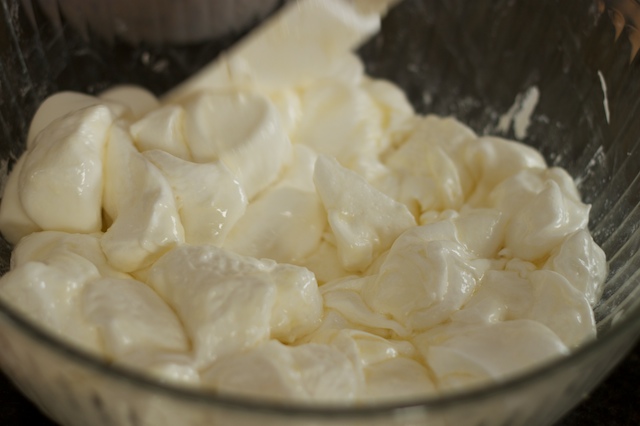 Add 1 teaspoon each of vanilla and almond extract.
Add enough food coloring to get the mixture the color you want. I do not recommend either blue or purple. My kids, however, do.
Add 8 cups of cornflakes (or, as I did here, the third bag of the Chex box you bought at CostCo and your kids won't eat because they don't like the wheat. That'll teach them.), and gently stir marshmellow mixture to evenly coat the cereal.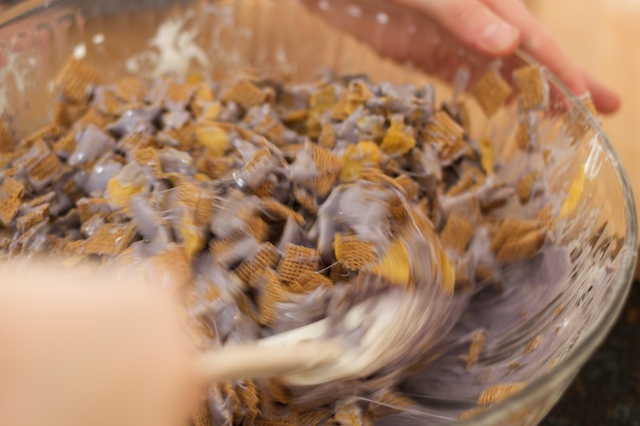 Spray two spoons all over with non-stick cooking spray and scoop blobs of the mixture onto wax paper.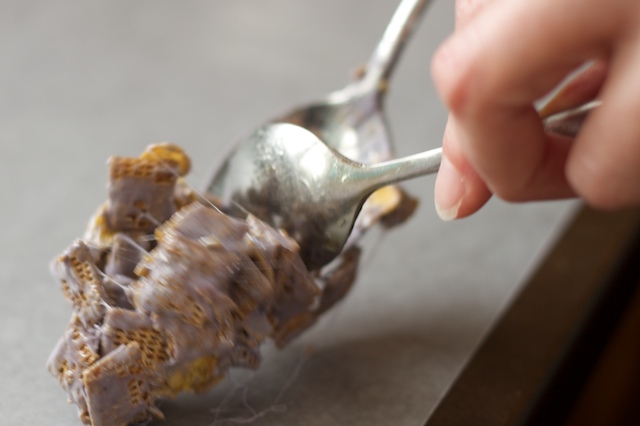 Immediately sprinkle generously with red hots.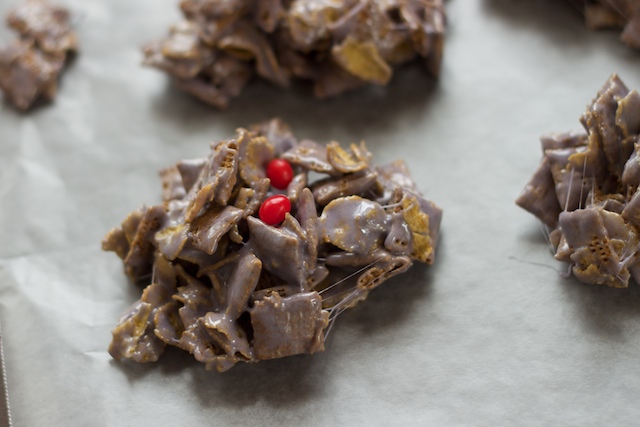 After about an hour, flip the "wreaths" over so that the bottoms get hard. That way you can store them in a ziplock bag.
I just did that, and while I was at it, I sampled these pitiful purple Wheat Chex cookies. Not only are the truly hideous, but I also ran out of almond extract and only had about 1/4 teaspoon.
It doesn't matter. They were really good. How much you wanna bet I'll be the only one who eats them? (The blue ones are already half gone).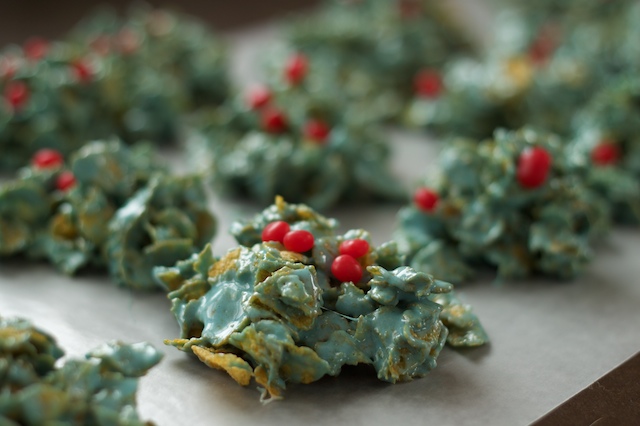 New and Improved Cornflake Wreath Cookies (in less than 10 minutes)
1 stick (1/2 c) butter
8 cups Cornflakes
10 oz bag Marshmallows
1 tsp vanilla
1 tsp almond extract
1 tsp (or more) food coloring. I recommend GREEN
red hot candies
Microwave butter in large bowl for 1 minute. Add bag of marshmallows and toss to coat. Microwave marshmellows and butter for 2 minutes. Stir and microwave another 1 minute and stir until smooth.
Add vanilla, almond extract and food coloring. Add cornflakes and stir gently to coat.
Spray two spoons with Pam (or non-stick cooking spray). Spoon large blobs onto wax paper. When mixture is gone, immediately sprinkle with red hots. If you wait too long, the candies won't stick.
After about an hour, flip the wreaths over to let the bottoms harden. Store in ziplock bags.