Tuesday, 8/7/12.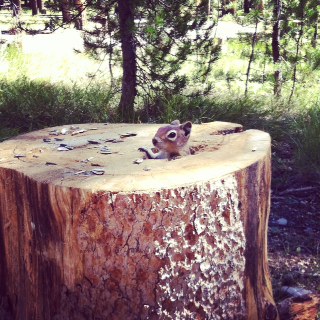 Up early… Well, not really. We've pretty much been up early everyday. We, as in Jen, Dave and Charlie. Morgan is working on pushing the weekly average night's sleep to 15 hours. Today's 7 am roll call might have cut it down to 14.
We ate a quick breakfast of coffee, toast and pop tarts, depending on who you are.
We met Emmet and Toby right on time (a rarity for a Menke) in the tiny metropolis of Connor. Texts and emails were gathered, as planned, and we headed up to the drop off point on the Bitterroot River. Morgan and I were in a boat with Emmet, and Charlie and Dave were with Toby.
It was super fun. Kind of like a lazy white water trip with no paddling, which is traded out for the fun of casting a fly rod.
Definitely Dave and Charlie had the technique down. Morgan and I… well we followed direction. And we improved. However, by the end, my hand was frozen into a claw from holding the pole, so intent was I to "do it right." Meanwhile, Morgan, who was up front in the boat, ws so spastically casting that every time she drew her rod back, the fly was ripped out of the water with such force I thought she had a fish. It made for a lot of excitement.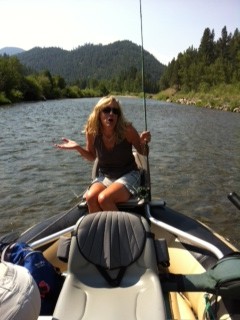 Morgan caught the first fish. (Well actually Emmet caught the first fish on his first cast while demonstrating to us how to cast. No other fish was caught for about an hour). It was a little hybrid trout.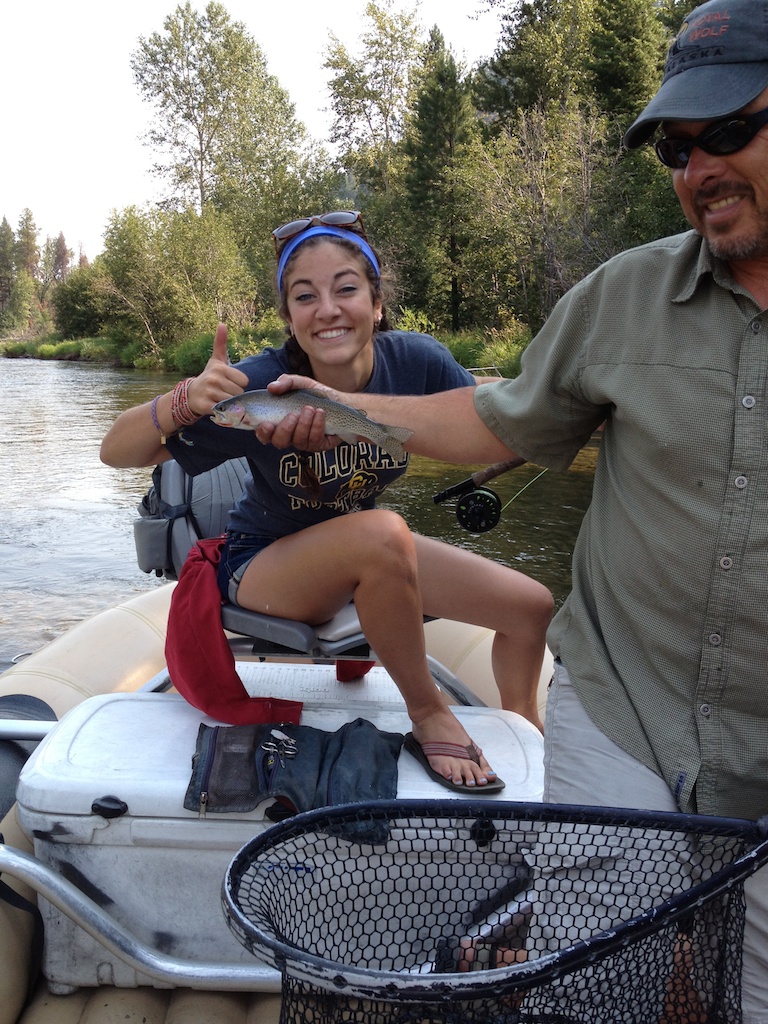 I later caught a big rainbow that Emmet made a lot of fuss over. Fly fishing shouldn't be stressful, but I will tell you that I was under an extreme amount of stress as I brought that fish in. It seemed to mean an awful lot to Emmet and I didn't want to disappoint him.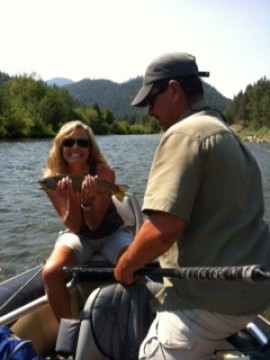 During the last half mile of the float, Morgan's pole finally gave up the good-fight and actually separated from itself as she casted it apart. Through all our snags and crossed lines, Emmet was ever-patient, gentle and filled with good humor. When she casted her rod apart you could have sliced the tension with a knife. As he told her to "FREEZE. Don't MOVE." The only thing I could compare it to would be if he was diffusing a bomb that was strapped to her chest. The rods must be expensive?
Anyway. After we finished and got out and Emmet took the raft out of the river, Dave and Charlie floated up about 15 minutes behind us, all quiet grace and elegance. Long beautiful casts with the sun behind them. Kind of made me feel sorry for Emmet.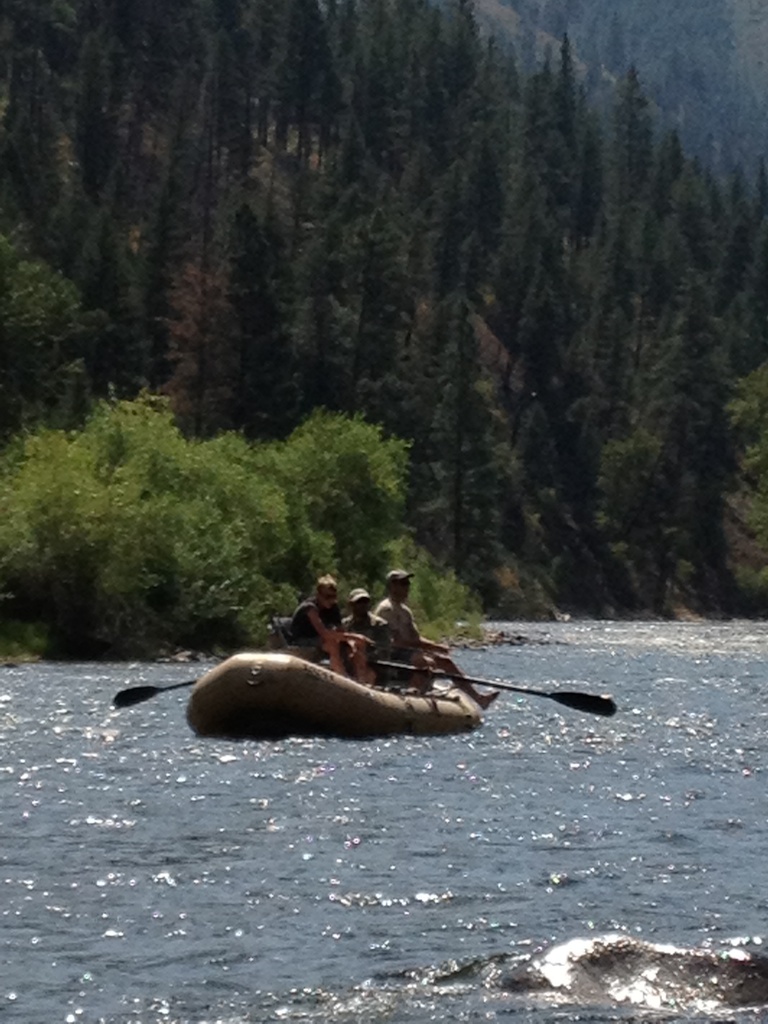 They each had caught "a few good sized trout." But have no pictures to show for it and therefore I don't believe them.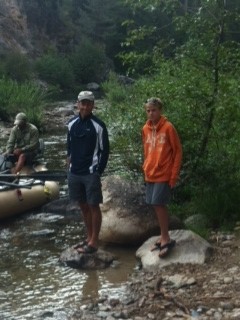 Because Emmet and Toby didn't get the message that we switched from a full day to a half day in time, they had already purchased box lunches for us. We bought the box lunches from them and ate them on the way back to camp. It was a good call (my idea, of course). They were DEE-LUXE turkey sammies with sides of sprouts, tomato, lettuce, pickled peppers and onions and came with a veggie pack and ranch dip (that even Morgan liked!). And a cookie.
It saved us time upon returning to camp and breaking down. It was HOT – 93 degrees. But the grotto made it bearable. I love the grotto…
The plan this morning was to head north to Coeur D'Alene, Idaho and camp up there somewhere near the lake. But during the float with Emmet, intermixed with all him humorous "Ah! Black fly!" outbursts, aimed at Morgan to parody her damnation of our infested camping site, he said "Majestic mountains? If you are looking for that, head south toward Stanley and Sun Valley."
I mentioned that to Dave on the car ride back and low and behold, that is what we are doing. We are literally that uncommitted to a plan. I think that's a good thing?
But I'm not sure, actually. There might be a fair amount of rationalizing going on, on my part.
Basically, we backtracked about an hour from Darby to Lost Trail Pass and continued south on 93 into Salmon, Idaho. Awesome, awesome road scenery. I was driving that leg and the only bad part was coming around the outside corner on a hairpin turn. A smallish gold car, coming the other way, came screaming around the inside turn and began skidding out toward us. The car was as close to being on two wheels as I've ever seen. I fully expected it to either continue to skid directly into us or to roll over and off the cliff, possibly taking us with them.
Since I am prone to exaggeration, I read the above to Dave and Charlie and they agree it is true:
[I am in the Porcupine Mountains and forgot to scan the signatures! Check back in a week]
What? Why isn't Morgan's signature on there? No, she isn't sleeping. She's watching "Step Up Two," which I believe we stole from the Murnane cabin and which I believe I later tried to pay for, but Kathy wouldn't let me. Anyway, I'm not asking for her signature because she exaggerates just as much as I do — if not more — and because when the incident occurred, she was in the back seat watching a movie and probably doesn't even know it happened. Mostly, we only hear from her when we go thru a town and she deigns to grace us with her verbal skills: "HEY. Is there any SERVICE here?" Or, more commonly, when she has her headphones on and is whisper-singing far too loudly. Other than that, we could be driving in circles for hours and she would never know. As long as we set up camp in a different spot, we could probably stay within 5 miles every day and she would be none the wiser.
It started to get late, so we began poking around campsites off of 93 starting with the Cottonwood Recreation Area. I can't speak for others, but Charlie said it best as we spun thru the paved sites on the Salmon River at about 30 mph: "This is not the campground for us."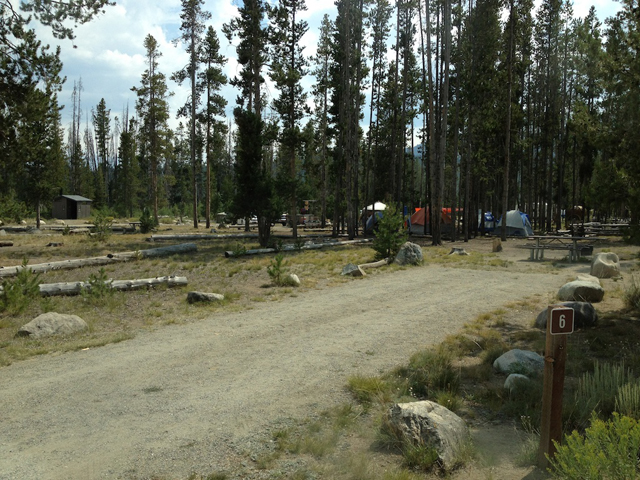 We are learning (all over again, as we can never seem to remember this from year to year) that "Recreation Areas" are a sure tip-off that we will not like the camping options. So I don't know why we even bother to look. Instead, we drove up Morgan Creek Road, encouraged by the good karma of the name. Ten miles up a gorgeous road along a green draw, we came upon Morgan Creek Campground. Basically it was a gravel parking lot with two itty bitty tents pitched and a forest service truck parked next to one with two guys inside eating.
Disbelieving the obvious, we asked, "Is this Morgan Creek Campground?" Yep.
"How is Little West Fork Campground?" (the next and last option further up the road.) They said, "Really, really nice!"
So on we drove, eventually coming upon Little Fork, which was virtually identical to Morgan Creek with the exception that instead of two tiny tents, it included a pop-up camper, an outhouse and a picnic table inside a corral. To keep you safe from charging cattle? Seriously odd.There were no actual sites. You apparently just set up on the cul de sac.
Curiosity got the better of us: Where does this well maintained, single-lane road go, do you suppose?
Up. Up. Up. To a trailhead that goes in to Frank Church River of No Return Wilderness Area. That's the God's honest truth. It's the largest wilderness area in the U.S.A. At the very, very top, which took another 30 minutes to drive, there were yet another two itty bitty tents set up. It slays me that you can drive for hours on a road, never seeing another car or live person for miles and miles and find, at the end of the road, at the top of a mountain, a "full" campsite. Because we have a penchant for solitude, we turned around and headed back down to a flat little turn-out we had spied on the way up  and disperse camped.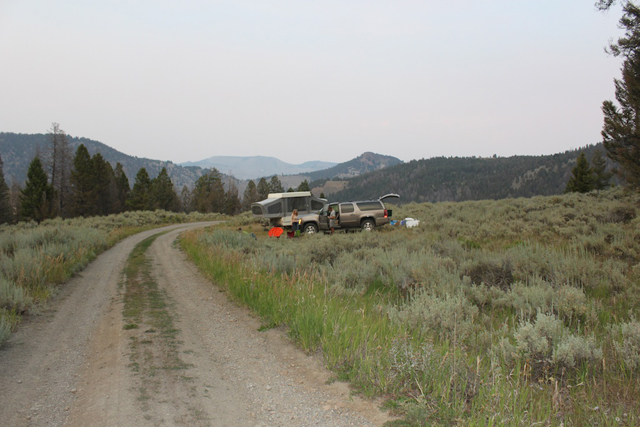 We knew that was legal. We just didn't know if a campfire was legal. But seriously, who would ever know?
To explain just how remote we were is difficult.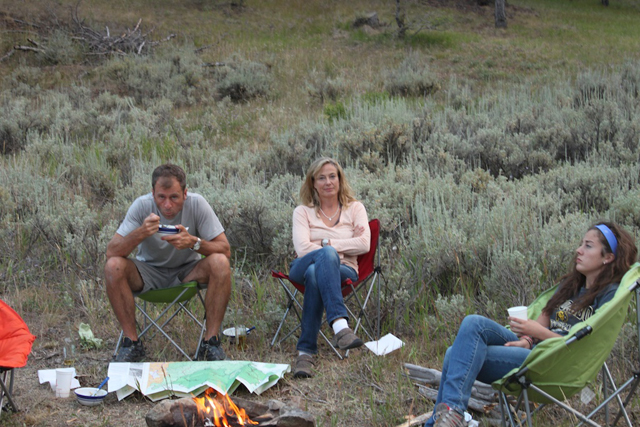 So it was a bit of a surprise, about 8:30 pm, as dusk set in and we were finishing dinner, to hear a car coming up the road from far away. With a small fire burning and camping right off the road, we were totally busted. Charlie, rule follower that he is, was a nervous wreck. He had about five minutes of agony because it took that long for the car to appear. By that time he had scurried in to the Suburban to hide. And it wasn't a car. it was a Forest Service truck. We braced for the encounter, each of us running over in our minds how best to profess our ignorance and play dumb. The truck drove by. Each occupant smiling and waving.
Huh. I guess you can have fires.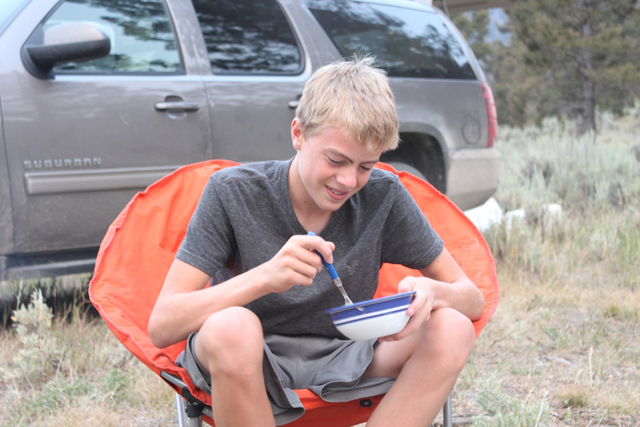 Charlie was relieved!
Morgan was never worried.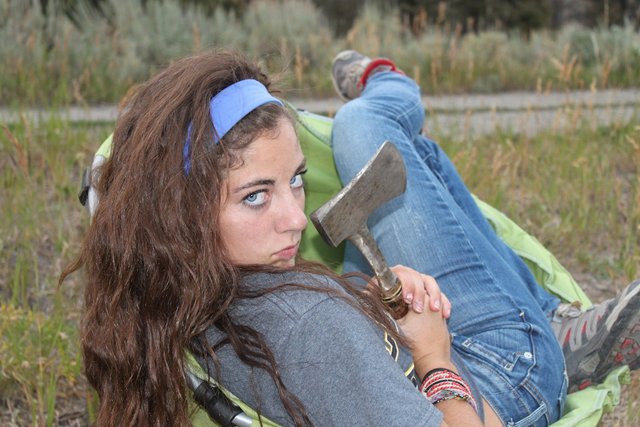 Dinner was MY favorite: Green Curry, together with Morgan's 2nd favorite: boil-in-a-bag rice. This year we added chinese long beans, zucchini, eggplant and a sad handful of my sugar snap peas. It was awesome.
Dave bet me I couldn't stay up till 10 pm. So I did. Writing this very entry to it's full conclusion, enjoying this apparently totally legal fire.