Thursday July 23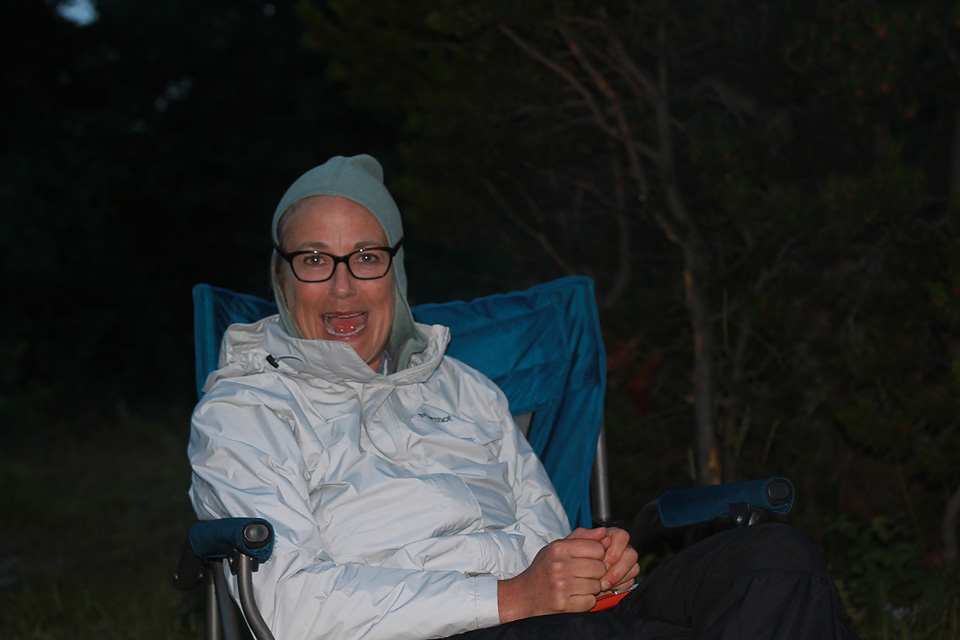 When I am camping, I wake up with the sun, which usually coincides with Dave wiggling the camper as he tries to sneak out without waking everyone. It signals that all is well with the world and that hot coffee will be in my hands very soon. I snuggle in and wait.
Today is different. It starts out the same. Dave even gets up and tries to sneak out without waking anyone. The first noticeable difference is that he comes back. Without coffee. And crawls into his sleeping bag and goes back to sleep.
What the…?
OK. That's OK. It's vacation. So I pick up my Kindle (the BEST on camping trips: a backlight requires no headlamp, battery lasts forever, it can't get all rumpled and wrecked…) and pick up where I left off with Scout and Jem (re-reading To Kill a Mockingbird so that I can read Go Set a Watchman).
And I read and I read and I read. And I watch the storm clouds roll in. And I begin to fret about the prospect of putting the camper down in the rain. (Nothing worse.)
So that, when Dave finally opens his eyes and blinks, I immediately say into his sleepy face, "WHAT THE HELL?!"
And a pleasant good morning to you, too, Jennie.
Even I recognized that was sort of pathological. Not enough to apologize for or anything, but I didn't really have to because he wasn't awake enough to process my tone.
I did eventually get my coffee, but it wasn't in bed and it wasn't relaxing since it was decided that Morgan and I would try to get the camper down before it rained while Dave and Charlie made blueberry pancakes and bacon. But I am a mature 50 years old now and it is high time I stop having tantrums over something so small as a ripple in the universe. After all, there is plenty of time left for coffee in bed.
We left our cute little site without a real clear plan as to where we were going next. Our fishing guide was saying how much he loves the Beartooth Pass area, so we were discussing that option, and Helena was also still a possibility. The Beartooths were closer though, and won out.
We headed back to Red Lodge with Jennie driving so that Dave could research camping spots – which I point out, could have been done a lot sooner without that ripple in the universe and I could have been in the passenger seat where I belong, but I'm mature now and I don't complain about that kind of trivialities.
Which was all going pretty well until I rounded a sharper-than-anticipated-bend in a very rutted dirt road going about 25 or 30 mph and came upon the first car we had seen in 40 miles and I struggled to keep the suburban from rumbling across the ruts into them. Dave snapped his head up and began to question my driving and attentiveness.
Pretty much don't do that if you are ever given the opportunity. It doesn't end well.
The bummer for these journals as I do mature is that they are nowhere near as fun to write or read. I yelled at him for about 3 minutes and dropped it. Well, to be 100% accurate, immediately after that curve as he was staring me down, I looked down at my phone for a split second to stop the audio book I was listening to, so that I could defend myself (aka yell), and – to make his point — he grabbed the wheel and yanked with his 'mad face' and I swatted it away. And then I really started yelling at him.*
Pretty safe driving, eh?
Anyway, the storm passed because I let it.
You are welcome, Dave.
Did I mention that we got a nail in our tire the day before? I think I did not. We are the unluckiest people in the world for flat tires. We were pretty lucky this time, though. The Suburban information panel warned us of low tire pressure and when we were putting air in, we found the nail. There was nowhere to get it fixed, so we crossed our fingers and hoped it would last until today. It did.
Life's little victories.
First order of business, therefore, was to get the tire fixed. We drove into the Napa Auto Center in Red Lodge and talked to a guy who got right after it. I grabbed my computer and made myself comfortable in a chair on their deck. I had no sooner turned on my hotspot when he approached me and said "ma'am you are all set."
That level of service is simply unacceptable. I was looking forward to this lull!  Apparently they do some new thing. They don't even have to take the tire off. He sticks some nylon plug thing in the hole with glue on it and lights the wick-thing on fire and it's done. Wow, is all I have to say.
We stopped at the Ranger Office for camping area info, then I hit the grocery store for some stuff we needed where I had two separate and very strange experiences at the grocery store with locals budding in line and then arguing with me about it. But the stories are too long to explain. As we finally drove out of town, Morgan said "Charlie wanted to go to Mas Taco too. That's the restaurant I was telling you about that gets such good reviews"
And I said, "Why didn't you say something? I'dve been fine with that." And Morgan said "We should've eaten there for lunch" and I said, "Dad probably doesn't want to."
Now recognize something here: Dave is sitting right next to us. There is no music playing. He is not listening to an audio book. And yet: he simply does not register any of this. He doesn't hear us. You can call Morgan and I passive for playing out this little scene without directly saying (loudly): "DAVE. WE. WOULD. LIKE. TO. GO. TO. MAS. TACO. FOR. LUNCH."
Clearly. Definitively. — Like men are always complaining that women never do.
But that's not how we play this Game of Life.
I finally say (loudly): "DAVE. THE KIDS WANTED TO GO TO MAS TACO FOR LUNCH."
And he turns to me (registering this time) and laughs. Then he turns back to the road and keeps driving.
I turn around and say to Morgan, "See?"
And Dave — shockingly – both hears me and registers and responds. A trifecta!
"You're serious?"
"Well. Yeah. Kind of."
"You're not serious. Wait. Really? Are you?" (still laughing but starting to stop)
"Yes. They want to go there and it sounds fine to me."
"You really want me to turn around? Again"
So he did. And Mas Taco was really good. And they had wifi. For a family on its second data overage package, that sounded pretty damn good.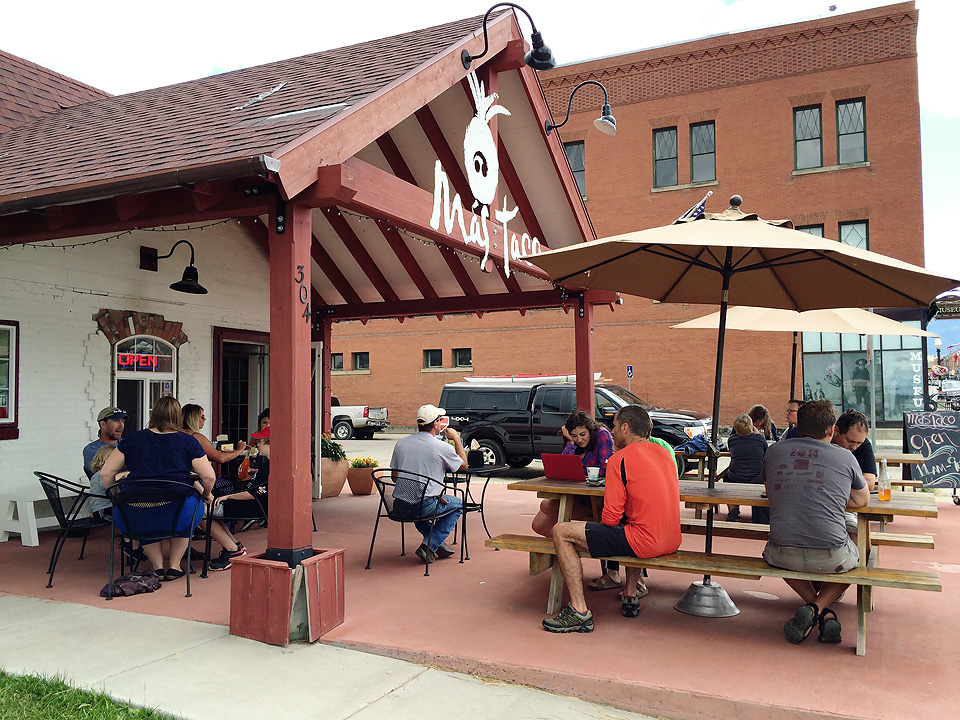 THEN we hit the road for the camping sites along the Beartooth Highway that would lead us to the Absaroke Beartooth Wilderness Area. We were shooting for either a nice site in one of the three campgrounds or a dispersed site farther along the road.
It was clear from the get-go that the road would be rough, so we spun through the first two campgrounds to check them out before committing to the road, but all the sites were reserved. As we turned onto the dirt road, two huge campers turned in front of us. OH! THE AGONY of driving behind vehicles not equipped…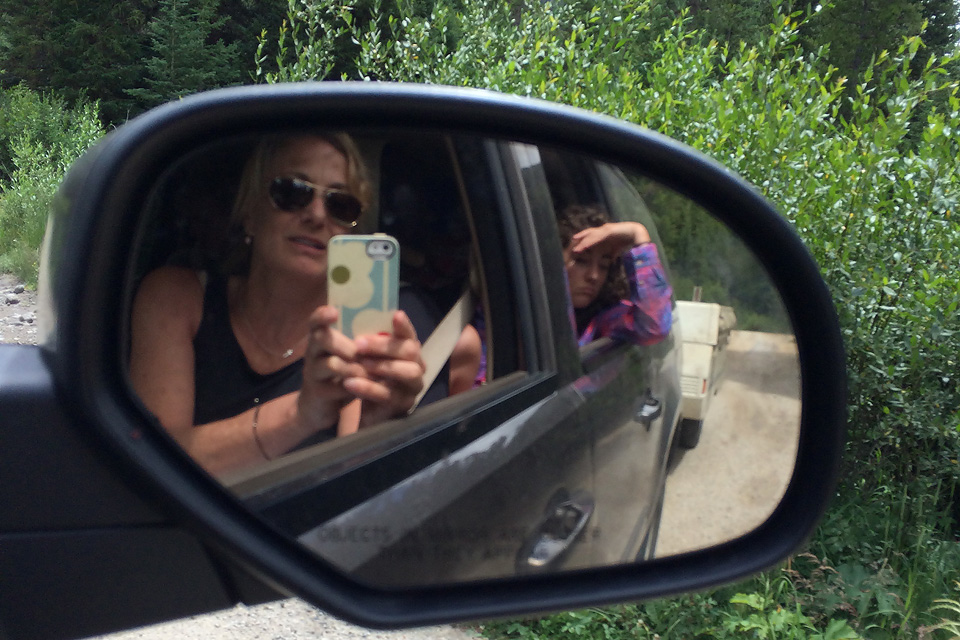 Eventually they turned off in an area that would later be teeming with about ten more mobile-home-sized RVs. Another couple miles down we grabbed a wooded site near the river, but none of us were 100% convinced it was 'the best.' Long-standing tradition demands we check out all the options before settling. So we unhitched the camper and drove on. The road got worse, but just about the time we were going to turn around we saw it: our site. Out in the open on the river. Morgan and I stayed to save it while Charlie and Dave went back for the camper. Lovely.
We set up camp: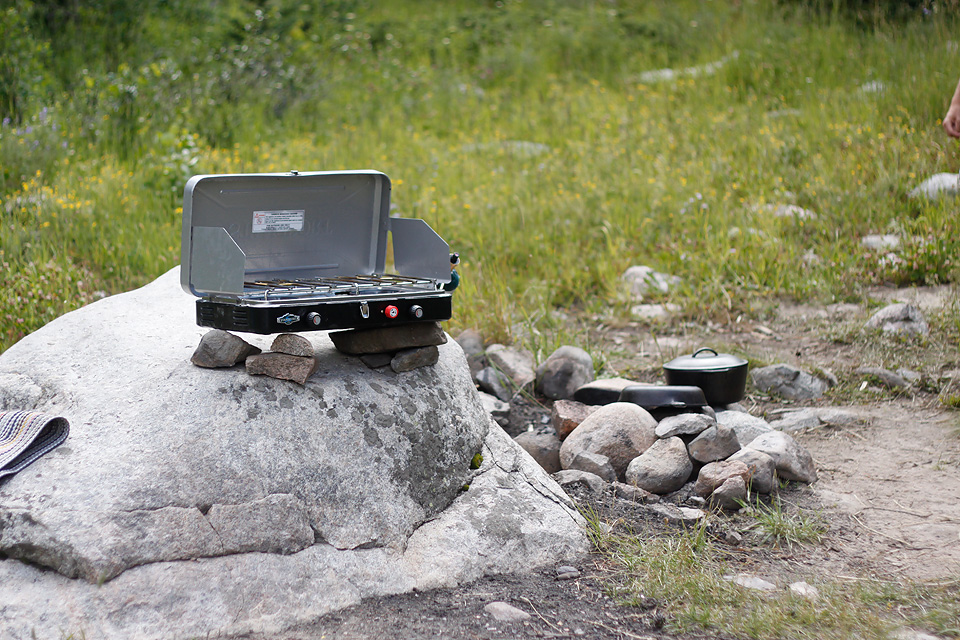 Had happy hour: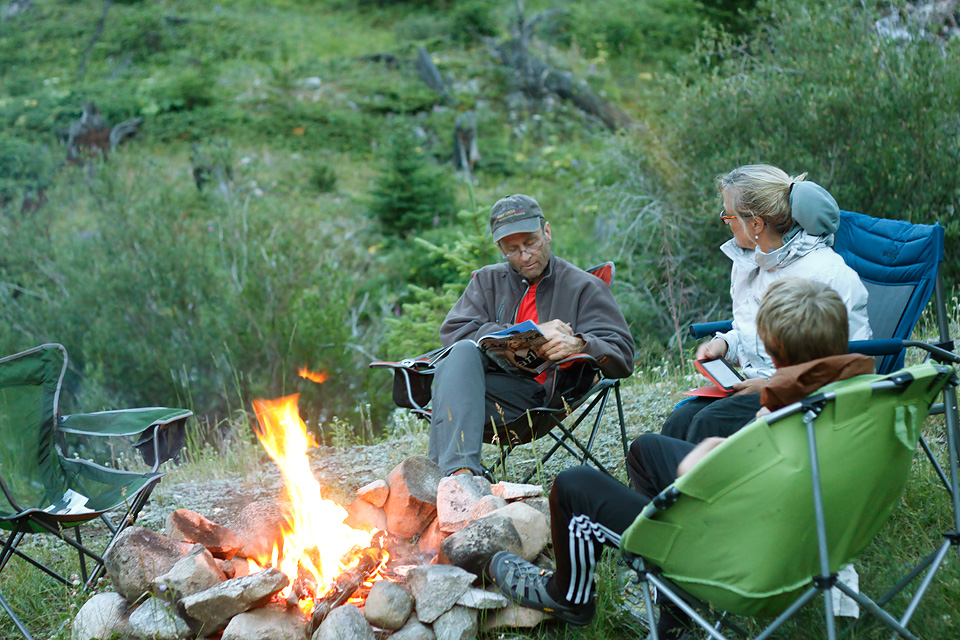 And continued to dodge the rain. In out, in out, in out.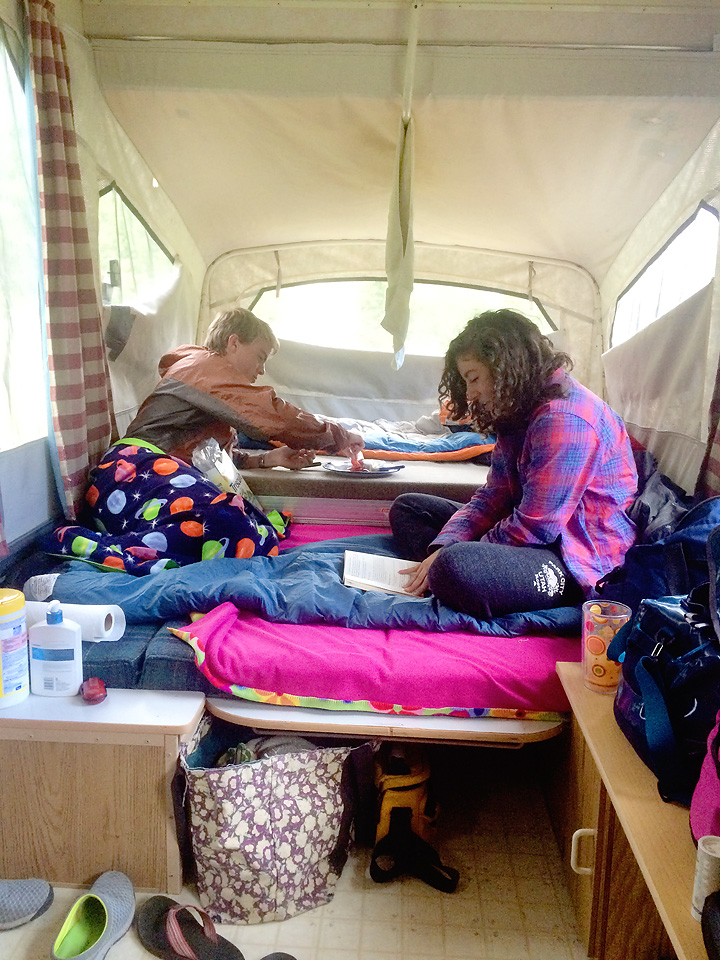 Dinner was the always-anticipated-but-you-gotta-pick-a-cool-night spaghetti. Salad with blue cheese and grilled cheesy bread. It did not disappoint. Rain sent us to bed early again. No complaints.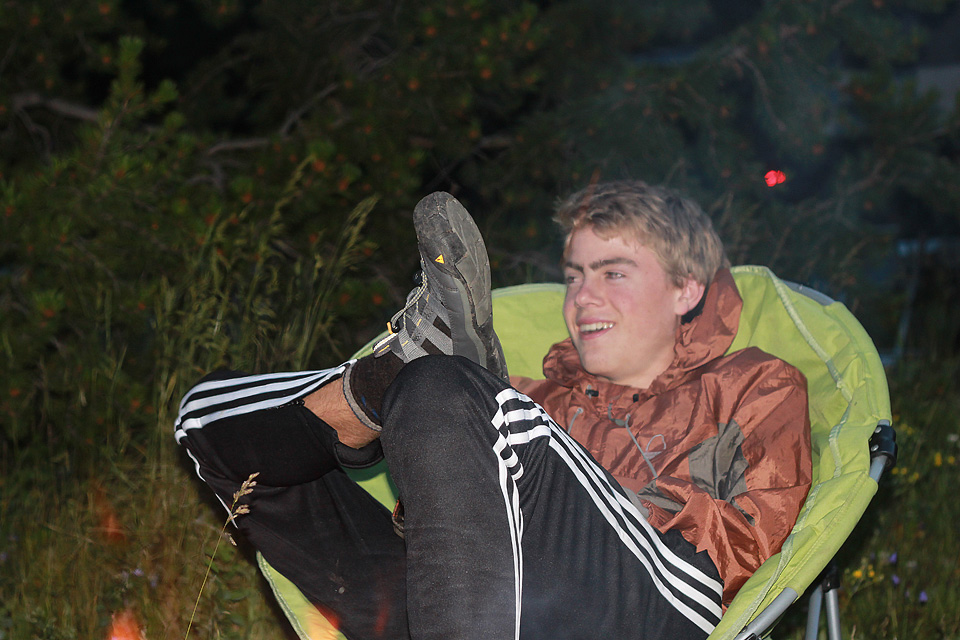 * I made the mistake of reading this post aloud on our way home and Dave actually listened long enough to demand that I append this section by saying that he yanked the wheel because I was on the wrong side of the road. Which is true, but irrelevant because I was on a straightaway and could see far enough to know I had every right to be on the wrong side of the road. And also because we had already passed the one car we were likely to see.