Food pleasures, people. This is not an X-Rated website.
I recently had my writer-critic brother and his family over for dinner. My parents were in town, too, so there was a whole gaggle of us. Morgan asked me to make a meal that I had thrown together last summer when some friends came over at the last minute. I thought I wrote about it, but after about 30 minutes of searching on my computer, I could find no mention of the recipes anywhere. I do distinctly remember thinking at the time that I didn't need to write the recipes down because they would be "so easy to find online later."
Yes. That would have worked nicely IF I would have remembered the names — or even the geographic origin — of the food. Brazilian? Peruvian? Persian? (I didn't actually think it was Persian, but that's what kept popping up on Google when I typed in what I was sure was the name of the sauce we liked so much.)
Finally. Finally, I found an email with the word "peruvian" in it somewhere, subject name: Re: RE: Re, that I had written to someone else about how good the food was. Of course! Good thing I found it, too, because I would have never guessed it was Antichuchos — or marinated beef heart. I didn't use beef heart, mind you, just the marinade. It was delicious both times and I highly recommend it. I'm not usually a kebab person because I think they get dried out and gross, but these are winners and I will make them again and again.
Marinade for Peruvian Kebabs: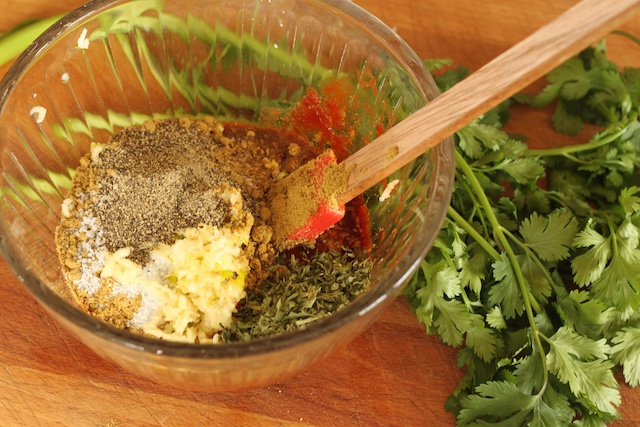 1 cup red wine vinegar
4 T ground cumin
1 t ground pepper
1 t salt
5 big garlic cloves, minced
1/2 c chopped cilantro
2 T chopped parsley (I didn't have fresh, so I used dried)
1/2 can of chipoltle chilies in adobe sauce (or 4 dried, toasted, soaked, pureed chilies)
1/2 cup oil
Combine ingredients. Cut sirloin (for the 10 of us, I used 3.75 lbs) and chicken (4 breasts) into large 3″ cubes and put into large bowl. Combine with marinade. I also added 1 package of baby portabella mushrooms. Let marinate 30-60 minutes. The original recipe says not to go longer than this because the vinegar will "dry the meat out." Is that true? Sounded crazy to me, but I uncharacteristically followed directions. The flavor was very good, even with that short amount of time.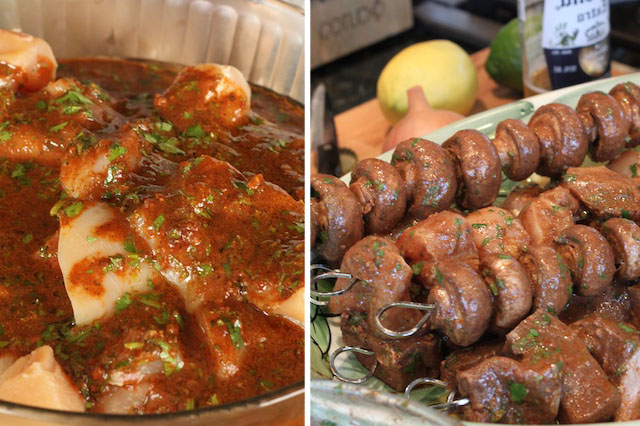 Put on long metal skewers, or soaked bamboo sticks, keeping skewers to single ingredients to allow for the correct cooking time.
The second dish we had was Tacu Tacu. I remembered the name as soon as I saw the link because it's so fun to say. Never in a million years would I have remembered it without it. Rice with lentils. Delicious and simple. Perfect with the chicken, beef, mushrooms and the….
Aji Sauce!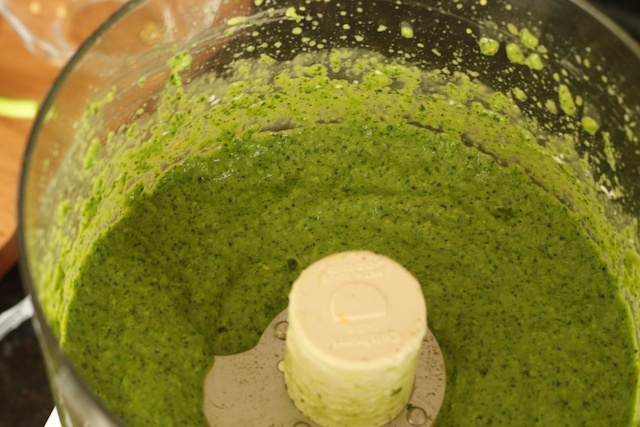 This sauce, I promise, will transcend. (Not sure if that sentence makes sense, but I'm going with it.) The ingredients will — if you are like me — make your lip curl. Or your stomach hurl. (rhymed. sorry. couldn't resist.) Pureed lettuce? Gross! It isn't, I swear. Make this sauce and serve it on EVERYTHING.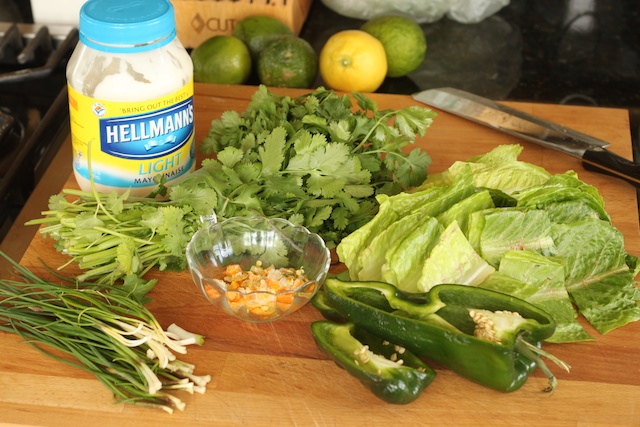 1/4 head of lettuce (Romaine is best, Iceberg is good too. I've used both)
3 jalapeno chilies (or equivalent. this is where you control heat. Use seeds if you want it hot. Use less pepper if you want it more mild. If you are concerned, add the chilies at the end and taste as you go. I used my fiery hot orange hungarian peppers from the freezer, plus 1/4 fresh ancho for taste)
1/4 c mayonaise (I use Hellman's Lite)
5 green onions (or dug up whole chives + root — as I did when I discovered I did not have green onions)
1/2 bunch of cilantro (go ahead and use the stems. Everything get pureed and they taste great)
1 t salt
1 t pepper
1 tsp garlic powder or 2-3 large cloves fresh garlic pressed
Directions: (this is tough, so read carefully)
Put all ingredients in a food processor and blend until smooth.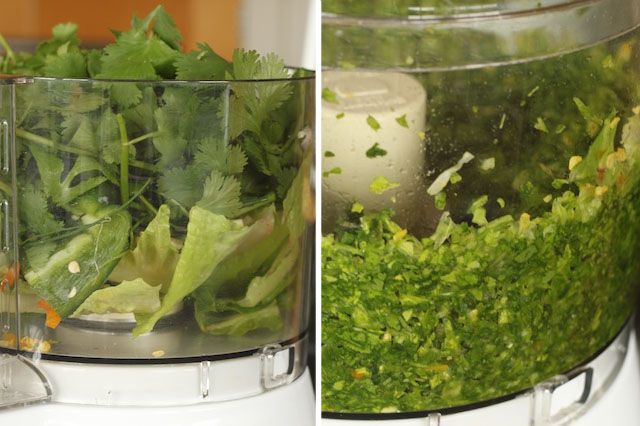 I put it in an old honey squeeze bottle and use it on everything until it is gone.
Dinner was great. I took many pictures:
…and was threatened within an inch of my life if I showed any of their faces.
Seriously.