Saturday July 25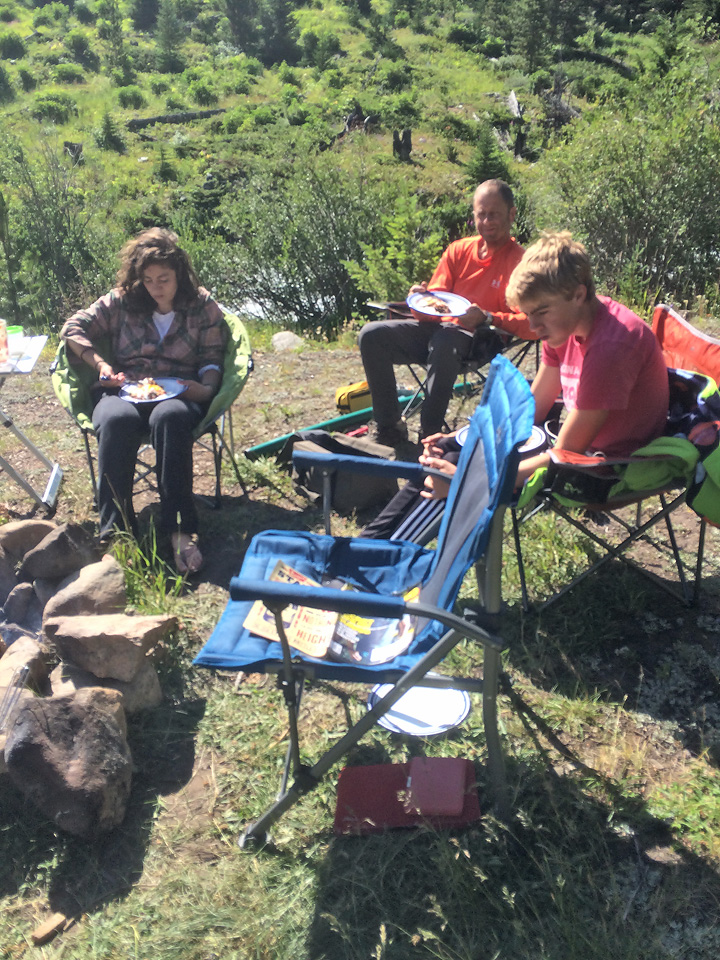 Up with the sun.
And effing Dave is still sleeping.
I give up. I got up and made an iced coffee. So now you know the truth: I don't know how to make coffee in that little percolator. And I don't want to know how. Because as soon as I do know how, it will become my job. And making coffee while camping will never be my job.
Never.
And here is another truth that anyone who has camped will surely know. Six Road Warriors journals and it's never been mentioned. It is, for most, unmentionable.
Of course I am talking about poop.
Everybody poops.
Yes it's gross. Yes it's embarrassing, but it's real. It happens. Shit happens. And it will be addressed. I will hide no longer.
Who among us has not vacationed and become an unintentional poop abstainer? As in: you simply don't go. It isn't something you try to not do. Your body simply goes into a sort of stasis. You keep eating and drinking and eating some more. Nothing. You have your coffee in the morning. Nothing.
And then your start to sort of obsess: where is it going? Will I explode? Am I gaining more weight?
Some years, I've gone the whole trip. That just can't be healthy. Suffice it to say, there is a real sense of "ah" when you have access to a not-too-gross bathroom facility combined with the exact timing of nature. Suffice it to also say: Woodbine had nice pit toilets and we were all blessed with good timing.
Now we are dispersed camping. And, that's a whole 'nuther ball of wax. (Requiring a shovel or the removal and replacement of a big rock, if you get my drift.) We were getting a bit worried about Charlie's plumbing but he totally lucked out with timing and a facility at the end of our 3.5 mile death march to the trailhead for our hike yesterday. Lucky (said in the voice of Napoleon Dynamite).
This morning, that was another reason I opted to be the early bird. No one likes to slink off into the woods with toilet paper in hand. Too much heckling. I'm not gonna lie. It's pretty gross. But dispersed camping is still worth it in my book. In all my years, I've only ever had to make a trip to the woods once before.
I wear my poop badge of honor with pride. And so should you. Everybody poops.
We'll close that topic and hope to never reopen it. Deal?
So Dave wandered out and made the coffee I was craving. My hands were frozen into claws as I typed. I was dying for the sun to make it out over the mountain and defrost me.
I was making "chilly killies" for breakfast — actually spelled chilaquiles. I just don't pronounce it the right way, driving Morgan mental. I got the recipe in the Bon Appetit camping article from July.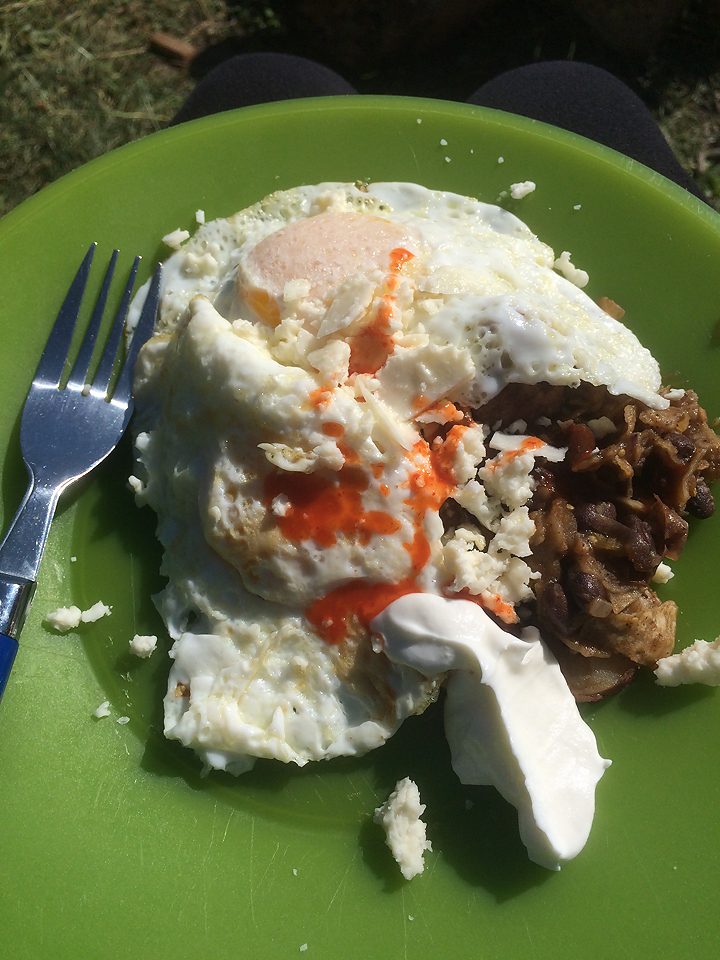 It was also where I read all about crazy-cool equipment that started me on the irreversible path of buying Dave a Yeti cooler. Did I tell that story? I don't think I did. Lord. There isn't enough time in the passenger seat for all this…
I won't belabor it: Dave has always wanted one. We have come close to buying one several times but bailed. They are just too expensive. But I had a pretty big REI rebate coupon. So. I just did it. Tied a big bow around it and presented it to him. No hard and fast data to give you, other than: it keeps ice a lot longer than the Coleman Xtreme. Plus, you know, it looks cool. I realize that makes us one notch higher on the douchebag scale, but I have no regrets.
The article also turned me on to Hydroflask insulated bottles. Holy cow. Now this is an awesome product. I got it to keep coffee hot without requiring reboiling, but we've pretty much used it for water – which stays cold basically forever. I can't wait to buy more.
I'm such a good person for the economy.
Anyway. The recipe: it was killer. They had you toting tomatillos and onion, grilling and chopping to make the green salsa. I brought a can of green salsa. Which cut about 3 hours of prep time off. Duh. I sautéed onions and garlic, added leftover potatoes (not in the recipe). Then added a can of black beans and the salsa. Heated up and added the tortilla chips. Fried 5 eggs, put them on top and sprinkled cotija cheese and served with sour cream and Cholula.
It's a keeper.
So we were just sitting there, enjoying the sun and the food buzz and marveling at the ridiculous amount of redneck ATV traffic heading up the road (The downside of dispersed camping is that you tend to be surrounded by chainsaws and boom boxes and people of questionable breeding ethics.) We, luckily, had a perfect spot that was isolated from others, though close to the road. We noticed only after rolling the camper into its spot that there was a vertical post saying "no motorized vehicles." Dave assumed we were illegally camping. I argued that all the sites I saw had those posts and that we just weren't supposed to drive our car down there.
We debated this back and forth several times until I got pissy and said "We obviously don't agree. Do you want to move?" And Dave said he didn't so I said we should just stop talking about it.
About the 50th car to pass our site that morning was a forest ranger. Dave said, "Now we'll see who was right."
Dave was right.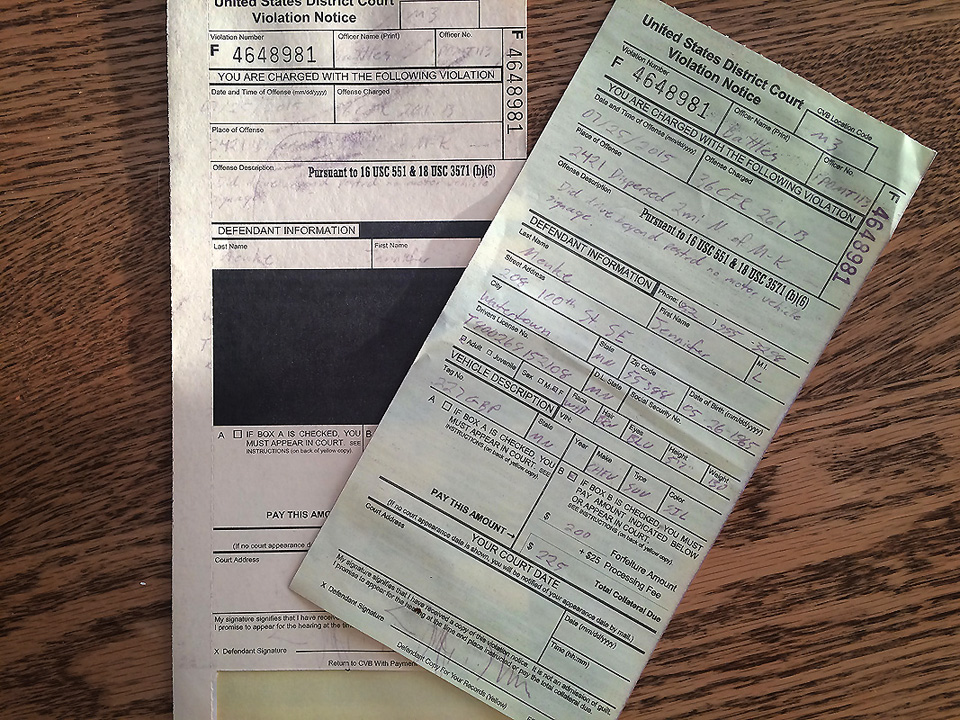 I tried to split hairs with them, saying "the camper isn't motorized," and explaining that we rolled the camper back there (we really did). But he parried with "you'll have to back the car in there to get it out of there.
Touché.
Since the kids threw down the gauntlet and refused to hike and since we really didn't have an agenda and since the rangers told me we "technically" had to leave but that they "wouldn't write us up twice," we decided to move on. As soon as the decision was made it couldn't happen soon enough. These cars! It was like a super-highway.
To quote Charlie and "Just to prove those asshole rangers wrong," all four of us pushed the camper up to the car and hooked it up. We all agree we were wrongfully cited and just might make a trip to Billings to fight it. It would be my retribution against my wrongful Miles City ticket that derailed my online stardom as a Ford Fiesta agent. No – really – I'm over that.
I swear I am.
Driving the Beartooth Highway was totally out of the way for going home, but I lobbied Dave and he agreed. I assumed we'd go to the pass and turn around and come back to find someplace else to camp near water for fishing.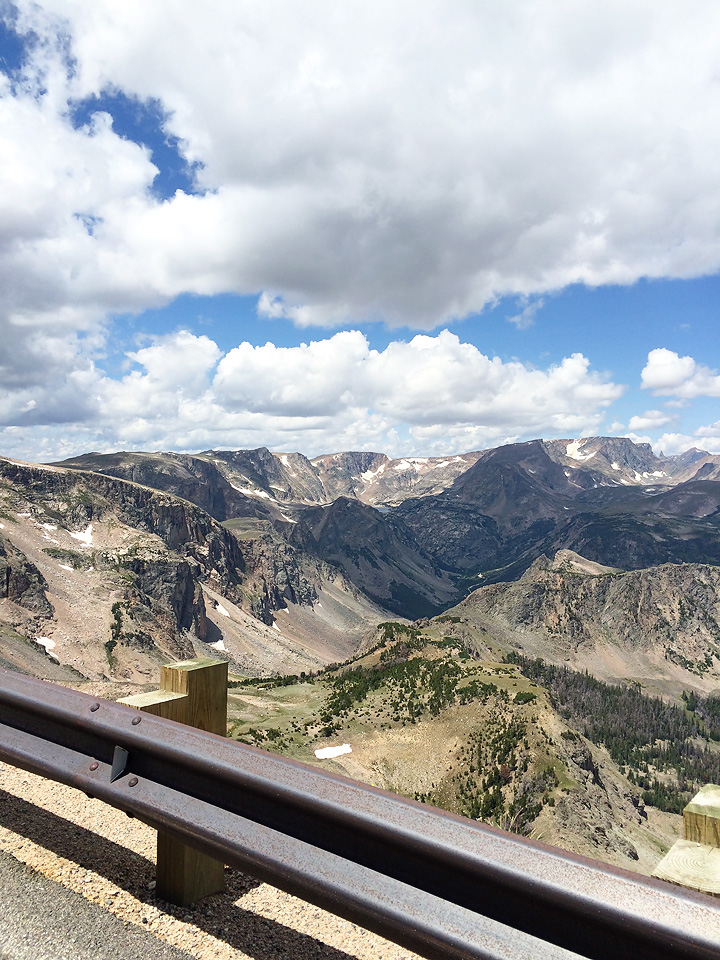 Now, two hours later we are still driving. Morgan, the delicate flower, is in my place in the front seat and I am forced to sit in her squalor back here in the hell-hole.
The benefit? The rice krispy bars, of course.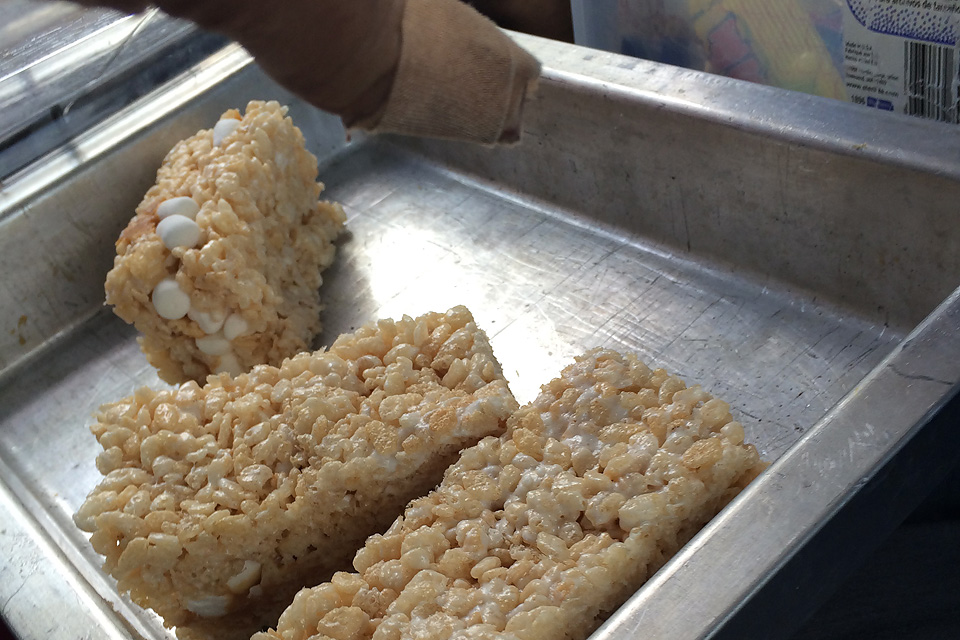 Do you see MY bandaid in that pic? Morgan and I have matching injuries, but mine wasn't as bad. I sliced a chunk off the top of my thumb and fingernail that someone must have eaten in the chilaquiles. That's what made them taste so good, obviously.
There was a break in the action (writing action) when dave stopped in Cuba to have me drive. Seriously. I have no idea where we were – somewhere in Wyoming. I kept saying "Just turn around and go back the way we came!" But Dave wouldn't hear of it. Instead, we got on a highway and drove. And drove and drove and drove. I kept saying, "Let's just go to the Bighorns for the night then!" But Dave wouldn't hear of it. That was too out of the way.
We were on the hunt for somewhere to fish and somewhere to camp.
Morgan said, "Maybe we should just keep driving home!" But Dave wouldn't hear of it. — Because we had one more night and dammit we were gonna take it!
We stopped a few places along I-90 east of Billings that didn't pan out. One was just gross. Another had a tree in the way.
During another foray to try to get to the river we ended up on a dead-end and decided to finally eat some lunch in the only shade for miles. (It was HOT.)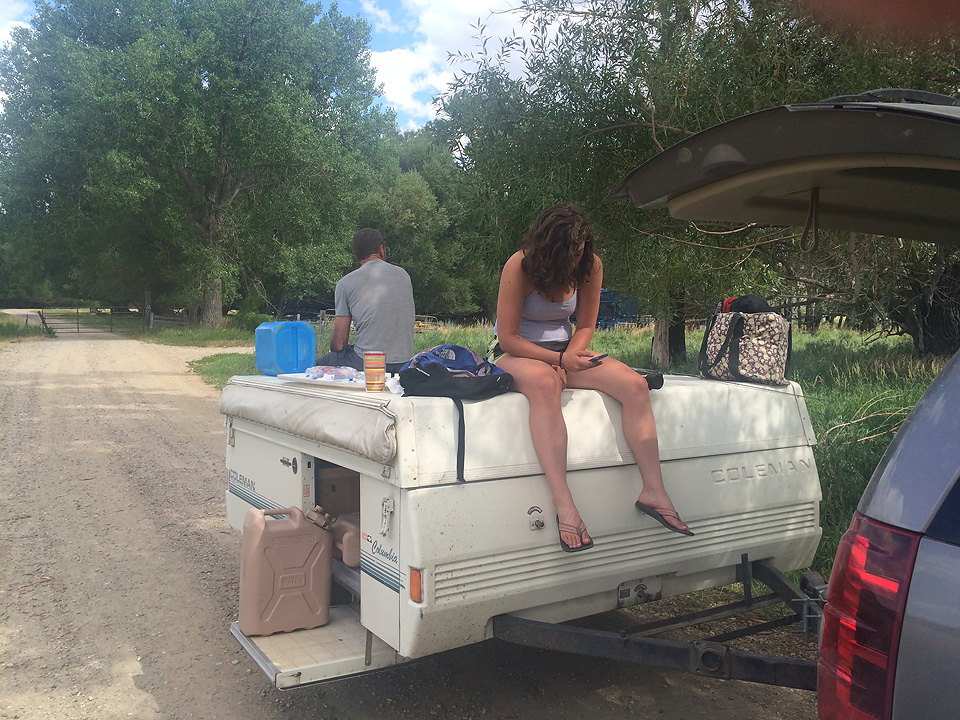 Next, we turned south toward the Bighorn River. It was a bit further than we thought but we were committed to camping there – how bad could it be?
I don't have any pics, unfortunately. It was pretty bad. Not only was the river not fishable, but the mosquitos were about as bad as you can get. The second we stepped out of the car we were covered – and this was during the day – can you imagine dusk? *shudder to think* The cicadas (or whatever that screeching noise was) were eerie and the whole area reeked of swampy fish.
Back in the car. No plan. Jennie resumes driving.
Now THIS is more like it, people. THIS is how I remember our summer camping trips! Ahhhh nostalgia.
Committed to camping rather than bombing home, we picked the only place on the map where we could camp that wasn't a parking lot or a KOA – though we passed one of those thinking… maybe… a KOA wouldn't be so bad…
Then we saw it.
And kept driving.
It has seriously been between 95 and 97 degrees the entire day since coming out of the mountains. It feels like a furnace. No one is real jazzed about anything at this point.
Our final dinner was to be grilled flank steak tacos, but given the hour, we decided we should probably eat out quickly rather than cook in the dark.
Too bad we never passed any restaurants in, like, 3 hours! Living in these parts would be truly rural. It's hard to imagine. Just… nothing.
We pulled into a tiny part of the Custer National Forest around 8:45pm and everyone had their job: Jennie-Camper! Morgan-Chopping and Marinating! Charlie & Dave-Fire for Steak!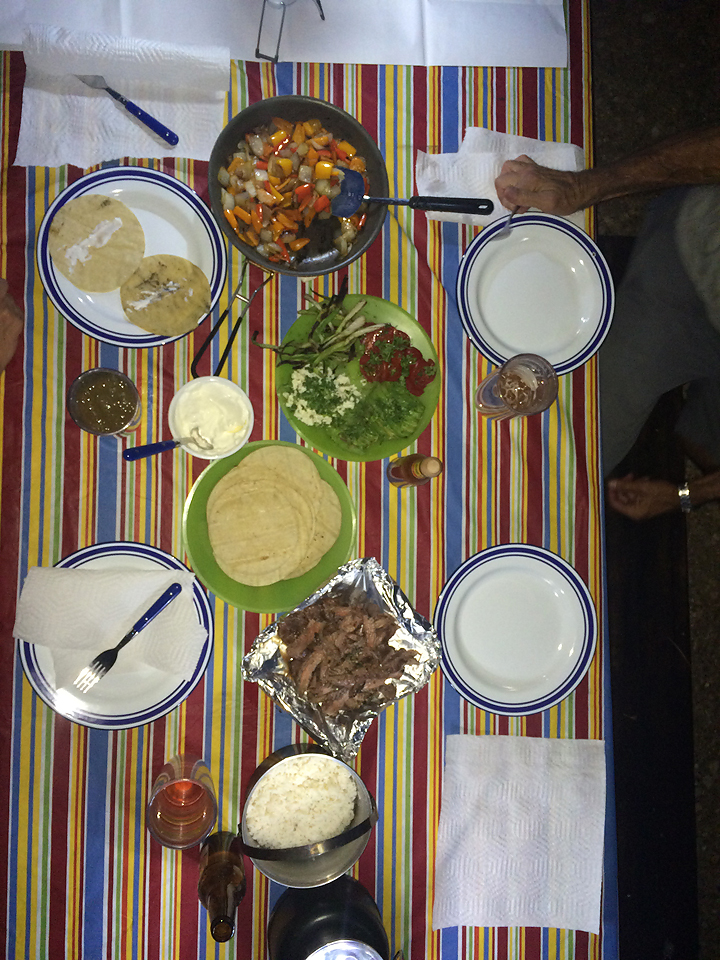 Man. We are good.
And so was the food.
We toasted the last night of our trip and a seriously great time.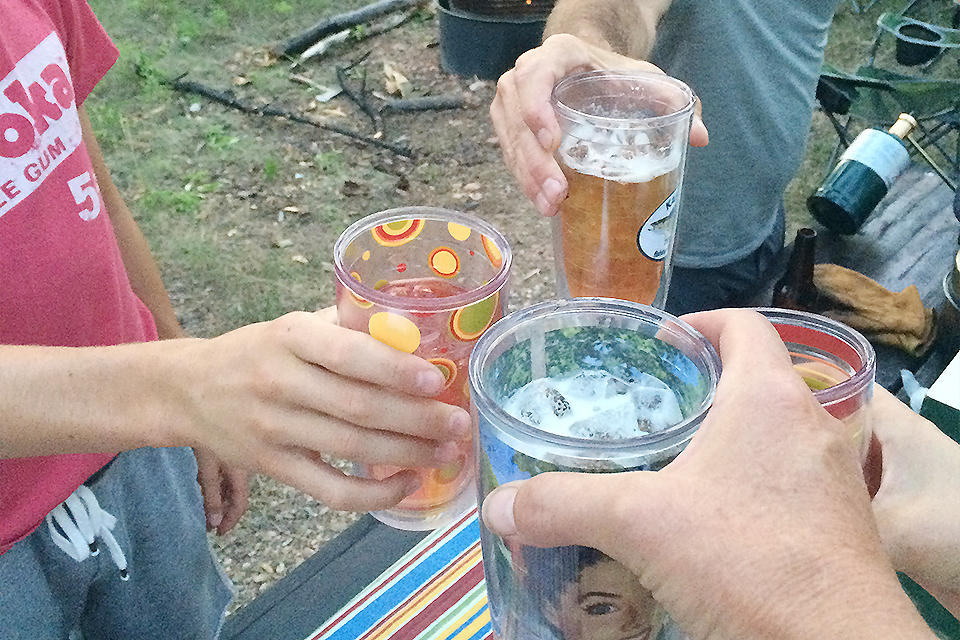 Snuggled in to bed – it was still hot, but not stifling – and drifted off. Only to wake up at 2:15 to some partying teenagers who must use this mostly-abandoned campground (free, no water) as a hangout. They were laughing and playing loud music.
I was awake through about six of their songs. It was a pretty good playlist.