Day Five
8/2/2010
No Signature Toast this morning. Charlie slept later than everyone. Another FIRST for 2010. Dave made bacon. Not bacon and eggs. Just bacon. I had granola and this new brand of greek yogurt I got at Cub Foods. It was so disgusting looking that I could barely eat it. It looked exactly like gloppy tofu. And I LIKE tofu! Pretty sour too…
Oh, who really CARES about my stupid yogurt?!
Our campsite was pretty humorous, since we were almost sitting on the road in our chairs, due to the fire pit placement. We felt like that sad-but-happy couple from the Montana campsite mentioned earlier in the trip. The place was packed, too, though we overlooked the indignity since we liked all the dogs.
Interesting (and freakish) is that speed boats can go on this river. And they do: roaring up and down on a fairly regular basis. It's so weird! You look at the river, with all the swirls in the the current and the shoreline and you just don't think it can be possible because it looks so shallow!
We were on the road at 10 am. We headed back in to Thompson Falls to pick up a prescription for Charlie's new affliction: swimmer's ear. (Not a first, btw). I was so thankful that we were staying in a place close enough to a town with a pharmacy AND that I actually had a cell signal to call Curt Whisler and Catalyst Clinic in Watertown. Thanks guys!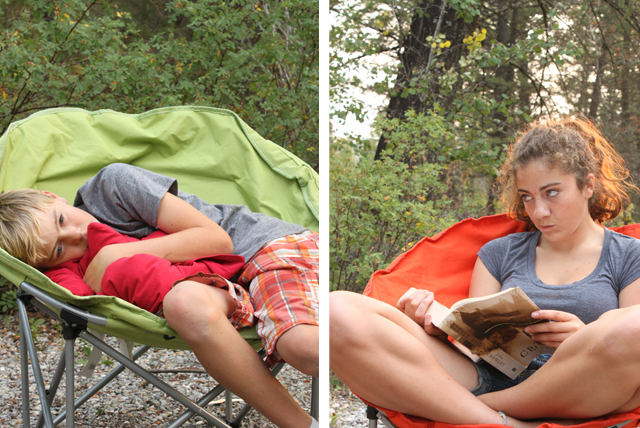 While I milled around the drug store waiting for the ear drops (what in HEAVEN'S NAME takes so long at pharmacies?), I managed to spend another $30 on: magazines, lip balm, and three different products for Morgan's toxic feet. (I think I just answered my own question.)
Dave drove north on Hwy 200 about 30 minutes before we blew another car tire.
Simply inexplicable.
And, we had forgotten to buy more of the magical Fix-A-Flat. (Not inexplicable.)
We did a 180 and headed back to the town of Clark Fork to a Chevron Station where they said they could work us in in about an hour. We ambled off to do errands (like buy more Fix-A-Flat). We went to a feed store and met a cross-eyed cat (I swear it is true) and went across the street to dine at Mom's Cafe.
The cafe garnered mixed reviews from the tough crowd. I thought it was fine, but Dave didn't like his "baby burger," declaring it, "cooked to annihilation and barely edible." Such an elitist. Maybe he should stop ordering kid's meals.
The car was ready just as we arrived, so the timing was perfect. And the cost? $10.
We'll take it.
How is that even possible, $10?
In the car again at 3:30 and Dave is saying we won't make Banff by nightfall. I say he's wrong. It's Canada or bust.
We drove by Lake Pend Oreille in Idaho and it was AH-MAZING. Insanely beautiful. We had no idea. And it's a REAL LAKE and not a reservoir! It's over 1000 feet deep. Truly beautiful. Now we are thinking the lakeside campgrounds in Coeur d'Alene Idaho might not have been as lame as we thought, if it is anything like this lake.
I bet you would assume I would post a picture or two here, right?
Nope. It's CANADA OR BUST, remember?
**** R E C A L C U L A T I N G ****
One hour delay at the Canadian border customs station…
**** R E C A L C U L A T I N G ****
Yah, so it was a total delay of about 3 hours when you added the tire and customs together, so it's true. We didn't make it to Banff.
It was a seriously sad car full O'Menkes. [editors note: do I even need to say anything about "car full O'Menke's? I don't think I was even drinking.] Honestly, we are better Road Warriors than this journal portrays. Four days from Wyoming to Banff?
Unacceptable.
Making matters more precarious was the fact that our trusty Rand McNally Road Atlas seemed to give up its accuracy after crossing the border. Either that, or these Canadian's are messing with us by moving major landmarks around. We missed the two campgrounds we planned to stay at about an hour south of Banff. Of course, I am too cheap to have the data roaming turned on for my iPhone so I can't consult my maps there, and everyone knows how bad Blackberries suck(Dave's phone). We did have a GPS with maps of Canada along that we had given to Dave for Father's Day, but Dave absolutely loathes it. And since I was driving, I couldn't consult it myself. –Oh believe me, I tried, but I have to concur that the GPS is a frustrating little device when you are used to the touch screen on an iphone.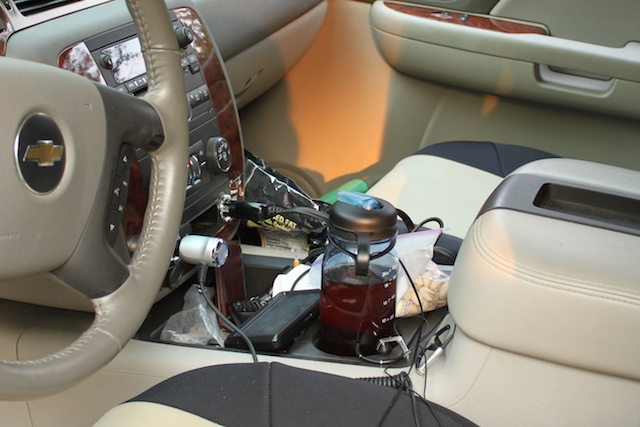 After some (very) terse words. (I mean, for LORD'S sake, just turn the damn thing on and look at it! Maybe we'll be able to find the fricken' CAMPGROUND). I finally fumbled around with it myself enough to seriously freak him out and make him look at it and lo and behold it took us right to the last provincial park on the map before Radium Hot Springs and the entrance to Kootenai.
The only problem was that the last provincial park on the map did not have any camping. It was a picnic grounds.
Excited eruptions from the back seat immediately followed (I forgot they were even back there) along the lines of "Yea! We get to stay in a hotel!" You'd think they'd know us better than that by now.
The plan now was to cross our fingers and bomb it for Banff and take the first site we could get. However, along the way, crazily enough and like a mirage, Dry Gulch Provincial Park Campground appeared unexpectedly out of nowhere about 5 miles later and we snagged one of the last sites. It wasn't pretty, but we weren't complaining.
We set up and had the most anticipated meal of the trip for everyone except for me: Spaghetti.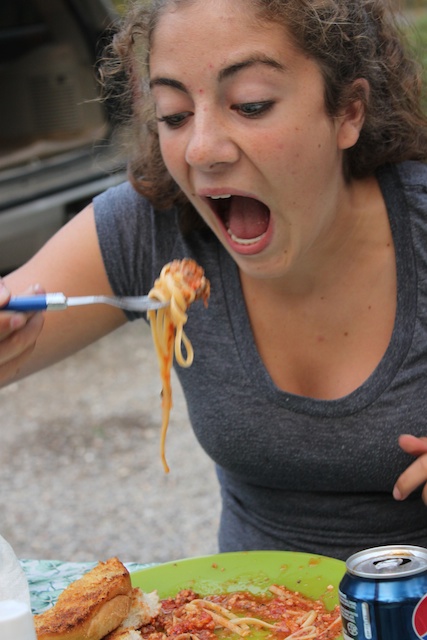 I made the "seasoned toast" and pretty much ruined it. I added way too much Lawry's. It's true.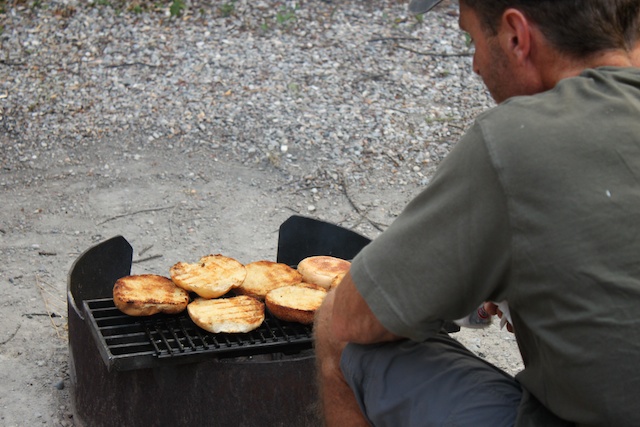 I'm damned near perfect, but I'm honest, too. And I screwed up. Which makes me realize I didn't document my worst camping screw up in years: I forgot to stow the pop-up crank handle when we left the last campsite. I left it attached to the outside of the camper as we drove away. Luckily it was discovered in Thompson Falls while I was in the pharmacy spending Dave's hard-earned money.
OH THE SHAME! The potential DISASTER! I hang my head. What more can I do but confess it here.
…and move on, pretending it never happened at all.
So the spaghetti was fabie. I still brought too much, though. My notes said to bring exactly "4 cups of sauce." But as usual, it just didn't seem like enough! The kids are bigger! Hell, I'm bigger! And how much did we eat?
Four cups.
We had to throw the other cup and a half away. It pained Dave greatly. But there are to be no leftovers while camping. It was a lot harder for me to throw the extra green curry from last night.
Mosquitos were a significant factor again, which we just don't understand, never having run into it before.
Tucked in and lights out by dark. Lightning in the distance.
…that brewed into a full blown thunderstorm an hour later. It poured! I had to crawl over Dave to zipper-shut the screens on the kid's side. He did give me a loving pat on the butt as I straddled the gap. And I wonder what would happen if I hadn't gotten up. Would the kids wake up and shut them? Would Dave? I just don't think so. I crawled back over him and back into my sleeping bag, stewing about the rain and how it complicates the packing of the camper in the morning and then…
I REMEMBERED ALL THE SHOES OUTSIDE THE DOOR!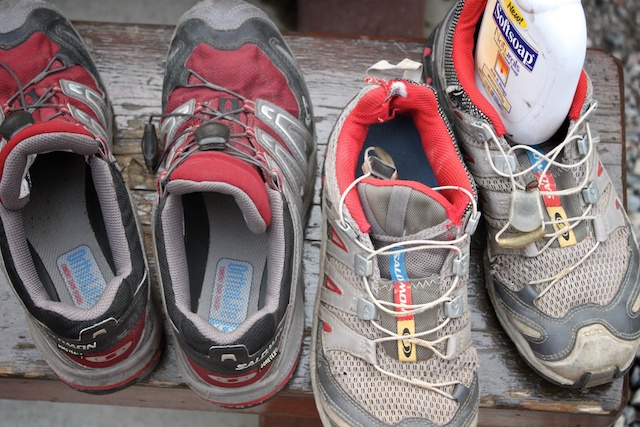 I grabbed a flashlight and crawled back over Dave to try to fish them into the camper without actually having to go outside in the downpour and getting all wet. I rescued the shoes, but I also had a pretty wet head.
And then I crawled back over Dave and into bed and stewed some more, trying to just enjoy the rain. Eventually it stopped and I slept like the dead knowing the shoes were dry and that we were close to our destination.