Day 6
8/3/2010
Didn't get outta Dry Gulch until about 10:30 or 11 am. I hoofed it up to the hill to the flush (!) toilets to straighten my bangs (yes, I confess: I snuck the hair straightener along in my duffle bag) from the after-affects of sleeping with a pillow over my head with wet hair from last night.
Once on the road, we were shocked to realize we were only 2 kilometers from Radium Hot Springs and hence only 25 – 30 minutes from Marble Canyon Campground that we planned to stay at in Kootenay National Park [Editor's note: in case you are confused, we consider the trio of parks to all be Banff: Kootenay, Yoho and Banff].
Oh well.
After a brief stop at the Radium Hot Springs Visitor Centre — where it must be noted that Canadians may, in fact, be fatter on average than Americans — we were finally in the park!! Kootenay, not Banff, but it's all the same to us.
Dave was "willing to bet his life" that he and I stayed in Kootenay at Marble Canyon in …1987?  –when we came out here and camped while we were dating. I say it was Yoho. We got to Marble Canyon and it is confirmed: he is wrong. I can't say for sure that I am right (but let's assume I am for simplicity's sake), but we know we didn't stay here, as neither of us remembers it at all. What I do remember for sure was that we almost broke up on that trip. –Which made for a long and mostly silent 23 hour drive home. Let's hope we fare better this year…
We drove around every single loop of the campground, beginning with A and ending with J. Ten loops. We even drove through a couple of them two and three times to narrow down the choice. We settled on D6. We love it. Which is good because we will be spending a record three nights here! The only downside is the sound of the main road, which we suspect will be a factor in every campground in Kootenay.
We set up and I aired the stinky camper out (it smelled like feet) and hung the bags and towels and other various damp items out to dry. We had sammies for the first time the whole trip (liverwurst for me! I know! That's so gross!), then packed up to go (finally!) on a hike to Stanley Glacier. [Editor's Note: exclamation points = excitement]
The route gains 1200 feet over 2.6 miles one way. At end of the designated trail, we parted ways with Dave and Charlie going up toward the glacier and Morgan and I climbing up to the base of the falls. The reluctant hiker wasn't too happy on the way up, but perked up at the site of her favorite camping animal, the pica!
The trail was amazingly diverse because it starts off right off the road and takes you through the most recent burn area from 2006 when fire consumed 12% of the entire park. We were camping in Wyoming with the kids that year and remember the devastating fires out this direction.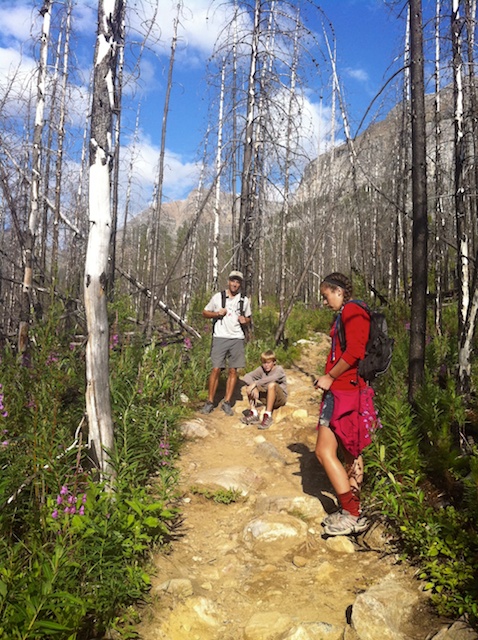 Then, it goes over a very pretty and amazingly clear stream…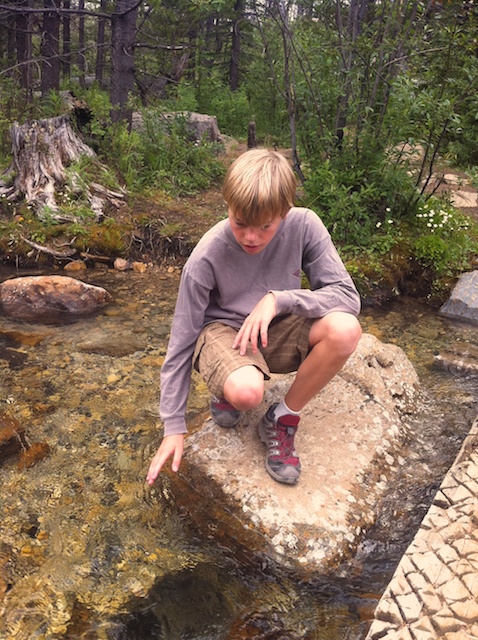 Then comes out into forests undamaged by the fire, what they call the "hanging valley," though, for the life of me, I have no idea what that means… By the way, ignore Morgan in these photos, she tries to ruin every picture with her "hiking face" trying to communicate through images what we refuse to acknowledge in her words. Namely, that she "hates to hike."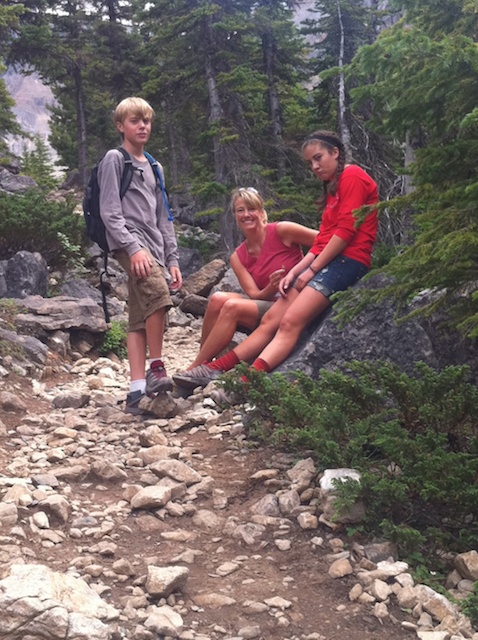 And came out here, where you can see the glacier peaking out over the top of the the cliff with that amazing waterfall underneath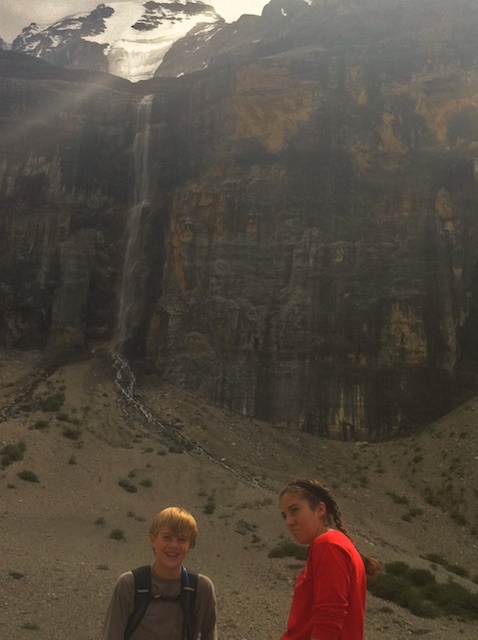 Then, we parted ways, me trying to jolly Morgan out of her hiking funk by separating her from her overly enthusiastic brother, and Dave satisfying Charlie's insatiable need to keep going and going and going…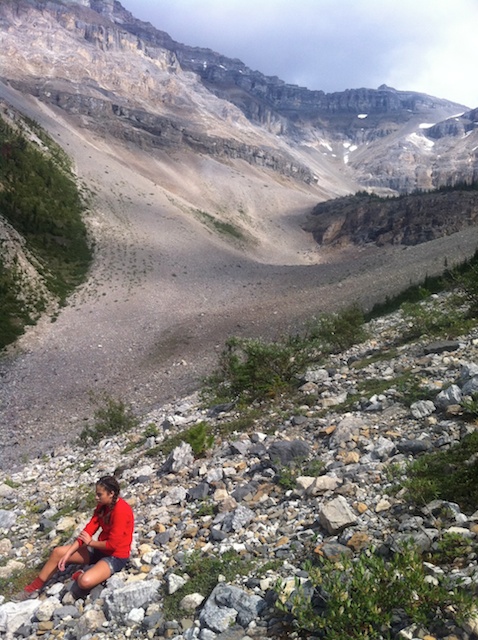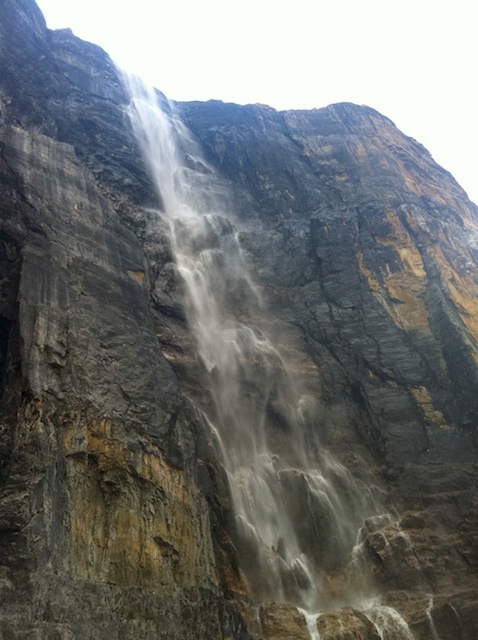 No one can ever say that I'm not a fun mom.
I'm a fun mom.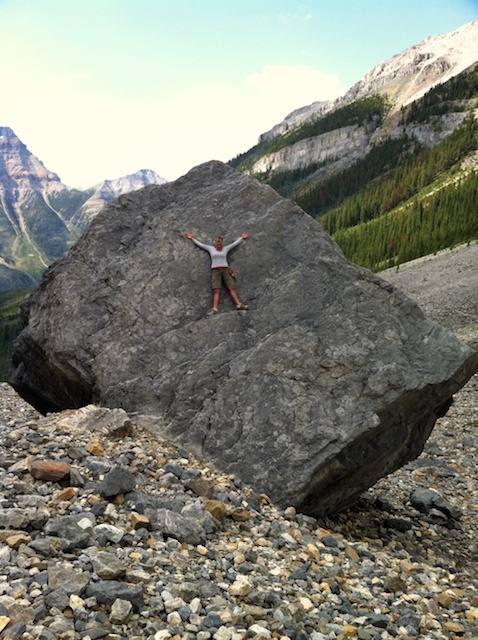 We probably added another 500 feet and mile to the hike, so…
I FINALLY feel like earned my dinner! Pork chop foil packets with garden potatoes and peppers, onions and kohlrabi from Michelle's garden (thanks michelle! you should try it grilled!) A hit!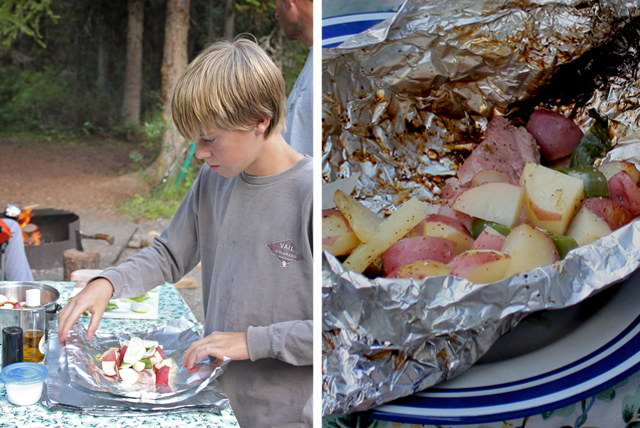 And Morgan was fired up to grill her onions directly over the fire: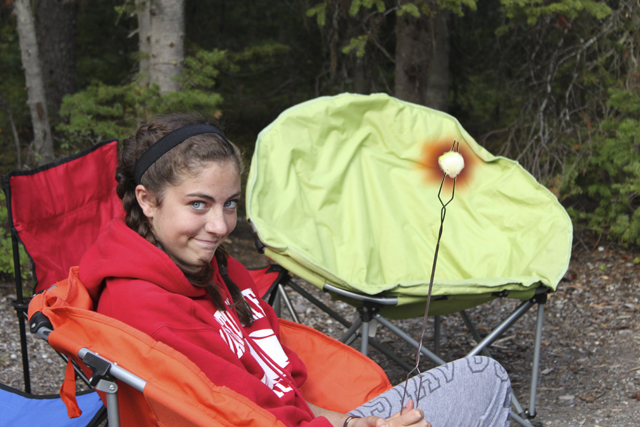 We added water to our solar shower, but I'm not very optimistic since we really aren't in the blazing sun anymore. We might have to hit the Banff Hot Springs for a shower. Oddly, Dave has not been pushing the "I-heated-up-some-water-for-you-to-shower-Jennie" thing and I have to wonder if he has finally given up on me.
Lots of marshmallows were consumed this night. I credit the fact that there were no mosquitos to chase us inside. A rail from the fixed grate over the fire pit had come off and Charlie spent the evening "forging iron" eventually bending it to use a fire poiker.
We even stayed outside until it got dark outside.