After leaving Durango around 6pm, we backtracked north once again. The rain was hard and unrelenting the whole way. Knowing we wouldn't get to Ouray and Ampitheather Campground before deep dark, we started calling places to stay recommended in our book, The Colorado Guide [highly recommended]. We couldn't get through to the place we really wanted to stay, so we kept calling others. Because food is always a top priority –ranking higher, even, than accommodations — one particular entry stood out:
Where To Stay
The Adobe Inn – $$. Although better known for its restaurant, the well-named Adobe Inn serves as a good value for overnight stays as well. 970-626-5939 Ridgway, CO
Where To Eat
The Adobe Inn – $$$. Joyce and Terre Bucknam serve up some of the most delicious and creative Mexican food you'll find anywhere…Entrees (most everything is homemade) include enchiladas served six different ways…also has excellent margaritas and a large selection of Mexican beers.
The Colorado Guide has become known to us for some sort of "out there" recommendations. But we trust it. What can I say? Adobe Inn's price swayed us. It was less than half the price of anywhere else. ($56 for all of us!) How bad could it be? We've stayed in some pretty crappy hotels on all night drives and survived. We figured, if the food was good, we wouldn't care what the rooms were like.
We made a pact as a family that, "no matter what The Adobe Inn looks like, we'll stay." Dave was the instigator of the pact, and the rest of us quickly agreed. We know what it's like when Dave is on a mission to find "the perfect spot" and the idea of hotel-hopping until he found it didn't sound like fun to any of us.
I turned out to be a very good thing that we made the pact. Without it, I'd have put the car in reverse all the way back to Ouray. The one encouraging sign: lots of cars in the restaurant parking lot.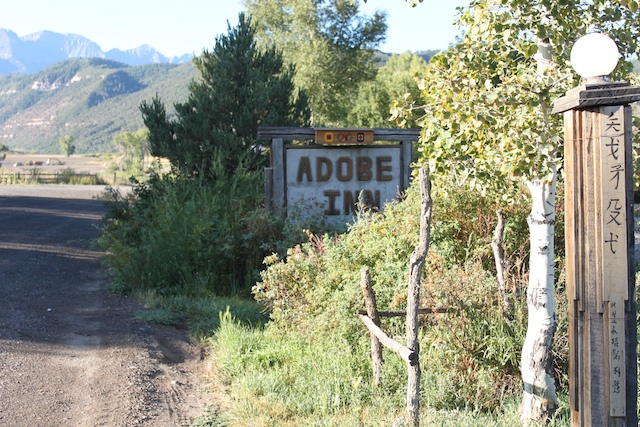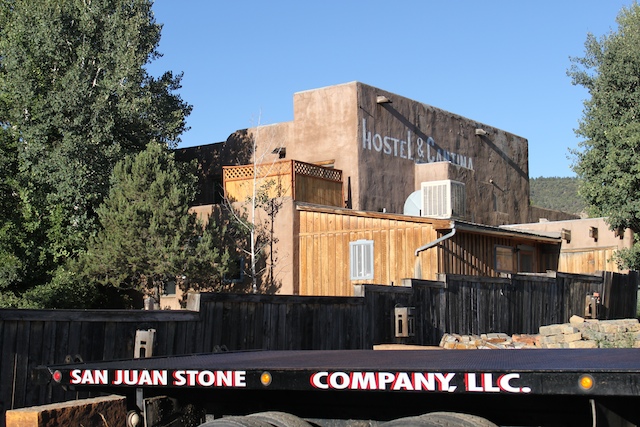 I'm happy to report though, that once inside, things improved dramatically. Very cute. Very quaint and cozy. A little odd, sure. But soooo much better than any of us expected. Our room was this awesome three-tiered bunk house. The full sized sleeping platform was the highest, reachable by a ladder. Two twins were below it at different angles. Super cute.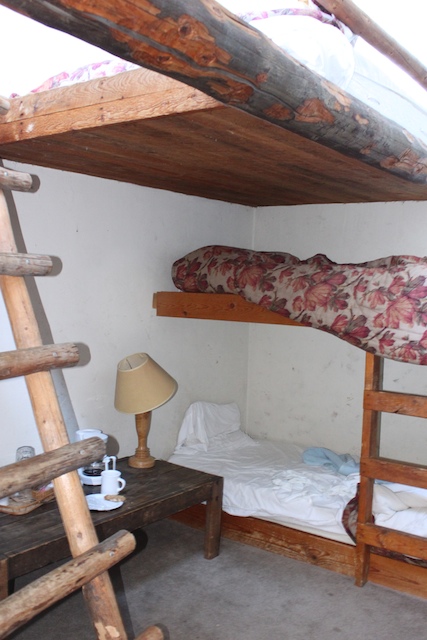 The crazy part was that there was a shared bath with the other two rooms (there were no other guests) and the restaurant. Imagine going to the bathroom while out at a fairly nice place to eat, and running into a naked guest of the hotel. I don't know, is it me? I simply can't picture a restaurant where that would even be possible. I can't imagine how surprised I would be to push open the bathroom door of a restaurant and find someone naked and blow-drying their hair. I'll stop trying to imagine it now.
Dave and the kids went down the hall to the restaurant and I stayed back a few minutes to wash my face and organize the room. I got the soap and towel, opened the door to head down the hall to the bathroom, and… TOTALLY FREAKED OUT! In the puff of wind caused by the shutting of the door behind me, a huge spider repelled down a string of web right in front of my face.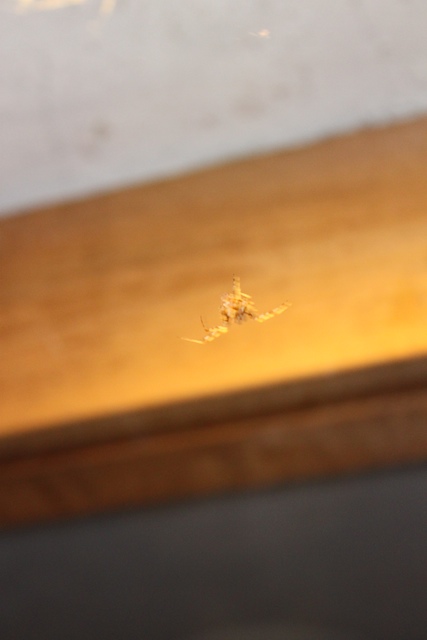 I'm not even afraid of spiders and it unglued me. I wasn't expecting it — imagine Little Miss Muffet. Frozen in my tracks, with the spider inches from my shoulder, I tipped my head back to look up at the web, and saw to my horror, another spider twice the size.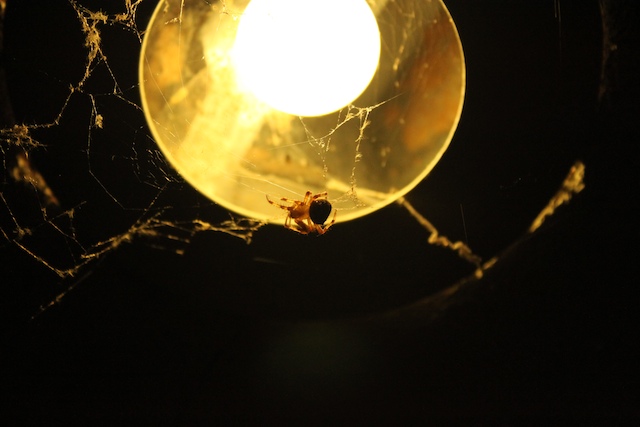 It is inconceivable to me, how we could have walked down the hall to our room, stood directly below these arachnids, their massive webs, and not noticed them. How is that possible?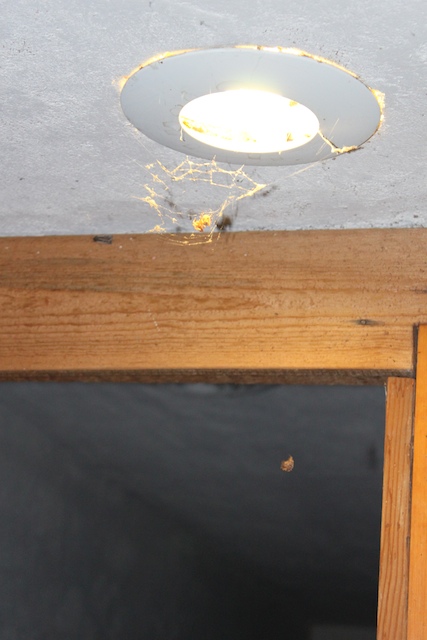 Sadly, in my haste and horror, I did not get a good picture of the squatters before they were evicted. I tried. But I failed in at least two photography fundamentals: correctly exposing a backlit subject and including an object to show scale. The true picture will reside in my own internal hard drive forever. I'm sure you will want to know that the spiders were humanely caught and released (by the chef). I'm serious.
Dinner was fab, with one exception: Dave found a twisty tie in his tostado. We were all oohing and ahhing over the food and Dave was chewing laboriously over one bite. And being sort of obnoxious about it. Suddenly, out came a twisty tie like you would pull a fish bone out of your mouth. Pretty funny. Still, like I said, dinner was great. It cost twice as much as our room, but it was worth it, twisty tie and all.
Each of those events on their own might have hardened our hearts toward the Adobe Inn. But they didn't. From the minute we stepped inside the place we loved it. The hostess was so sweet and cool at the same time. The chef/spider dispatcher was awesome at both tasks. Even the bathroom was sorta fun. It probably helped that we had the place to ourselves, but even still, I have to say, there was something magical about the Adobe Inn. [note: first two pictures of the place above, were our first impression — which wasn't great. The following shots were my attempts to capture the cool feel of the place, but looking at them now I can see that they could also be viewed as sort of run down and creepy. It wasn't. It was perfect.]
Charlie, though, was a little unnerved by the spider situation (yeah, I know. I shouldn't have dragged everyone back to the hallway to see them) and was obsessing a bit about the possibility of there being more, lurking in the shadows of our room, or even in his bed! "Don't be ridiculous! The rooms are spotless."
Anyway, we are just crawling into bed now. Charlie and Morgan are reading and Dave just whispered to me, "There was a tiny spider in our bed. I got rid of it."
Shhhhh! Don't tell Charlie!!!!