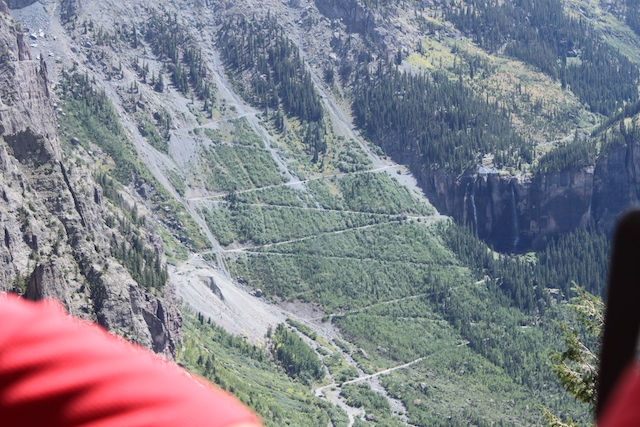 8/25/09
We all slept well. No spider bites, no bed bugs!
Dave had gone out early to investigate the town of Ridgway. The report? Very cute, indeed. He failed to bring us anything of value when he returned, however, and that should be noted here. I mean, who doesn't wake their loving family with fresh donuts and a latte?!
Never mind, we packed up and nagged him until he complied. Really, when any three of us band together against the fourth, we really are a force to be reckoned with. Actually, we should try that more often.
We stopped at a cute little coffee shop. The kids got both muffins and a double-whammy cute dog/cute cat fix.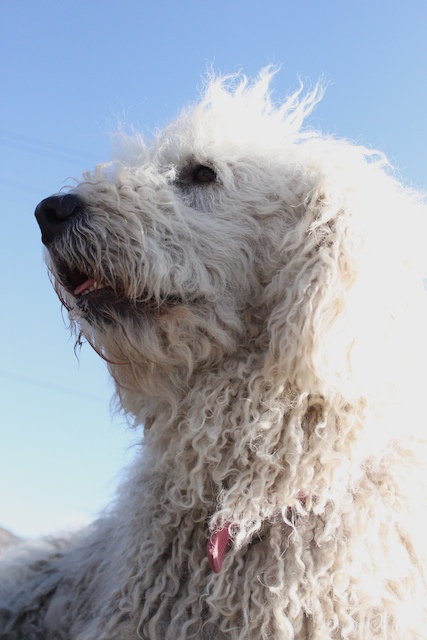 And I got my latte. The sun was shining again and all was well in the world. We headed back toward Ouray and Ampitheater Campground where we had stayed 5 years ago. On the way, we stopped and rented a Jeep for four wheeling.
At the campground, we settled into site #6 and took everything out of the camper to dry out from the morning before. Then, we buttoned everything back up and headed out on our 4WD adventure to Telluride.
(Anyone getting that irony? You know, the one from a few days back when I said "let's just go on to Ouray and do the 4WD thing and skip backpacking?" hmmm. Seems we could have saved ourselves a lot of grief if he had just listened to me in the first place…)
Good thing we buttoned the camper up, too. Because exactly eight minutes into our glorious adventure over the pass, with the top off our Jeep, it began to rain… which then turned into a furious snowstorm at the top of Imogene Pass. It was NUTS!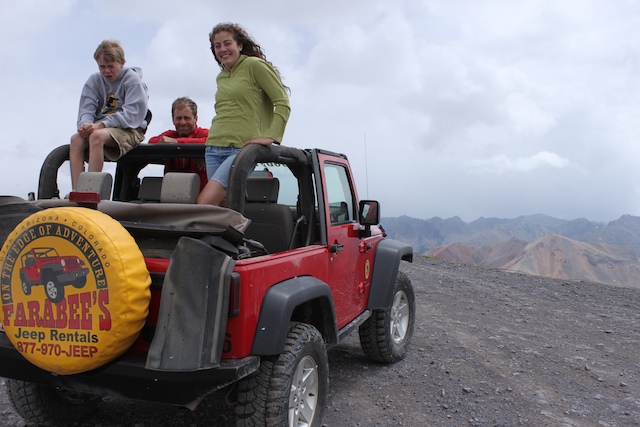 The kids had their usual psychotic fascination with the wildlife, namely the much-loved Picas, who are always busy carrying things around in their mouths and darting into cracks in the rocks. [this is a photo of a marmot. picas are just too darn fast]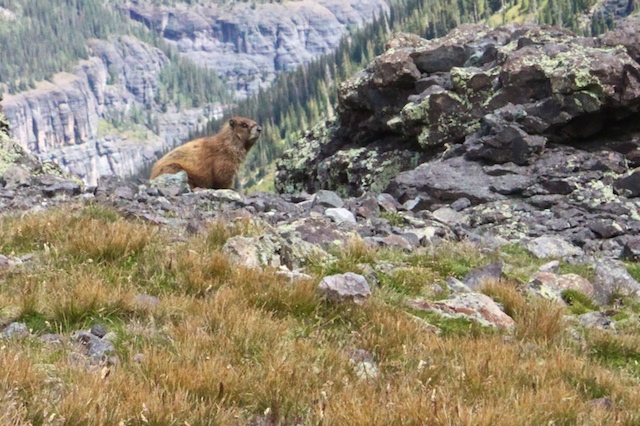 The kids were, as usual, unphased by the fantastic. I mean to tell you: it is absolutely crazy that you can drive a car literally up and over the top of a mountain 13,314 feet high on nothing more than a glorified trail! What did they have to say about the experience later that day? "Yeah, it was OK. I liked the Picas." Honestly. That was exactly what they said. And after six or seven years of this, Dave and I are unphased by their ambivalence.
They did seem to enjoy the mining town we stopped to explore at. Maybe that's the problem: we never actually stop anywhere…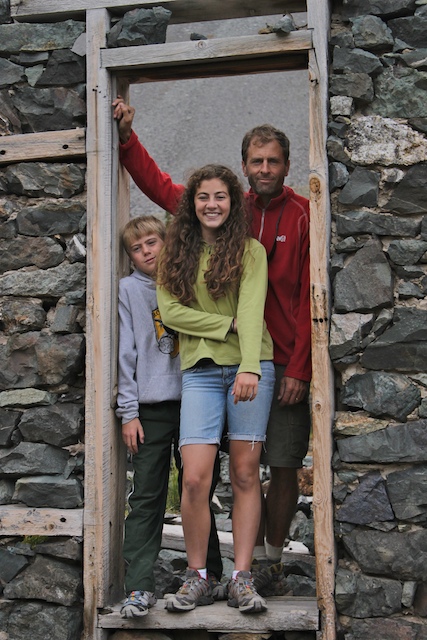 Telluride was, as we imagined it would be, very cool. I pretty much wanted everything I saw in shop after darling shop. Coincidently, that is why I don't like to go shopping.
It rained steadily the whole time in town, and bigger, more ominous clouds appeared to be moving in, so we headed back to Ouray via Ophir Pass. Not nearly as rugged as Imogene and much shorter. Why, I think even a Suburu could've done it! (That's my way of working in something I forgot: There was a Suburu at the very top of Imogene Pass. It defies imagination how it got up there. Really. It would be easier for us to believe that someone helicoptered it in as a prank that to believe someone actually drove it there.)
From Ophir, we popped back out onto the "Million Dollar Highway"  between Silverton and Ouray and noted that the highway was completely dry and unrained upon. Course, by the time we got back to the campground, the clouds had followed us and started spitting rain yet again. Happily for us that's all it did. We had my favorite Tastefully Simply White Chicken Chili with rice and a big tomato mozzarella salad.
After cleaning up, we headed for Orvis Hot Springs because the town hot springs were closed for cleaning. Dave had used the previously mentioned Colorado Guide to pick another winner. Upon walking in and paying our fees, the girl behind the counter explained the layout. Turns out the hot springs, with the exception of the one indoor pool, were "clothing optional."
I'm not sure our kids will ever recover.
Want a technique to throw your over-confident, independent kids off their game? Knock 'em back a peg or two? Have your teenager clinging to your side like she did when she was 6? Then force them into a dark pool with a bunch of hairy, fat, naked strangers.
It worked for us!
But what Orvis Hot Springs lacked in clean-cut American modesty, it more than made up for in warm, mineral rich waters. We lasted about 40 minutes before we were all tired and ready for bed.
Which we did!