August 14, 2013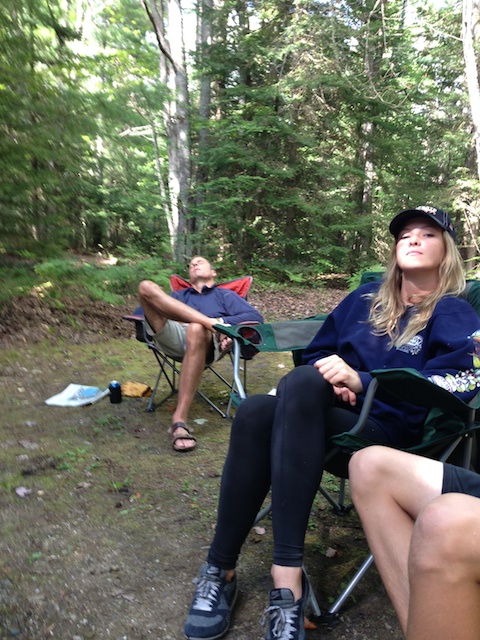 After a ridiculously delightful meal of Biscuits and Gravy (which I must remember to post sometime here for your own delightful pleasure), we left the comforts of the cabin at 7:45 am.
The Koos somehow (well, I know how) got about 45 minutes ahead of us. (Gas, Preparation H Moist Wipes — don't ask, won't tell — Potty, Coffee, Two Wrong turns later…) There were four separate stops when it was all said and done.
We met back up in Munising, MI at the visitor center after Koos had determined that finding a first-come site on the lake was futile. It seems those sites are, according to the locals, expertly jockeyed-for and never available to anyone not "in the know." We landed, instead, at Widewaters campground in the Hiawatha National Forest — wooded, private and very nice. I have said before that Minnesotans do not need a lake for camping. Private, "pee-worthy" sites are far preferred.
So we set up camp and the group hung at the Menke site, playing "Celebrity"* and enjoying the antics of Jan: surely the lightest-weight drinker that ever lived. How fun would that be? To have one drink and be so buzzed? Think of the calories and time saved. –Not that being buzzed is the goal, of course. No, no, no. Of course not. But still.
The most memorable line of Jan from day one:
(In reference to camping in the Boundary Waters the previous summer) "The more I thought about it, the more it grossed me out. With all those people using the designated camp sites, it is inevitable that you are camping on someone's poop."
Ahhhh. I'll have another gin and tonic, please…
Eventually, to Lydia's relief, I made a move to get dinner going — Spaghetti — which was very good, despite the fact that it was much thicker than normal. And the fact that I heated it up in my über-cute, antique, sky blue, enamel cast iron pot with the — oops! — flaking enamel inside, scraping the bottom as it reheated, causing tiny squares of enamel to flake off and mix with the sauce… Kind of a bummer. Oh well. What's a cracked crown compared to delicious spaghetti?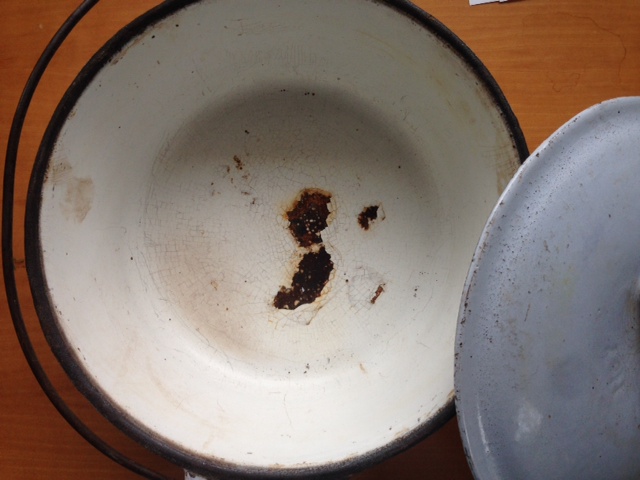 Added to the spaghetti was yummy cheese bread and arugula, tomato, mozzarella salad.
S'mores were brought out immediately after — where it should have ended — however, Morgan made the ridiculously fatal mistake of causally walking over to the S'more group eating one of my coveted (and carefully hidden) caramel-rice krispy bars — a H U G E indulgence/sacrifice undertaken by ME to please both Morgan and Charlie, who disagreed (as usual) about which bars to bring this year: regular rice krispy bars or Special K bars with no chocolate frosting. I decided to end the argument by making — drumroll — Aunt Rita's Caramel Rice Krispy bars. Something that requires actual TIME and PATIENCE (virtues in short supply the day before a Road Warrior Road Trip).
Morgan arriving at the campfire, casually nibbling this delicacy was truly a pivotal moment and required lightning speed attitude readjustment and a silent self-pep talk (let's be honest and call it a prayer) in order for me to graciously offer the bars to everyone after Lydia spied the dessert intruder with her keen eyes.
But really. It's fine.
Sugar is a toxin, after all. And I should share the wealth.
Even with that disaster, it was a fun night.
*Celebrity: google it for the rules. Fun group game and way more fun than Charades.