I woke up to a text from Morgan this morning. She sent it at 1:04 am and it said:

(She's in college now people. She's allowed to say ass.) Which of course made ME want to read old Road Warriors posts. Which of course I did and went down a long dark rabbit hole from which I am only now emerging.
Anyway. I realized that in my anti-blog state of the past year, that I never posted any of our last camping trip with the Koo's around Lake Superior last year. And while it is hardly the season for Road Warriors. I thought it might be fun. I have not yet read thru the journal to see if it is even blog-worthy. I do know that I never completed it — which is always the case — because I read the last page. I do that with literally every single thing I pick up to read. First instinct: flip to the last page. I am flawed.
So anyway, I'm just going to do this thing. I'm not going to waste time and find artwork and all that crap. I'm just going to type from the journal. Here we go!!
Lake Superior Circle Tour with the Kooistra's, 8/13/2013
…I don't want to write a journal this year.
I need to embroider…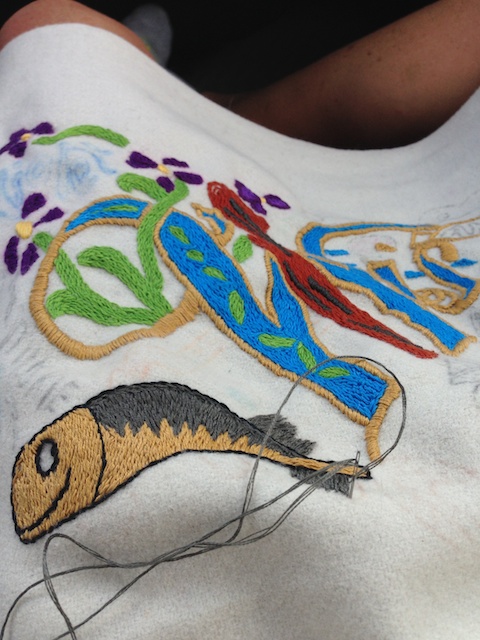 I'll just start with notes. Here goes:
Jen did most (e.g. ALL) of the prep for the Menke's. Koo's did the trip/route/campground planning with the exception of the kayak trip. Initially, the plan was to head to the Porcupine Mountains (oxymoron, despite their beauty. Please. Let's find a word for in-between "hill" and "mountain". It's embarrassing. I'm embarrassed for you, Porkies…) after spending Tuesday night at my parent's place in Hayward. We'd camp one night in the Porkies, break camp early and make it to Northern Waters Outfitters by 10 am (about 4 hour drive).
Wes was just too nervous about making it on time for the kayak trip, so he made the decision to skip the Porkies altogether and go straight to Munising and find a campground. I did not get a vote. [remember: I'm just writing what the journal says. Obviously I did not like this decision. But it's April 2014, it's sunny and I'm over it. Here that Wes? I'm over it!]
We decided for each family to take two dinners and one breakfast each. We'd go out to eat once and figure out the 6th meal on the fly. Menke's brought spaghetti and rib eye steaks. I also snuck in green curry for the potential 6th meal. Jan dibzed pancakes for her breakfast, so I brought a compilation of eggs, bacon, potatoes with the somewhat haphazard idea of attempting to bake a quiche. [yes. i'm serious. dumb. i know.]
Complicating our departure were two things:
Charlie's high school soccer "try outs" — if that is a term you can apply to 22 guys going for 16 spots. Perhaps I was overconfident, but Charlie's pretty much a rock star. Suffice it to say, Charlie made varsity even though he had to miss the last two days of try outs. Regardless, it was a relief because this was the only week we could do a trip with the Koo's — something that Morgan insisted on. Morgan pretty much insists on everything, but since this was her last trip before heading off to college, we were particularly malleable to her demands. –That, and, we actually do like the Koo's. 🙂
Dave's ridiculous work-schedule of late. 'nuff said.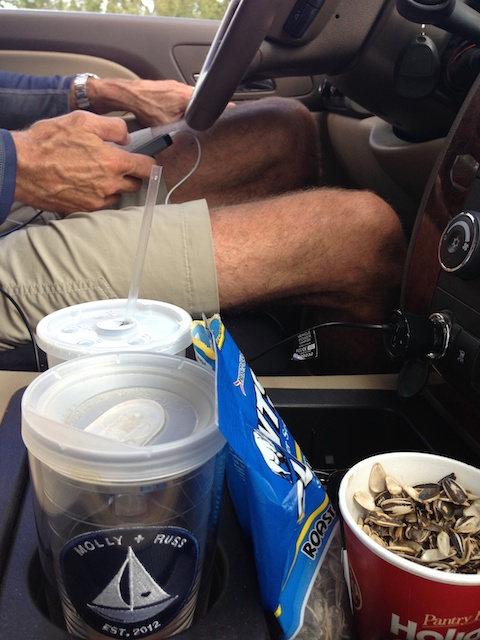 It should go without saying that we did not leave on time. And that I was not happy.
I swear to God, I could pull out a picture from the beginning of a trip from 8 years ago and it would be indiscernable from this years: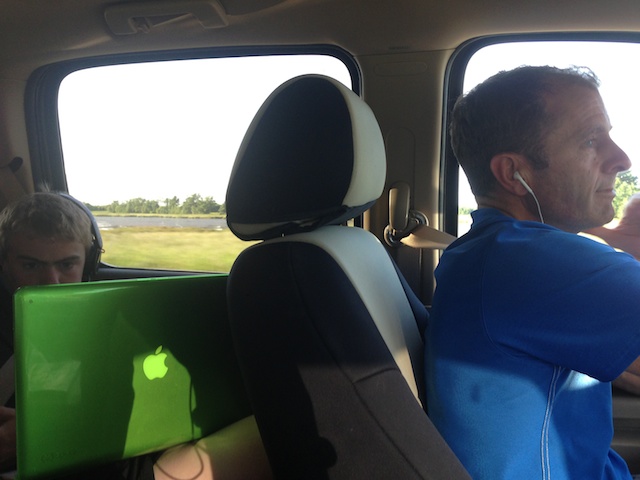 We arrived in Hayward about 7:30 pm. My Mom and Dad had made (and held) dinner for us: Chicken with mashed potatoes and gravy and lemon bars for dessert. The Koo's left home on time and as a result arrived in Hayward long before us. They opted to kill time in town to wait for us.
Where did they go?
To a bar and to Walmart. Go ahead and judge them. I did.
On their way to the cabin, Wes followed his GPS and got hopeless lost since it brought him to a very, very far away "Birch Lane" rather than to our Birch Lane. Hayward has notoriously sketchy cell service, they couldn't call, blah blah blah. He was pretty irritated, labeling "the Menke's" as "terrible communicators." –And here I'm going to just assume he meant the biological "Menke's" and not those associated by marriage.
After a nice tall Dewars (or two), though, he became quite nice. And we had a lovely evening. Mostly we talked about just staying in Hayward, to be waited on hand and foot by the ever-hospitiable "Morgan family." (The one I'm related to by birth). Alas, it was not to be.
On a brighter note, however, we were elated to learn that Granny had made biscuits and gravy for breakfast to send us on our way in the morning. YES!