Saturday, 8/4/12. PART ONE.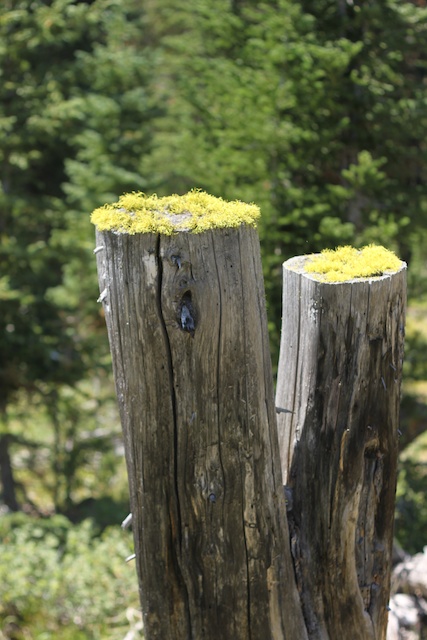 We actually did a pretty good job of driving thru. We stopped outside of Fergus Falls for fast food around 7:30. Arby's, of all places. For years — forever, really — Arby's has been the butt of jokes for the Menke family. Don't get me wrong: I love me a Regular Roast Beef with one packet each of Arby's and Horsey sauce. I was, in fact, weaned on them growing up. On very special nights (my parents going out, for example) my dad would drive from our little east Edina house all the way to the Penn Avenue Arby's in Richfield and bring a sack home. It was a big treat, let me tell you. Who wouldn't love it?
Imagine my surprise (or shock and dismay) upon discovering that Dave Menke put Arby's in the same category as I put White Castle: fine for when you are drunk and in college, but not much else. So, over the years, Arby's has become a fun joke. As in: "How about Arby's," when we are looking for a place to stop. Har dee har har. Cuz, like, we'd never actually GO there.
Ok. Fast forward to present time. We are looking for a spot and Dave says to us, "I don't care. McDonald's or Arby's?" From the backseat: "I don't care." Dave says, "Arby's?" Charlie says, "Ha ha. Yeah, right Dad." I say, "No, really. Dad likes Arby's now." Charlie laughs. Morgan says, "No. Really, Charlie. He does." And I add, "Seriously. Dad's serious, Charlie. Do you care?"
But after an entire lifetime of this, Charlie isn't so easy a target and he isn't buying it. Dave turns into the lot and Charlie is still laughing. I don't think he really believed any of us until we had actually placed the order. His anxiety level was quite high, I think. Worried we were going to embarrass him by turning around and running out, all just to fool him. I wonder just how much I've damaged him over the years…
What precipitated the change of Dave's heart? No, not the 'rubberized' roast beef, as he likes to call it, but the "Market Fresh" deli sandwiches — one of which is a Reuben. Dave loves reubens. What I can't figure out is how he figured out they even HAVE reubens. Anyway. Long, drawn out story for a 15 minute detour. Sorry.
As we got back on the road, with Dave driving again — he said he was good to drive — there was a huge storm brewing to the west. Fantastic lightening. It started raining right as we got on the highway and the wind was insane. A few miles down the highway, we saw an overturned trailer going the other direction. Made me worried about the garden and house.
Twenty minutes later — surprise! — Dave pulled off the road to let me drive. It's classic Dave. I don't even get mad anymore since I'm basically waiting for it to happen. He fell asleep instantly. I drove from about 8:20 pm till 1 am, stopping once for gas. I was pretty cross-eyed sleepy toward the end. Honestly, I was pretty cross-eyed sleepy for three of the four and a half hours I drove. I was listening to The Clash of Kings on Audible and, frankly, I'm OVER it. Which is pretty much a bummer since the book is something like 37 hours long. There are five download segments, where most audio books have one or two. The good news is I'm on the last one. Only seven more hours to go! It's the second book in a five book Game of Thrones series. I hate giving up. I really do. But I don't have 120 more hours to spend listening to some guy do 14 different Old English accents. I'll need someone to give me an abbreviated synopsis. It's apparently a racy HBO show now (??), so maybe it won't be that hard.
Anyway. The book did little to keep me awake.
Dave woke up about 12:30 and talked to me for the last half hour. A first! And just like that, I was awake again. I could've even driven further. But as it was, I stopped in Dickenson, ND (we think) to top off the gas. I snuggled in to pretend to sleep. Which, of course, I never actually did. I was so close! I even drifted off for 5 or 10 minutes — long enough for my entire arm to fall asleep. But that was it.
Dave pulled over to "close his eyes for 20 minutes" — code for his standard hour and a half nap — sometime around 3 am. It wasn't until around 5 am and I was writing this that I asked him where we stopped and I found out it was in MILES CITY! The ever-famous locale for my misadventures with the semi, some 5 or 6 years ago. Such nostalgia! I would have liked to know that at the time, I think.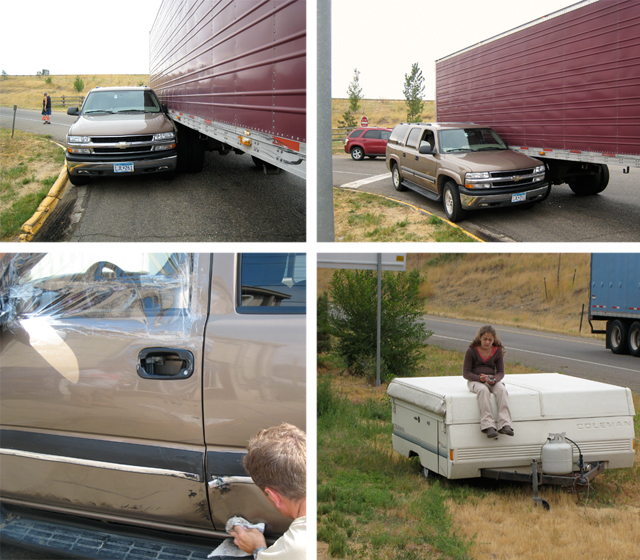 We switched around 5:30 am — in Forsythe? We can't remember, but oh well. Dave apparently also has no idea where he stopped for gas, how much he put in, or anything at all about the prior four hours. Aside from general alarm that he was even awake, I guess we aren't going to keep track of what we spend this year…
I stopped in Big Timber, MT for gas, bathroom and a visit to a tiny, chicken-coop-sized coffee shop for a watery latte. And then we were back on the road.
As I drove between Miles City and Billings, in the wee hours of the morning just as the sun came up, I stared in wonder at the temperature. Coming from weeks and weeks of stifling humidity and temps in the 90s day after day after day I watched in amazement as it went from 60 to 55 to 50 to 45. All the way down to 41 degrees.
A couple hours later we stopped in Bozeman at the Main Street Over Easy for breakfast. Cat Eye Cafe was too crowded and Starkey's (our favorite from a previous visit) was closed. It was nuts because main street was closed for a 5K run that was just finishing as we got in to town — all part of the Bozeman Stampede I think. Parade floats were randomly going by on side streets, presumably to line up somewhere — which only gets me to thinking about Rails to Trails and then soccer and then my stress levels go up by half and I say "We gotta get the HELL OUT OF HERE!"
But Dave is on the phone and only vaguely points in an easterly direction, so we end up seeing a lot more of residential Bozeman (and a lot more of Dave's pointing finger) before I manage to get us back on I-90 heading west to — I still don't know where.
And I'm serious about that. And that is just fine with me.
We listened to a bit of the audio book "Boomerang" about the financial crisis or something. My friend Sheila recommended it to me. I figured Dave might like that kind of book. I seriously knew nothing more about it. So, I put it on, and Dave's head shot up and he said, "Is this by the guy who wrote 'The Big Short?'" And even though I had no idea what "The Big Short" was, I said, "I think so," because it rang a bell.
And because I am a liar.
Then I quickly scanned Amazon (handy to have the internet!) and saw that it was, in fact, by the same guy, so I amended my "I think so" to "Yeah. It is by that guy." And Dave looked at me in a way that I imagined to be full of love and admiration for picking a book just for him. And I'll let him keep thinking that.
So, thanks Sheila!
But anyway, he fell asleep again after about 15 minutes and then it was just ME listening to the stupid Boomerang book about Iceland and Greece and Ireland going bankrupt. And while I admit that — for a book about countries going broke it is pretty good — I basically don't give a rat's ass about it.
So, thanks for that Sheila!
Dave continued to sleep, which started to irk me just a wee bit since I had literally NO EFFING IDEA where we were going and was pretty convinced we had missed the turn for the campground about 20 miles back. Then Dave's eyes suddenly popped open and he instantly said, "It's right up here" as if he hadn't been totally SLEEPING for the past 45 minutes. And yet, he was right. Which pretty much messed with my head.
We stopped in Jackson, MT for some ice. I didn't even know there was a Jackson, MT. Then, we headed to Miner's Lake Campground, which we found to be blissfully and almost completely empty! Really. There is no better quality that we, the loud family, enjoy more than total privacy. To pee! To talk loud!
We set up on the very end site — just in case. It was, after all, a Saturday.
I never put the camper up, like I usually do, to pack it, before we left. So all the normal stuff was in the car. I was anxious to see how all my dust-proofing from last year had worked. We had driven to the campground on a powdery, white, dusty, dusty road, so it was a really good test. I was THRILLED to find the under-seat bins PERFECT! There was still a fair amount of dust in the main compartment — which I think might be coming from around the door — but the dust-free compartments are a HUGE leap forward. I can now store things in there without putting them first in to garbage bags!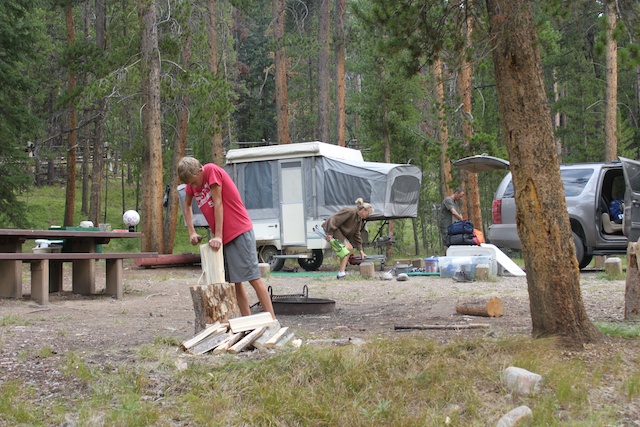 It was warm, but not ridiculous hot, and after sitting around for a while snacking — why, after 20 hours of driving, does sitting down feel so good? — I got to work on dinner.