6am and all is well!
The Jaguar family packed up and moved out sometime in the wee hours of the morning. Odd that we didn't hear them. We heard every scream and conversation the night before. They pulled in to a reserved site late in the evening, in a brand new Jaguar sedan, and proceeded to set up a camp complete with a baby and a 3 year old. It was sheer chaos and mayhem that culminated in an all out tantrum by both the toddler and the dad at about 9pm. The mom seemed completely oblivious to absolutely everything, including the audience. We were entertained, horrified, sympathetic and disdainful all at the same time. And it was all free.
Queen Jennie has a wicked migraine. And she deserves it. Serves me right, I know better than to drink three vodka tonics. The good news was, psycho-bitch-queen-from-hell, the name given to me at a wedding in Chicago by Dave during our dating years that shall remain one of the best stories ever, was absent from camp last night.
This resulted in a slow start, but the dune hike worked it out of me. In fact, I was the only one to summit the peak by hiking an additional 45 minutes or so. The weenies! The dunes are so very cool. Sorry in advance for all the photos.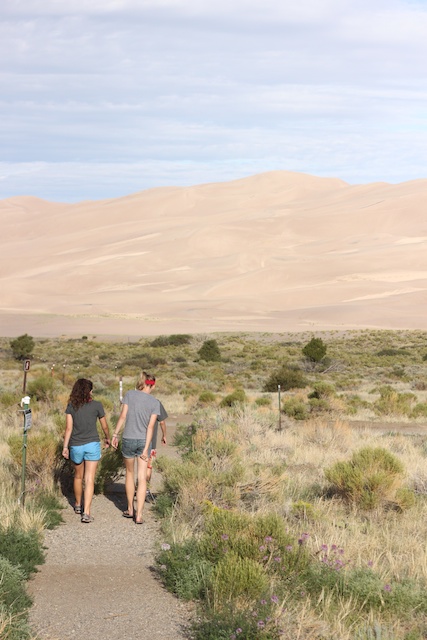 We took the sand dune trail and embarked on a much less populated route to the second-highest summit.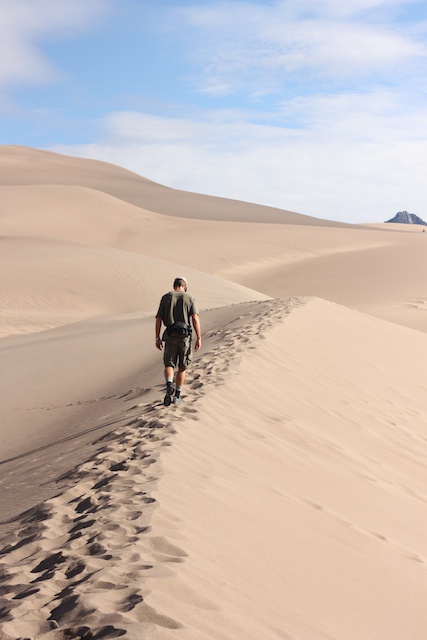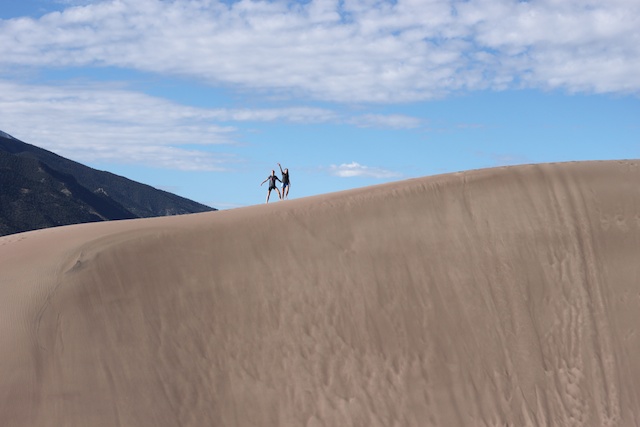 Grace and Morgan, self proclaimed "anti-hikers", stopped after the first dune. They are so lame. But it made for a cool picture!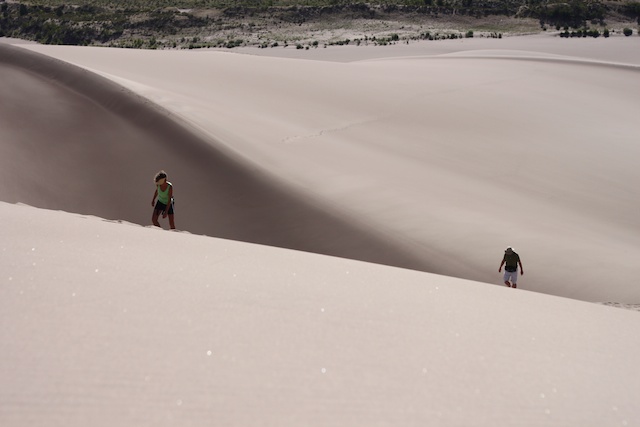 …the rest of us soldiered on.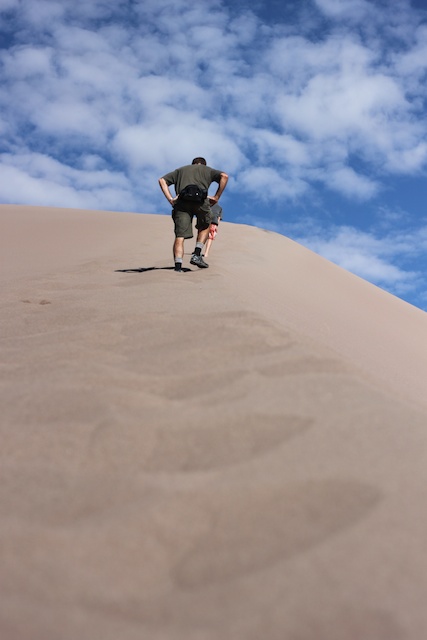 Dave has this odd hiking technique where he moves at an alarmingly slow and methodical pace with no upper body movement. We love to imitate him. This photo shows how steep the dunes are.
When I went to the other summit that is most easily reached from the parking lot, it was like a continual caravan of people. I could not wait to get out of there.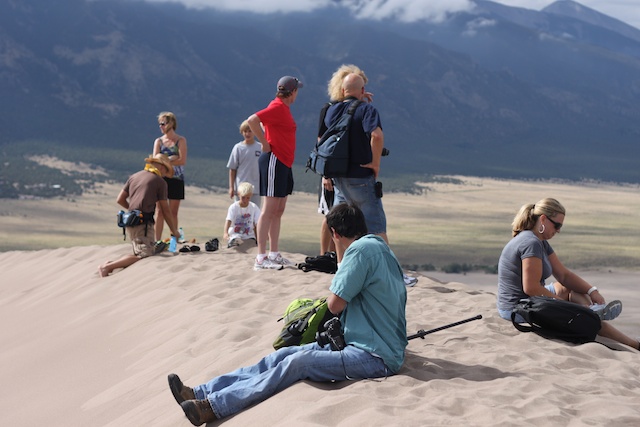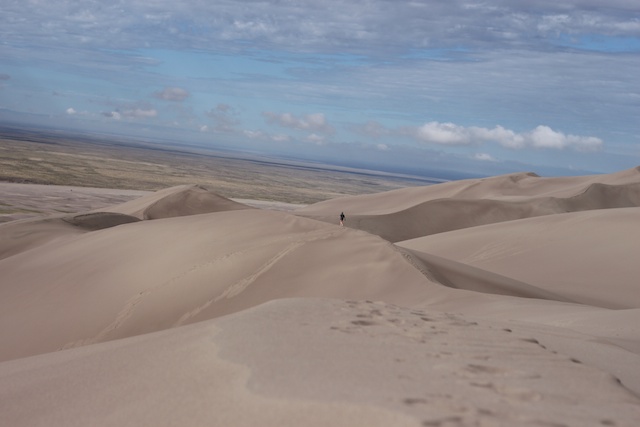 Goodbye Dunes! Until we meet again!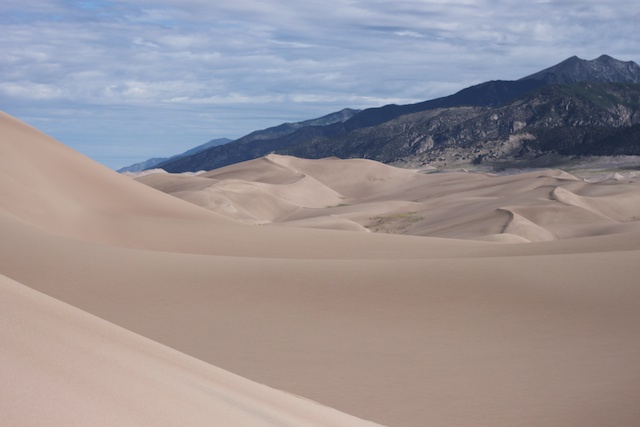 We packed up and got on the road around noon. Rain has been all around us, threatening, but never on us. Today is no different. It looks to be raining in Pagosa. All I care about at this point in time is getting my tacos at Kips Cantina. Can't wait!
The road into the Pagosa Valley was as beautiful as ever.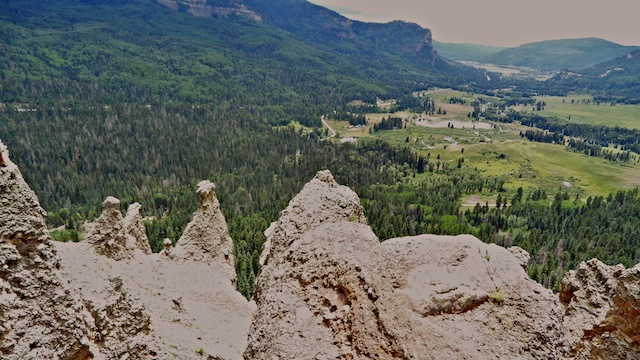 And I did get those tacos: shrimp tacos to be exact. And they were delicious!
Charlie managed to obtain ownership of a switchblade between departure from Kip's and finding the car.
Yes.
A switchblade.
I have nothing more to say on that topic.
We stopped at the grocery store and made our first much-needed additions to our pantry: bread, triscuts, lotion (you see, I made Morgan take her lotion OUT of her hugely overpacked bag because I already had some packed in my grossly underpacked bag. And somewhere in the hysteria, I decided "oh what the Hell, she can bring her lotion, I'll just take mine out," and… we ended up with none. She is gleeful at my ineptitude.), and a few more snacks.
At the checkout, the cashier asked me if I had a "CityMarket card." To which I replied, "No."
"Where are you from," he asked?
"How do you know I'm not from here," I replied.
"From your accent," said he.
"I said 'No', that's all!" I cried indignantly!
…All the while sealing my fate. In the simple, mono-sylabic  utterance of 'no,' I belied my Minnesotan origins. In. One. Word.  He even guessed Minnesota. I continued to make a Minnesota fool of myself saying, "Oh ja? Oh ja?" to his story of a kid from Mankato who worked there for a while. Fargo be damed. That movie has made a mockery of us all. The people behind me were laughing and trying not to be noticeable. It was all very humbling.
And then we were off to Pinion Hills Ranch, Morgan's audible moans of protest not withstanding.
The weather finally caught up with us. It began raining about two miles out of Pagosa. The original plan was to have foil dinners tonight and then take a trip to the Pagosa Hot Springs after dinner.  But everyone was already full from our somewhat late lunch at Kips. So, instead we planned to set up, snack a bit and head back to town.
After we pulled in and proceeded to wind around the empty development, finally slowing to a stop at the furthest, most remote cul de sac, ten minutes after turning off the main road, the Koo's nearly fell out of their van, eyes wide as saucers saying, "Where the Hell ARE we?!"
The cow pies, rain, and cacti in the cul de sac were hardly welcoming for the tenters. A split second decision was made to turn their van around and get a room at the venerable Hot Springs Resort in Pagosa.
Elation in OUR car quickly turned sour when it was learned that the Menke's would not follow suit. We have a pop-up, dammit and I've been waiting for this night, and my own slice of heaven, the whole damn trip. I would NOT be denied.
So the Koo's left and we set up camp. As I write this, Morgan is curled up in the camper with her beloved iPhone either
texting
watching old episodes of The Office
reading a book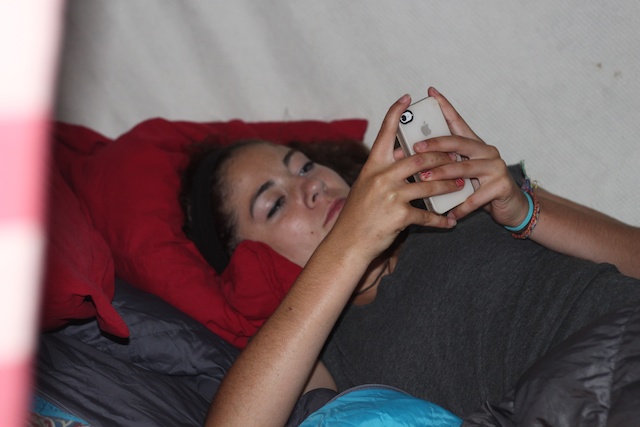 It matters not. I am just happy the sobbing has stopped.
Dave, Charlie and I are tucked under the rarely-used pop-up's canopy. Reading, writing and watching the weather.
While I find it hard to believe we ever bought this land, I do truly love it. I'm not sure if I can imagine living here for real. But it is fun to pretend. That's why I like camping. It's like playing house when I was little. It kind of feels the same.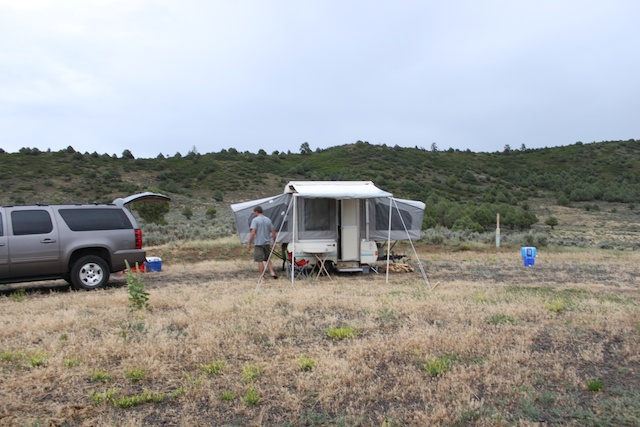 The rain picked up steam and it became hard to stay dry under the awning, so we packed things up and headed in to meet the Koo's at the springs in Pagosa. It was raining and sunny at the same time and we saw the most amazing rainbow, start to finish.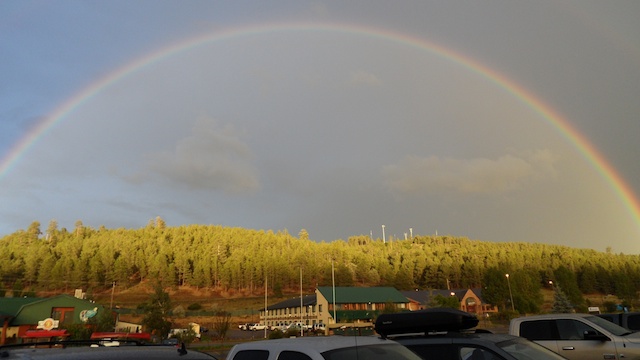 The Springs are spendy — $20 a person — but they are a fun departure from the standard hot spring pool, in that they have many, many hot tub-sized pools at different temps with different views and different characters populating them. Morgan and Grace, for example met some very friendly 16 year old boys who kept them company most of the evening. Dave and I, meanwhile, in the River Pool with sand bottom met the directors of the Buddhist Temple that we pass on Truejo Road on the way to our property. We've always wondered about that place and here we meet the directors! Jan and Wes, we found out later, had spent about 20 minutes looking all over for us and kept running in to some yoga-pose girl who enjoyed meditating on the edges of various pools, in alternating poses, that best displayed her assets.
Regardless, a fun time was had by all. Way better than the naked springs from 2009, right?
It was briefly discussed to let the Menke kids crash on the floor of the Koo's room, but in the end we squashed that plan. It just sounded like a pain in the logistical butt. Plus, there would have been all this pressure on Dave and I to have some big romantic night all alone in the camper. It all seemed rather taxing. After all, it was already way past our camping bedtime.
So off we went.
One. Big. Happy. Family. In our trusty little camper. So fun!