It is still 7/29/11 and we are still barely out of the driveway.
As I mentioned, the plan was to leave at 5 am and caravan with the Koo's. But since we left almost an hour late, and since they live almost an hour south of us, they had a healthy head start on us. We almost caught up with them in South Dakota at Kadoka. Our route was 169 south to I-90. Then we decided to take the scenic route and go south on 73 at Kadoka and spill in to Ogallala at I-80 and head into Colorado that way.
So anyway, it was looking like we'd meet up with them around lunch-ish, but the Menke car uncharacteristically made several random stops (for gas, for potty, for food — so you can pretty much know I was not at the wheel) and so, we never quite met up with them along the way.
The food options for lunch were slim in Murdo and Kadoka, so we ate the "oven-fried" chicken* and fruit and veggies out of the cooler. The kids, who yearn for the fast food and crap that simply IS this part of our road trip were dismayed. I was dismayed to discover that my beloved baby cucumbers from CostCo, purchased just two days before, were slimy and disgusting. That has never happened before. They were dispatched to the slimy and disgusting gas station garbage can. I am heartbroken. I will now have to eat the only other beloved thing at hand. Special K bars.
* * *   I N T E R M I S S I O N    W H I L E    I    E A T     A    S  P E C I A L   K    B A R   * * * *
* * *   A N D    A N O T H E R  * * *
It was a happily uneventful drive. We finally met up with the Koo's in Sterling, CO at The River Grill & Bar for dinner. Beer, margaritas and a burrito for me made it a successful event.
During dinner, we debriefed and compared notes: on the prep, on the drive. Who was mad at who. Are they really as perfect as they seem? Stuff like that.
Grace and Lydia (15 and 13 respectively) tend to fight — as most sisters do. So Wes and Jan were pleasantly surprised that they pretty much got along during the 15 hour drive. Wes then spontaneously rated them a 7 out of 10 and Jan concurred (What a lovely couple.). Morgan and Charlie don't really fight all that much. They just tend to verbally spar about issues such as Morgan's incessant singing and Charlie's stupid questions and general cluelessness. This is annoying for sure, but not so bad as to call it fighting. I rated them a 9.
Then, hearing what was taking place at our end of the table, because my kids have a bionic noise filter that digitally identifies the voice pattern when their names have been whispered from across a noisy room, they started talking over each other to tell the Koo's how bad Dave and I had behaved on the 15 hour trip. Charlie quickly rated us a 4 out of 10 while Morgan countered that she wouldn't even give us that much. You see? They can't even agree on that.
But OK, I admit it is true. We were naughty. Everything Dave did bugged me today. And while I would never presume to put words in Dave's mouth (irony, sarcasm. he has no words in the first place. if i didn't put any in there, there would be no words at all.) I would venture to guess that everything I did bugged him, too.
I can't imagine a scenario where I could possibly bug anyone, but I must record the truth.
I vowed to be nicer.
The other main dinner topic was that we found ourselves to be a couple hours behind where we really wanted to be and were trying to recalculate our plans for the night and the next couple days.
Initially, we had planned to make it to a campground outside of Boulder and Rocky Mountain National Park and spend two nights at what we envisioned to be a lovely locale. We'd visit Colorado University one day and Rocky Mountain National Park — where, ironically, we have never been — the next day, before heading to the Dunes for the 3rd night.
The main idea was to spend two nights without having to move. We knew we'd be moving a lot on the trip and it was thought that after a long drive it would be nice to be able to linger at our first destination. But (and this is just me talking now) whoever came up with that plan musta been on drugs. It's high season. It's Friday night. We are outside the Outdoor Capitol Of The World and a National Park. We were banking on leaving at 5 in the morning, experiencing no delays and arriving at 8 pm with no reservations in the best of circumstances. What do YOU think our chances of finding a bucolic site in a beautiful campground to be?? Since I was not the planner I made my feelings known TO the planner and Dave and I continued our 4 out of 10 (or less, depending on the judge) behavior.
Obviously, I am failing at my vow to be nicer.
Instead, we got the last spot at the North Sterling State Park Campground on a popular reservoir. And let me tell you something. Minnesotan's despise reservoirs. We're not a mean folk, but we do have our standards.
It was astonishingly buggy and we were all pretty tired. We didn't last too long around the fire. The neighbors are loud, the generators are a-humming from the RV's parked… everywhere.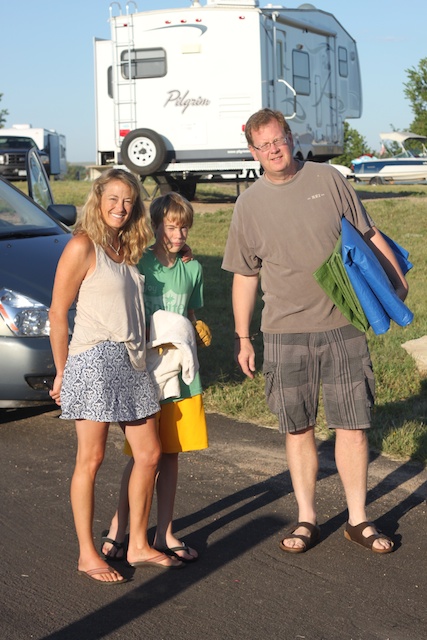 Still. It's a place to lay our weary heads. And we did.
Oddly enough, it was a good night's sleep. It cooled off nicely from the low 90's down to the 60's for the night, and the Family Circus next to us actually slept in till about 7am. We won't, however, be lingering for a second night. It's off to Roosevelt or Arapaho National Forests which surrounds RMNP at first light.
*Oven Fried Chicken
This is spectacular, even if it is a complete misnomer. Well, not a complete misnomer, as it does go into the oven to bake, but you still have to deal with deep frying in the beginning. I had found this recipe and failed to read it through before committing to it at 10:30 pm the night before the trip. Still, now that I've tried it, I am hooked. It is FABULOUS and worth it, even for those who despise deep frying as much as I do.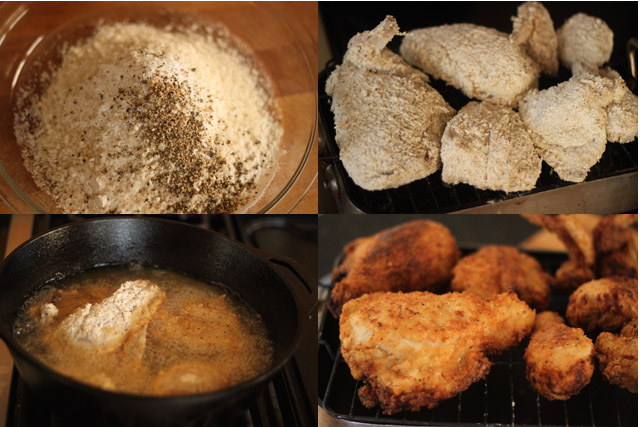 Soak 1 cut up chicken in 1 quart of buttermilk for 10 hours or overnight.
Preheat oven to 350
Mix 1 cup flour, 1 cup panko crumbs, 2 teaspoons coarse salt, 2 teaspoons fresh ground pepper in a dish
Coat the chicken well on all sides with mixture
Heat 1″ oil in deep sided, heavy pan to 360 degrees
In two batches, frying half the pieces at a time, Fry about 3 minutes on each side and remove to a wire baking rack set over a roasting pan. Bring oil back to 360 degrees before beginning second batch
Bake in oven for 30-40 minutes until juices run clear
Serve hot or cold.
Ah-mazing.