Wednesday 8/3/11
OH WHAT A NIGHT!
(who can read that without thinking …Late December back in 63? Not me.)
Peace! Quiet! Solitude! This. THIS is what camping is supposed to be! A few coyotes in the night, a couple of distant cow moos and that's it. No dogs. No generators. No babies!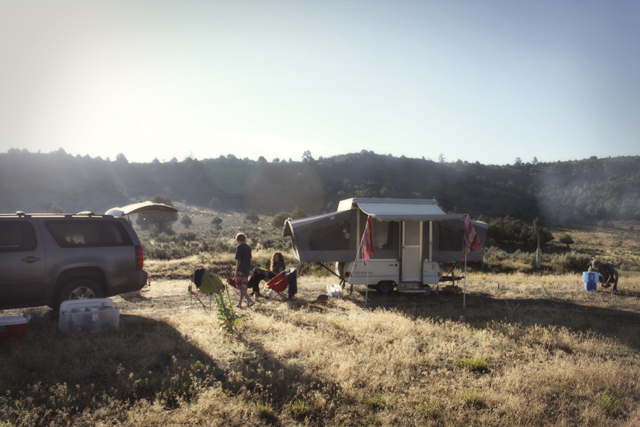 Dave planned to make chocolate chip pancakes to cheer Morgan up. But, in the middle of the preparation it was discovered that Jan had the chocolate chips in their car at the resort. Morgan does not subscribe to the same set of camping beliefs as me — that, you know. But, Morgan also does not subscribe to the same set of pancake beliefs as me. She believes chocolate chips were made for pancake batter. This was going to be a serious problem, potentially setting back her recovery indefinitely…
What to do. What to do. If anyone else has a 16 year old daughter, then they can appreciate the situation for what it was: a true crisis.
I can't remember if it was Morgan or Dave's idea to use a Butterfinger. Genius or criminal? I can't decide. She thought they were delicious. And, another crisis was averted.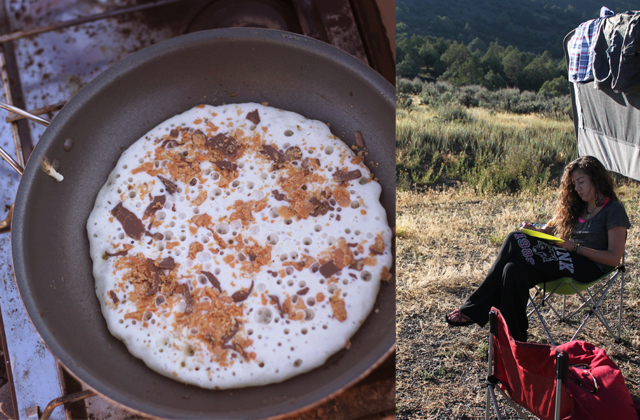 We all relaxed with our various vices while we waited for the Koo's to show up.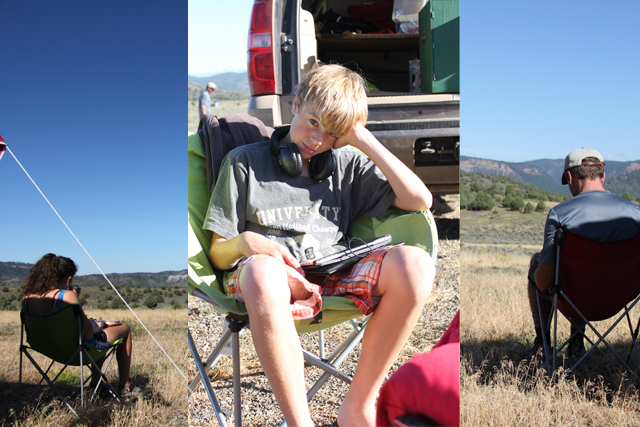 Dare I admit we had 4 bars of cell and data service? Is that criminal as well? The kids kept saying, "This is so STUPID! We are in the MIDDLE of NO WHERE and have FOUR BARS. We have NO BARS at home. This is so STUPID!"
I told them to stop complaining.
After enough relaxing we started calling the Koo's. It was time to motivate. The plan was to either camp another night in this blissful oasis (or hellish nightmare, depending upon the speaker) fish & swim in the river, hike, etc… OR, hike the property, pack up and move out.
The Koo's had decided they didn't want to take the time to see Mesa Verde (we've seen it) which morphed our options yet again. With no Mesa Verde, there would be no need to go so far west before heading north. And while I looked forward to seeing some new scenery on the road to Telluride, we were thinking it might be smarter to stick to what we know because of the crowds (a relative term). Which would mean we would head north in Durango and go to Ouray as we have done before — which would shave at least a couple hours off the day's drive — a good thing since, once again, we would be chasing the clock to get dinner cooked before dark.
I have to say that this "no planning" agenda that I claim to love so much becomes just a bit more stressful when there is another family involved. I have no idea why. I think it must be some form of guilt. Like we are in some way responsible for the chaos. Which, I suppose we are in a way, since they are adapting to our methods. Which makes me feel guilty. Which makes me feel the need for a beer. Which usually makes me feel better. And then we start all over again.. But I digress…
Due to unpopular demand, we decided to hike and leave. The kids — ALL of them — were pissing and moaning and pissing and moaning about the sandwiches I was making for lunch. They piss and moan about everything! We sent them off to the river with Morgan at the wheel. I mean really. Who invited them, anyway?
Meanwhile Dave, Jan, Wes and I hiked for about an hour. We didn't see any wildlife, but Wes is certain he stumbled upon a mountain lion's lair. Not a den, but an area it lounged and ate its kill. There was a fresh, semi-meaty bone nearby and other older ones. Needless to say, he didn't tarry.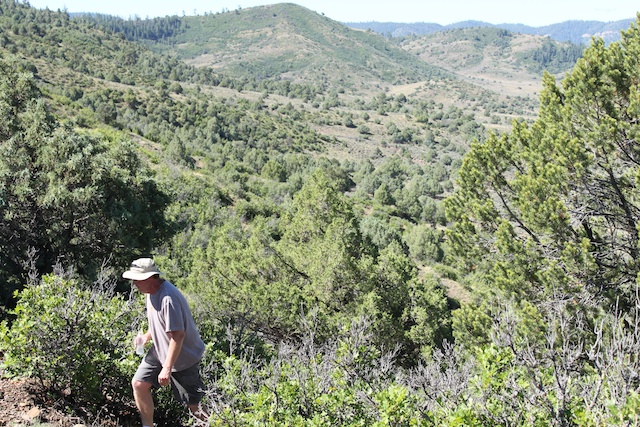 But he did catch a cactus.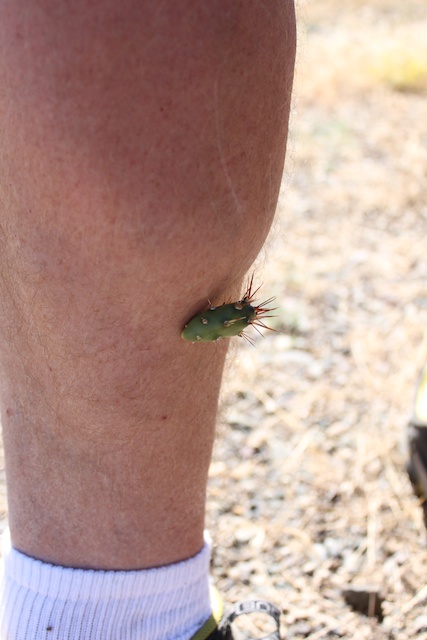 Dave and I had continued walking the fence line, both of us lost in our silent reverie, and basically coming to the same conclusions as we did when first buying the land about where we would put a house. Isn't that funny? –That that is what we were both thinking about? And I wonder why we do this if we never plan to do it! Maybe it's just human nature.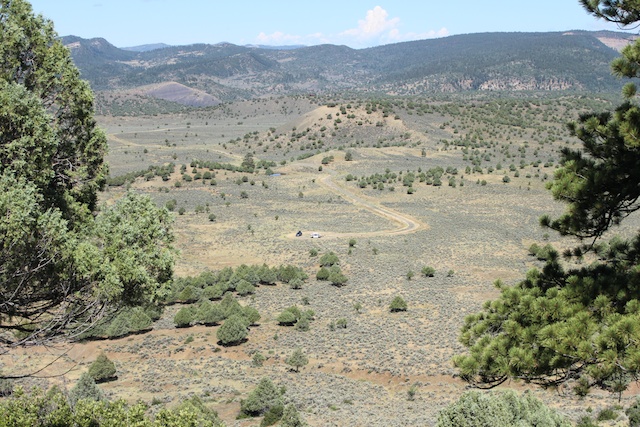 My rooster wounds are much better, thank you very much. Though I still can't wear my birkies, with the strap across the puncture area.
We packed up and said goodbye to Pinion Hills once again. It always makes me sad to go. 🙁
And yes, we stopped at stupid McDonalds on our way out of Pagosa for the stupid kids who have everything.
****
We blew our first camper tire about an hour out of Durango.
It wasn't our best effort. The camper was at a bad angle and Dave couldn't get the jack under the axle. All in, it set us back 45 precious minutes. We blasted through Durango and all the way to Silverton where we stopped for gas. Dave also wanted to put air in the new camper tire and was frustrated because the air stem was on the back side of the wheel (he put the wheel on backwards). So he's under the camper, grunting and carrying on. And then I see the tire going down. So I say, "Hey Dave, You are letting air out!"
No yelling. No judgement. Just a declaration of fact.
No hysteria. No blame. Just an observation he may not have been aware of, since his head was under the camper.
You would not believe the diatribe of epitaphs he unleashed on me. And I will leave it at that.
I got in to the car, shut the door and rolled up the window. And I refused to engage. Even when he knocked on it.
It should be noted for future conflict resolution that this is not a particularly effective method. But I mean really. What is?
While I attempted to get over my mad-on, we  began our hunt for a campground in Ouray. Amphitheater was the plan, but it was full. And had been since 10am when four spots opened up and were promptly claimed by the waiting line of cars that had started forming around 8am. 8 am!! It wouldn't have mattered when we left Pagosa or if we had blown three tires. It was small comfort.
Ouray itself was crazy town! Crowds, cars, kids, tourists, Jeeps, Motorcyles, CRAZY!
And we decided right then and there: no more vacationing in late July/early August. No more.
Tensions were rising again since campgrounds are not exactly abundant in this area. Dave and I were madly googling National Forest options while Jan and Wes went to talk to the host at Amphitheater. Both sources pointed us up the 4-wheel drive Camp Bird Road to the primitive areas of Angel Creek and Thistledown. Angel Creek was too rugged for the Koo van, but Thistledown had ONE SITE LEFT (a lucky and recurring theme of this trip). The site was all by itself a bit further up the road. A little dank, but secluded and nice with a little stream running alongside it — so longs as you ignored the near-constant stream of ATV/4WD traffic coming and going from Imogene Pass. Since we, ourselves, would be heading up the road in the morning, we opted not to complain since that would make us hypocrites. And I really hate hypocrites.
After setting up, Jan started dinner and Dave, Wes and I went to pick up the Jeeps for tomorrow.
I was a bit concerned that Dave would push to go on Black Bear Pass since we had already done Imogene two years ago, but I didn't need to worry. The Jeep place stopped allowing rentals to go on Black Bear. When we asked if it was because the Jeeps got damaged, she said, "No. Too many people died."
I waited for her to look up and laugh, but she didn't. Just, "nope. too many people died." Period.
Dinner was spectacular. I can get used to someone doing the cooking. Wait — did I already say that before? Dave can't keep his hands off anything in the fire though, so just like with the kebabs, he was the pit master, cooking the foil dinners to perfection once they hit the coals. Jan didn't lack for ingredients. She brought 8 big yams, 5 lbs of potatoes, 2 lbs of hamburger (the total amount I brought for tacos) and about 1.5 lbs of pork. Oh, and a whole gallon bag of chopped onions.
Jan likes to have enough food.
We had enough.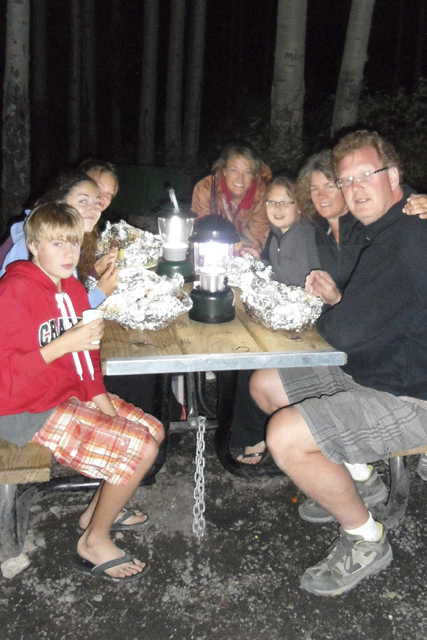 More marshmallows, and?
Yes: bed.