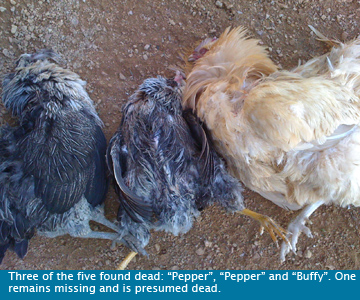 Late Saturday, residents were left feeling helpless and angry after mass killings left six chickens dead. The carnage was discovered when owner Jennie Menke returned home from soccer practice with her daughter, Morgan. The first evidence was the lifeless carcass of a favorite Araukana hen known as Pepper.
"Actually," Jennie Menke later explained, "All the black and white hens are named Pepper. It's easier that way."
Investigation continues into this seemingly random act of violence. Witnesses aren't talking. However, authorities have been called to this residence in the past. Evidence suggests it was the work of experienced killers who have cooperated in past chicken violence at the home. Lola was not available for comment. Buzz, escorted into custody by Charlie Menke, simply stated "It wasn't me."
We'll keep you posted on the events of this story as they unfold.