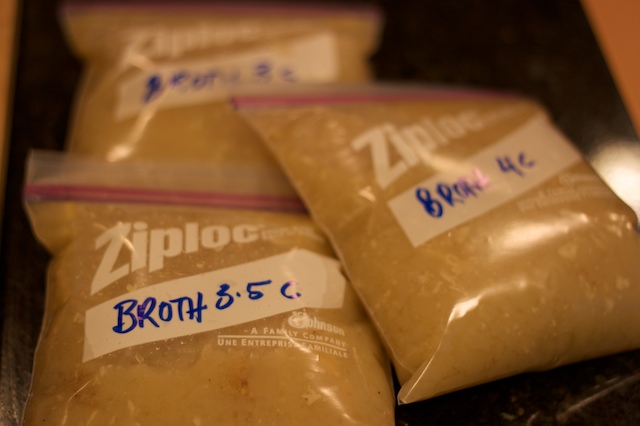 This is just a quick post for my eye-rolling friends and relatives in retort to all their snide comments about the fact that I use homemade stock for most of my soups.
If you haven't been following along, I will repeat what is, by now, obvious: I delight in making food from garbage. Chicken bones from a roast chicken are — to my mind — garbage.
I do not buy new chicken to make stock. That seems almost insane. That you would make stock from a fresh chicken and discard or overcook the chicken in the name of stock… Insane.
So, it goes without saying that I am not a stock purist. Am not. If you are, please move away from the computer now, as you will be horrified by both my materials and technique.
This is akin to my approach to composting. No effort with satisfactory results. Not clear consume. But good, bold flavor.
All you need is freezer space.
Here's what you do:
Every time you eat a roast chicken — or any chicken with bones — you save the bones, the meat clinging to the bones, and any skin you might have and store it in a freezer bag in the freezer (also throw in any from the plate of a stubborn child). When the bag is full, and you have no more room, you make stock. I use big 2 1/2 gallon freezer bags to store. Then I make the broth in one of those big steamer/roaster ovens. Mine is Hamilton Beach I think. (The same thing I use for my pulled pork.)
Anyway. The bonus in using that apparatus, aside from the size and the ability to cook lots of chicken bone garbage, is the fact that you can cook it outside.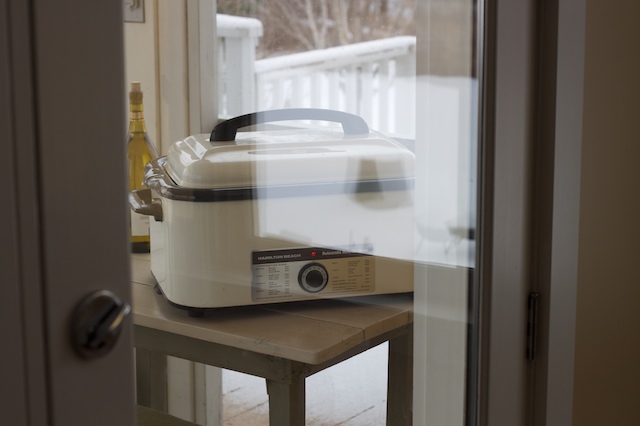 I love the aroma of chicken broth simmering — for about 2 hours. After that it starts to make me sick. Too much for too long. But maybe that's just me?
So anyway, I put the roaster outside and cook away! For hours! I cook it low and slow. I don't worry about it boiling and clouding… I check the water level every now and then, push things around with some tongs. And really, it turns out just fine. You should try it.
Add bones to the pot.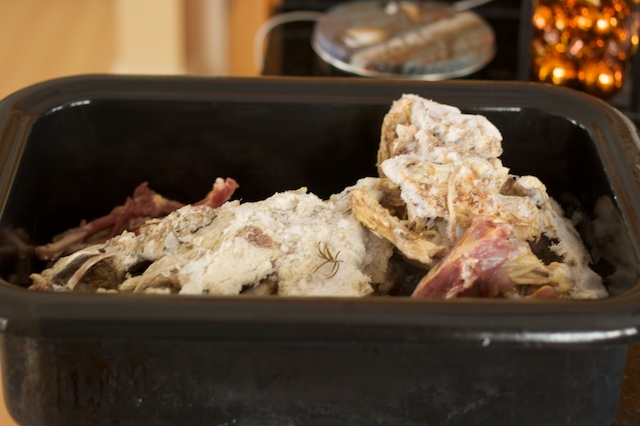 Add a couple bay leaves, salt and pepper and whatever questionable vegetables you have laying around in your crisper drawer. Ideally carrot, celery and onion.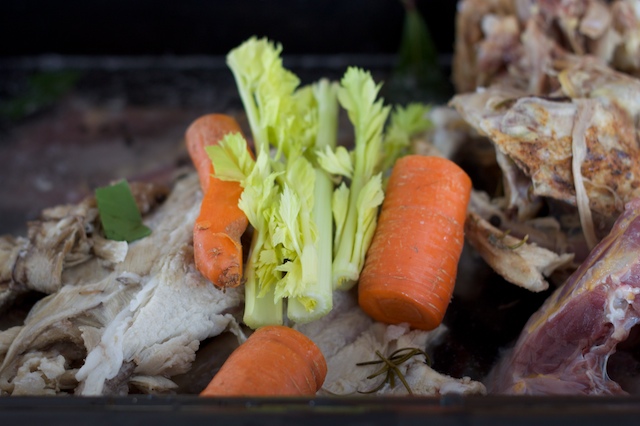 Cover bones with cold, fresh water. Cover and turn roaster to 300 until it boils then turn it down to the temperature that keeps it at a nice simmer — which for me varies, depending on whether it is -15 below (like it was on this day) or 70 degrees outside. Alternately, bring to boil on stove, then turn down to a simmer, cover and cook until it tastes good.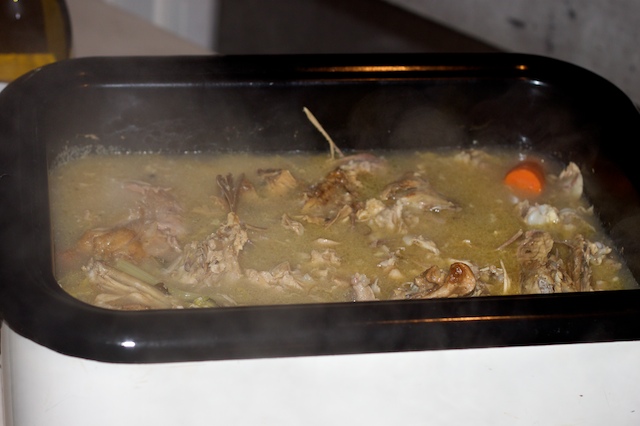 Cool broth and strain the solids. I like to let the broth cool to scrape off the fat easily.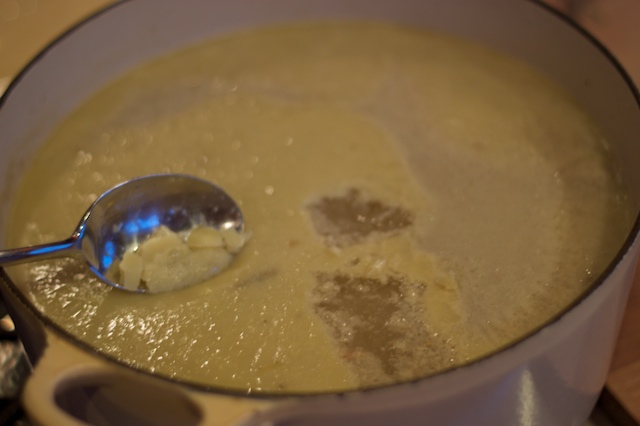 Then, measure the amount you want to freeze (I do 3-4 cups in quart sized bags or 6-8 cups in a gallon bags) into ziplock bags and freeze flat.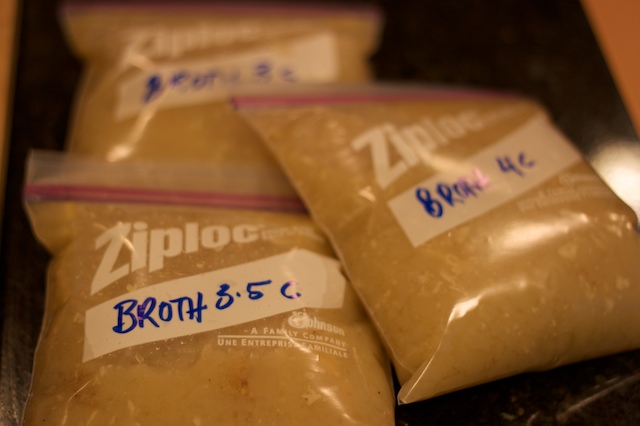 Fresh homemade stock from something that you would normally throw away! So easy!