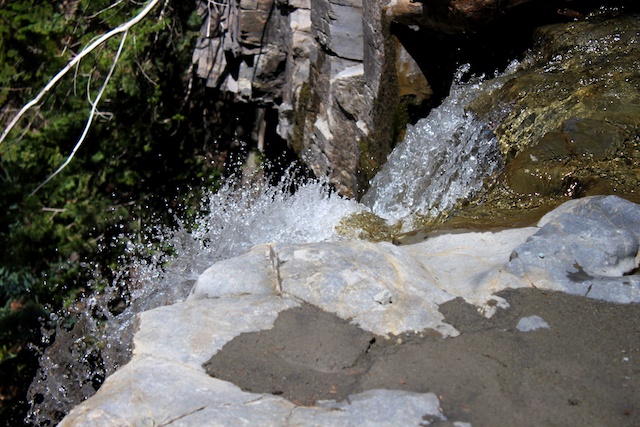 Friday, 8/5/11
[non-journal addition: The time to which I've milked this trip is shameful. This is the end. Final. But don't get excited. There is no Thelma & Louise ending.]
It rained again during the night. Probably just to keep up our streak of wet muddiness going.
While I tried to finish off the banana bread — I totally forgot about it! — Morgan was trying to finish off the marshmallows. Go figure. Cut from the same cloth, but she is on the bias: wild, stretchy, and smooth…
Initially, we were going to hike and then come back to camp and pack up. But after conferring, it was decided that might be too 'risky.' I'm not sure what the perceived risk was purported to be, but if I had to guess, it might have something to do with the Cat Lady Campground Host. Did I not write about her yet? It seems like a lot of work now to write about her… I'm losing my journaling steam.
Suffice it to say, the campground host has SEVEN cats living in her camper, along with a husband who — himself proclaimed, and I quote: "I'd check you in myself, but I'm too drunk" — when we arrived a couple days ago.
The kids don't care. They love the cats — each with their own bell and disguishing feature.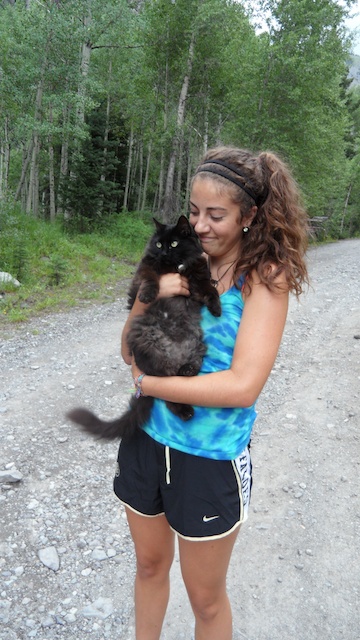 Like crossed eyes.
Anyway. They seem just a little off base. Maybe the risk that Dave is speaking of involves them? I know not.
Check out is at noon, so we packed up, each of us, lost in our own thoughts about the end of vacation.
In keeping with our re-tracing of previous Colorado trips, we decided to hike the stupid Chief Ouray Mine and Lower Cascade Falls trail that we hiked in 2004. They can't say I didn't warn them: it was up, Up, UP.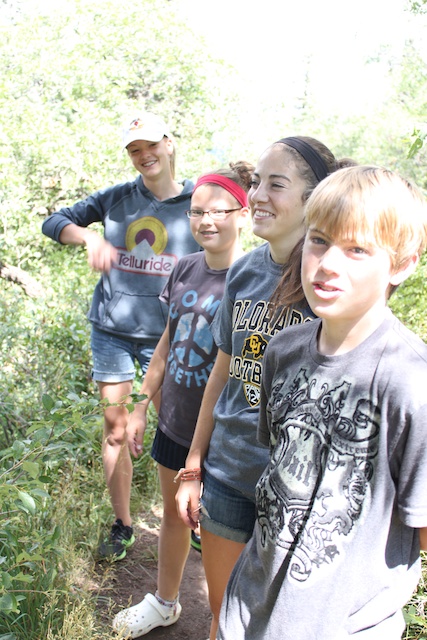 And that was just from my failing memory.
In reality, it was even more. No wonder our kids revolted in 2004: Charlie was 6! It was a hard hike — I'm seven years older and I was feeling it in my legs for sure. It's 1,500 ft over 2.5 miles.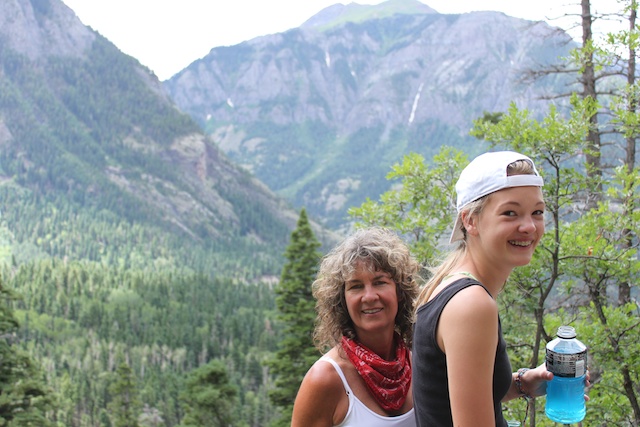 We were looking forward to finding our name in the mining hut, written in coal from 2004, but we couldn't find it. I'm sure it was in there somewhere.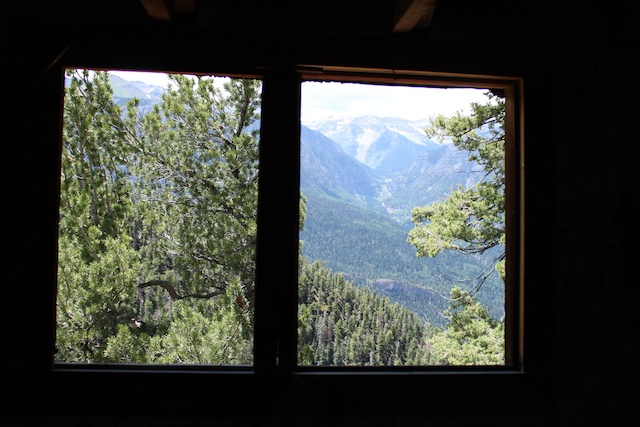 Charlie opted to CARVE his name this time with his new blade.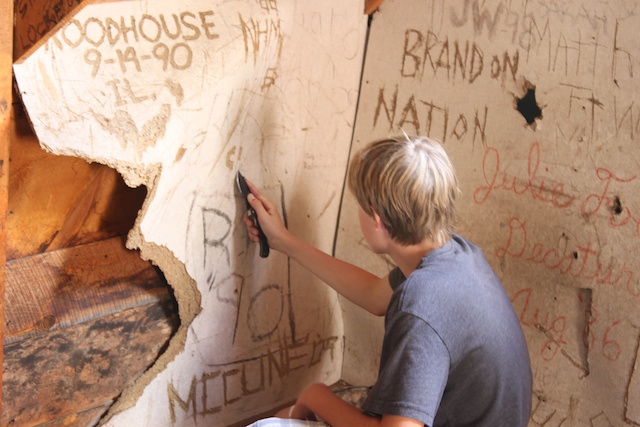 And promptly cut himself.
I mean really.
There was the coolest rock cairn that we each added a rock to on the way up. And another on the way back down. It was like a game of Jenga.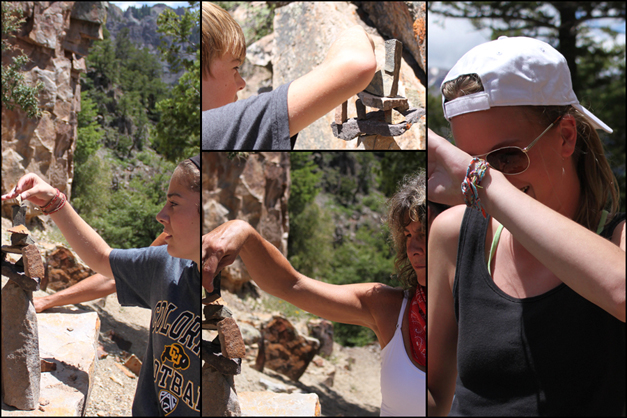 …and Grace lost.
It was right about then that I realized I didn't have my sunglasses. I had put them on top of my damn visor, then I whipped my damn visor OFF because it was so damn HOT. And apparently flung my glasses off into the brush somewhere. I kind of knew the area that I had done it and ran ahead with Charlie to look for them.
I really did think I would find them. We've just been so lucky this whole trip. But I didn't. It's my own damn stupid fault.
The hike took 3 hours total. I should note that Ampitheater campground, where the hike starts, was STILL full.
Afterwards, we went to Ouray for ice cream, lattes and ice. Dave had plans to go buy a shower at the hot springs, but opted out when he found out it was $12. So, instead, we hit the road home after consulting with the self proclaimed Route Nerd.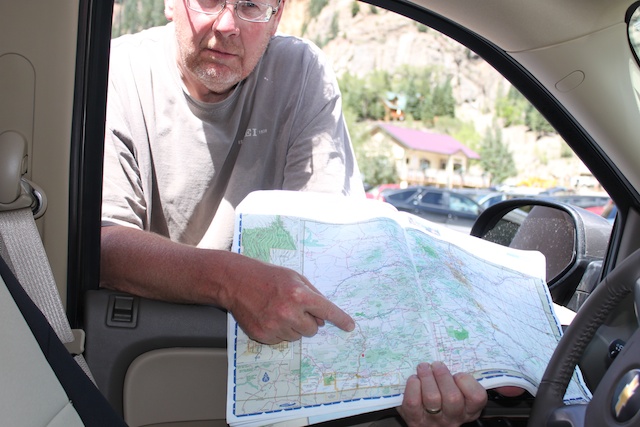 It was about 3:15pm.
We are heading north through Grand Junction to our home-away-from-home I-70. An early dinner was planned, but foiled when I misread my GPS in Glenwood Springs and missed the exit. If my kids could have roasted me alive and eaten my eyeballs, they would have.
Instead, we made it to Eagle on low, low gas and supposedly emptier stomachs. Wendy's was an oasis.
We also decided to pre-empt fate, and changed the other camper tire before it had a chance to blow. It was so bald that you could see ripples in the rubber. Dave has been driving since we left at 3 and wants to make it to Denver. We are almost there. I hate it when he does this. It just puts more pressure on me to drive just as long.
I'm competitive, remember?
So I will most likely drive until we stop for the night somewhere between North Platte and Omaha. We shall see….
************
I took the wheel outside of Denver around 9:15pm. If Dave thinks I'm driving for six straight hours, he's got another thing coming. I plan to drive for 6 hours and 15 minutes.
(not really. even I have my limits.)
We drove uneventfully to North Platte and pulled off to get a room. We went to FIVE hotels. And all were full. After some mad googling by Dave (which means not very fast) we figured out it was the start of Sturgis. Good grief.
The Koos planned to just keep driving and sleep in the car for a couple hours. I liked that plan better, but Dave was set on a hotel.
We got back on the road heading to the first town with an open room, which a kindly hotel employee had located for us. It was another hour to Lexington and wouldn't you know, the tire pressure monitor started alerting us to low pressure in the left front wheel. We got off at the first exit to fill it, but it wasn't low. Odd. We decided the computer sensor must be faulty and kept driving. The pressure finally stabilized at 20 (yikes). We made it to Lexington and got the last room at the Econolodge. It was 3 am. So I pretty much DID drive for 6 hours. Just sayin'.
I was just about to fall asleep when Dave flipped the covers off and turned the lights on.
Looking for bed bugs.
I mean really. He seriously did that.
Saturday 8/6/2011
We hit the road early. On our way out to the car, Dave mentioned that right rear tire looked low. We went to the gas station and sure enough it was: 20 lbs of pressure! But oddly, the computer said it was fine. Didn't take me long to realize that my "bargain tire rotation" from a few weeks ago failed to also reset the tire monitors.
It felt like we drove and drove and drove and home was still far, far away. Dave was driving the first shift, which — having finished my books, I would really almost rather drive — I spent online researching cool pop-up trailer mods. I have ALL SORTS of ideas for our little friend…
The tire hung in there. Barely. We got home and unpacked. Everything was fine.
I wish there were more to say, but there isn't.