August 19th 2013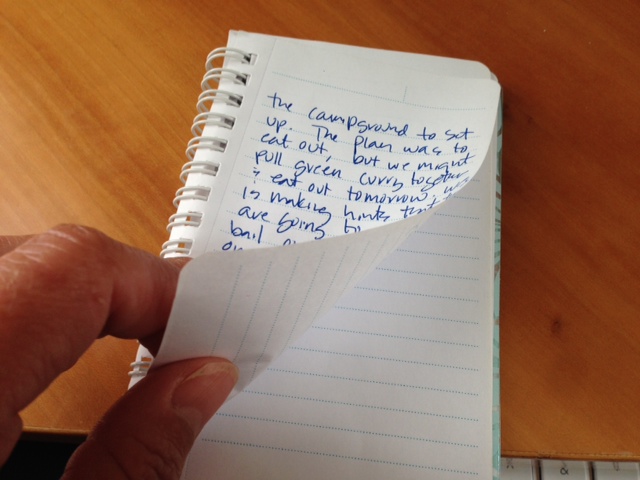 So, yeah. Apparently my journal ended yesterday.
What can I say. I'm getting old. I don't give a rat's ass anymore. But still. It's always just a little shocking for me to realize just how little I actually remember. I always think, "Oh, I'll remember that." But aside from some snippets, I remember very little. Maybe it's a good thing. I used to argue endlessly, with anyone, about anything, because I KNEW I was right. 100% locked. I was right. They were wrong. How long do you want to argue? I can argue longer.
(And no, Mom, you don't need to leave a comment and tell the whole world how accurate that statement is. Let's just keep them guessing: maybe she's exaggerating again?)
Nope. Not exaggerating. Ask Dave, Morgan, Charlie, My mom, dad, brother, former teachers, coaches, friends, ex-boyfriends. The only people who might not have an opinion would be strangers.
So anyway, this new insight into my lack of memory is actually serving me quite well. I never knew relationships and conversations could be so smooth. Why? Because I realize I might actually be wrong. So this is how the other half lives… interesting.
I am digressing because my journal is empty. I have no fun stories written down to share. So I'm using my pictures to clear the cobwebs. This is how I remember it. But should any witnesses want to flesh out the details. I won't argue. 🙂
To conclude our trip, we drove to the "MUST SEE" falls near Thunder Bay: Kakabeka Falls. It was right near our campground, so we went early and did a quick in-and-out.
They were big, alright.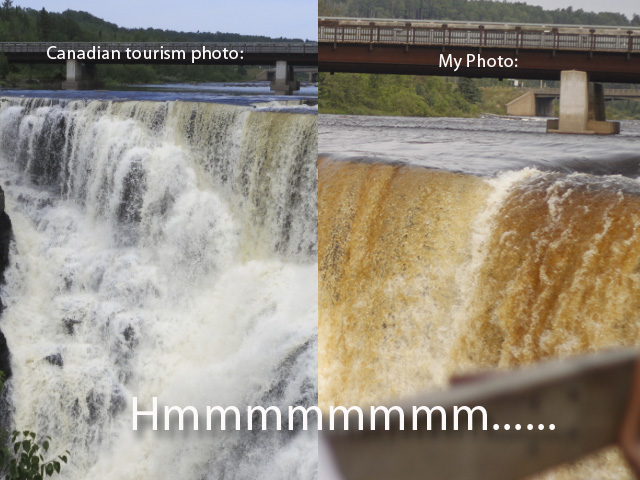 But let's just say not quite what I expected.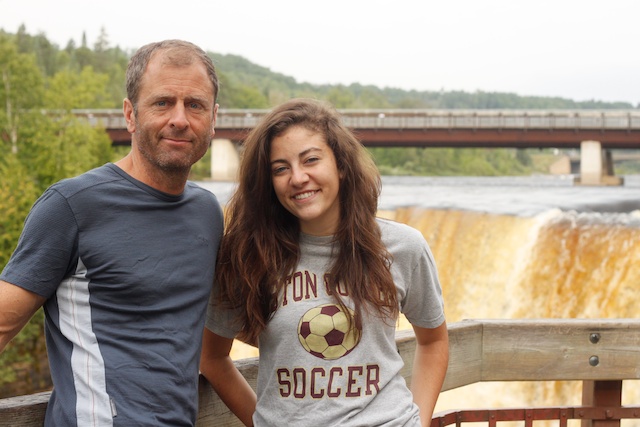 Well, Dave not smiling and looking 7 day-beard-scary; that I expected. It was just the Mississippi brown color I hadn't bargained for.
We crossed the border into the US and immediately the car fell into silence as the phones turned on and began searching for signals. And then the repeating soundtrack of Charlie: "AT&T sucks. Dad? Do you have any bars? Mom, does Dad have any bars? Do you have any bars? This sucks."
And so on and so forth for about 75 miles.
We stopped to eat/shop in Grand Marais. Now THAT town understands traveling tourists, ay?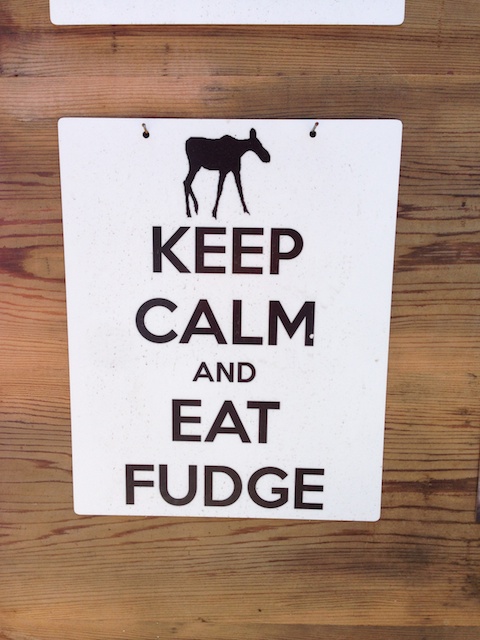 After hot weather, it was suddenly windy and cold!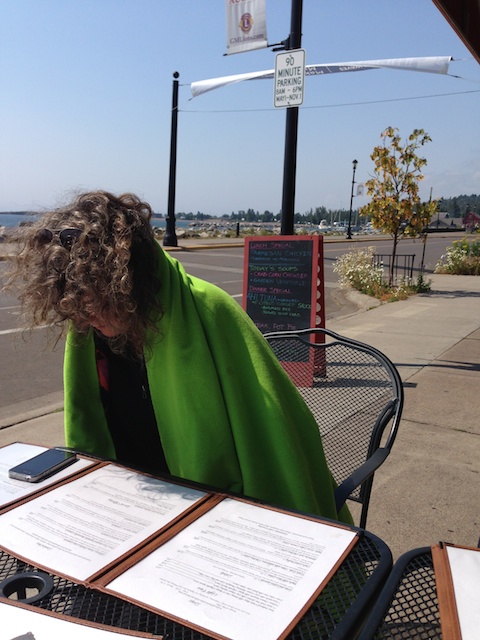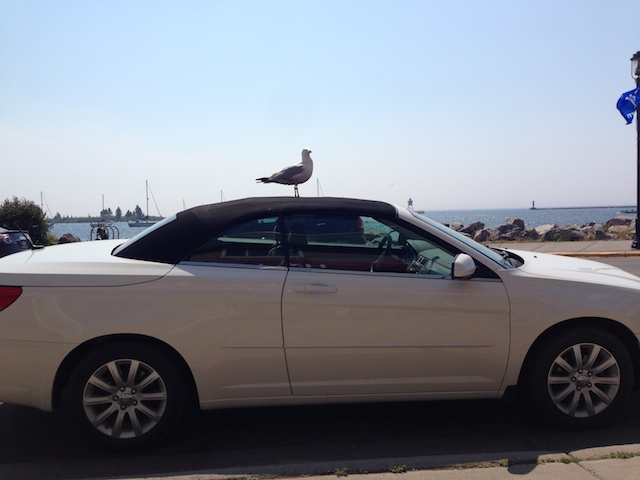 Next stop Duluth.
Koo's got a hotel and Menke's drove through Duluth to Jay Cooke State Park to secure a campsite. It was pretty quiet and we got a nice spot all to ourselves. We made our last batch of delicious pico quac — fresh tomatoes, avocado, cilantro and devoured it. We all took showers, too… ahhhhhhh.
On our way back to Duluth, we stopped to see the ravages from the flash flood last year, which took the old bridge out. Pretty amazing to think that lazy little brook could have been so violent.
We went back to Duluth and met up with Jan and Wes for a drink on an outside deck while the kids walked around. It's always fun to re-enter civilization, but was especially so this year after being in Canada for so long. We just didn't expect our trip around Superior to be so… desolate and remote feeling. We thought we'd be in the midst of cafes and restaurants the whole time. So not the case.
We ate at an amazing swank restaurant, the name of which I cannot remember and do not feel like trying to figure out. I do know it was attached to something like a sausage/dried meat place. Very gourmet. Kids were in HEAVEN.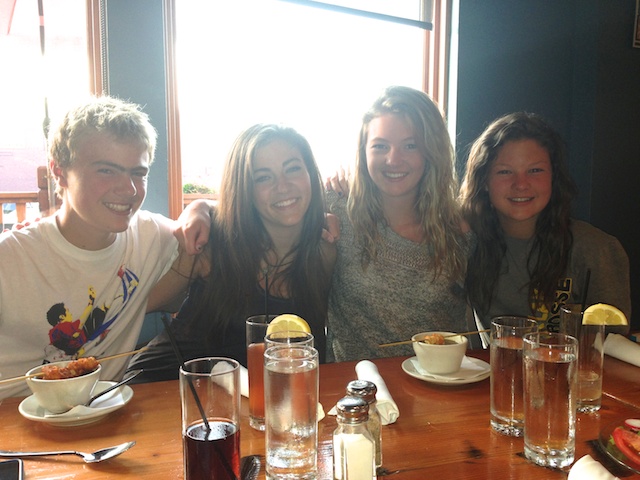 And so was I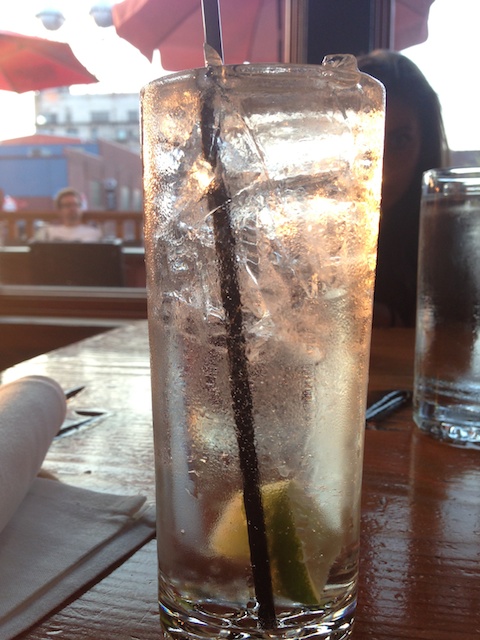 Every meal was a winner. But no one could be quite so happy as this one.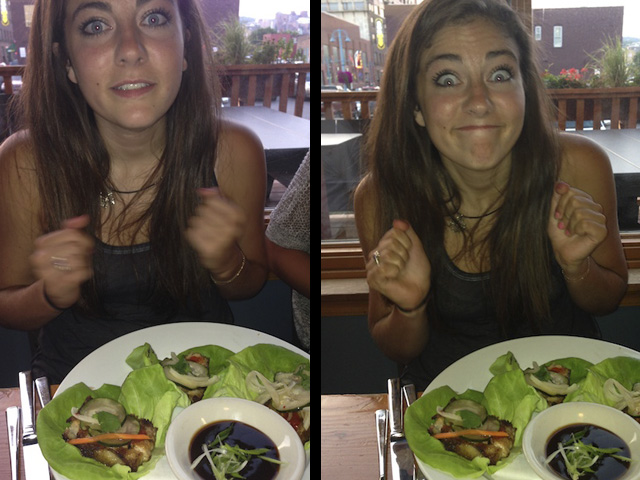 It was a great night and a great end to the trip.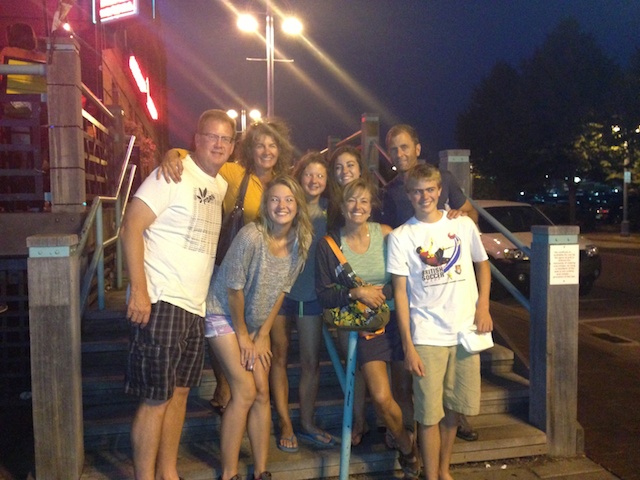 We headed back to our little camper with plans to leave in the morning.
We got up early and stopped at Toby's for a throw-back breakfast. Really average. How did that place get to be so famous? It had to be based entirely on the cinnamon rolls.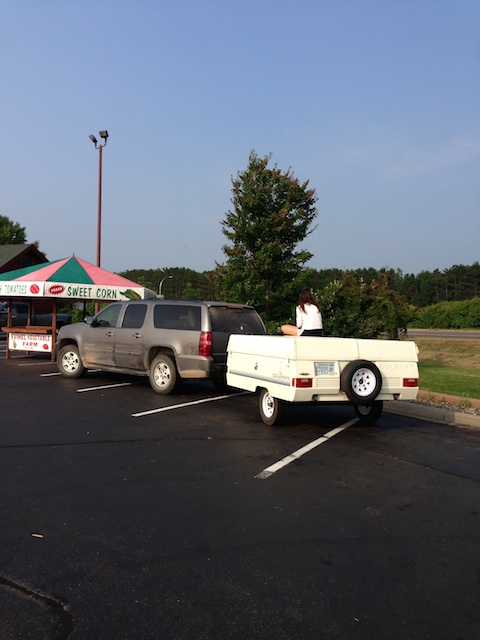 So that's a wrap, everyone. We hope to cobble something together for this August, but with Charlie working and in soccer, Morgan living in Madison and also working, it's going to be tough.
It could be the end of an era.
Is that a tear I see rolling down your cheek?